Adidas (OTCQX:ADDYY) world's second largest sportswear manufacturer recently came up with a profit warning for its investors. According to a press release, the company has updated its entire financial outlook for the next year, which is not impressive at all. Adidas has revised its earnings' forecast to 650 million euros from the original estimate of 830 million euros to 930 million euros. The reasons Adidas' management gave for this revision were the poor performance in company's golf business in the first half of this year and weaker retail sentiments. Immediately following this announcement the company's share prices fell by 15%.
On the other side, Nike (NYSE:NKE) the world's largest athletic footwear, apparel and equipment manufacturer and Adidas' biggest competitor was also affected by the bad news about the golf sales and retail market sentiments. Its stock dropped by nearly 4% as well.
The German player Adidas, which has been consistently losing market to its strongest rival Nike has finally admitted that it needs to invest more and more in its brand and catch up with its competitor. The company has promised the biggest and most ambitious brand campaign to its investors in the history of Adidas for the year 2015. The German athletics giant has raised its advertisement and marketing budget from 13% to 14% of sales in the coming year. As a result, business has already cut down its operating profit margins from 8.5-9 percent to 6.5-7 percent.
Now the question that arises is whether this largest brand campaign ran by Adidas is going to hit Nike badly? Whether the sad news about pathetic golf sales and weak retail sentiments can further affect Nike's business?
Does Golf Business Really Bother Nike?
Nike the American large multinational company is operating a large number of divisions, segments and brands. If focused on company's recent annual results, it can be noticed that though the revenue generated from golf business has been gradually falling which fell from $792 million to $789 million representing a decrease of about 0.38% when compared to last year, its effect on company's financial performance is very limited or negligible.
The golf sales makes up only a minor part of the whole business. It represents hardly 3.3% of Nike's total brand revenues. So, in my view even if the golf business' performance is deteriorating Nike won't be affected much from it as the largest contributor is in fact the sportswear. It is representing 25% of total revenues and has approximately increased by 6% when compared to year 2013. Whereas, company has managed to grow the total revenue from $25.313 billion to $27.799 billion depicting an increase of about 10% this year.
Here, have a look at the contribution of each Nike's brand in revenue generation for the year ending May 2014: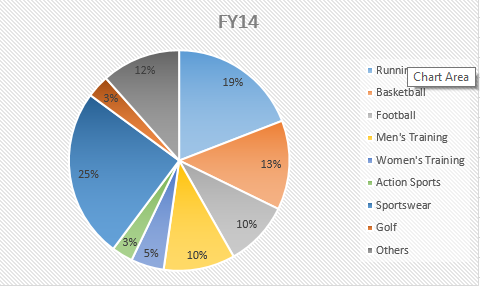 Source: Nike SEC Filings
What Does Nike Think About The Retail Sentiments?
The weak retail market sentiments which Adidas thinks is the major reason for giving profit warnings to its investors does not seems to have any importance in the eyes of Nike's management. The American player just a few weeks before Adidas' announcement expressed a completely opposite opinion about the current retail market sentiments. They are expecting a low double digit revenue growth in the current quarter.
According to Nike's CEO Mark Parker:
''We expect Q1 reported revenue to grow at a low double-digit rate, driven by tremendous energy around the World Cup and continued growth in North America, Europe, China and the emerging markets. We expect gross margin for Q1 and the full year to expand by about 75 basis points.''
''For Q1, we expect demand creation to grow at approximately 30%.'' He further adds.
Nike is absolutely confident about positive market sentiments and if the market moves with the company's expectations then it's highly unlikely that Nike will face any loss.
Adidas' New Marketing Campaign, Is It A Possible Threat?
The heavy budget advertisement being started by Adidas can definitely help the company to improve its sales activity and thus overall financial performance. Though it can give Nike a tough challenge but that does not necessarily means American player won't be able to fight back. Nike is a big giant in the world of athletic sportswear manufacturers and can successfully compete with Adidas because of some exceptional factors as discussed below:
Innovative: Nike is innovative! It continuously comes up with new and exciting ideas. Moreover, The Fast Company has declared Nike as the most innovative company of the year 2013. Innovative products are profitable and helps the company securing its market share.
Latest Performance: Nike has successfully added double digit revenue growth for the fourth quarter of year 2014. As the year ended with astounding performance, the stock appreciated by 22%. Recent quarterly sales went up to $7.425 billion from $6.697 billion in fourth quarter last year which shows an increase of about 11%. Not only this, but also the total revenue for this fiscal year 2014 rose by 10%. It moved from $25.313 billion in year 2013 to $27.799 this year.
This improvement in sales is mainly driven by higher unit volume sales plus higher selling prices. The higher unit selling prices are explained by the introduction of new innovative and premium products of the company.
Moreover, the 21% increase in soccer related revenue this year was undoubtedly because of 2014 FIFA world cup in which Nike had sponsored at least ten football teams. The winter Olympics in 2016 is expected to further boost up the company's sales.
Boosted revenues in turn increased the profits. Gross profit margin increased from 43.9% in fourth quarter last year to 45.6% in recent quarter showing an increase of nearly 4%.
The total revenue of the company is continuously increasing year by year. Revenues almost doubled, it hopped from $18.324 billion in year 2010 to $27.799 billion in year 2014 representing a rise of almost 52%.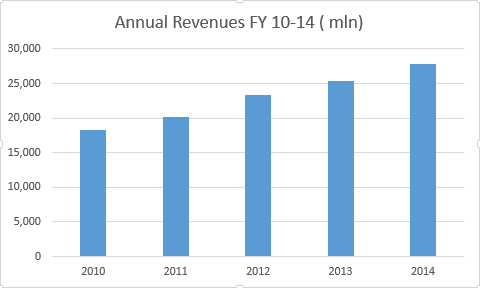 .Source: Nike SEC Filings 10k
This US sportswear group has been reporting tremendous financial performance for years and when compared with different market indices, on average it has proved to outperform them or at least be in line with them.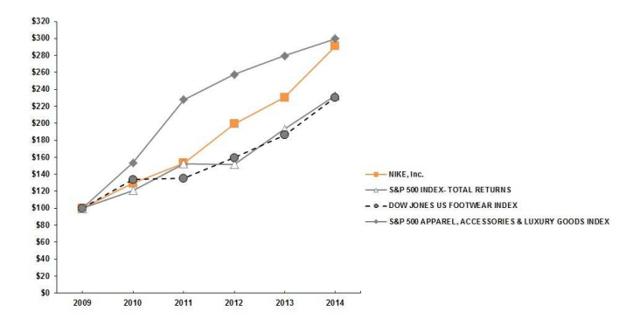 Source: Nike SEC Filings 10k
Nike's tremendous financial performance will definitely help it fighting with its competitors but there may still be a long way to climb up. It has to be continuously innovative for securing a huge market share!
Disclosure: The author has no positions in any stocks mentioned, and no plans to initiate any positions within the next 72 hours.
Business relationship disclosure: The article has been written by a Gemstone Equity Research research analyst. Gemstone Equity Research is not receiving compensation for it (other than from Seeking Alpha). Gemstone Equity Research has no business relationship with any company whose stock is mentioned in this article.
Editor's Note: This article discusses one or more securities that do not trade on a major U.S. exchange. Please be aware of the risks associated with these stocks.