In a January investment note, we expressed caution towards U.S. equities, which at the time had been nearly five years into a bull market. Not that we expected a strong correction, much less a bear market, but it was unlikely that 2013's 29.6% gain in the S&P 500 would be anywhere near repeated. Through the first eight months of the year, that forecast has played out with the S&P up a more pedestrian 4.5%. We did not, however, expect the index arriving at this point by initially sliding nearly 6% before rallying 14% to a record high of 1,988. While the winter's dip at first appeared to be an outlier to the smooth upward trend (notice the nearly parallel lines of the moving averages below), the recent 2.8% retreat has again raised the eyebrows of more than a few cautious market participants.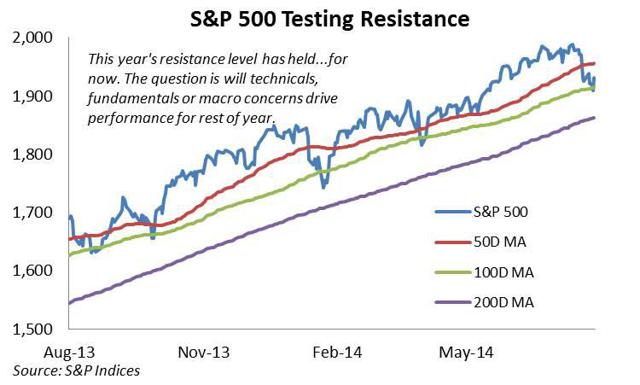 At the time of January's note, we expressed the commonly held lament that while believing valuations had gotten ahead of themselves, there were few alternatives to maintaining current stock allocations given that cash returned zilch and the Fed was still gorging on Treasuries, keeping yields in unappealingly low territory. With this in mind, we suggested multiple options strategies that would lock in recent gains or take advantage of certain names and sectors that had lagged the broader market in 2013. These tactics (protective puts and purchasing calls) are still on the table. To this, we would add another possibility: trimming one's equities exposure. We all know the adage that nonprofessional investors make the cardinal errors of buying at the top and selling at the bottom. Consider this the ideal time to make amends for previous transgressions. This is not to say sell all stocks and run to the hills, but with valuations still elevated and economic data, while improving, still unable to reach the pace experienced prior to the 2008 financial crisis, one must consider the possibility that stocks at this level seriously underprice myriad risks that at any time could flare up and buffet investor confidence.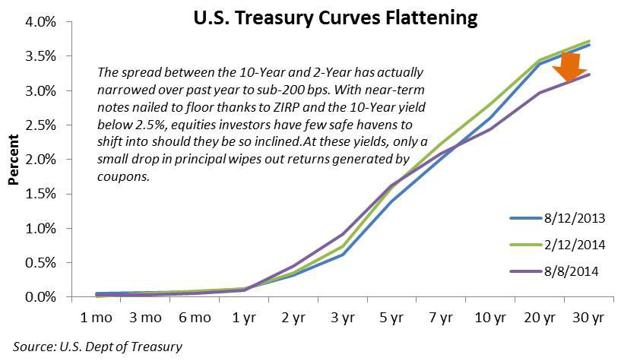 A couple of caveats to this dour suggestion: a long-term, buy-and-hold strategy will likely continue to prove worthwhile, as long as one maintains discipline and doesn't panic at the inevitable 10% correction (we are overdue). And if one is a stock picker….with a proven record of successfully generating alpha…stick with the names in which you have confidence, or better yet, sell them if valuations have gotten too frothy and pick them back up should they be caught up in a broad market slide. If it was a good idea the first time, it could be good a second, third and fourth time.
Market stats: so much for smooth sailing through August
Not to read too much into technicals, but with so many distortions rumbling around markets (Thank you Fed), it never hurts to keep a few trends in mind. As seen above, The S&P 500 recently dipped below its 50-Day moving average for the first time since April. As with multiple instances over the past year, the 100-Day moving average has proven a steady support level. The 200-Day has been reduced to an afterthought. Consistent with much of the five-year rally, new highs have been achieved on relatively low trading volume. Some wise observers have referred to this phenomenon as a sellers' strike. Marginal activity…possibly by faceless hedge fund algorithms…has driven indices higher, while the larger universe of investors, recognizing that there are few alternatives, sit idly by, happily watching their portfolio values balloon.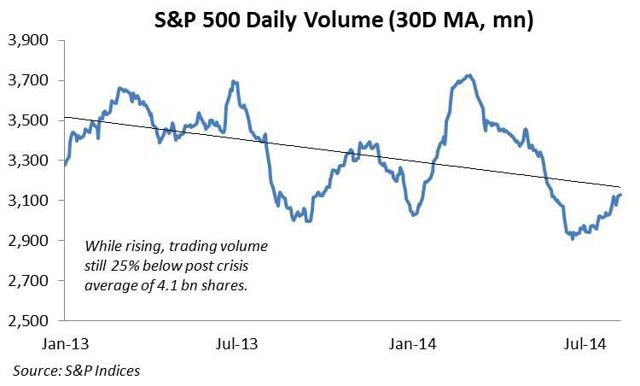 Similar to the trend in volume, equity volatility as measured by CBOE's VIX index had spent much of 2014 heading south before the recent spike. After dipping to a near comatose 10.3 in early July, the VIX spiked 65% to 17 on August 1st. Only recently had the Fed sounded the alarm that low volatility was possibly a sign of investor complacency. That argument is not entirely scuttled as the current level of 15.7 is still 11% below its three-year average. A rise in volatility means an increase in the costs of options contracts used for hedging equity gains, but at the same time, it also means that markets may begin to move enough to see such contracts pay off.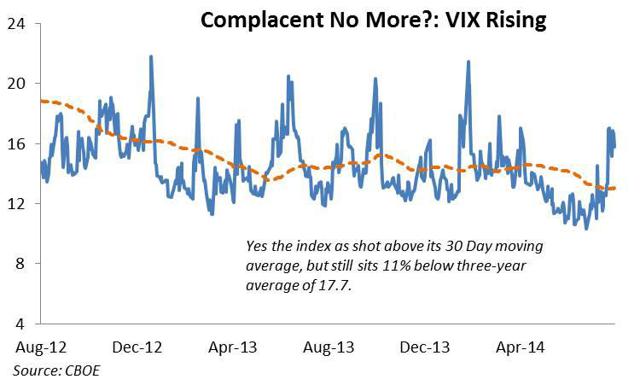 While large caps have registered modest gains over the year, the more growth-sensitive Russell 2000 small cap index has fallen 2.8%. This could be a harbinger of overall market-cooling, especially given the near dramatic fashion the index has slammed through key resistance levels on its month-long 6.4% slide. Large caps currently have two major advantages over their diminutive brethren: their revenue streams are more globally diversified, meaning greater exposure to still respectable emerging market growth; also over the past few years these behemoths have feasted on low-interest rates by issuing a torrent of long-term bonds and locking in cheap financing for years to come. Smaller firms are more reliant on bank lending, which has been less generous during the post-crisis era given increased banking capital requirements.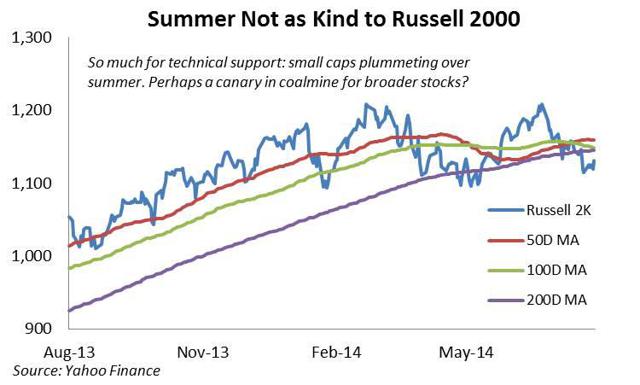 Valuation: no nosebleeds, but still well above sea level
It comes as little surprise that currently-elevated valuations are a primary reason for increased caution regarding equities. Based in trailing twelve-month operating earnings, the P/E ratio of S&P 500 companies (with over 90% having reported Q2 results) sits at 17.24, which is a 6% and 3% premium to its respective five-year and 10-year averages. Using another P/E ratio concoction, this time the Shiller P/E ratio, based on a calculation involving ten years of earnings, the current level of 25.1 signifies a 10% premium over its 10-year average and a whopping 28% above its long-term mean of 19.6.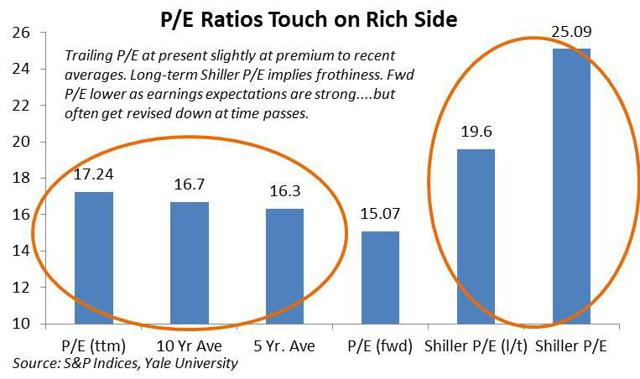 It is easy to pile onto the bandwagon and state that current valuations have gotten ahead of themselves. In reality, though, there are some underlying supportive…and mathematically-based…factors that help justify P/E expansion. As stated, every large-cap firm with bat sense has refinanced in this extraordinarily low interest rate environment ensuring that interest expense won't be too deleterious to earnings over the next few years. Similarly, inflation remains muted, inferring that firms won't feel the need to compress margins by paying more for inputs while at the same time hesitating to immediately pass on such costs to final consumers through higher prices; managers tend to eat such fluctuations in nascent inflationary environments until the time a pronounced upward trend has been established.
A split decision
An alternative to culling one's equity allocation is to simply rebalance the portfolio, picking up some laggard sectors and names that may have a brighter future. Such rebalancing also…wisely…shaves off the share dedicated to red-hot sectors that, through recent gains, have taken up an outsized portion of the portfolio. Year-to-date, healthcare has continued to be the hottest sector, a position it also holds when looking at three-year annualized returns. Interestingly, a fellow purportedly defensive sector, utilities, has also been a top 2014 performer, joining the more economy-sensitive IT, materials and energy sectors. At the same time two other defensive sectors, staples and telecoms significantly lag the market. Such a split infers that investors are not roundly seeking out defensive stocks in anticipation of a broad sell-off.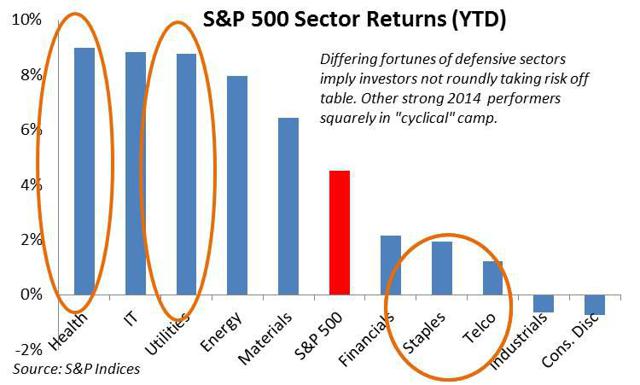 Over the past three years, one has witnessed gains in segments expected to outperform in a growing…albeit slowly…economy. Chief among these are consumer discretionary, financials, industrials and information technology. For the conservative investor…that is ones not targeted by the ubiquitous slick day-trading commercials…dialing up exposure to telecom services and consumer staples at the expense of (dubiously linked) healthcare and info tech may be a prudent way to take some risk off the table while maintaining exposure to stocks. And purchasing well out-of-the-money protective puts on the year's hottest and most economically sensitive sectors (IT, energy, materials) could be a wise way to lock in some profits in what has so far been a pretty unimpressive year for stocks, at least by recent standards.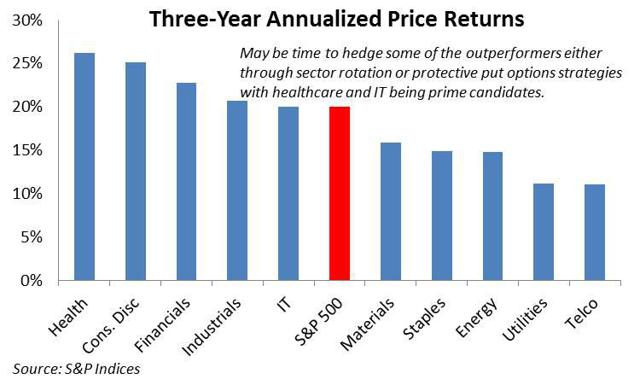 Remember the business cycle?
The three "E"s of equities markets are earnings, economics and emotion. Much of the caution against equities at current levels centers on the latter, as manifested in continued P/E expansion. But another "E"…economics…also is a matter of concern. While job gains have been strong for months, wage growth is mired below recent spikes in inflation. That does nothing to help fire up the consumer engine upon which the U.S has become so dependent. Also the expectation that somehow the economy will ultimately kick into high gear and make up for lost time….five years after the recession officially ended…is wishful thinking. More likely is the reality that the vagaries of the business cycle will once again send the economy into recession, if even just a shallow one. The new normal of lower growth does not negate the established pattern of periodic expansions and contractions. And in reality, we are due. As seen below, at 62 months, the current expansion is already longer than the post-WWII average.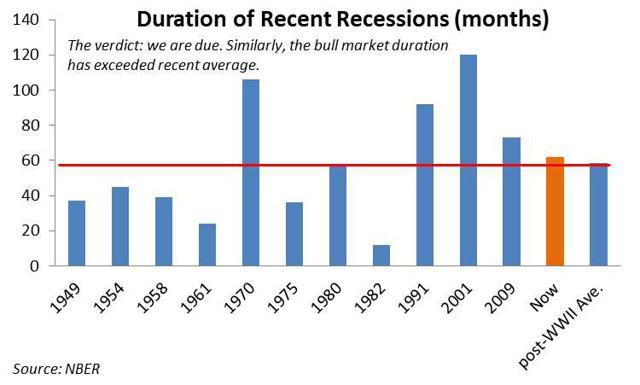 Speaking of overdue, the current bull market, as measured from the S&P 500 nadir in March 2009 currently stands at 1,978 days. That is the fifth longest such market since 1928 and well above the period's average bull market length of 1,872 days.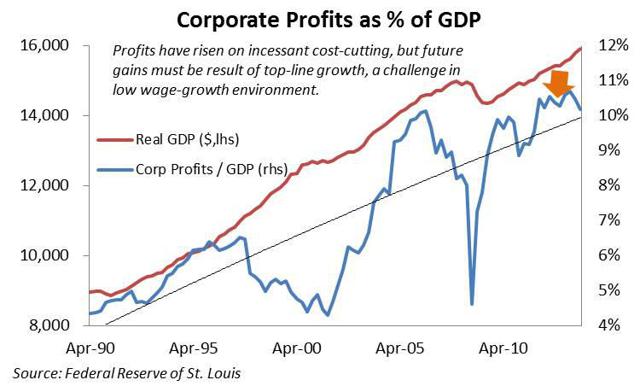 On top of economic risk and the potential for investors to revalue equities premiums to the downside, there are myriad geopolitical risks brewing that investors quite possibly are overlooking. Just this past Friday as the market rallied 1.2%, two different media outlets attributed the gains to Russia taking steps to deescalate the Ukrainian crisis. Vladimir Putin peacemaker? Hello? Hopefully such a conclusion was the consequence of unwitting reporters drawing an easily digestible take-away or from traders telling said reporters just something to get them off the phone before they escaped to the Hamptons for the weekend. But if markets really moved north on perceived good-intentions from a person with a recent track record of creating absolute mayhem and confrontation with the West, then boy-oh-boy, risk really has been mispriced in markets. Maybe the Fed was right and investors have become complacent. But if that is the case, its policy of supporting financial assets at all costs is in no small part to blame.
Disclosure: The author has no positions in any stocks mentioned, and no plans to initiate any positions within the next 72 hours. The author wrote this article themselves, and it expresses their own opinions. The author is not receiving compensation for it (other than from Seeking Alpha). The author has no business relationship with any company whose stock is mentioned in this article.