Every once in a while, the market is overcome by the "Sell Now, Ask Questions Later" phenomenon. Generally, this is the result of fear of the unknown and we believe this is exactly what has happened to many publicly traded US healthcare companies.
Many investors were fearful of the potential effects of US healthcare reform and to a certain extent, they still are. But as value investors, we must:
"Be fearful when others are greedy and greedy when others are fearful."

- Warren Buffett
It's understandable why investors fled. It was pretty difficult to predict the effects of the incoming legislation and many had concerns around the cutting of government healthcare funding. This resulted in investors selling quicker than you could say "Medicare".
The main issue was that many companies are significantly reliant on Medicare for a major portion of their revenue.
For some companies, like AmSurg Corp (NASDAQ:AMSG), the market was wrong to sell on this basis. The new healthcare legislation, as we understand it, will not be affecting any major cuts on traditional medicare, only Medicare Advantage.
While AMSG derives a meaningful amount of revenue from Medicare (33% in 2009), it is solely reliant on traditional medicare which removes a lot of the uncertainty around its future.
Nevertheless, the government is doing its best to tighten its metaphorical belt. Mr. Tim Welland has written an excellent couple paragraphs detailing this:
In 2008 the Centers for Medicare and Medicaid Services in revised its payment system. This resulted in an EPS reduction of $.05 in 2008, $.07 in 2009, and an estimated $.06 in 2010 and 2011, all in addition to the prior year's reduction. This means that in 2011, EPS will be $.24 lower than it would have been under the prior payment methodology.

Beginning in 2012, the payment amounts will stop being decreased and will be adjusted upwards based on the Consumer Price Index. This is obviously a big deal for AMSG (2009 EPS was $1.73) but the only "risk" here is of future similar reductions in payment; the current reductions and their effects are already known.
This is somewhat concerning, but we don't believe it will have a meaningful long-term effect. This is partly because even though we saw those reductions in EPS, free cash flow actually grew by over 35% from 2007 to 2008, and over 193% from 2008 to 2009.
The key takeaway is that there is a tangible risk in AMSG's reliance on Medicare. But if you're comfortable with that, the government tightening its belt is merely an issue to keep on your radar for the future.
Now that we've talked about the risks, let's take a look at AmSurg's fundamentals:
They're allocating their capital very well, generating $120.66 of cash for every $100 spent.
Delivered 10 years of positive Free Cash Flow, never once losing a penny.
In a similar vein, AMSG has been profitable for the past 10 years
A Very Strong Current Ratio of 3.38
Generally, we like to see Total Assets being at least double Total Liabilities. In this case, it isn't, but it's pretty close so we'll let it go. Total Liabilities are 0.52 of Total Assets.
Decent Return on Equity of 10.32%
P/E: 11.65
P/B: 1.09
P/S: 0.86
That's all great, but what is a fair value for AmSurg Corp.? Again, Vuru and Wall Street have very different opinions.
The Showdown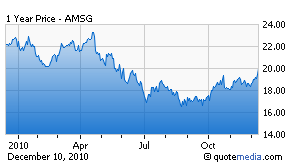 Conclusion
AmSurg Corp. is an excellent company with fantastic fundamentals. In particular, AMSG is well managed, and has a history of delivering shareholder value. We believe that even with its potential risks, AMSG has been underestimated by the market and will continue to succeed in the future.
For more information about the US healthcare reform, Reuters has a great FACTBOX article about the legislation's effects.
NOTE: Please read our disclaimer.
Disclosure: I have no positions in any stocks mentioned, and no plans to initiate any positions within the next 72 hours.
Additional disclosure: All members and employees of the Vuru team must wait 72 hours after publication, before purchasing or otherwise trading any of these stocks.