As pSivida (PSDV) awaits an FDA decision on Iluvien with a PDUFA date on September 26, 2014, that if approved will trigger a $25M milestone payment from commercialization partner Alimera Sciences (NASDAQ:ALIM) and entitlement to 20% of royalties after ALIM recovers 20% of Iluvien development costs. We believe now is the time to reiterate the long-term thesis and scarcity value PSDV's Tethadur platform denotes for Roche Holdings (OTCQX:RHHBY), Regeneron (NASDAQ:REGN), or its current equity partner Pfizer (NYSE:PFE) which owns >5% of PSDV. Given the increased newsflow into 2H2014 for PSDV, we believe now is a favorable time to enter the name aggressively ahead of multiple catalysts including its fiscal 4Q14 earnings and conference call (no date released yet, but expected in August or September), additional news flow on Tethadur (possibly revealing its development partner on the program, which should greatly increase its market cap), and finally the potential approval of Iluvien on September 26, 2014 triggering a $25M milestone payment.
In this report, we present our Iluvien Sales Model that is based on 3 Physician surveys of retina specialists from Citigroup, Merrill Lynch, and Credit Suisse, and take into consideration very important implications from Key Opinion Leaders' outlook on extended duration steroid therapy in chronic DME from Citigroup's annual "Clinic on the Clinic" research. In short, PSDV only needs to generate $15-$20M in annual royalty income (ALIM $200M annual WW sales) to justify its current market capitalization (~$140M) equating to a P/S ratio of 7-10x that conceivably could expand to 20x sales implying a market cap of $300-$400M. While this is an important path to profitability and sustainability of its R&D operations, we continue to draw attention to Tethadur as the primary story of PSDV, which in our view could lead to a market cap well in excess of $1B (~7x fold increase) within 12-24 months contingent on PSDV announcing a major commercial stage Pharma partner on Tethadur, and the pace of development of Tethadur through clinical trials.
Since we last wrote about PSDV on February 17, 2014, highlighting the magnitude of the market potential of Tethadur (>$2B-$10B) for investors, PSDV and ALIM's commercialization and marketing efforts have been successful in securing marketing authorization in nine EU countries (Austria, Denmark, France, Germany, Italy, Norway, Portugal, Spain and the United Kingdom) in Chronic Diabetic Macular Edema, but is currently only commercially available in the United Kingdom and Germany. Iluvien is in the national phase, pending approval, in eight more EU countries (Belgium, the Czech Republic, Finland, Ireland, Luxembourg, the Netherlands, Poland and Sweden) following the successful completion of the Mutual Recognition Procedure (MRP) for subsequent marketing authorizations. Additionally, PSDV reported that an Australia/New Zealand Distribution Agreement for Iluvien for DME has been reached between ALIM and STA that will include a milestone payment to ALIM for achievement of a public reimbursement listing, and royalties based on net sales that will increase if a sales target is met. PSDV is entitled to 20% of royalties and 33% of all other payments received by ALIM, including milestones. Thus, we conclude that ALIM's current revenues from Iluvien while already greatly accelerating through 2014 is set to achieve even stronger growth in 2015 and beyond as Iluvien becomes commercially available in the 9 EU countries approved, Australia/New Zealand, and the United States. Consequently, 2015 will mark a transition year for the ALIM/PSDV partnership from a development company to a full-fledged commercial pharmaceutical company. ALIM has contracted its sales and MSL efforts to Quintiles (Q), a global leader in contract research, development, and commercialization. Thus, we anticipate that 2015 Iluvien sales will bring ALIM into the black on Iluvien costs, and trigger increasing royalty income to PSDV during 2H2015.
Company Profile:
pSivida Corp. is not a proof-of-concept stage biopharmaceutical company, but is the innovator and developer of a proven, sustained release drug delivery system. pSivida already has two approved products: Retisert partnered with Bausch & Lomb for the treatment of chronic noninfectious uveitis, and Iluvien partnered with ALIM in the treatment of Diabetic Macular Edema (DME). pSivida is entitled to 20% royalties on Iluvien and is developing Medidur, which will be their first full commercial rights product for posterior Uveitis and is in Phase III trials. Importantly, pSivida will retain all earnings from Medidur, and will likely replace Retisert in the market. Importantly, pSivida has no new molecular entity risks in its commercialization strategy because they focus on partnering with larger commercial players with drugs already FDA approved to incorporate into their drug delivery devices. Thus, we contend despite a prolonged FDA regulatory pathway with 2 past failures, PSDV's approach represents less risk than traditional probabilities used for early stage companies such as PSDV's (9% Phase 1, 29% Phase 2, 69% Phase 3, and 89% once an NDA is Filed).
While PSDV will grow its revenues with these approved products, the most significant catalyst and path to major commercial success rely upon Tethadur. As we published previously, Tethadur is a small honeycomb structure drug delivery device that has the surface area of over two tennis courts, which is designed to carry large complex proteins and peptides such as Avastin, Lucentis, Eylea or Herceptin.
Critically, pSivida's Tethadur platform can provide sustained release of these drugs for over two years with only one dose. With over $50B of biological drugs coming off patent within the next 5 years pSivida's strategy is centered around providing a patent extension strategy for these biological drugs by reformulating them with Tethadur, thereby reducing the frequency of dosing. It is sensible to expect significant interest in Tethadur in 2015 as the FDA's draft guidance on BioSimilars has set the path for approval as early as 2017 by highly competent Biotech innovators such as Amgen set to enter the Biosimilar market. We expect this will increase the anxiety from significant stakeholders in biologics including AbbVie (NYSE:ABBV), with >55% revenues from Humira and Roche's Avastin and Herceptin , among many others. We expect any established player facing a significant biologics patent cliff in 2017-2020 as a possible partner, licensee, or potential acquirer.
Investment Case:
While we do not base our bullish thesis on an acquisition solely premised on Tethadur's potential, it represents a free call option of such a magnitude and rarity that compels one to consider a long-term position in PSDV. Our sales model demonstrates that Iluvien alone firmly establishes that PSDV is significantly undervalued currently trading at 2.78 2015E and 1.20x 2017E WW Sales (Iluvien Royalty Income). We anticipate an aggressive bid for PSDV coming when Tethadur enters Phase 2 in 2016 or 2017, at which point PSDV should have $106M in sales (20% discounted), and would be entitled to a minimum bid of 10x sales given the scarcity value Tethadur would deliver. This implies an acquisition price in excess of $1B or $34 per share (781% upside).
After conducting our analysis that is systematically described in subsequent sections we determined that PSDV should be trading at least 4x our 2016E sales estimate of $74M, fully discounted at 20% and probability adjusted. This represents a $296M market capitalization or 231% upside and gives us our $10 price target contingent upon Iluvien's FDA approval. In our view PSDV's current market cap reflects no future, no innovation, and no success, this simply is not the case. PSDV is severely undervalued given the imminent approval of Iluvien that will generate revenue in the short term; Medivir addresses the intermediate term, while Tethadur exemplifies long-term sustainability and growth on an impressive scale. Once a partner is announced and Tethadur enters Phase I clinical development, investors can expect significant valuation expansion as Tethadur proceeds through clinical development. We argue that since Tethadur carries no new molecular entity risk it carries a higher probability of gaining approval due to a deeper depth of safety, and the risk almost entirely resides with the platform itself being able to deliver sustained doses of active drug. Thus, PSDV's development strategy more closely resembles a "reformulation" than "new drug development."
Therefore, using the historical probability of success from Phase I trials to regulatory approval of only 9% significantly underestimates the reality of something much higher. We conservatively estimate only 3% chance of success currently, but once it enters Phase I trials would increase to 15% in 2015/2016 in the wet AMD and DME market, which would be a combined opportunity of at least $5B WW and $3B U.S. sales by 2020. Note, we include no valuation for Tethadur in our price target or model currently. But once Tethadur is partnered or enters Phase I, we contend that Tethadur alone represents at least $450M-$750M in 15% probability adjusted sales undiscounted, if we assume Roche partners with PSDV to reformulate both Lucentis and Avastin with Tethadur under a similar framework as Iluvien with ALIM entitling it to 20% royalties and likely more than $200M in milestone payments. This would translate into $90M-$150M in annual royalties probability adjusted (undiscounted). Recall, PSDV's market cap is only $128M currently.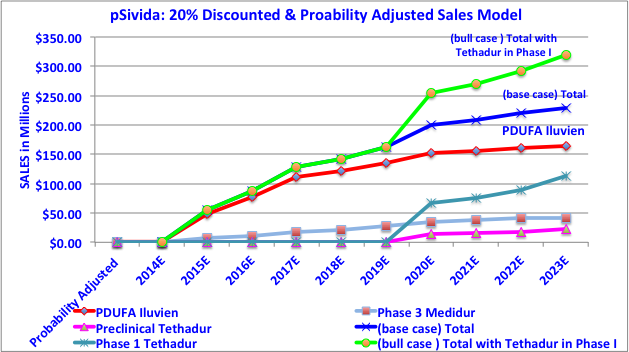 "Why So Bullish?" Citigroup's Annual "Clinic at the Clinic" Supports Tethadur's Scarcity Value and Iluvien's Potential Combination Therapy with anti-VEGFs
Citigroup conducts an annual overview with feedback from Key Opinion Leaders (KOLs) covering key therapeutic areas where new drug therapies and modalities can alter the current treatment paradigm. This year's report had a keen focus on the scarcity value for future drug prospects that deliver enhanced cost effectiveness by reducing the frequency of inpatient procedures and drug administration, and thereby costs to improve efficiency. Against the backdrop, the experts believe hospital systems will slowly progress towards assuming a population approach to managing overall health risk.
Citi's ophthalmology expert noted that he believes that "the usage of Avastin will increase dramatically at the Cleveland Clinic from current levels of 40-50% to 80% over time as the institution moves towards a capitated, episodic care model under the Affordable Care Act. This new model will also reduce usage of both Eylea and Lucentis as they are expensive and offer little benefit over Avastin. The expert generally uses Eylea and Lucentis in most of his patients who have good insurance and Avastin is used in the rest of patients. But that is not the mainstream at the Clinic where Avastin is oftentimes used ahead of the branded drugs. The Clinic has its own Avastin compounding lab and so they are not worried about the risk of infections."
The most critical read-through for our discussion however was that the ophthalmology expert saw steroid implants such as Allergan's (NYSE:AGN) Ozurdex and ALIM/PSDV's Iluvien playing an increasingly important role for treating diabetic macular edema. While anti-VEGF therapies (Roche's Avastin and Lucentis and Regeneron's Eylea) will likely still be utilized ahead of longer acting steroids in the expert's treatment regimen, but because molecules injected into the vitreous have a brief intraocular half-life, limiting the potential therapeutic window per treatment and requiring frequent injections. Steroids could provide a more potent, longer lasting alternative, and the physician felt implantable therapies confer a significant compliance benefit by limiting physician visits, particularly important amongst younger patients. The expert also believed that implants could be used concomitantly with intravitreal injections opening the possibility for adjuvant use in VEGF refractory patients (~10% or 40-60,000 patients). The expert noted that spikes in intraocular pressure (IOP) remained a concern with longer-lasting steroids due to the link between elevated IOP and an increased risk of glaucoma, he believed that the risk was manageable through medication or surgery. The KOL's view that long acting steroids (which has shown a high durability of 4-6 months) will be an important addition to physicians' armamentarium in the DME population that is poorly controlled on anti-VEGF therapies.
Within the DME segment, the expert stated "Eylea offers tangible benefits over both Avastin and Lucentis in terms of greater potency, fewer injections, and better safety." What we want to underscore for readers is that Eylea's enhanced potency facilitates less frequent dosing and some of its safety benefits over Avastin or Lucentis. This fact in conjunction with the backdrop that health systems are seeking innovative tools to reduce the frequency of inpatient administration of medications is a clear demonstration of clinical necessity for technologies like Tethadur. A more thorough analysis of pSivida and Tethadur can be found here.
Tethadur represents a symbiotic technology that fulfills the self-interests of health systems, physicians, and larger more established pharmaceutical companies such as Roche. Seldom do we find such a disruptive technology that could deliver such value to all stakeholders. We note that with highly accomplished biotech firms such as Amgen (NASDAQ:AMGN) intending on launching generic biosimilars of Avastin in the next five years (Avastin's patent expiration July 2019 in the U.S. and 2022 in Europe) there is a growing urgency for Roche to seek viable patent extension strategies to protect a sizable portion of its Avastin revenues from eye diseases. Given the inherent deficiency of Avastin's ability to compete with Eylea on the basis of less frequent dosing, Tethadur formulated with Avastin represents a very attractive strategy to protect Avastin/Lucentis sales from further Eylea gains as well as patent expiry. The figure below shows both Lucentis and Avastin sales have stagnated year-over-year and Roche is facing negative growth for the first time in this segment.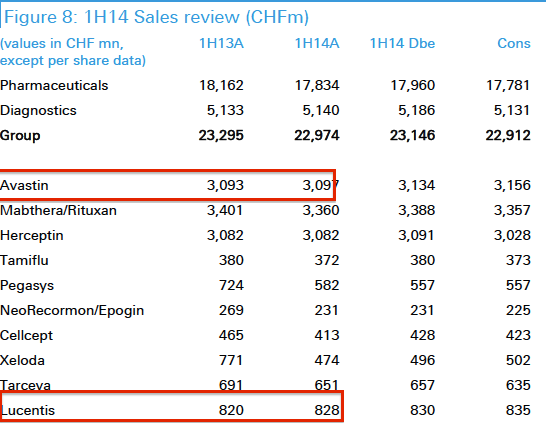 While the mix of prescribing amongst the anti-VEGFs has increasingly favored Eylea in the wet AMD indication:
Newly diagnosed wet AMD patients (~10% of total): 5% receive Avastin, 35% Lucentis, and 60% Eylea.
Established patients, i.e., those already on treatment (~80% of total): 5% Avastin, 45% Lucentis and 50% on Eylea.
Suboptimal responders (~10% of total): 99% on Eylea.
Bayer (REGN's ex-US partner) reported 2Q14 Eylea sales of EUR194M, which are up 24% over 1Q14 sales of EUR157M. Eylea is now 30% of total ex-US sales for Bayer, up from 26% in the prior quarter. On July 29th, the FDA approved Eylea for DME ahead of the 8/18 PDUFA date with less frequent dosing and no mention of fatal events as on the Lucentis label. Furthermore, now that Eylea is approved for DME the product differentiation between it and Avastin/Lucentis continues to disappear, and as noted above Eylea's growing preference with physicians in wet AMD can be expected in DME. Eylea's market share should be expected to continue growing especially as Eylea is approved for additional indications (filed for review in Japan in March; BRVO indication filed for review in the EU in June).
It is abundantly clear Roche has lost its first to market advantage within its eye disease franchise, and we find it difficult to believe that they will sit idly by as its market share continues to erode, while simultaneously being faced with the risk of biosimilars entering in 2017. In fact, examining Roche's past elucidates clearly that they are indeed examining how to best protect from continued erosion from Eylea's increasing market share, for instance, according to Credit Suisse: "Roche continues to estimate that biosimilars for Rituxan and Herceptin could be on the market in Europe in 2016. If this is the case, a regulatory filing should happen soon. In fact the launch of Rituxan and Herceptin sub-cutaneous formulations was strategically meant to protect these franchises from biosimilars rather than chasing growth (in already highly penetrated markets)." Quite simply Roche is being forced to act, and is ready and able to do so. With only one early stage program in development to replace Lucentis/Avastin, and a clear interest in a sustained delivery approach to extend the patent life of Lucentis and recapture a competitive advantage against Eylea Tethadur simply fulfills all strategic requirements for Roche.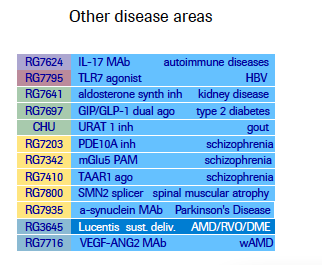 Thus, we expect Roche to become more proactive to thwart Eylea's growing market share, while actively seeking to extend its patent exclusivity. Tethadur may be able to achieve both objectives with less development risk than pursuing new drug development. In our view, Tethadur is especially important to Roche since the primary factor driving Eylea's success is less frequent dosing, Tethadur may be able to reduce dosing to only 1x per 24-36 months, reasserting Roche's leadership position in wet AMD & DME. As shown in a Merrill Lynch survey in 2013, dosing is the #1 determinant of therapy selection in DME.
Iluvien Looks Set to Surprise in DME Market and both Regeneron & Roche Should Have a Keen Interest in Tethadur
On Roche's 2Q14 conference call management commented that 20% of Lucentis sales in Q1 came from DME, which is $91M or $364M on an annualized basis. On REGN's 2Q14 conference call management noted that the addressable DME market is as big as AMD but less penetrated (40%) given anti-VEGFs have just been launched. Using this guidance as a framework suggests that the DME market opportunity is at a minimum ~$2-3B in the U.S. Importantly, REGN characterizes the DME market as "more leaky" than AMD with a significant number of patients with retina not completely "dry." REGN anticipates that the near-term growth in DME will be driven by patients refractory to anti-VEGFs and new patients starting anti-VEGF therapy, which bodes well for Iluvien combination therapy as well. Deutsche Bank notes that in AMD, there are 30-40% such patients and we can expect higher rates in DME. Furthermore, the primary competition to Iluvien comes from Allergan's Ozurdex (a three to five month dexamethasone intravitreal implant), which was the first approved product for macular edema following branch or retinal vein occlusion. The FDA's approval of Ozurdex provides additional evidence that corticosteroids work effectively for RVO. Given the reality that a reduced dosing frequency drives retina specialists' preference for prescription behavior (confirmed as the #1 factor for retina specialist's preference for Eylea over Avastin or Lucentis in physician surveys), it stands to reason a similar, but much stronger advantage will exist for Iluvien (dosed once every 24-36 months) relative to Ozurdex (once every 3-5 months).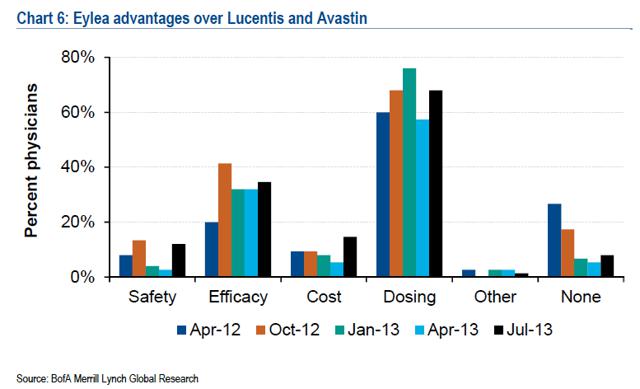 In 2013, Cowan & Co., estimated peak Iluvien sales in the European Union are estimated to reach $300 million in 2021 (implying $60M in annual royalties to PSDV). A number we view as conservative given the new feedback from KOLs on the growing use of steroids in combination with anti-VEGFs.
The PSDV/ALIM partnership dictates that after approval of ILUVIEN, PSDV will be entitled to 20% of the net profits as defined in the amended and restated agreement. In connection with this arrangement, ALIM is entitled to recover 20% of commercialization costs of ILUVIEN, which we estimate to be $20M by the time Iluvien gains FDA approval by the September 26th PDUFA date. According to ALIM transcripts, as of December 31, 2013 and 2012, PSDV owed ALIM $11.0 million and $5.6 million, respectively, in commercialization costs. Due to the uncertainty of future net profits from ILUVIEN. However, as stated previously ALIM will owe PSDV an additional milestone payment of $25.0 million if the FDA approves ILUVIEN, and according to PSDV's fiscal 2Q14 conference call the terms of their U.S. partnership may be amended post-approval for a higher proportion of royalties in exchange for a smaller milestone payment, which is something that would be favorable in our DCF model. If ALIM were to enter into any sub-license of ILUVIEN, ALIM must share 20% of net profits and 33% of any lump sum milestone payments received from a sub-licensee, as defined in the agreement with PSDV.
Evaluating the Treatment Landscape in DME
At present, approximately 60% of DME patients are treated by general ophthalmologists who do not have experience with anti-VEGF treatments and typically use laser upfront and then refer more advanced patients to retinal surgeons to receive anti-VEGF therapies. As noted previously, the DME market is less saturated than the AMD market, and the global anti-VEGF and has shown continued growth since 2010. Furthermore, we contend the higher disease awareness with new market entrants in conjunction with prolonged anti-VEGF therapy are supportive factors for Iluvien use as mono or combo therapy.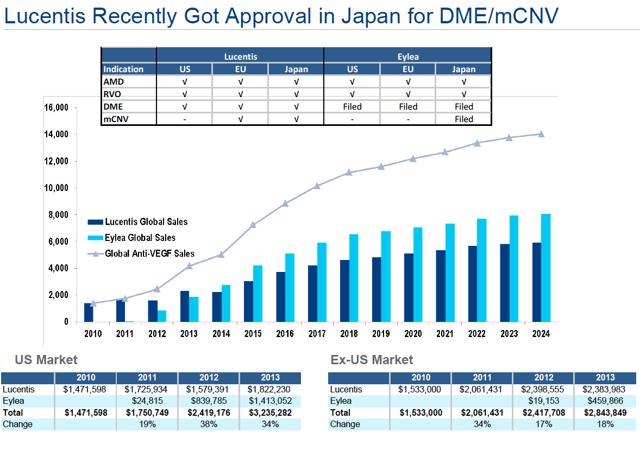 Citi conducted a survey with 36 retinal specialists that treated on average 400 patients per month, their DME patients represented approximately 30%, while AMD accounts for 54%.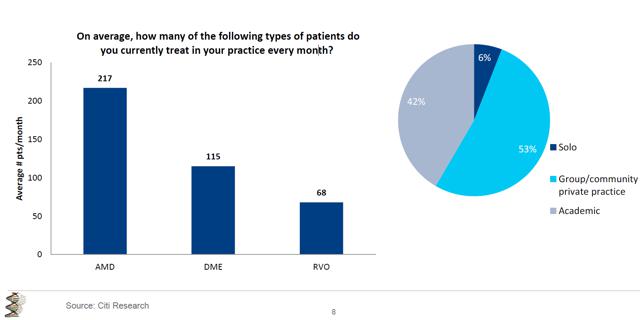 Citi also notes that historically its surveys have been accurate in predicting market share, but underestimated how fast the uptake of new therapies or label expansions were in actual clinical practice.
In the DME market (important for Iluvien with a PDUFA date on September 26th, 2014), Avastin and Lucentis is expected to lose 4% and 5% market share respectively within 12 months as Regeneron's Eylea was approved in DME this month and over one-third of physicians surveyed expect to use it as the first-line treatment of choice in DME and 56% of physicians plan to decrease their Avastin use once Eylea is approved for DME. Lucentis was approved for DME using the 0.3mg dose whereas the higher 0.5mg dose is approved for AMD. The 0.5mg dose was not approved for DME since it did not lead to better visual outcomes and was associated with a poorer safety profile. Most physicians (58%) believe that Lucentis is safe and are not concerned about the drug's safety. 22% of physicians are concerned about the safety and will reduce use of Lucentis in DME once Eylea is approved. 19% of physicians will use Eylea in patients for whom 0.3mg Lucentis is not effective.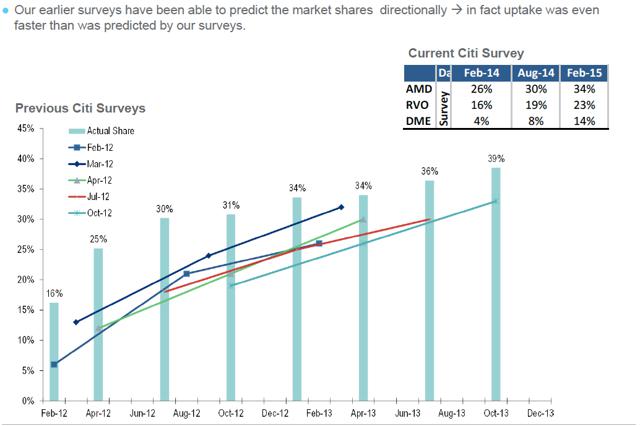 We contend that as new competition enters into the DME market from Allergan, REGN and ALIM it will lead to broader awareness, higher diagnosis rates that should translate into higher treatment rates i.e. deeper penetration into the DME market where only 30-40% of patients are diagnosed and treated currently. As we noted previously, Iluvien's total addressable market is approximately 5-9% of the DME market, and we contend that as REGN begins to aggressively market their drug for DME this will directly benefit Iluvien sales by expanding the overall DME market and as we evoke from KOLs that foresee a higher use as combination therapy with anti-VEGFs and in VEGF refractory patients. Additionally, Iluvien's reduced dosing frequency should provide it a competitive advantage relative to other steroids available. As Eylea enters DME this month, it should set in motion a 3-4 year cycle, where the majority of all patients will switch from Avastin or Lucentis as they become refractory or prefer less frequent dosing. Additionally, by 2016/2017, we anticipate that the 5-7% of refractory patients will be started on combination therapy with Iluvien, and 5% of newly diagnosed patients will be administered steroid therapy first.
According to Citi's physician survey: "AMD patients are treated on average for 37 months with an anti-VEGF drug. In AMD, the average number of injections is expected to decrease from 7.2 injections in first year to 5.2 injections in the third year." Thus, there is a clear trend and preference with retina specialists for reducing intra vitreal injections.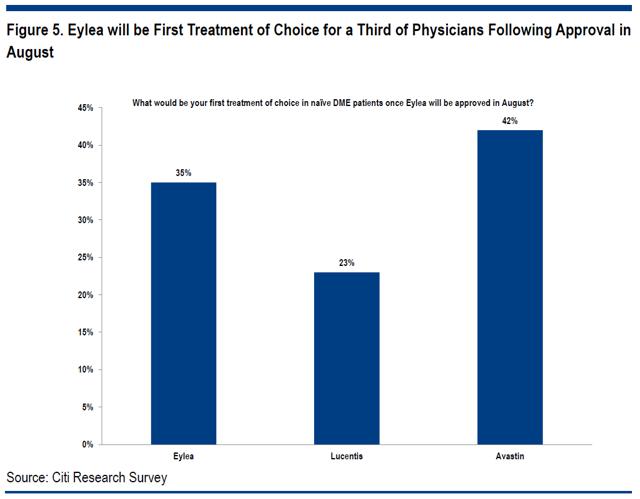 Looking at steroids in DME, the surveyed physicians expect 5-9% market share for drugs such as Iluvien, on a dollar for dollar basis would imply a peak market value of $85-$170M annually, once again assuming 30% Iluvien market share suggests $26M-$56M in annual U.S. sales.
Alpha BioPharma's Iluvien Sales Model and Sell-Side Estimates:
Due to the paucity of coverage of PSDV and ALIM we relied upon sell-side estimates of Lucentis, Eylea, and Avastin to gauge overall market size then deduced from physician surveys the potential uptake expected with Iluvien to guide our sales model (below).
Deutsche Bank expects Eylea sales in 2015-2018 to be $500M/$700M/$1B vs. $170M/$350M/$580M previously. Applying some simple math would imply a total DME market value of at least $2.4B by 2018.
DB models peak Eylea DME sales of $1.2B. Goldman Sachs models Eylea's DME sales of $579M in 2015, while Citigroup anticipates a $575M opportunity for Eylea, which is priced 58% higher at its DME dose. Canaccord Genuity believes Eylea sales will peak in 2017 at $2.4B in the U.S.
While Cowen & Co. models $300M in EU Iluvien Sales and $500M from U.S. Sales by 2020. We model WW Iluvien Sales of $848M in 2023, generating $170M in PSDV royalties.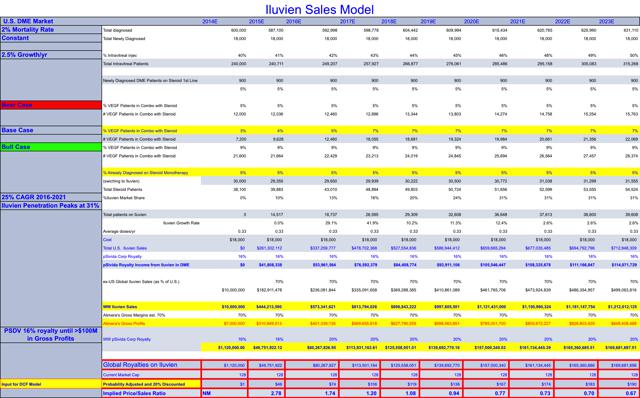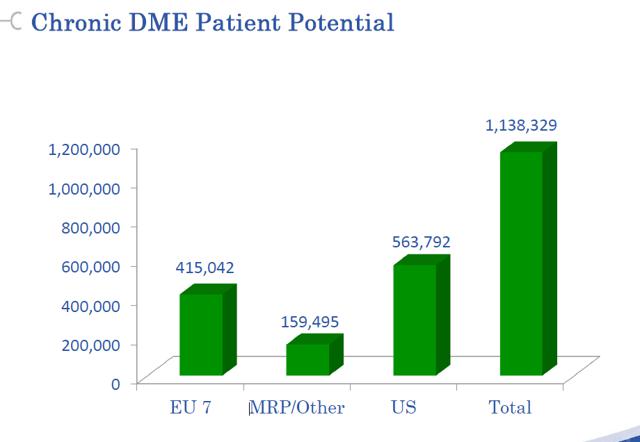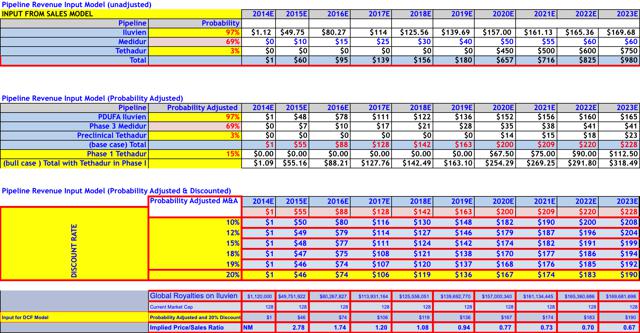 DME Model Assumptions:
600,000 Diagnosed DME patients
18,000 new DME cases per year (survey work shows 12K-24K per year) growing 1% annually
5% of newly diagnosed patients start 1st Line Steroid therapy (survey work shows 5-9% range)
6% fail one anti-VEGF
70% switch from one anti-VEGF monotherapy to another anti-VEGF as monotherapy,
30% switch to steroid therapy
5% steroid use with anti-VEGF as combination therapy,
Bear Case= 7%
Base Case=11%
Bull Case=17%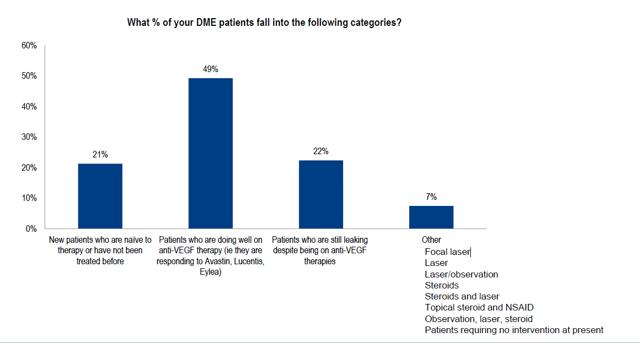 Assume Iluvien market share of "steroids" of 30% in 2015, then growing at a 14% CAGR through 2023.
Given the lower market penetration in DME relative to AMD, and taking into consideration that DME is "more leaky" than AMD with a higher proportion of patients refractory to anti-VEGF therapy, we expect a higher than expected usage of steroids in combination with anti-VEGF therapy starting in 2016 (2 years post Eylea/Iluvien approval) and accelerating thereafter as the average treatment duration according to the physician surveys treat DME patients with an anti-VEGF therapy on average for 20 months.
In our view, despite the preference for anti-VEGFs there is a durable place in the treatment paradigm for steroids. Despite their deficiencies they remain the best available anti-inflammatory agents that reduce a broad range of pro-inflammatory cytokines (shown below). The next inflammatory pathway to be targeted with monoclonal antibodies is PDGF or IL-6 in combination with anti-VEGF therapies. In our view, it is unlikely that these new drug candidates will be cost-effective enough to justify combination therapy ahead of steroid + anti-VEGF. Instead it is likely these agents simply erode or replace the VEGFs.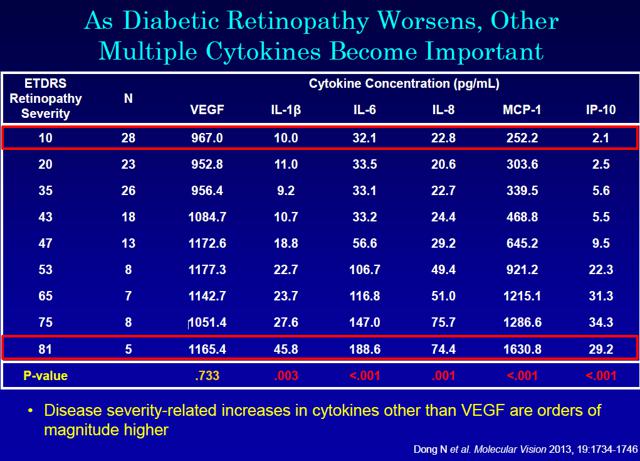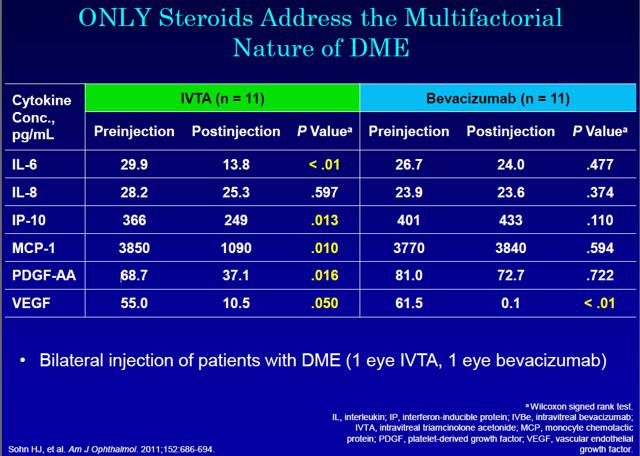 Moreover, there is some evidence supporting that Iluvien can be used as bridge therapy to attain a rapid reduction in ocular inflammation and improvement in visual acuity that can then be supplemented with anti-VEGF therapy to optimize patient outcomes.
In closing, PSDV represents an attractive risk/reward at current levels ahead of increasing newsflow. PSDV should be trading at least 4x our 2016E sales estimate of $74M, fully discounted at 20% and probability adjusted at 90%. This translates into a $296M market capitalization or 231% upside to give us our $10 price target post Iluvien's FDA approval. Finally, PSDV has all the hallmarks of becoming a quick and easy acquisition for a larger company facing expiring patents and with over $50B of biological products coming off patent through 2020, this greatly increases both the number of potential bidders and the likelihood of such an outcome actually transpiring. As we alluded to previously, we fully anticipate such an outcome occurring once Tethadur completes Phase 1 for >$1B.
Disclosure: The author is long PSDV. The author wrote this article themselves, and it expresses their own opinions. The author is not receiving compensation for it. The author has no business relationship with any company whose stock is mentioned in this article.