Overview
Typically, when the market sees a 34% drop in a stock, it means either a strong value has presented itself or that something is terribly awry in a stock...and it probably has more to go. Whole Foods (WFM) has dropped nearly that amount in 2014 YTD, and the company is coming off of two "disappointing" results in a row. Even with that drop, the stock is sitting with a nearly 25 P/E and 22 future P/E. While these rates are not astronomical, they definitely do not scream valuation stock. In this article, we want to look at the company's recent woes, future catalysts, and do a DCF analysis on the company to decide how much it truly is worth. From there, we can see if this pullback has created "value" or not.
Recent Woes
So, what has been causing all the commotion and issues at Whole Foods. Let's turn to the company's latest earnings report.
In the company's Q3, the company hit record sales again. That number, though, wasn't quite good enough for the market. The market, instead, honed in on same-store sales. Those came in at 3.9%, which missed the 5% expectations that many companies had been looking for in the report. Strangely, the company beat EPS expectations of 0.39 with 0.41 as well as a 10% revenue increase. What happened in same-store sales?
Part of the issue may have been that WFM did not have a clear answer. See this exchange between William Blair analyst Mark Miller and co-CEO John Mackey:
Mark Miller - William Blair

Glenda, I was looking at it not quarter-to-quarter, but say compared to a year ago, it looked like there was a bigger step-down in the old stores.

Also, there is sales per square foot, we averaged $1,000 across the company, but a lot of those smaller older stores are doing significantly better than that, and in a lot of cases they are challenged for how much more volume they can do given the parking constraints and the size of the store. So, we're hoping that our refreshes will help there, but that's always been a challenge for us. I've always been amazed at our older, smaller stores have comps as high as long as they have. I mean there is a lot of factors, I mean for one thing, our big - our new stores are smaller, so in some ways they are affected more by new entrants, new competition. And secondly, we're going to be launching in those, a lot of those older stores, a lot more refreshes that we think are going to help those stores in particular.
Some stores are looking old? They need a refresh...does that really account for a 100 basis point miss in expectations. Or, does it say that the growth of WFM is drying up in stores more than two years old, and the company can only expand through more expansion in stores. The company saw a 20% drop after Q2 saw a similar drop in same-store sales.
In Q2, the company had other explanations, noting that comps had been impacted by factors including strategies around value and growth (movement into lower income markets as well as more value foods), increasing competition, and the weather. The company noted:
Since Q3 last year, our average price per item growth has moderated to 160 basis points from 3.3% to a three-year low of 1.7% this quarter. We attribute this primarily to our proactive value strategy and believe this is the biggest contributor to the change in our comp trends over the last several quarters. A dynamically changing competitive market is certainly a factor as well. The growing demand for fresh healthy foods, the offering of natural and organic products is expanding everywhere and new stores, existing stores and online...we believe it is currently impacting our transaction count growth.
The issues seem to express that mainstream stores are pushing the company. The company is seeing more value buyers, and they have run out of affluent neighborhoods to build stores as they move into more low income communities. Overall, it may be the new norm that same-store sales are going to flatten until perhaps the company moves into foreign markets.
The question, thus, is whether other catalysts outweigh this slow down and is the slow down priced into the stock at this point?
Catalysts
Despite all the negative press, WFM grew revenue at 10% in its Q3, outpacing the economy by nearly 2.5x and growing at a faster rate than many companies in the market, so its not all bad in the Whole Foods world. Moving forward, we are seeing catalysts for the company in the form of new stores, growth of organic/health foods and the company's continued effort to be a leader in this area, and digital/outside the store efforts.
New stores will continue to remain the main driver of growth for the company moving forward. The company has 116 stores right now in their pipeline, and they are opening 35-40 stores per year. The company, though, has noted that they are seeing some cannibalization of stores to the tune of around 20% in the latest quarter, so we are wondering how many more new stores can open to create a significant difference. CEO John Mackey has suggested, therefore, that new store growth is likely to start moderating:
On the other hand, as time passes the base of stores gets larger and larger and larger, so question is, are we going to grow faster than our base, and I think it will probably be less than you've seen this year because over the last two years, we've had significant acceleration in our new store growth. We don't anticipate that same rate of acceleration. So you will see some moderating going forward, I think actually probably beginning in 2015.
Therefore, we will likely see a slowdown to 20-30 stores opening in 2015 and beyond. That makes sense as well with the footprint that the company has formed to this point. Yet, new stores are still bringing in around $700K - $750K per year, so there is a lot of growth that can be generated from these stores. Yet, as the company grows more stores we would expect comparable sales to grow year/year, and that should moderate to more around slightly above GDP levels.
Growth of organic and health food market is both a blessing for Whole Foods, but it is also causing competition. Before, WFM was the leader in a lot of the growth of the organic food market, but other grocers are definitely in the game as well, which has challenged WFM. That is why the company has to continue to be a leader in this industry, and we see the company positioning itself in that way. The health of organic food industry as well as a changing American diet is really a long-term benefit to Whole Foods. Here is the growth of organic food from 2000 - 2012, according to Statista: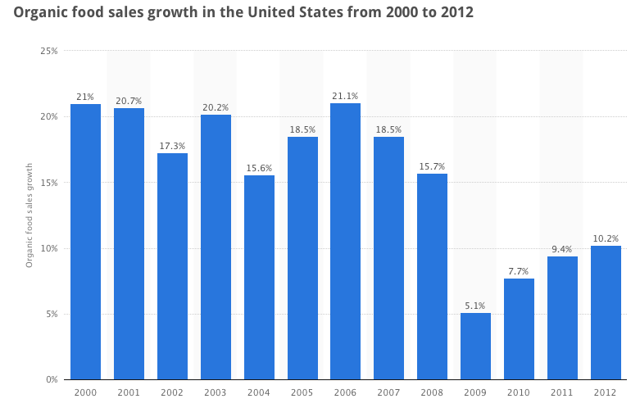 From 2013 - 2018, the market is expected to grow at a rate of 14% CAGR, and that will be helpful to Whole Foods even if competition is mounting. What more is that Whole Foods, to me, will always be a leader in this area. While the competition begins to offer more organic, natural, and health food products, WFM continues to push the envelope for what it means to be a leader in their industry. In other arenas, this path is often one that garners respect. It doesn't work as well in the grocery arena...righ now. Over time, though, I think it will continue to allow Whole Foods to be an innovater.
Moving forward, the company is a leader in the next arean for organic, natural foods with its push to label all GMO foods. Here were comments on some of what's coming next for Whole Foods, as it remains the leader of natural foods in the USA:
This fall, we will raise the bar another level with the launch of our Responsibly Grown rating system for produce and flowers. These standards will allow customers to make informed buying choices regarding important sustainable farming practices, including pest management, farm worker welfare, and pollinator protection.

Natural and organic products are increasingly available, but no one does what we do. Our brand and our marketing campaign will highlight both our value and our values, reinforcing our leadership around quality and transparency in the marketplace.
These initiatives may seem small, but they are the types of move that keep WFM customers continuing to shop there and allow them to continue to outpace their competition. While that competition has closed some of the gap and these initiatives aren't as broad in strokes, they make a difference to remain on top. That's something very important to us as we consider the company as a long-term investment.
Finally, the company is making some small store remodeling efforts that we believe will mitigate some same-store sales and give stores a refresh. Overall, there is still a lot to like here, and we believe that if we consider the company as an innovator or market leader, they are making the right moves to maintain that approach.
Now, the question is ... how much is the stock worth.
Price Target Model
To price the company we are going to want to make some assumptions about the company's next few years to help get an assessment of what its current market valuation should be. The valuation is based on discounted cash flows over a five year period. Let's assume a two scenario system. The main driver of revenue, overall, is new stores still. In the more aggressive model, let's assume an average of 25 new stores per year with $35M per store per year. In a more moderate model, let's assume 20 stores at $34M per store per year.
The other main driver is going to be same-store sales. Those have been dropping, but we believe a bounce back is possible from some of the catalysts we had mentioned. In a more positive scenario, let's assume a 4.5% per-year same-store sales. In a more conservative scenario, we will assume 3.5% per year. Even in these two models, we are not going over the top, and both of these are extremely achievable. What revenue does that put us at for the company:
| | | |
| --- | --- | --- |
| Year | Aggressive | Moderate |
| 2014 | $14.5B | $14.0B |
| 2015 | $16B | $15.2B |
| 2016 | $17.6B | $16.4B |
| 2017 | $19.3B | $17.7B |
| 2018 | $21.0B | $19.0B |
Profitability
Profits for the company has continued to improve over the past ten years. Many feared that they would see a drop as the company pushed towards value, and there has been a slight dip in the past twelve months...but it appears to be mostly related to the other issues that we had discussed before. We will assume a 6.8% operating margin in the aggressive model and 6.5% average for moderate.
CapEx/Debt
We will assume a $250 capex to $350 over the next five years.
Best-Case Scenario
PROJECTIONS
1
2
3
4
5
2014
2015
2016
2017
2018
Income from Operations
986
1088
1199
1312
1428
Income Taxes
385
424
468
512
557
Net Op. Profit After Taxes
601
664
731
800
871
Plus: Depreciation
370
400
425
450
460
Less: Capex
-250
-275
-325
-350
-400
Less: Increase in W/C
81
81
81
81
81
Available Cash Flow
640
708
750
819
850
We use a 3.5% cap rate for each because this is a mid-to-high growth stock. The company has no debt, so there is not a huge concern of them not being able to pay their interest. In the moderate scenario, we come up with a $48 2014 price target. In the best-case scenario, we come up with a $58 price tag. These are 2014 targets, so we believe that now is a great opportunity.
Conclusion
Whole Foods' recent woes are there, and they have been priced into shares. At the beginning of the year, WFM was not a great purchase, but it is now. We like this stock as it has priced in value and issues and then some. Look for a $50 - $60 price tag for Whole Foods when this year ends or it will still be a good purchase.
Disclosure: The author has no positions in any stocks mentioned, but may initiate a long position in WFM over the next 72 hours. The author wrote this article themselves, and it expresses their own opinions. The author is not receiving compensation for it (other than from Seeking Alpha). The author has no business relationship with any company whose stock is mentioned in this article.