This author has long advocated the Energy Transfer companies. Nonetheless, the hyper-aggressive growth posture and consistently improving business prospects has continued to surprise. Energy Transfer Partners (NYSE:ETP) and Energy Transfer Equity (NYSE:ETE) are prime MLPs with great runways.
Last week's earnings report fanned the flames.
More Major Initiatives Rolled Out
The August 7 earnings conference call provided an opportunity for investors to reconnoiter the most recent growth landscape.
"Rover" pipeline: This 820-mile natural gas pipeline will run from the prolific Marcellus and Utica shale formations to Midwestern and Canadian destinations. Project cost estimates range between $3.8 to $4.4 billion. An open-season lined up a bevy of shippers ready to utilize 91% of the ~3 billion cf/d capacity.
Energy Transfer expects to apportion the project in a 60/40 ETP/ETE split. However, Energy Transfer Partners is the likely end-game asset owner. In aggregate, shippers will also have an opportunity to stake an equity claim in the deal; up to 49% of the project. In any event, Energy Transfer will retain a controlling interest, manage construction, and operate the pipeline.
The project is planned for completion between the end of 2016 and mid-year 2017.
Rough math indicates ETP unit holders should see a $0.21 annual accretive kicker. On the other hand, ETE unit holders may experience a $0.33 a year accretive bump; which by itself translates into a handsome 21% distribution increase.
"Bakken" pipeline and Trunkline reversal project: This project plans to move hydrocarbon liquids from the Bakken region to Patoka, Illinois. Patoka is a major Midwestern oil hub. From there, hydrocarbons can move south on Trunkline to a number of key destinations in Louisiana. Trunkline was a natural gas pipeline now being converted to liquids service. Similar to "Rover," ETP and ETE are likely to share ownership in a 60/40 split. While the $3.6 billion Bakken project may also end up on the ETP books, I believe Energy Transfer Equity will retain a 40% stake in the incremental $1.4 billion Trunkline reversal investment. Energy Transfer will construct and operate the system; boasting a capacity of up to 570,000 bbls/day.
Here, the economics indicate ETP unit holders should experience a $0.12 annual incremental accretion. By 2017, Energy Transfer Equity investors may enjoy an even better $0.31 annual increase.
Notably, Energy Transfer has demonstrated the ability to bring large-scale projects in: on-time and under budget.
Susser Holdings acquisition: I reviewed the details of this $1.8 billion Energy Transfer Partners deal in the April 28 Seeking Alpha article entitled, "Energy Transfer/Susser Holdings Deal: What You Need To Know." At this juncture, all that remains is for Susser investors to give the green light on August 28. The transaction is expected to close the following day.
Indeed, Energy Transfer unit holders must permit these projects to play out. For ETP investors in particular, the pipeline projects are expected to be partially financed by issuing new equity. Savvy investors may use these secondary offerings to acquire more shares. Unit prices typically dip prior to the offering.
ETE unit holders should not expect any dilution.
Mopping Up Other Business
Management also used the call to confirm that Energy Transfer recently sold 9.7 million AmeriGas Partners LP (NYSE:APU) units for $432 million, effectively closing the companies' propane chapter. Several years ago, Energy Transfer decided to exit the propane gas business; selling its interests to AmeriGas for cash and APU units.
Subsequently, Energy Transfer carefully sold down the equity units, thereby fulfilling a promise to AmeriGas to divest of the units without disrupting the market for them.
Finally, ET senior leadership announced it continued to accumulate Regency Energy Partners (NYSE:RGP) units. In the most recent quarter, about 31 million RGP units were purchased by ETP and ETE. Energy Transfer Equity is already the GP for Regency. I suspect its just a matter of time before this smaller LP cousin is absorbed by the ET family.
It doesn't take long for the paint to dry at Energy Transfer.
By the Way, the 2Q Results were Good, Too
Energy Transfer Partners racked up another strong quarter, boosting revenues, distributable cash flow, and unit holder distributions. Cash distributions were easily covered by operations; at a 1.1x ratio. Second-quarter free cash flow was fully positive, another pleasant surprise.
Energy Transfer Equity logged a solid quarter, too. Average diluted units outstanding dropped 3%, as the $1 billion buy back program was completed. Operating cash flow was up. The unit holder distribution was increased for the seventh consecutive quarter. YoY revenues were up 17%. Distributable cash flow bounced 21%.
Regular readers know that this author has encouraged investors to follow Energy Transfer Equity IDR relinquishments. During the 2014 second quarter, these relinquishments totaled $58 million, or $0.11 per unit.
IDRs (Incentive Distribution Rights) are a form of payment provided to General Partners when the underlying LP entities perform well. ETE agreed to relinquish some IDRs in consideration for various business interests in previous Energy Transfer deals. Many of these relinquished IDRs will kick in again in 2015 and 2016. It's almost free money and another reason I am bullish on ETE units.
Energy Transfer Units Remain in Play
Generally, I avoid "buying up" into a stock's rally. Energy Transfer Equity is an exception, despite a 36% gain so far this year. For 2014, I believe the units can generate up to $7 operating cash flow. A below-historic 10x multiple on that yields a $70 price tag, or ~25% upside from here. Furthermore, I believe it's probable that cash flows will grow 15% a year through 2017: the current GP IDR interests, LP unit distributions, the Trunkline business, and "un-relinquished" IDRs provide a decent line-of-sight to $10 a unit. By 2017, it would not surprise me to see these units pay out an annual $2.50 to $2.75 cash distribution. The current annualized payout is $1.52.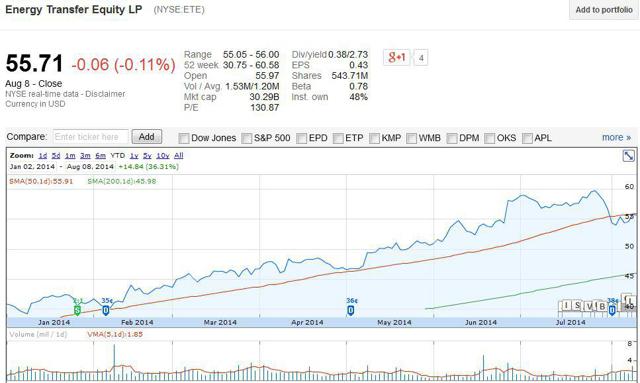 I am slightly less sanguine about Energy Transfer Partners. The underlying assets, and associated carrying costs, mostly reside within this business. In addition, some equity dilution is likely.
However, my LP rule-of-thumb target price is a cash distribution 300 basis points above the 10-year T-note. While good commentators may disagree, I contend this adequately compensates investors for risks associated with most oil and gas MLP business models. Currently, the T-note rate is about 2.4%; therefore, I'm looking for at least a 5.4% fair value yield. ETP now has an annualized 6.7% yield, so there's room. The math indicates a $69 per unit target, or about 20% upside from here. In 2014, the units have been largely flat, though they started the year at a peak, and recently took a tumble with the rest of the market.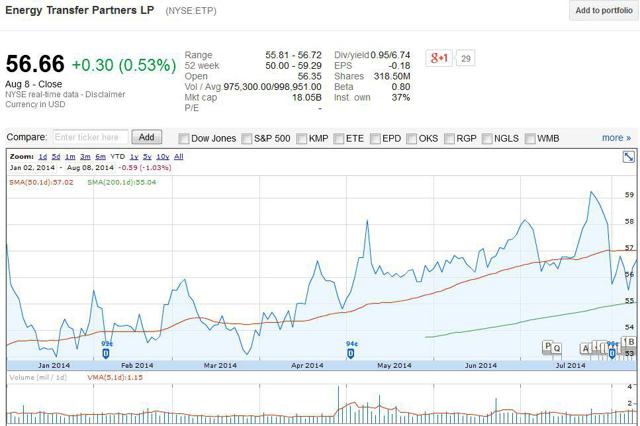 Please do your own careful due diligence before making any investment. This article is not a recommendation to buy or sell any stock. Good luck with all your 2014 investments.
Disclosure: The author is long ETE, ETP. The author wrote this article themselves, and it expresses their own opinions. The author is not receiving compensation for it (other than from Seeking Alpha). The author has no business relationship with any company whose stock is mentioned in this article.