Globus Medical (NYSE:GMED) recently announced financial results for the second quarter ending June 30, 2014. The company registered its worldwide revenue of $113.6 million, a 6.1% increase over the same period of 2013. Net income increased to $20.6 million, from $7.4 million a year ago and EPS remained at $0.22, compared to $0.08 in 2013. The company revised its 2014 revenue guidance in the range of $460 to $465 million, which is below consensus views. As a result, the stock corrected steeply immediately after earnings. Since the EPS guidance remains unchanged, I don't believe the correction is justified.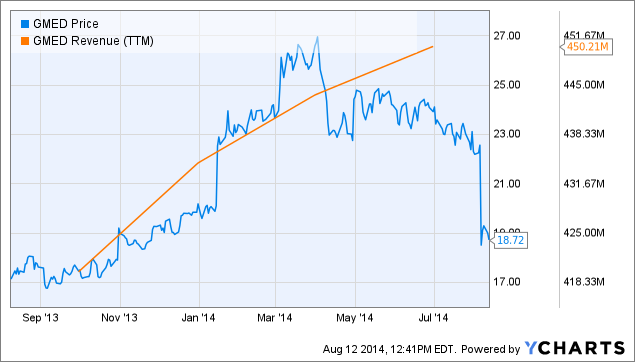 In my original article I argued that GMED's pedicle screw platform CREO has the potential to make GMED a versatile player in the field of robot-assisted spine surgery. In the second quarter GMED launched CREO Threaded, part of the company's CREO pedicle screw platform. David Paul, Chairman and CEO of Globus Medical, said, "CREO Threaded offers controlled gradual correction for complex deformity users who prefer threaded locking caps and addresses the largest segment of the spine market. We are confident in our long term growth prospects and our ability to sustain our industry leading profitability by continued execution of our business model."
I expect that GMED's 2015 year-end revenue would be around $550 million. I also expect that the company's revenue will start to pick up meaningfully from 2016 onwards, after the expected commercial launch of the robotic platform of Excelsius, which GMED acquired in January. The ongoing correction in GMED offers an excellent investing opportunity for long-term investors. In order to learn more about the company and its prospects, read my original analysis.
Disclosure: The author has no positions in any stocks mentioned, and no plans to initiate any positions within the next 72 hours. The author wrote this article themselves, and it expresses their own opinions. The author is not receiving compensation for it (other than from Seeking Alpha). The author has no business relationship with any company whose stock is mentioned in this article.