Sprouts (NASDAQ: SFM) Company Highlights
Net sales of $743.8 million; a 20% increase from the same period in 2013
Net income increased to $30.2 million with diluted earnings per share of $0.20
Adjusted net income increased 68% to $30.2 million; compared to $18.0 million from the same period in 2013
Adjusted diluted earnings per share increased 43% to $0.20; compared to $0.14 from the same period in 2013
The Company expects to open a total of 24 stores during 2014. 15 new stores have already been opened
Increased net sales growth guidance from 18%-20% to 19%-20%
Increased adjusted net income growth guidance from 40% plus to 45% plus
Increased adjusted diluted earnings per share growth from 31%-35% to 35%-40%
The above highlights are what any investor loves to see. Here we have a company that appears to be running on all cylinders and it is the type of company that I am drawn to. It's a company that is growing at a rapid pace and yet is still profitable and not completely loaded down with debt due to over expansion. However, the question about any stock, the essence of why people seek out information and analyze stocks is: Is this a good buy? Alternatively, is this stock under-priced, over-priced, or accurately priced?
If it were as simple as looking at a chart pattern or one metric like a P/E ratio to figure out if you should buy or sell a stock then you wouldn't even be reading this, right? You would just automatically buy low and sell high. And where would the fun in that be? As it turns out, deciding if Sprouts is a good buy at this particular moment involves analyzing not only the company's financial health but that of its competitors.
What About Whole Foods?
No discussion about Sprouts will ever be complete without mentioning the seasoned veteran in the space, Whole Foods Market, Inc (NASDAQ: WFM). Whole Foods began in Texas in 1980. To date they have about 388 stores. The company went public in 1992 and has been a sensational success story for organic/natural foods as well as an incredible success for initial investors. Since Sprouts' 10-Q release of last week I've seen a lot of discussion and comparisons made between the two companies. Most of these discussions are about which company you would pick for your portfolio given the standard metrics of P/E ratio, Price/Sales ratios, etc.
The one issue I have about comparing these two companies today is that the comparisons are of two companies, which I agree are in the same industry, but at two completely different cycles in their business models. Yes, Whole Foods is still expanding its store count and is expanding further into international markets but growth has begun to slow and it is more of a mature company that doesn't need to hoard its cash to fund expansion as much as it used to. For example, the company has been repurchasing stock with excess cash for a number of years now.
Sprouts was founded in 2002 and had its IPO in July of 2013. Whole Foods has about a 20 year head start on Sprouts making a comparison between the two companies almost rudimentary as it invariably flows down to what type of investor you are. After all, does it really make sense to compare P/E ratios of the two companies when Whole Foods' expected EPS growth is 14% and has a forward P/E of 24.69 and Sprouts' expected EPS growth is 24% and has a forward P/E of 46.77? I think most would agree that a company with a higher growth rate will invariably have a higher multiple. The question then is: Do you prefer a mature company with a proven business model or a higher growth company with an attractive business model in the same space? Both are attractive choices and I think a great case can be made for both companies.
In order to evaluate and compare these two companies I think one must take a look at a point when the companies were a similar size and had similar goals. I admit that the time periods are different and a company operating in the same space 10 years later may face different challenges. To compare the two companies I took a look back into Whole Foods' past to a point where the total sales of the companies was almost the same. I went all the way back to the July 6, 2003 10-Q for Whole Foods and compared that to Sprouts' 10-Q released last week for the quarter ending June 29, 2014.
Comparative Quarter WFM vs. SFM Analysis
Sales Analysis
| | | |
| --- | --- | --- |
| | WFM | SFM |
| | QTR Ended 7/6/03 | QTR Ended 6/29/14 |
| Sales | $749 Million | $743 Million |
| % Change: Current Qtr vs. Prior Year | 15% | 20% |
| Net Income | $28 Million | $30 Million |
| % Change: Current Qtr vs. Prior Year | 30% | 68% |
| Diluted EPS | $0.48 | $0.20 |
| % Change: Current Qtr vs. Prior Year | 25% | 43% |
| Stores | 144 | 177 |
| Average Square Foot Per Store | 37,887 | 27,500 |
| Sales Per Store | $5.2 Million | $4.2 Million |
| Sales Per Square Foot | $19,770 | $27,047 |
| Net Income Per Store | $199,111 | $170,344 |
| Net Income Per Square Foot | $757 | $1,096 |
| Price to Sales Ratio | 4.18 | 6.56 |
From a sales perspective the two companies were very close to mirroring each other when at a similar size to each other. Both companies had broken sales of over $740 million for the first time in a quarter. As you can see, Sprouts has a larger net income % growth as well as a diluted EPS % growth. At this point in its existence Whole Foods had 144 stores and was generating over $5.2 million per store compared to that of Sprouts which generated $4.2 million per store. The main difference here, and this is the center of what makes Sprouts slightly different from Whole Foods, is that Sprouts focuses on a smaller type of store than Whole Foods. The average square footage of a Sprouts is 27,500 but the average square footage of a Whole Foods is 37,800. Even though Sprouts actually had more stores opened when it hit $740 million in sales than when Whole Foods hit $740 million it occupied less square footage and actually delivered a higher sales and net income per square footage than Whole Foods. Sprouts' stock price seems to reflect this as Sprouts has a higher price to sales ratio than Whole Foods did.
Cash Flow and Balance Sheet Items
| | | |
| --- | --- | --- |
| | WFM | SFM |
| | QTR Ended 7/6/03 | QTR Ended 6/29/14 |
| Cash and Cash Equivalents | $131 Million | $184 Million |
| Cash Flows from Operating Activities | $204 Million | $137 Million |
| % Change: Current Qtr vs. Prior Year | 10% | 42% |
| Current Ratio | 1.5 | 1.5 |
| Book Value Per Share | 11.35 | 3.97 |
| Price to Book Ratio | 4.19 | 7.98 |
| Return on Stockholders' Equity | 3.80% | 4.90% |
| Market Capitalization | $3.2 Billion | $4.8 Billion |
The two companies again look very similar although the valuation of Sprouts over Whole Foods again comes into the light. As we can see both companies have the cash available and coming in from operating activities to easily fund their future growth. Debt is also not an issue as the current ratio for both companies is a solid 1.5. Sprouts again seems to be growing a little faster and had a better return on stockholders' equity which may be the reason for the higher price to book multiple that Sprouts trades at as well as the total market capitalization which values Sprouts higher than Whole Foods at this point. The key point to take away from this analysis is that Sprouts, like Whole Foods at this point, is poised for growth, has the tools necessary to facilitate growth, has the demand necessary to make expansion a solid investment, and is proceeding on a schedule almost identical to the one Whole Foods was on.
Question of Valuation
The question I run into at this point is: Did the market already factor Sprouts' growth potential in based on what it knows already occurred with Whole Foods and therefore Sprouts is priced accordingly? In other words, is Sprouts a buy here or did we already miss out? It does appear based on the price to sales ratios and the market capitalization that Sprouts is closer to being efficiently priced and therefore may not represent a steal of a buy at this point. And I do believe that this is due to the fact that the market has a test case that has already run the gauntlet. The market has the luxury now of looking back and can estimate a more efficient price because of the history available through Whole Foods.
However, from July 6, 2003 through the present shareholders of Whole Foods have enjoyed a return of over 200%. While that sort of return is going to be hard to duplicate and some of that is already priced into the stock, I do feel that Sprouts is still a stock worth owning at this point. Any type of pull back would be a good time to acquire a position. The companies have been shown to be on a similar growth track that has had proven success. I particularly like to follow the charting method below which lists the stock price against actual and estimated EPS. Once the stock drops below the estimate I check to see if the estimate needs to be revised downward. In the case of Sprouts, according to the conference call last week, estimates that the company gave out were actually increased so I believe the estimated EPS trend line should remain intact. In time, the stock price should revert to or above the EPS trend line. Also, as Sprouts continues its growth and matures it should follow something similar to a recent chart of Whole Foods.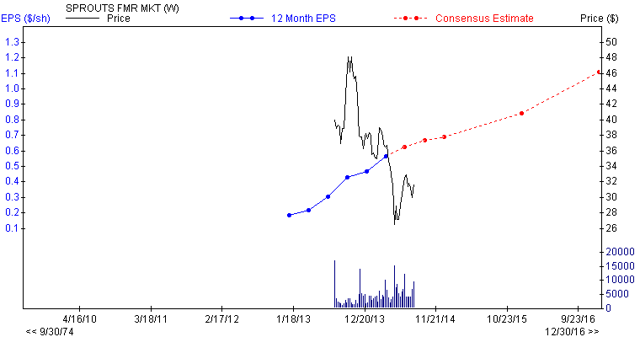 Source: Zacks.com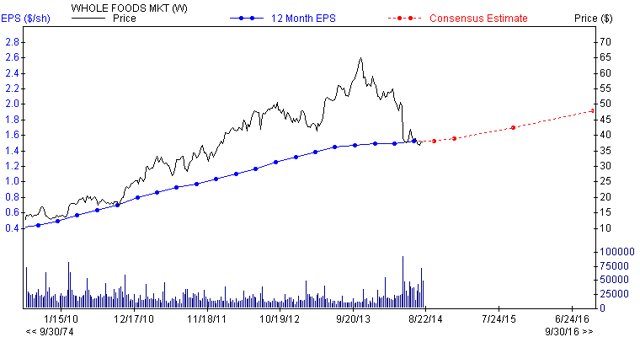 Source: Zacks.com
Disclosure: The author is long SFM. The author wrote this article themselves, and it expresses their own opinions. The author is not receiving compensation for it (other than from Seeking Alpha). The author has no business relationship with any company whose stock is mentioned in this article.