Last week I took a look at the performance of our Mobile Growth Portfolio two months in. But I wanted to take some time to unpack the Mobile Growth Portfolio a bit more and break down each of the eight categories.
This article will look at one of the more fun categories: Mobile Gaming. It shouldn't surprise anyone now that mobile gaming is BIG bucks. A recent study from SuperData cites the mobile gaming market in the U.S. at $3.2 billion a year. Gaming is the most lucrative category for app developers, taking the lion share of mobile app usage and revenues. According to gaming focused investment bank, Digi-Capital, games accounted for 72 percent of mobile app revenue in 2013.
However, gaming is also the most saturated app category. According to analytics firm Adjust, games account for the highest number of apps of any category by a long shot: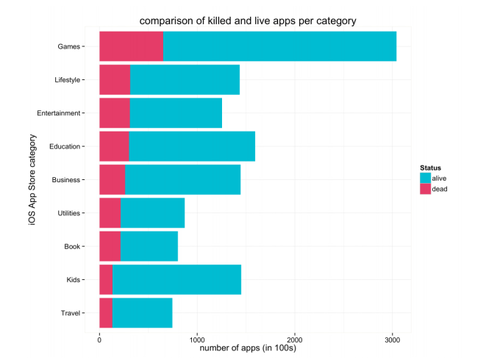 Meanwhile, there are big problems with retention and engagement. A similar report from Localytics points out that games have the lowest level of stickiness and engagement among any category. (Note: a problem we're trying to help with at TapCommerce).
In short, you've got to do a lot of things right in order to make it as a gaming company. And you need to master many more to make it to the next stage of being a public gaming company.
So who are some of the biggest public gaming companies to invest in?
King Digital Entertainment plc
King (BATS:KING) is the leading mobile game company in the U.S. in terms of number of players and time spent on games, according to mobile analytics firm Mobidia Technology. King is an interesting company in that unlike many of their competitors, they don't have a huge portfolio of games. Instead they focus on just a few titles. But these titles tend to be massive hits. (Supercell is another company that exemplifies this strategy but unfortunately we can't invest in it because it's still private.)
King's numbers are beyond impressive (see: 5 Key Numbers From King's IPO Filing). With a DAU/MAU ratio of almost 40%, King's users clearly love — or are addicted — to their products.
The main concern about King is their heavy reliance on Candy Crush. It still makes up the vast majority of their users and revenue, so they need to diversify beyond it to prove future growth. They do have a promising new Candy Crush Soda title coming out but it looks like more of a complement than a true sequel. Another concern for King is they are still a recent IPO. The market needs more time to judge them.
The biggest pro is that King is one of the cheapest mobile gaming stocks out there fundamentals-wise.
Titles: Candy Crush Saga, Bubble Witch Saga, Farm Heroes Saga, Pet Rescue Saga
Fundamentals: Price/Sales - 2.67, Price/Book - 9.54, Enterprise Value/EBITDA - 6.65
Technicals: Limited data here since it's a new IPO, but looks like short term support is around $16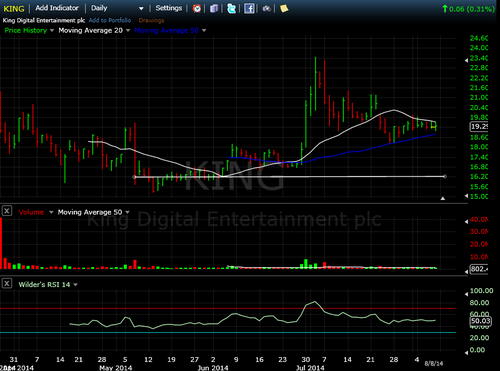 Electronic Arts
Electronic Arts (NASDAQ:EA) is of course the premier legacy PC and console game developer. Makers of EA Sports (Madden, NHL, FIFA, etc.), Need for Speed, The Sims, Battlefield, etc. There's no telling how many people will forever have the voiceover "EA Sports… It's in the game." seared into their memories.
But EA is starting to invest big in mobile. GamesBeat recently had a great interview with the EVP of EA Mobile on how they are doubling down on mobile games. They have a great portfolio of IP for mobile. Everything from The Simpsons to The Sims to Bejeweled.
EA just reported a great Q2 earnings, with profit up 51%. While most of their revenues still comes from console sales like Titanfall and FIFA 2014, a growing percentage is coming from mobile. They announced an impressive 140 million monthly active players on mobile in Q1. And revenue from mobile rose 18% to $120 million during the period. Up 39% from last year.
"We continue to view mobile as a business with tremendous opportunity as the market is experiencing significant global growth in smartphones and tablets," Blake Jorgensen, CFO said.
I'd expect EA to keep improving mobile with successive titles and additional IP. I'd also look for them to make some serious mobile acquisitions in the next year. Let's hope they take advantage of this current ZIRP (zero interest rate policy) and cheap borrowing environment to pick up some strong mobile studios.
Titles: Bejewled Blitz, The Sims, Plants vs. Zombies, Real Racing, The Simpsons: Tapped Out, etc.
Fundamentals: Price/Sales - 2.71, Price/Book - 3.84, Enterprise Value/EBITDA - 23.72
Technicals: After popping on earnings in May, it's been consolidating in this $34-38 range.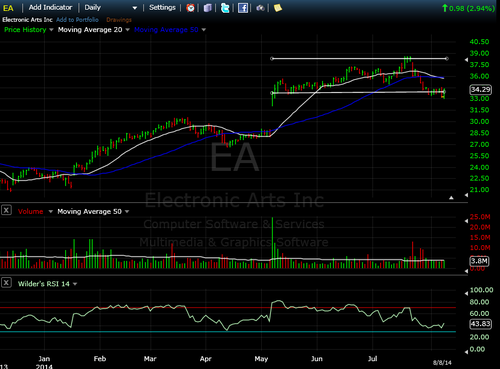 Activision Blizzard
The other big legacy PC and console game developer is Activision Blizzard (NASDAQ:ATVI).
Activision has been developing hits for years, ever since their first billion dollar game franchise, Tony Hawk. They now have the most valuable franchises of any gaming company in the world (e.g. Call of Duty, World of Warcraft, Diablo, etc.)
They have- however- been a bit slow on the uptick for mobile. They tend to focus on making high production value games that people play for hours at a time. That doesn't translate quite so well to mobile. Yet.
Their first foray into mobile sure made a big splash though. Originally a desktop game, Hearthstone — a Warcraft inspired card game — blew up the charts when it launched in April, quickly hitting No. 1 on free iPad apps.
It has been sliding down the charts lately but they have some interesting plans for expansion packs and a forthcoming iPhone version that will be sure to do well.
Activision reported this week with good recent earnings, with Q2 results above consensus. They also have a strong 2H lineup and release momentum, with new IP Destiny (Sept.), sequels to Skylanders (Oct) and Call of Duty (Nov), and a World of Warcraft expansion (Dec).
I think we'll see Activision be a lot more aggressive on mobile in the next few years as our devices get even better and stronger (and for iPhones, bigger), allowing for more immersive gaming experiences.
And much like EA, I think we should expect Activision to get acquisitive about mobile this year too.
Titles: Hearthstone
Fundamentals: Price/Sales - 3.75, Price/Book - 2.24, Enterprise Value/EBITDA - 13.90
Technicals: Solid uptrend since breaking out of $16-18 channel at the beginning of the year.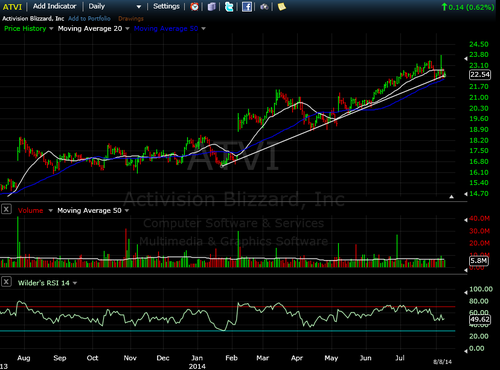 Glu Mobile
Glu Mobile (NASDAQ:GLUU) is a mobile games publisher mostly known for its high quality action / adventure games.
They are routinely pushing the limit on the type of gameplay that can be done on mobile devices, often resulting in features by Apple (NASDAQ:AAPL) and Google (NASDAQ:GOOG). People often compare their games like Deer Hunter and Contract Killer to console level quality.
But they've recently been focusing on widening their reach with more casual games. Their latest casual title Kim Kardashian: Hollywood launched recently has been a big hit, getting to the top 5 free. If the title gets staying power, expect them to continue this Hollywood franchise with other big celebs.
Investors would welcome the news for Glu to expand beyond just the action / adventure niche (which has higher value users, but fewer of them).
Glu has been on a run recently, seemingly due to the Kardashian game success. However it's down roughly 25% since announcing Q2 earnings on July 30th. The company beat estimates and raised Q3 guidance, but it looks like investors were hoping for more.
That said, it's still relatively cheap at a market cap of $450mm and a Price/Sales of just over 3. This is one of the reasons that I gave it the most weight of any of the gaming stocks.
Glu is also highly shorted, with 17.8% of float short. As growth investors, we like to see this because it means the stock can move quickly on good news as short sellers cover their positions. It does mean more volatility in the meantime though.
Another pro is that Glu could make for a good acquisition target. Given their traditionally action niche, I wouldn't be surprised if Activision makes a move here. Could be a good fit.
Titles: Deer Hunter franchise, Contract Killer franchise, Gun Bros, Kim Kardashian Hollywood, Blood and Glory, etc.
Fundamentals: Price/Sales - 3.20, Price/Book - 4.50, Enterprise Value/EBITDA - (-53.55)
Technicals: Needs some time to consolidate after this big run. I'd look to be a buyer with some consolidation around $4.80, and especially if it closes the previous gap around the $4.00 support.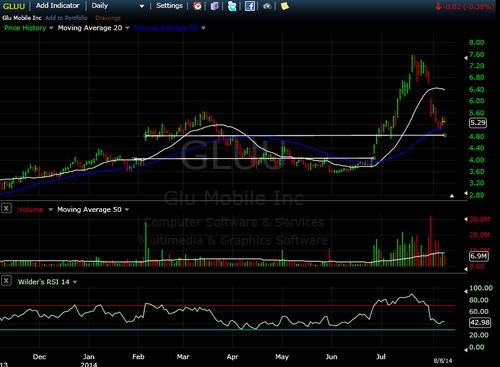 Zynga
I've written a lot about Zynga (NASDAQ:ZNGA) in the past. It's a name that's synonymous with mobile gaming.
With their big portfolio of games, Zynga seems seems to have found the formula to deliver hits on a routine basis. They have huge network effects with the "With Friends" and "Ville" franchises from which they can drive installs for their newer games and get titles into the top 10 with relative ease.
The main concern with Zynga is that they overextended themselves, growing too far too fast. They have had to undergo multiple rounds of layoffs and re-orgs recently.
However, many are still optimistic about Zynga's prospects. They needed to make some bold moves to turn things around and the new CEO Don Mattrick did just that. From my perspective, the strategy they're going after is in the right place. Just a matter of execution now.
Titles: Zynga Poker, Ville franchise (FarmVille, CityVille, CastleVille), With Friends franchise (Words, Scrabble, Hanging), Slots franchise, Draw Something, Stampede Run, etc.
Fundamentals: Price/Sales - 3.32, Price/Book - 1.30, Enterprise Value/EBITDA - 55.28
Technicals: Zynga has been in a clear, long term downtrend. It's now hovering around the ~$2.80 support from last summer. Could be a good time to hop on for the brave long term believers. Next support is around $2.20.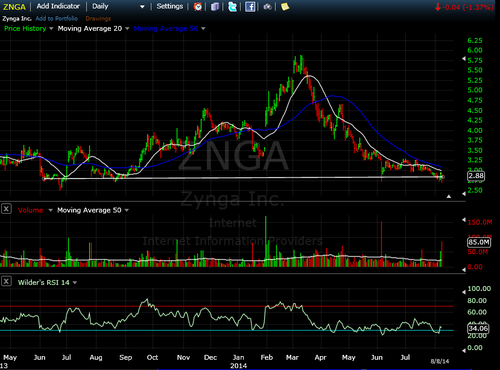 Note: One big caveat here is that this portfolio is focused on the U.S. To get a more complete exposure to mobile gaming, you would want to add international companies like DeNA (OTCPK:DNACF), GREE (OTCPK:GREZF), Konami (NYSE:KNM), Sega (OTCPK:SGAMY), etc.
It also doesn't include some of the larger, very successful mobile gaming companies that are still private such as Supercell, Machine Zone, Kabam, etc. It would be great to see how the public markets valued them too.
But as you can see, there's a lot of opportunity in the mobile gaming stocks today. It's certainly a trend that's here to stay. While it is one of the more risky categories we'll look at (because it's still hits focused and investors can be finicky), there's clearly a lot of money to be made if you can navigate them well.
Disclosure: No positions