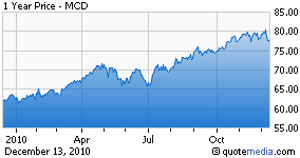 No need to introduce McDonald's (NYSE:MCD), just a few facts: MCD has 32,500 locations in 117 countries, including 26,200 operated by franchisees/affiliates and 6,300 company owned stores.
I added MCD into my investment idea list following a review/screen of Morningstar's dividend stock newsletter. For the past month, MCD has been trading between $75 and $79.
Please refer to the stock review explained post if you have questions on what I look for in this analysis. Click on this Surfmark if you want to follow this analysis step by step while looking at the raw data.
1- Business Performance Risk (+/=) and intrinsic returns (=)
Status

FCF / Sales

FCF/sales was at 17% over the last 12 months, similar to MCD's performance over the last 2-3 years and much better than in previous years, including a bad few years between 2000 and 2002 with 2%-3%

ROE

ROE is currently very strong at 37%, ahead of the 5 years average of 23%. Looking over the last 10 years, MCD had a few years below my preferred level of 15%, in 2002-2003.

ROA

ROA is currently at 17%, again ahead of the 5-year average which stands at 12%.

ROIC

ROIC is currently at a good 20% but has been quite a number of times below 12% and even below 9% in 2002-2003.

Revenue Growth

Over the last 5 years growth averaged 3.5%, including a few "good" years around 5%, consistent with previous years and lower performance in 2008; even a sales decline in 2009!

Cash Distribution
to Shareholders

Dividend: MCD currently pays a dividend yield of 2.8% to its investors, on a payout ratio of close to 50%

Stock repurchases: Over the last five years, MCD has bought back about 15% of its outstanding shares.
I am a bit torn with MCD: The results over the last 3-5 years have been overall quite good (except for sales in 2009) but looking longer at history makes me wonder how robust those results are: between 2000-2004 the company had a number of years in which I would have not considered the stock based on its returns! For now I'll give MCD a +/= in business performance risk but I will need to dig deeper to understand the turnaround and "strength" of current performance.
Looking into intrinsic stock returns an investor could receive with MCD:
- 2.8% dividend yield on a dividend payout of 50%.
- 3.5% growth (based on the 5-year average), which using an ROE of 23% would use up about 15% of earnings.
- 2% share buybacks, based on the current earnings yield of 5.5% and the 35% of earnings left after dividend and growth.
The total potential for intrinsic stock returns comes to 8%, not reaching my 10% target to get a "=" rating.
2- Balance Sheet Risk (+)
| | |
| --- | --- |
| | Status |
| LT Debt / Equity | Debt / Equity is fine at 0.8x while higher than in the 2004-2007 period. |
| Current Ratio | MCD's Quick ratio is now 1.0x, overall in line with recent year's performance |
MCD does not seem to have a risky balance sheet with some debt but still at a debt/equity level below 1.0x. In terms of liquidity, while 1.0x current ratio seems a bit aggressive, MCD has been able to operate at less in the past and given its cash model (you pay now for your burger, but MCD pays their suppliers much later), I am not concerned.
3- Valuation Risk (-)
| | |
| --- | --- |
| | Status |
| Cash Return | 4.3% |
| Price to earnings ratio | MCD currently trades at 18.1x, higher than the S&P currently at 15.1x and somewhat lower than the historical average of 19.6x over the last 5 years. |
MCD's valuation seems to be quite high for someone with a conservative approach. The cash return is not much higher than the 30-year T-bond rate.
Conclusion
I must admit that I am disappointed after this review of MCD. While the results have been strong recently, I wonder how much I should take into account results in the 2000-2004 period which would have not made my criteria for a long term investment. In addition the current price to be paid to become a part owner seems to be high and would not yield attractive intrinsic stock returns. For the time being I will pass and not perform a more in-depth company analysis. I will only re-evaluate MCD if it were to come down in price to ~$67.
Have you looked at MCD recently? What was your conclusion?
Disclosure: No position