By Bryan McCormick
Today is the busiest day for economic releases of the week, with the FOMC meeting announcement at 2:15 p.m. ET thrown into the mix.
The National Federation of Independent Business will release its Small Business Optimism Index at 7:30 a.m. ET. The previous reading for October was 91.7. If that value is met or exceeded, it would be its highest since the May survey.
At 7:45 a.m. ET, the ICSC/Goldman Store Sales report will be released. There are two parts to the report, the week-over-week and year-over-year changes. Most traders focus on the year-over-year number because it is a better indicator of the longer-term trend.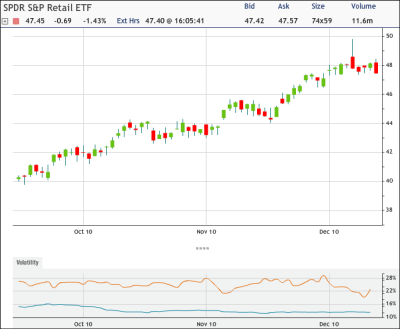 The last week-over-week change came in at -2.1 percent. The year-over-year data in the previous report showed a gain of 2.6 percent. Stronger-than-expected positive numbers would be seen as bullish, while negative numbers would be bearish.
The Producer Price Index comes out at 8:30 a.m. ET, with a headline number that is expected to show a month-over-month increase of 0.6 percent. Excluding food and energy, the consensus estimate calls for a smaller gain of 0.2 percent.
The range is very wide for the headline number, from a mildly inflationary 0.3 percent to an inflationary 1.2 percent. The range without food and energy included is similar, from a mildly deflationary -0.1 percent to a more inflationary 0.8 percent.
Retail Sales will also be released at 8:30 a.m. ET. The gain for sales with autos included is expected to be 0.6 percent. The same reading is anticipated for retail sales excluding car sales.
The headline number's range is wide, from a bearish 0.1 percent to a very bullish 1.3 percent. Without autos, the range is equally large, from a bearish gain of 0.2 percent to a very bullish 1.5 percent.
Redbook Store Sales will be reported at 8:55 a.m. ET. As with the ICSC-Goldman report, there are two components to watch: the more volatile month-over-month change and the year-over-year number, which shows the broader trend best.
The last month-over-month change was 0.6 percent. The previous report's year-over-year data came in at 3.8 percent. Negative numbers in either series would be bearish.
Business Inventories will be released at 10 a.m. ET. A rise of 1 percent is the consensus for inventory growth, with a range of expectations from 0.2 percent to 1.5 percent.
(Chart courtesy of tradeMONSTER)