Excerpt from Raymond James strategist Jeffrey Saut's latest essay (published Monday, December 13th):
"The sell-off in government bond markets (U.S., Japan, and Germany) is becoming rather impressive. While government bonds are massively overvalued, the timing of recent disposals is nevertheless surprising given the unresolved troubles in Europe. Why are all government bonds selling off just at the time one would think risk appetites should be muted? The simplest explanation is that the believers in the double-dip are throwing in the towel as the numbers out of Northern Europe and the U.S. continue to point towards expansion. This may be amplified by the fact that we are coming into the year-end and as 'long bond' bets move from being winners to losers, fewer investors want to have the bet on as their books close on the year. The other explanation is that market participants are realizing that the U.S. and Germany will continue to follow accommodative policies (e.g., Obama's tax-cut extensions) until growth is seen to be massively booming . . . so with that in mind, why be long bonds?"
So wrote the thoughtful GaveKal organization last week and it's truly a great question – why be long bonds? To be sure, the most important chart patterns of December (at least so far) are the charts of the 10- and 30-year Treasury bonds, whose yields have backed up more than 10% since the end of November (see chart below). That move has lifted the yield on the 10-year Treasury from an intra-day low of 2.9% to an intra-day high of 3.3%. However, measuring from last October's yield-yelp low of 2.3% finds the 10-year's yield up a massive 42%.
The second most impressive chart for the month is copper, which is up 10.8%. Copper is often referred to as "Dr. Copper" for it has a better predictive record on economic growth than many economists; and last week copper came a cropper as it traded to new all-time price highs. The third most interesting chart is crude oil, which shows a monthly price rise of more than 11%. Clearly, these charts are suggesting the pending U.S. tax compromise, combined with QE2, will foster larger than expected positive surprises for U.S. economic growth. Contrary to consensus opinion, it also implies further U.S. dollar strength and more upward pressure on bond yields.
To me, the biggest surprise of the tax compromise is the payroll tax reduction of 2% (to 4.2%). This alone should add some $1,000 of disposable income for the average $40,000 - $50,000 per year wage earner. Further, the extension of the Bush tax cuts is tantamount to passing a second fiscal stimulus package, "footing" to about 40% of the 2009 initiative. The resulting impact on our economy should accelerate GDP to better than the anticipated 2.0% - 2.5% rate by the end of 2011. The quid pro quo is that the 10-year Treasury's yield will likely approach 4%. Nevertheless, that does not mean stocks can't continue to rally.
Plainly, the rise in interest rates, copper prices, and crude oil is suggestive of stronger economic strength than is currently envisioned. That view is reinforced by the purchasing managers' report that anticipates factory sales will grow at 5.6% in 2011 with a concurrent ramp in capital investment of 15%. As often argued in these missives, the 2009 – 2010 corporate profits explosion has led to an inventory rebuild that is being followed by a capital investment cycle. Once companies start spending money on capital equipment (capex), hiring will increase with an ensuing "hop" in consumer consumption. That is the way the business cycle has historically worked, and I see no reason it will not play again.
Indeed, despite the headlines, if you talk to temporary help agencies you find hiring, except for construction, is booming. This is being reflected in the JOLTS report, which shows job openings increased by 12% in October. Consumer sentiment is also improving, as are retail sales, punctuated by October's $3.3 billion expansion in consumer credit. So I'll say it again, "To the underinvested portfolio manager (PM) the current economic and stock market environments are a nightmare!" Not only do such PMs have performance risk, but bonus risk and ultimately job risk. Accordingly, my sense is the S&P 500 (SPX/1240.40) will probably rise to above 1250 this week and then consolidate before embarking on another leg higher.
If this scenario plays, and stronger economic growth materializes, the various markets should start discounting a normalization of Fed policy. All we need is a few good employment reports and the dollar, as well as interest rates, should rise. Interestingly, if interest rate differentials widen between the rest of the world and the much maligned Japan, Japan's currency should fall, fostering a surge in Japan's exports. I have been wrong-footedly bullish on Japan since the summer of 2009. And while I have not made much money there, I haven't lost much money either. My investment vehicles have been two small-cap closed-end funds. Those names are Japan Small Capitalization Fund (JOF/$8.68) and WisdomTree SmallCap Dividend Fund (DFJ/$42.20). I continue to like them because Japan is "cheap" and as my father says, "Good things tend to happen to cheap stocks." Moreover, as the astute GaveKal organization opines, "A continuation of the bond market meltdown would tell us to own stocks in U.S., Japan, Korea, and Taiwan."
As for last week's epiphany about 2011 potentially being "The year of the banks," I was swamped with emails asking which banks since I have shunned them for roughly 10 years. The two mentioned in last week's report were 2.4%-yielding IBERIABANK Corp. (IBKC/$56.16/Strong Buy) and 4.5%-yielding People's United Financial (PBCT/$13.60/Strong Buy). Last week our fundamental bank analyst had this to say about IBERIABANK:
"Our note this morning discusses the top 10 reasons why we like IBERIABANK, which include: (1) its strong asset quality; (2) its prudent, profitable expansion over the past 10 years; (3) additional de novo and acquisition opportunities; (4) Its best-in-class management team; (5) its strong organic growth excluding its FDIC-assisted acquisitions; (6) its recent market share gains and improving deposit mix; (7) benefits from entering higher-growth markets at this point in the cycle; (8) greater earnings power potential vs. most of its peers; (9) attractive valuation; and (10) the opportunity in the stock given recent underperformance to peers."
In conclusion, the invaluable Bespoke Investment Group scribed this about the Financials over the weekend:
"Quite a few of those risky, unloved stocks that have done so well come from the Financial sector. As shown, the Financial sector is up 8.89% since the start of the month, while the second best sector (Materials) is up just 5.84%. This has caused some to wonder whether the sector is finally breaking out of its funk of underperforming the overall market. This isn't the first time the sector has popped on a relative basis in the last few months. Since the most recent leg of the rally began in September, there have now been three periods where the Financial sector outperformed the S&P 500 for a few days. In the prior two periods, the sector quickly reverted to its longer term trend of underperformance. Will the third time be the charm?"
The call for this week: Last week, of the 10 S&P macro sectors, Financials were by far the biggest gainer with a "weekly win" of 3.34%. If the third time is indeed the charm, and 2011 does become the year of the banks, we should start to see confirmation of that by a narrowing of the financial sector's Credit Default Spreads (CDSs). At the margin this has already begun, as seen in the chart below from the good folks at Bespoke. The implication, for the overall stock market, should be bullish because it would be difficult to get another leg up in stocks without help from the Financials. Therefore, investors should watch the Financials for a "tell" as to the stock market's near-term direction. My guess is the SPX trades into overhead resistance between 1250 and 1265 early this week and then stalls to re-energize before trading higher.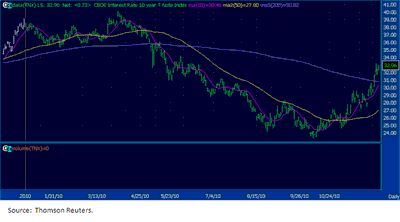 Click here to enlarge
Source: Thomson Reuters.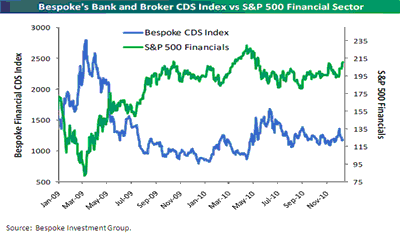 Click here to enlarge
Source: Bespoke Investment Group.