Introduction
Maybe you already find the royalty model to be an attractive method to gain exposure to mining and metal prices? Or perhaps you have heard about royalty companies but don't have enough information to decide if one or more of them belongs in your portfolio? Either way, it is important to understand the underlying value of a royalty company based on the current market environment and the future production outlook. Unfortunately up until now, there has been no comprehensive source of royalty company valuations available to the public, leaving most retail and many institutional investors in the dark.
We have had the same problem — but since we specialize in fundamental analysis and market research in metals and mining — we have come up with a solution. Using our proprietary database of exploration, development and production stage companies, we have individually analyzed well over one hundred royalties and prepared the following report covering the vast majority of them that are held by public companies deriving a significant portion of their valuation therefrom. For good measure, we have even thrown in the odd coal royalty. To the best of our knowledge, few others have completed such an arduous analysis and none have released their findings for public dissemination.
We believe this summary report will be very useful to many investors since this will be the first time royalty companies have been valued at current metal prices on the basis of cash flows and earnings generated from each individual royalty calculated on a stand-alone basis. Consider Franco-Nevada (FNNVF.PK) with its 50+ different royalties: faced with the sheer amount of data, even large brokerage firms tend to generate price targets using aggregate cash flow assumptions and estimates of top-level financial metrics. We don't blame them given the time and effort required to complete a comprehensive analysis, but we also wouldn't trust our own money to what amounts to a sophisticated wag.
Investors familiar with the royalty majors will notice right away that we are missing data in this report for Franco-Nevada's closest competitor, Royal Gold (NASDAQ:RGLD). This is because we are still validating all of Royal Gold's royalties, a process that has proven to be very time consuming. We expect to complete the validation by early January and will be releasing a comprehensive version of this royalty company report to subscribers at such time.
What is a Royalty Company?
A royalty is a payment to a property interest holder by the majority owner or operator usually based on the amount of mine production (e.g. flat rate royalty of $10/tonne), the value of production (e.g. 2% of sales less certain costs — see Net Smelter Return), or the net revenue/profit generated from production (e.g. 5% of net profits). There is also the fixed price metals purchase royalty stream, which accrues to the royalty holder based on the difference between the current metal price and a fixed purchase price, such as the "silver streams" innovated by Silver Wheaton (SLW).
Royalties based on the amount of production have no direct correlation to changes in commodity prices other than the possibility that production rates could increase in reaction to higher commodity prices and vice versa. Fixed price metals purchase royalty streams and royalties based on the value of production will exhibit a high degree of correlation with movements in commodity prices. Finally, royalties based on the profits generated from production are expected to leverage changes in commodity prices and therefore such royalties can be the most profitable (and risky).
Arguably, the main attraction to investors in royalty companies is that they generally have no responsibility for contributing funds to a project for any future purpose, including operating and capital costs, after an initial cash payment or transaction. Thus, an unexpired royalty essentially represents a fully carried asset with zero future cost. This results in low-risk exposure to mining operations, whether it be a development-stage project or long-established mine, especially during the bust period of the boom-bust cycle in mining when purported cash cows become cash vacuums that suck up money and can create massive share dilution for operators. While a royalty might not generate any revenue during such downturns, it also won't impose costs or commitments to make cash payments in most cases.
On the other hand, most royalties do not shelter the royalty company from the ultimate risk of temporary or permanent shutdown of operations and they provide little relief from the bankruptcy of the mining company or operating subsidiary. In other words, royalties and royalty companies do not offer much shelter from, or recourse against, the tail-end risk of the mining business: failure. Consider the following disclosure in Silver Wheaton's financial statements:
Except in limited circumstances, the Company will not be entitled to any material compensation if such operations do not meet their forecast silver or gold production targets in any specified period or if the operations shut down or discontinue on a temporary or permanent basis.
For the above reason, it is not enough to simply look at royalty companies from a quantitative perspective; one should also understand the quality of the operations underlying the royalty portfolio.
As of now, however, we have identified 11 companies that can be classified primarily as metals and mining royalty companies. This 11 company universe boasts a combined market capitalization of about $23 billion. Silver Wheaton is the sun within this solar system given its nearly $14 billion market cap (the next closest competitor by size is Franco-Nevada, with a market capitalization of around $4 billion). But whereas Silver Wheaton might now be considered a red giant, it wasn't long ago that it looked like a white dwarf. Believe it or not, back in late 2008 during the worst of the financial crisis, Silver Wheaton was trading for under $4 with a market capitalization less than $1 billion. So in case anyone thought royalty companies were immune from extreme volatility, think again.
Let's now take a look at how the entire universe of metals and mining royalty companies have performed over the past 12 months: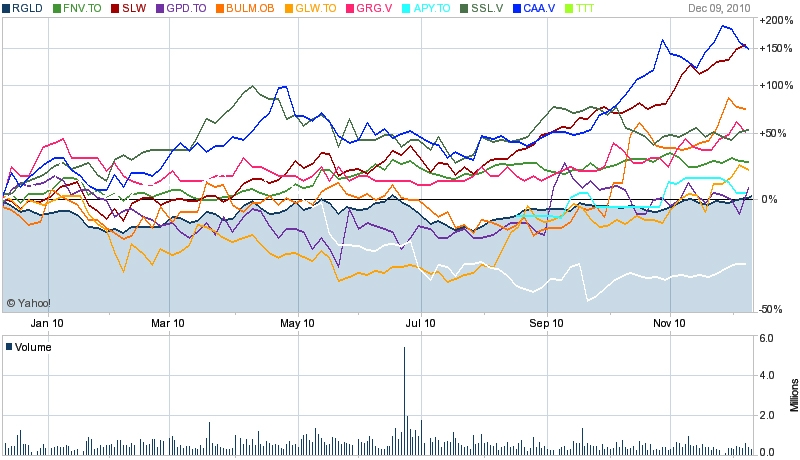 We can see from the above chart that the royalty companies have generally risen along with gold and commodities this year, though there is quite a bit of variability and several of the companies have been poor performers. Silver Wheaton stands out as a top performer, helped in large part by the 60%+ rise in silver, the growth profile of its portfolio, and its ascension as a market darling. The similarly-impressive rise in Callinan Mines (TSX-V: CAA; Pink Sheets: CCNMF) can be explained by its levered net profits royalty structure on Hudbay Minerals' (NYSE:HBM) flagship 777 mine.
The one apparent loser in the group is Terra Nova Royalty (NYSEARCA:TTT), though this can largely be explained by its corporate restructuring. This restructuring involved splitting up what was formerly KHD Humboldt Wedag International Ltd. into a mineral royalty company (Terra Nova Royalty) and an industrial plant technology, equipment and service company (KHD Humboldt (OTCPK:KHDHF)). So far a total of 25.7 million shares have been spun out to Terra Nova shareholders worth about $230 million, largely explaining Terra's falling share price over the past 12 months. One last dividend is expected to occur on December 31, 2010. If we adjust for all the dividends paid thus far, Terra Nova has traded roughly flat during 2010, joining a small group of other under-performers in the royalty space.
Among this group of under-performers is Royal Gold, a company that seems to have a love-hate relationship with the market. One possible reason Royal Gold has been flat in recent times amid the huge rally in gold stocks is that its showcase Voisey's Bay royalty (International Royalty Corp acquisition) has been besmirched by a lengthy strike. Moreover, investors do not appear to know how to value the company (hint: forget P/E ratios) — particularly given the number of royalties on large development-stage projects. We note also that Royal Gold held up extremely well during the 2008 meltdown, which is a sign that the market views its royalty portfolio as a stable, high-quality asset that has nonetheless failed to be inspirational so far.
Generally, we are not surprised to see a low degree of leverage to higher (and lower) commodity prices since most of the royalty companies own royalty interests on projects that are not yet in production and will only stand a chance of producing cash flow after further exploration and/or development spending. If commodity prices fall, so too will exploration and development budgets as project economics become less favorable and financing becomes harder to obtain. But if prices move higher then healthy amounts of spending should eventually lead to new discoveries and the development of new mines, triggering new royalty streams and increasing expected cash flows for the royalty companies going forward. In addition, the market is expected to re-value a royalty upwards at the start of commercial production just as the market tends to re-value mining companies themselves at the start of commercial production.
Methodology
Our valuation method is based on a fairly standard discounted cash flow analysis of each royalty interest, using a conservative discount rate of 8 percent. In determining valuation targets, the share structure of each company is adjusted to account for in-the-money warrant and option exercises. Financial metrics take into account liquid assets and debt in arriving at enterprise value.
In calculating attributable resources, the royalty interest percentage is applied to the total resource of each project. For example, consider a 2% net smelter return on a 1 million ounce gold deposit. The attributable resources would be calculated to be 20,000 ounces. We then adjust contained resources according to assumed metallurgical recovery rates. In the case of the 1 million ounce gold deposit, if it is estimated that only 80% of the gold will be recovered in processing the ore, then the attributable resource works out to 16,000 ounces. This does not always work out smoothly due to the complexity of some royalty interest arrangements, but generally our figures will reflect each company's level of exposure to the produced metals or commodities.
To determine estimated total cash flow, we simply apply the royalty percentage interest to the expected production rate of each project in 2010, 2011, and the terminal period (defined as 2012 through the end of the mine life), adjust for any operating costs associated with the royalty, multiply by the current metal price of each produced metal or commodity, sum these amounts together, subtract out any future capital costs that the company may be subject to (rare for royalties), and then adjust for the company's estimated depreciation, amortization, and tax charges. When calculating valuation range targets, we adjust for the base, best, and worst case metal price scenario assumptions using a price band at +30/-30% of the current level.
In Part II of this report we'll analyze each royalty company through a series of comparative valuation charts.
Disclosure: I have no positions in any stocks mentioned, and no plans to initiate any positions within the next 72 hours. Callinan Mines is an institutional client of the Metal Augmentor service.