Omnicom Group Inc. (NYSE:OMC) recently extended its multiyear $2.0 billion revolving credit facility for three years until December 2013. In the above agreement, Omnicom also has the option to increase its commitment from $2.0 billion to $2.5 billion.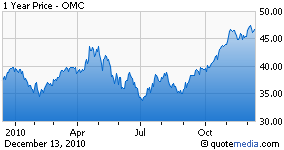 However, at the end of the third quarter of fiscal 2010, Omnicom reported a decrease in net debt compared with the previous quarter as well as the third quarter of fiscal 2009. At the end of the quarter, net debt was $1.5 billion, down from $1.7 billion in the previous quarter and $1.8 billion at the end of the third quarter of the previous year.
Omnicom also posted strong results during the third quarter with an EPS of 57 cents, which met the Zacks Consensus Estimate.
Omnicom has improved coordination between the diverse advertising and marketing strategies of its global customers, which should augment cross-selling opportunities across its businesses.
Typically, Omnicom's strategy revolves around acquiring complementary companies with strong entrepreneurial management teams to expand its client base. During fiscal 2009, Omnicom acquired 4 subsidiaries and increased its stake in various existing ones.
The increased integration process would enhance its client base, which is its key growth strategy as Omnicom's business revolves around its clients. Current improving economic conditions should also benefit Omnicom as they help to increase client spending.
However, this huge dependence on clients is risky as the loss of a client or reduction in client spending would adversely affect the company's results. An intensely competitive advertising environment and pricing pressures remain causes of concern.
Omnicom's direct competitors are Interpublic Group of Companies Inc. (NYSE:IPG) and WPP plc (WPPGY). However, management remains committed to expand its business and relationships in Asia, where operating conditions remain extremely favorable. This should improve the long-term profitability of the company.
Markets are picking up and the improving economic conditions should benefit Omnicom as they help to increase the consumer spending. We continue to rate the stock as Neutral in the long term. The stock's short-term rating also remains Hold with a Zacks #3 Rank.