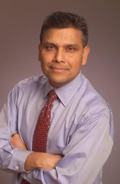 Satya Pradhuman founded Cirrus Research in 2007 after more than 20 years on Wall Street as an executive in the equity research departments of E.F. Hutton, Lehman Brothers, and Merrill Lynch.
Harlan Levy: Is the stock market finally in a 10 percent correction, and if so, what's next?
Satya Pradhuman: Depending on how you look at the stock market there has been a sizable correction. We've seen a dramatic pullback, not necessarily in the bellwether stocks, but instead in the smaller-company universe. We think the increase in market volatility has created more unrest in investors' minds regarding 2014 returns.
To some degree, the pullback we witnessed may be an adjustment to certain parts of the equity market that have moved too aggressively. Examples such as biotech, and some of the Internet-related groups have weakened sharply, but bear in mind that in 20O13 those groups have moved up very aggressively. There's a chance this recent correction may be some portion of profit taking coupled with a more valuation-sensitive investor.
Q: Is global unrest - deteriorating Iraq, Ukraine and Russia, Europe sliding down, Israel and the Palestinians -- influencing the stock market the most, and if not what is?
A: I believe the volatility in U.S. equities that we've seen in the last few weeks is related to global unrest. The linkage though to the U.S. equity market comes back to corporate profitability. To some degree profitability seems to be improving. In this earnings season, while it continues, what we've seen to date is a constructive earnings backdrop.
However, the concerns regarding profitability could increase, given concerns for economic growth in Europe. The fallout from Ukraine and its potential impact on growth in Europe may be the critical factor in U.S. equity returns over the next few months.
Q: Is the economy growing more robustly, looking at factory orders, business investment, chain stores, consumer spending, housing, jobs, wages, work hours, and the 2.5 percent increase in second-quarter productivity?
A: From what we are observing the economy is continuing to improve. What we like to look at is credit access, and the credit trend remains quite strong. We experienced a record amount of initial public offerings compared to the prior few years. In addition, we see accelerating high-yield issuance. These key data points suggest that the capital markets continue to ease.
On a more conservative note, loan growth remains mixed. Rates for commercial and industrial loans are still moving at a 3-to-5 percent range on a year-to-year basis. Therefore, the capital markets are easing and the lending market remains benign. In total, this suggests that riskier firms appear to be getting capital. And this suggests that economic activity is likely to remain more constructive.
In addition, we also track revenue growth rates for large-cap firms and small-cap firms. Those growth rates appear to be stabilizing or accelerating.
Q: The labor participation ratio of the number of workers and those looking for work to the total number of people who are able to work, at 62.9 percent is up a tad. What do you deduce from that?
A: We believe that the improving economic backdrop is likely to continue. The jobs data through this recovery has been soft. However we continue to see improvement, while obviously mixed, but moving in the right direction.
Taking a cue from the credit markets, we see a hint that the jobs data looking into next year should continue to improve. If you're getting riskier firms getting credit, that will translate into a more constructive jobs picture and more hiring..
Q: When do you think the Federal Reserve will raise interest rates, and is that a worry?
A: The tapering of quantitative easing will continue into next year. A more aggressive interest-rate policy is less likely, given how uneven this recovery remains. In addition, this soft loan growth data supports a more benign jobs recovery.
Q: Is the Fed "behind the curve" these days?
A: I don't think so. I think that the environment remains more mixed, which allows the Fed to retain their easy-money policy.
Q: What are the strongest sectors of the equity market and the weakest?
A: In the last year or so the most dramatic performance we've seen has been more cyclical and more pro-risk, so the technology sector is one of the strongest. In health care the more aggressive, growing firms have been in biotechnology. They have posted some of the strongest numbers.
In addition, we've also seen strong cyclical tailwinds with transports and materials posting competitive gains as well.
What we've seen in the last three months has been more of a knee-jerk defensive marketplace, where small companies and micro-caps have severely lagged the blue chips. Our suspicion is that this recent pullback is more of a case of profit-taking than a meaningful change toward a more defensive posture.
Q: What's your biggest worry?
A: Our biggest concern is that interest rates snap back or spike more aggressively than they should. That would create a very difficult equity environment in the short term, with more severe pressure on equities.
While we don't feel that's likely, that is a risk that's outstanding.
Q: Are you an optimist?
A: I am more constructive about the current environment.
Disclosure: The author has no positions in any stocks mentioned, and no plans to initiate any positions within the next 72 hours. The author wrote this article themselves, and it expresses their own opinions. The author is not receiving compensation for it (other than from Seeking Alpha). The author has no business relationship with any company whose stock is mentioned in this article.