It's been a couple of weeks since I updated investors on the potential for a short squeeze in shares of 3D Systems (NYSE:DDD). Short interest in the 3D printing name continued to rise in early July, and that made a short squeeze seem even more likely. Going into the recent earnings report, short interest hit another new high. While the company's Q2 results were not great, the yearly revenue forecast was raised. Today, I'll update where the company stands, and detail why short squeeze potential remains high.
First, let me start with the latest update on short interest, since we recently got the end of July numbers from NASDAQ. As I stated above, we saw another new high going into earnings, which you can see in the chart below.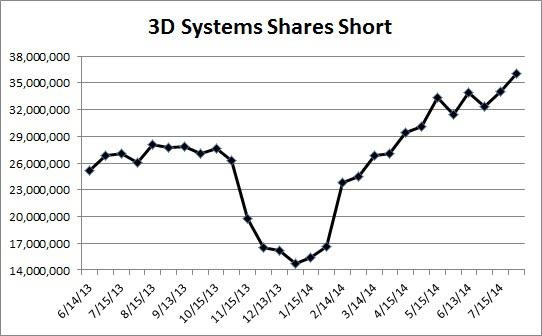 (Note: last data point on chart is for settlement date of 7/31/14)
In the second half of July, short interest rose by another two million shares plus, putting the total at more than 36 million. In the first seven months of 2014, short interest rose by more than 145% in this name, a staggering amount. Even the year-over-year rise stands at more than 38%, showing you how many do not believe in the future of this name.
There is one major item that must be updated here as well, and that is the float number. We have seen a rise in the float number on Yahoo! Finance by more than 6 million shares since my previous update. That is not a surprise, and it is something I detailed in past articles would be coming at some point. 3D Systems detailed in its 10-Q filing that it sold 6 million shares of stock in May, so the outstanding share count and float numbers were going to go up. However, short interest also rose by nearly 6% in the final two weeks of July. Thus, the percentage of float short is still at 34.41%, down slightly from 34.49% at my previous update.
My guess is that short interest will come down a little at the mid-August update, which will be the first update after the company's Q2 earnings report. Since the company missed on both the top and bottom line, the stock dropped after earnings, even though the 2014 revenue forecast was raised and the EPS forecast was maintained. The company guided to 2014 revenues of $700 million to $740 million, and non-GAAP EPS of $0.73 to $0.85. In the past week, we've seen analyst estimates rise by a little more than $2 million on the revenue side, but EPS come down by 2 cents. The current averages are $709.48 million and $0.78, respectively. Analysts are still at the lower end of the company's revenue forecast and a penny below the midpoint of the EPS forecast. That bearishness does seem appropriate after the Q2 miss, but it does leave the company plenty of room to beat going forward.
In the end, short squeeze potential for 3D Systems remains rather high. Even if we do see a decline in short interest at the next update, roughly 25%-30% of the float should still be short. That's an incredible number, and it means the next piece of good news could trigger a squeeze. Investors that jumped in after my initial article on the name were rewarded with a nice pop from the low $50s to nearly $70, and I think we could see another rally at some point in 2014. Remember, it's the back half of the year where the company delivers a larger part of its revenues and earnings. This is still a growth company with a lot of potential, and the company just announced expanded manufacturing and distribution capacity. While this stock will be a bit more volatile than your average stock, I do think investors that buy now will be handsomely rewarded at the next positive event. Short interest in this name is too high, and a squeeze does seem fairly likely.
Disclosure: The author has no positions in any stocks mentioned, and no plans to initiate any positions within the next 72 hours. The author wrote this article themselves, and it expresses their own opinions. The author is not receiving compensation for it (other than from Seeking Alpha). The author has no business relationship with any company whose stock is mentioned in this article.
Additional disclosure: Investors are always reminded that before making any investment, you should do your own proper due diligence on any name directly or indirectly mentioned in this article. Investors should also consider seeking advice from a broker or financial adviser before making any investment decisions. Any material in this article should be considered general information, and not relied on as a formal investment recommendation.