Is it time to buy gold or its ETF GLD?
Despite a US economy slowly on the mend, the US deficit continues to grow as the Federal Reserve continues to keep interest rates artificially low while printing money with "quantitative easing" or QE to buy debt at these low rates. If the Fed doesn't walk the perfect tightrope to taper its QE then raise rates to head off high inflation, gold and other physical assets could soar. Some think it could already be too late and another bubble is inevitable.
Today, Tuesday, August 12, 2014, the US Treasury Department reported that the U.S. Government had a budget deficit of $95 billion for the month of July 2014. They also reported the total deficit now stands at $460 billion for the full fiscal 2014 year.
This shows the information graphically.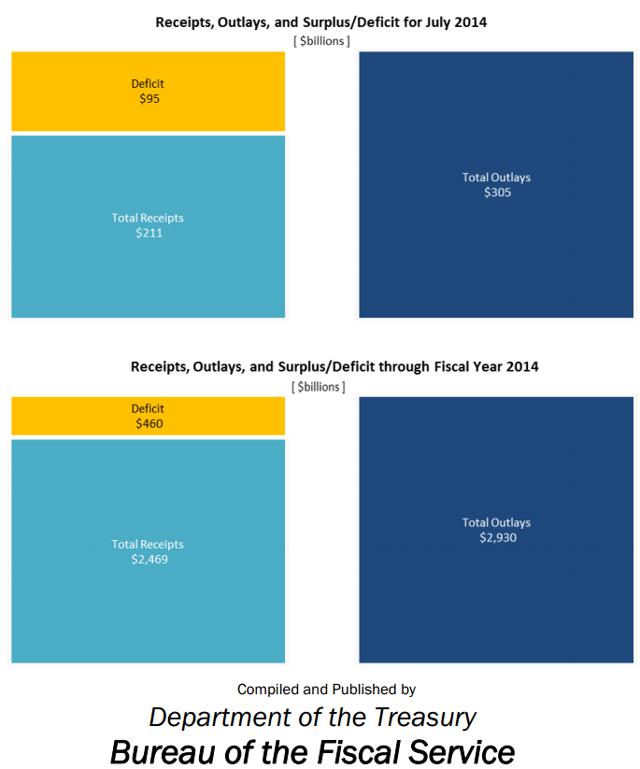 According to the "Monthly Statement of the Public Debt" for July 2014", the total US public debt outstanding is $17,687,137 million or roughly $17.7 trillion.
According to the most recent estimate of GDP dated July 30, 2014, total "Current Dollar GDP" stands at $17,294.7 billion.
Taken together, this means the US Debt is 102.3% of GDP.
This table calculates that the US Government has borrowed about 15.7¢ of every dollar it spent so far in fiscal 2014.


In my February 13, 2011 article "How to Play Expected Inflation from the TIPS Spread" I wrote I was long SPY, as one way to benefit from expected inflation.
"I also believe it is a good time to own equities including SPY, the exchange traded fund for the S&P500, for both inflation protection and income."
Since my 2011 article, the old adage "don't fight the Fed" has held true for SPY which has significantly outperformed cash and gold.
S&P500 vs Gold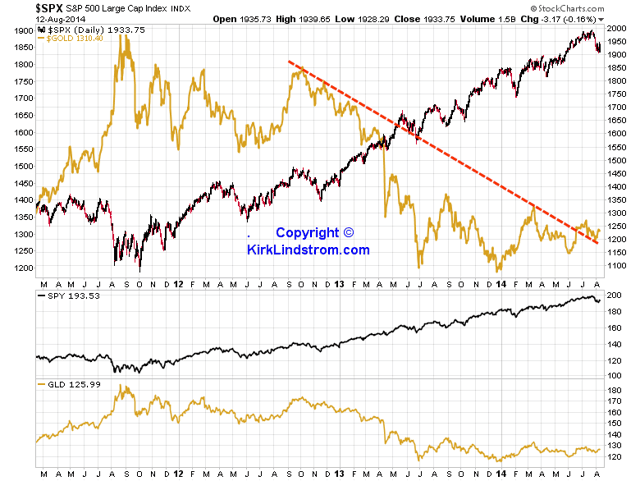 (SPY is the exchange traded fund for the S&P500)
As long as the US government spends more than it takes in and the Federal Reserve continues with its policy of buying the debt from the government at very low rates, I believe this relationship will hold true.
Like it or not, savers in "safe" investments like CDs and US treasuries are financing the economic recovery with a hidden tax levied with artificially low interest rates. This "wealth transfer" from a "hidden tax on savers" via lower rates has allowed the government to reflate the economy without causing high inflation, so far.
If the Fed is successful reflating the economy, then SPY should continue to do well. Gold may also do well if investors want to hedge for too much inflation. If the Fed errs by ending QE and raising rates too soon to drive us back into another near depression, then SPY and Gold will suffer while US Treasuries will soar.
If the Fed makes the same mistake it made in the past, keeping rates too low for too long and we get massive inflation where they have to raise rates to double digits again to crash the economy and contain inflation, then gold should soar.
ECRI's Future Inflation Gauge: Finally, on August 1, 2014 ECRI said its US Future Inflation Gauge (USFIG) rose to a 71-month high. "With the USFIG rising further to a 71-month high, underlying inflation pressures are clearly ratcheting up," ECRI Chief Operations Officer Lakshman Achuthan said in a release.
Technical Analysis: Finally, the chart above shows the price of gold successfully tested from above the dashed orange resistance-turned-support line. This is very bullish.
Conclusion: For now, I believe the Fed will be successful and global forces will contain wage pressures to help contain inflation so I have the majority of my investments in equities such as SPY, but I also initiated a personal position in GLD as a hedge. I also believe the Fed will allow inflation to rise above its 2.0% target for awhile to make sure the US economy doesn't fall back into a recession. Thus, gold could do well even without high inflation.
Disclosure: I am long SPY and own the traditional index fund versions of VTI and VOO bought long ago in various taxable and tax deferred accounts.
Notes:
SPY is the exchange traded fund for the S&P 500 Index.
VTI is Vanguard's "Total Stock Market" exchange traded fund.
VOO is Vanguard's new exchange traded fund that tracks the S&P 500 Index. It is a lower cost alternative to SPY. I own and write about SPY, as I have many years of data for it, but VOO could do slightly better than SPY over time because it has a lower expense ratio.
GLD is the exchange traded fund for Gold. With a current expense ratio of 0.40%, it may be a more convenient and less costly way to buy gold compared to buying the physical metal after commissions and storage costs.
Disclosure: The author is long GLD, SPY. The author wrote this article themselves, and it expresses their own opinions. The author is not receiving compensation for it (other than from Seeking Alpha). The author has no business relationship with any company whose stock is mentioned in this article.