This article is the second in my series on social media. Its focus is to analyze the Global X Social Media Index ETF (NASDAQ:SOCL) versus its individual holdings in order to help myself and others determine an appropriate long-short strategy. This is meant to be an introductory article to those unfamiliar with SOCL and its holdings. While surely you will know some of the names that will be discussed, you may have only vaguely heard of some others or don't have a thorough understanding of their businesses. I'll bring you up-to-speed on what these companies do, as well as discuss recent events, and provide my opinion on the outlook of certain stocks. This furthers my introductory article, It's Time To Like Social Media, which examines social media market metrics and provides my outlook on the sector.
The past few months for social media, equities have been very volatile - lots of new 52-week highs and lows were achieved. General sentiment is that the sector is overvalued, but I'm a strong believer in its growth potential. Many social media companies present excellent buying opportunities given fair market valuations and offer compelling risk/reward scenarios, both large and small cap alike. That's not to say that some companies aren't overvalued, some companies operating in the space have piggy backed on the success of competitors and have become quite bloated as a result, presenting the opportunity to get short or at least reconsider investing in this ETF.
While I like the long-term outlook of social media, and feel confident in the appreciation of some of the bigger names out there (much more on that shortly), I'm not convinced that owning SOCL is the most prudent thing to do as an investor. Yes, it's a compelling choice for those looking for quick exposure to the industry, however I really believe that with some due diligence more optimal portfolios can be assembled.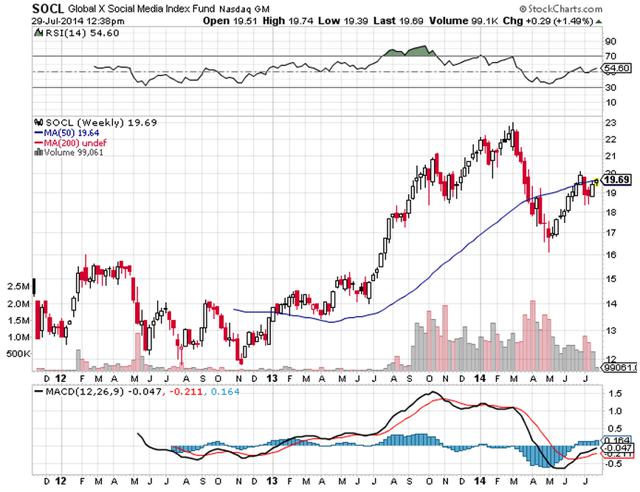 Overall, as July 28th SOCL is down 7.96% for the year. Compared to its Morningstar benchmark, SOCL has greater portfolio exposure to mid- and large-cap stocks and reduced exposure to giant-cap equities.
Comparison of SOCL Portfolio Holdings by Market Cap -

Source: Morningstar
The greater exposure to companies with lower market caps is reflective of the risk-reward scenario that this ETF presents. Later, I will discuss individual companies within the portfolio so that you can gauge whether you like the ETF as a whole, or just certain names in it, and make your investment decisions accordingly.
Unsurprisingly, SOCL is overvalued relative to the benchmarks established by Morningstar.
Value & Growth Measures -

Source: Morningstar (as of 7/31/2014)
While SOCL has higher price multiples than the Morningstar benchmark and category averages, those numbers have been narrowing since the share price turned in May. Recent earnings reports from a number of tech firms have shown greater sales growth projection, giving further credence to the long-term earnings potential noted above. The market may be volatile, as evidenced by trading YTD, but with steep declines, steep gains may be achieved.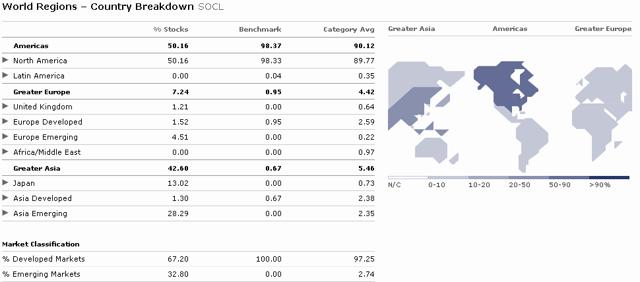 Source: Morningstar (as of 7/31/2014)
Half of the fund's holdings are regionally based in North America, followed primarily by Greater Asia, and lastly Greater Europe. Almost 1/3 of companies in the fund have exposure to emerging markets.
Technically speaking, there have been a number of both short-term and long-term bearish indicators. The price just crossed the 50-week moving average and the 200-day moving average. There's a lot of resistance through the mid-20s that needs to be broken through before the price can move up. Earnings reports that moved shares forward (FB, LNKD, TWTR) were followed-up by a number of lackluster results (ZNGA, YELP, P, ANGI, GRPN).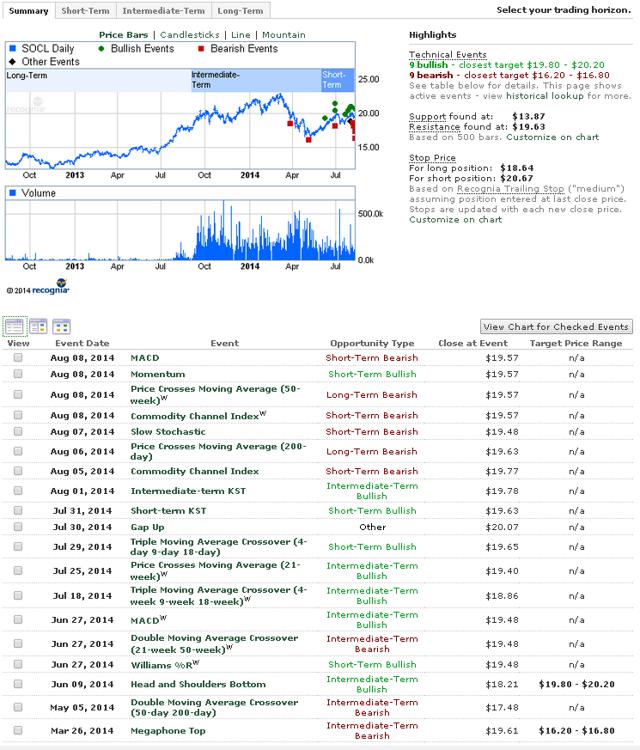 Source: Recognia
What has attributed to the loss YTD? And what are the companies held in SOCL? Now that we've looked at SOCL as a basket, let's look at the individual names.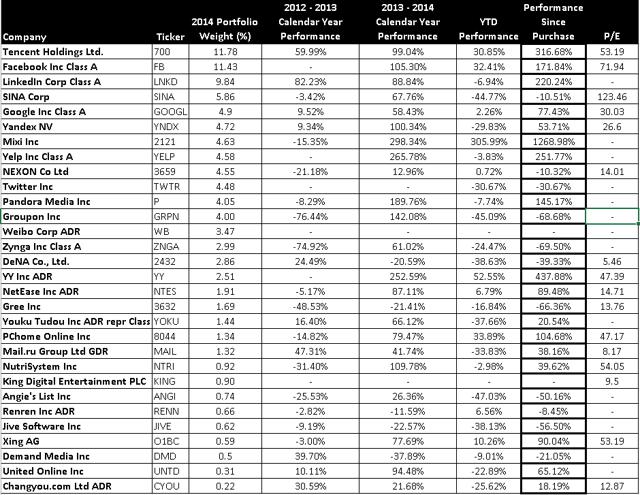 Source: Company Reports, Personal (as of 08/01/2014)

Source: Global X Funds (as of 06/30/2014)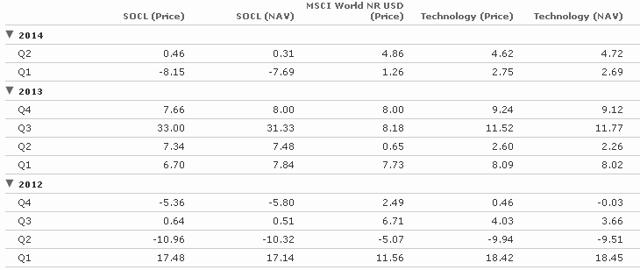 Source: Morningstar
As you can see, the portfolio as a whole has been quite successful. SOCL is up 11.32% (at NAV) annualized since its inception, and the long-term outlook is optimistic. That said, there are clearly some big individual winners and losers that stand as outliers to the others, including this ETF. SOCL has produced mediocre returns relative to some of its holding, and it's largely due to a handful of them pulling it up and dragging it down.
Furthermore, Global X is collecting a 0.65% annual fund operating expense, which isn't unreasonable, however after seeing the above metrics, I'm definitely more interested owning individual names and creating my own social media basket.
While some of you might like the exposure SOCL provides, I personally am not interested in all of its holdings. I'm not interested in nearly as much overseas exposure, and I want more companies that in my opinion, have unique, ubiquitous offerings. I want companies with disruptive technology, and I don't want too many companies operating in the same space, such as in SOCL.
Companies that I'd like to examine further include most companies generating returns greater than 100% since the fund purchased them; including Tencent (OTCPK:TCEHY), Facebook (NASDAQ:FB), LinkedIn (NYSE:LNKD), Mixi (OTCPK:MIXIF), Yelp (NYSE:YELP), Pandora (NYSE:P), and YY Inc (NASDAQ:YY). I'd also like to look at the most unsuccessful ones in the group, companies with losses in excess of 50%; including Groupon (NASDAQ:GRPN), Zynga (NASDAQ:ZNGA), and Angie's List (NASDAQ:ANGI).
Outperformers
Tencent Holdings Ltd.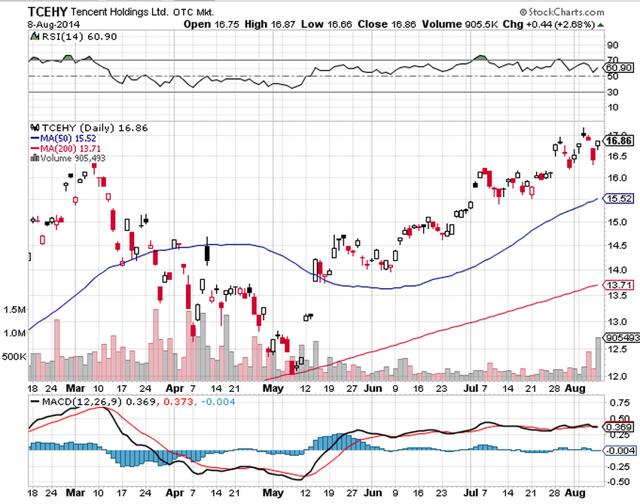 Source: StockCharts.com
Description: Tencent Holdings Inc. is a Chinese holding company whose subsidiaries provide mass media, entertainment, Internet and mobile phone value-added services, and operate online advertising services in China. Tencent's many services include social networks, web portals, e-commerce, and multiplayer online games. Its offerings include WeChat, TenPay, QZone, TM, SoSo, PaiPai, and QQ. It's the fourth-largest Internet company in the world after Google, Amazon, and eBay as of April 2014.
Tencent operates a well-rounded business model with multiple revenues channels and a diversified product portfolio.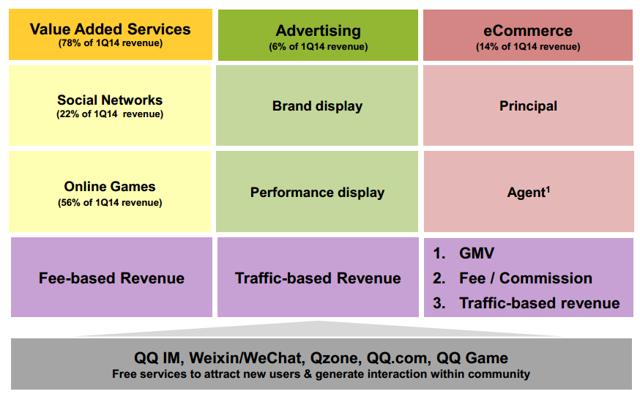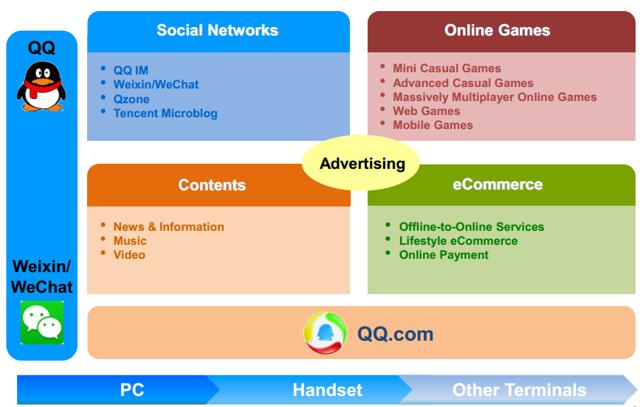 Source: Investor Presentation
Tencent has completed 26 investments and is expanding to offer a completely around-the-clock services.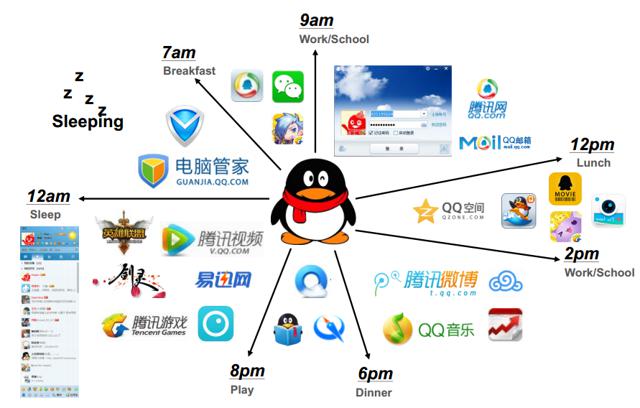 Source: Investor Presentation
Recent Results: 1Q14 earnings highlights include -
Total revenues were US$2,991M, an increase of 8% over the 4Q 2013 or an increase of 36% over 1Q 2013
Operating profit was US$1,266M, an increase of 64% Q/Q or an increase of 54% Y/Y. Operating margin increased to 42% from 28% 4Q13. Non-GAAP operating profit was US$1,053M, an increase of 27% Q/Q or an increase of 28% Y/Y. Non-GAAP operating margin increased to 35% from 30% 4Q13.
Profit attributable to equity holders of the Company for the quarter was US$1,050M, an increase of 65% Q/Q or an increase of 60% Y/Y Non-GAAP profit attributable to equity holders of the company for the quarter was US$844M, an increase of 17% Q/Q or an increase of 29% Y/Y.
Here are the social media highlights:
396 million monthly active users on WeChat.
848 million monthly active users on QQ.
644 million monthly active users on QZone, a Facebook style social network built around QQ.
All of the details can be found in Tencent s Q1 filing.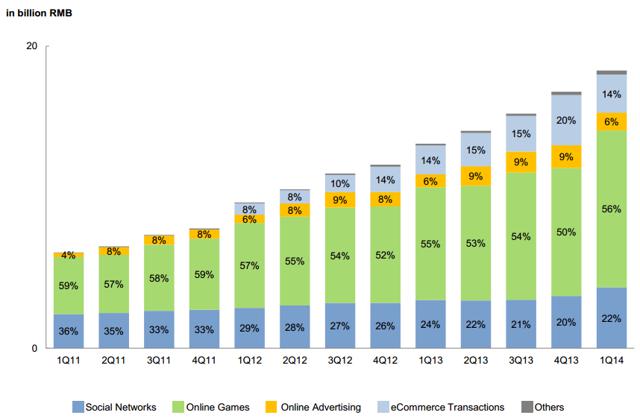 Source: Investor Presentation
Looking Ahead: The majority of analysts covering the stock recommend it as a buy. Another Seeking Alpha contributor wrote an excellent article valuing the company, and another on the recent banking license granted to Tencent. I can't sum it up any better than they can.
Tencent has tremendous future growth opportunities, plans in place to deepen its social infrastructure and a strategy for sustainable growth. I'll be a buyer here.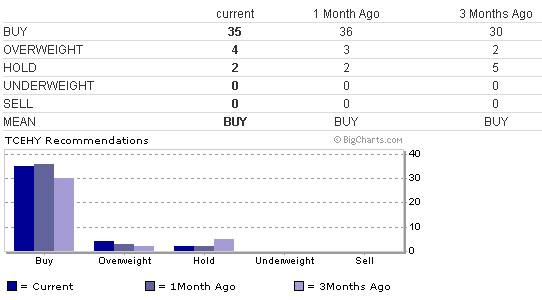 Source: Yahoo! Finance

Source: Yahoo! Finance
Facebook Inc Class A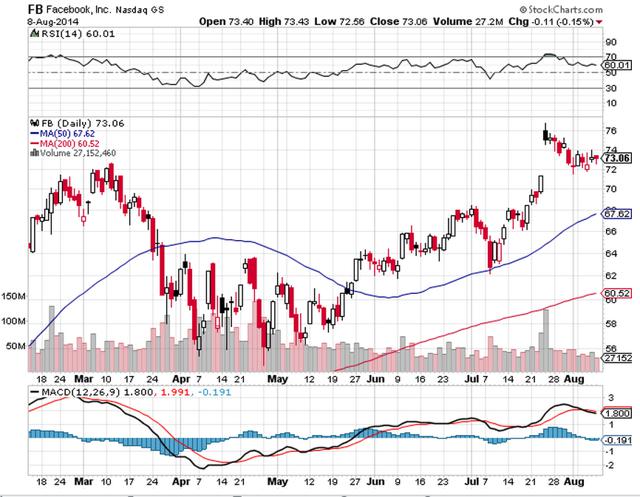 Source: StockCharts.com
Description: I don't think that Facebook really needs an introduction, it is the largest online social networking service in the world.
Recent Results:
Facebook's earnings beat projections for the 8th quarter in a row with $2.91B in revenue and $0.42EPS in 2Q 2014 (beating Wall Street's estimates of $2.81 billion in revenue and $0.32 EPS).
The service is growing 2x as fast on mobile compared to its services as a whole
62% of its ad revenue from mobile
Facebook now has 1.07 billion mobile monthly users, and 654 million daily mobile users
In total, Facebook now has 1.32 billion monthly users and 829 million daily users, or 63% of users returning each day.
Compared to Q1 2014, Facebook's total user count is up 3.125% from 1.28 billion total monthly users to 1.32 billion, and total daily user count is up 3.36% from 802 million to 829 million.
Monthly mobile user count is up 5.9% from 1.01 billion to 1.07 billion, and daily mobile user count is up 7.4% from 609 million to 654 million.
For more details please review all of the earnings reports here.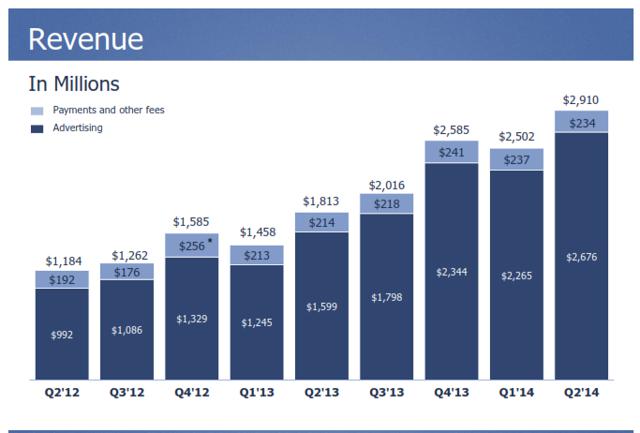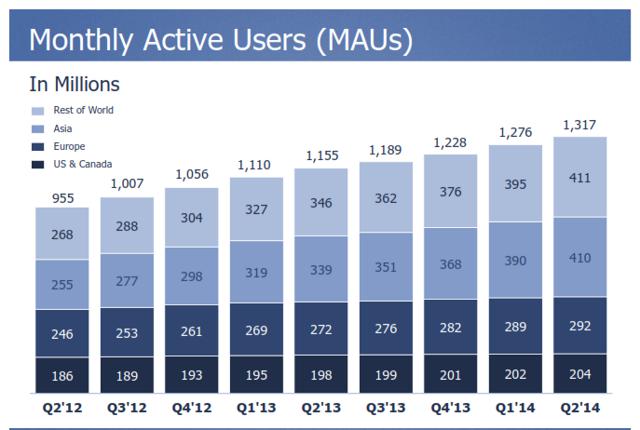 Source: Company Earnings Slides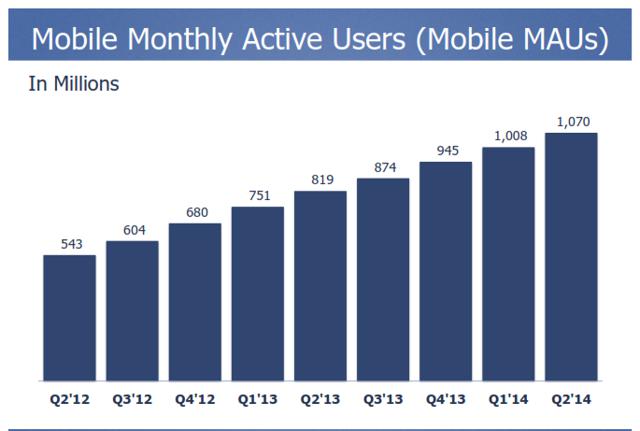 Source: Company Earnings Slides
Looking Ahead: Analyst consensus is that shares of Facebook are going to continue to appreciate and offer excellent upside potential. Facebook is building the foundation to revolutionize online advertising. Its proprietary consumer data creates unique advertising opportunities that capture reach and target based on specific criteria. Monthly active users (MAUs) has exceeded 1.3 billion people, most impressively capturing a varied worldwide base. Arguably the most impressive has been Facebook's growth in mobile usage. There are almost 1 billion mobile users. In fact, there are now more mobile users than desktop users, and revenue from mobile ad products exceed revenue from desktop. I will be adding more Facebook, probably buying some calls.

Source: Yahoo! Finance

Source: Yahoo! Finance
LinkedIn Corp Class A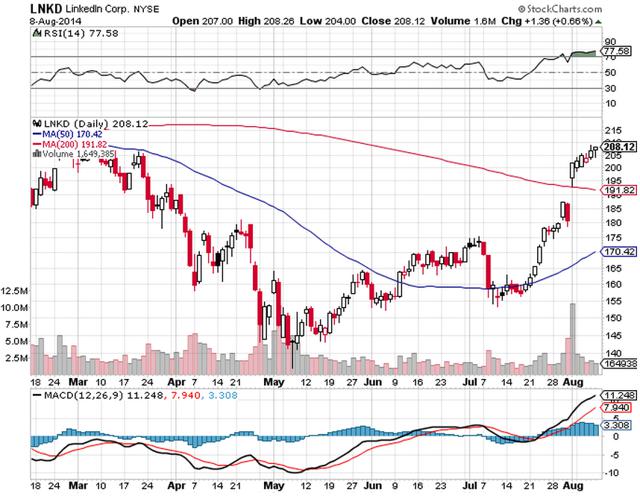 Source: StockCharts.com
Description: With more than 300 million members, LinkedIn is the largest social networking company for professionals on the Internet. Revenue comes from three sources: hiring solutions for employers to search for job candidates, online advertising, and premium subscriptions. Currently, 40% of revenue is generated outside the United States.
Recent Results: LinkedIn just delivered strong 2Q 2014 results, beating both top and bottom line estimates.
Revenue for the 2Q 2014 was $534M (beating estimates of $510.86M), an increase of 47% compared to $364M in the 2Q of 2013
Adjusted EBITDA for 2Q 2014 was $145 million, or 27% of revenue, compared to $89 million for 2Q 2013, or 24% of revenue.
Non-GAAP diluted EPS for the second quarter was $0.51, compared to non-GAAP diluted EPS of $0.38 for the second quarter of 2013 and ahead of analyst expectations at $0.39
Increased 2014 guidance outlook
For more information on the financials, please review them here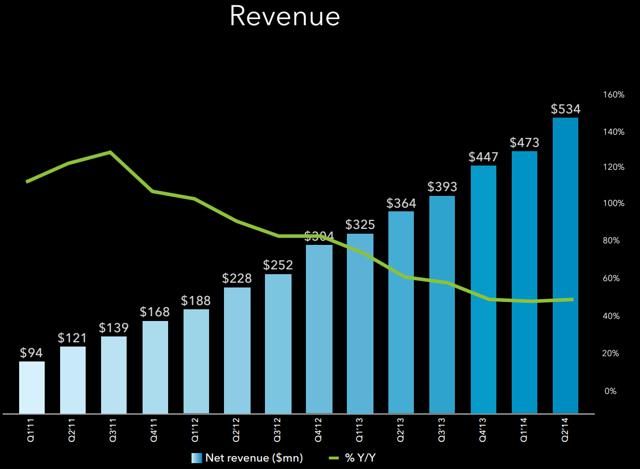 Source: Company Earnings Slides.
Looking Ahead: LinkedIn has quickly become the go-to resource for B2B communications on social media. No other social networking company monetizes its user base better than LinkedIn. It has an attractive business model, operating in a large niche community with a user base which may never leave - the information provided is extremely useful to users, recruiters, and advertisers.
Although interactions on LinkedIn aren't at the same level of a social network like Facebook, this is exactly where I perceive its strength to be. While users on Facebook share their photos, daily activities, and random thoughts, those same people use LinkedIn to carefully sculpt their professional brand. I believe strongly that LinkedIn's value is the ability for people to maintain a separate professional identity. Potential employers, clients, business partners, and others are becoming accustomed to looking at LinkedIn profiles, to the point where not having a profile could be calamitous for one's career.
As LinkedIn opens its platform to different application providers, it has the opportunity to create new products that generate new revenue streams and further increase its revenue per user.
I will be going long on LinkedIn.

Source: Yahoo! Finance

Source: Yahoo! Finance
Mixi Inc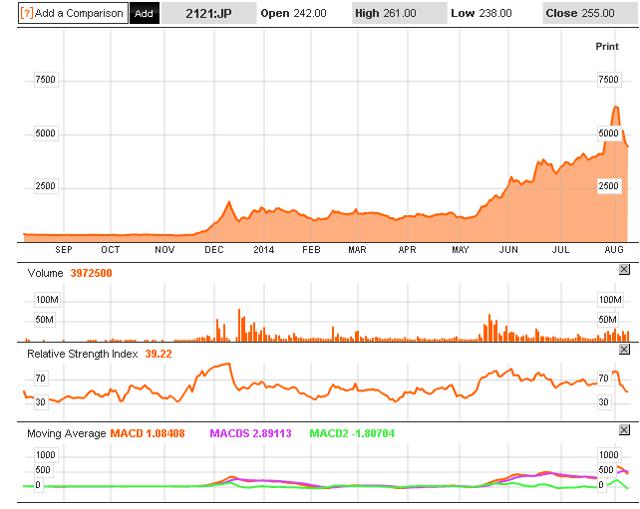 Source: Bloomberg
Description: Mixi was founded in 2004 and rose to prominence being the pioneer in social networking services in Japan. Mixi offers features similar to MySpace and Facebook, but uniquely distinct to Japan's digital cultural identity. It enjoyed a steady growth in its user base, peaking at more than 20 million active users. However, people in Japan created a specific expression, Mixi tsukare, literally meaning the feeling of being tired of using Mixi. Enter Facebook, and the beginning of a dramatic cultural shift in online culture in Japan. Mixi has made strides to regain its distinction in Japan, partnering with Twitter, rolling out a ton of new services, appointing a new CEO, and more, but nothing worked and Mixi shares fell as low as 10% of their historic high (achieved in 2008). Then a new online gaming phenomenon was created, by Mixi, that has taken Japan by storm - Monster Strike.
Recent Results: Mixi developed the mobile game in-house and it has had a dramatic effect on its share price.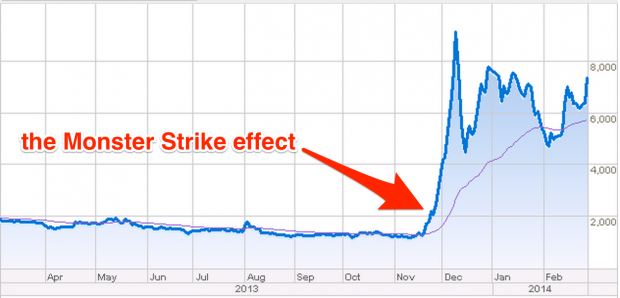 Source: Kantan Games Article
While Mixi's core product, its social network, may still be in decline, financially speaking, Monster Strike has turned the company around - Q1 2013 EPS was a 3.39 yen loss ($0.03 USD), while last week's result for Q1 2014 EPS was 36.32 yen ($0.36 USD).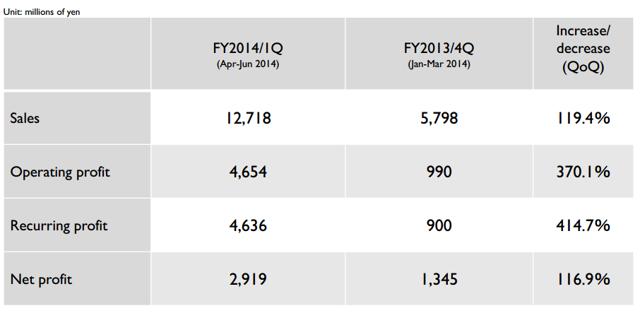 Source: Q1 2014 Earnings Presentation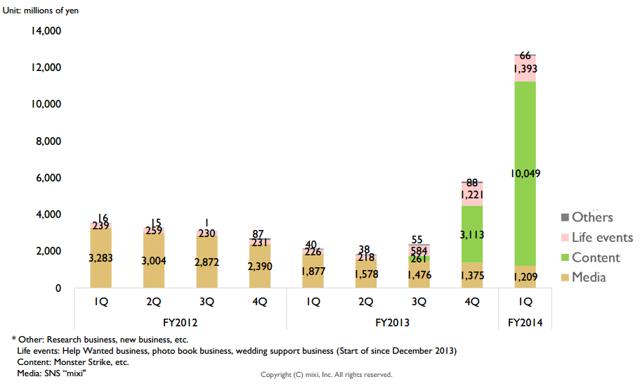 Source: Q1 2014 Earnings Presentation
For more details please review all of the earnings reports here.
Looking Ahead: Mixi has been extremely successful with its foray into online gaming. Monster Strike is No.1 in Japan on App Store (iPhone/iPad) and Google Play, No. 6 in the world and has been successfully expanding into international markets outside of Japan (just Taiwan right now, but the company has signed a deal with Tencent to distribute Monster Strike in China). Monster Strike has at times surpassed the extremely popular GungHo app, Puzzle and Dragons, in gross revenue, even though it only boasts around a third of the number of downloads in Japan.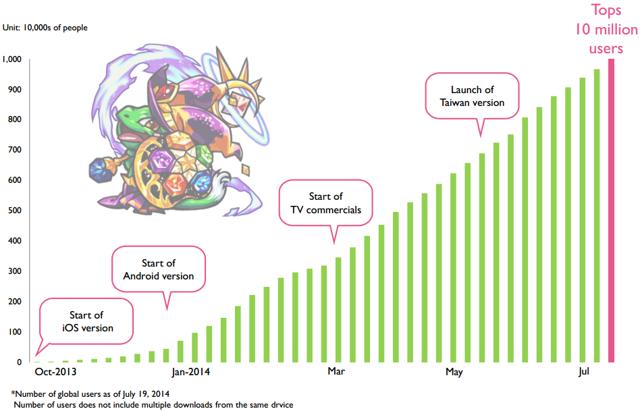 Source: Q1 2014 Earnings Presentation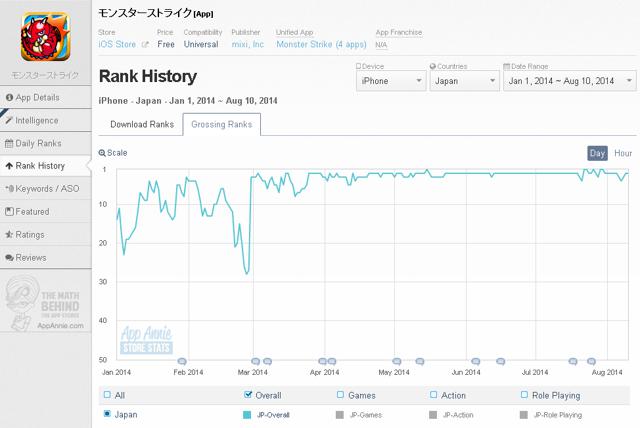 Source: AppAnnie
The company is developing a number of other tie-ups and merchandising (strategy guides, magazine collaborations, character collaborations, and other goods) to fully capitalize on the game's success. Monster Strike has been showing healthy growth, and estimates were revised upward for both sales and profits in 1H 2014. Based on these higher earnings estimates, Mixi plans to pay an interim dividend of 20 yen.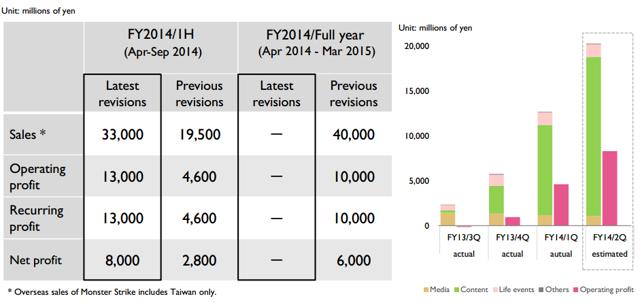 Source: Q1 2014 Earnings Presentation
While I'm optimistic that Mixi will keep expanding and improving the game over the coming months, it's a little worrisome that its earnings are now dependent entirely on its online gaming business. I don't see its social network services turning around anytime in the near future, so management really needs to execute diversifying its operations and not having such dependence on that marketplace.
Last year Mixi launched the nohana app, which creates albums from photos taken with users' smartphones. The service will also make printed books from online albums, with some fees involved. Last autumn it purchased an event operations company and began Machicon, a service providing singles with places to meet.
Even though Mixi is up over an astonishing 1,400% since last year, its recovery can be completely justified by the impact that Monster Strike has brought. While it can be volatile, it traded down 5% on Friday as Japanese markets tumbled on fears of geopolitical crises, it is a very interesting growth story and relative to the potential market share that its competitors have in the space, it still has lots of upside potential here. I'll be going long Mixi.
Yelp Inc Class A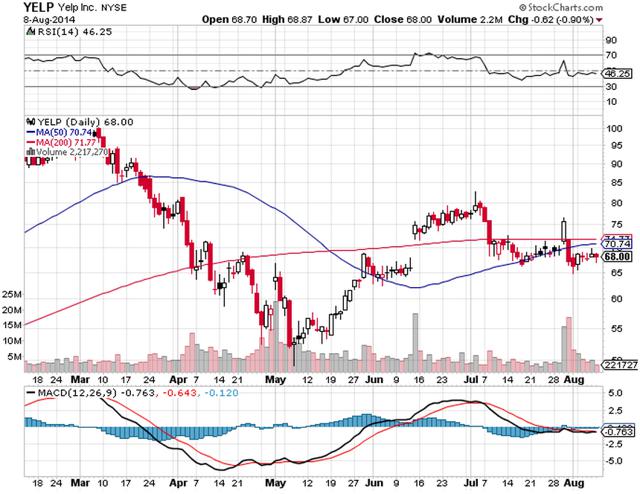 Source: StockCharts.com
Description: Yelp Inc was founded in 2004, and operates a local search website that connects people with local businesses; it's essentially an online urban guide and business review site. Yelp provides online & offline services including creation of free online business account, and a number of value-added-services such as the sale of vouchers, and brand advertising, and has more recently introduced social networking features, specifically aggressively targeting mobile users.
Recent Results: Yelp Inc. (YELP) reported positive earnings, beating on both top and bottom line estimates, and increased its Q3 guidance above analyst estimates. Revenue grew 61% Y/Y to $88.8M, which led to EBITDA increasing 120% Y/Y. Q3 guidance increased revenue in to the range of $98M to $99M, exceeding analyst estimates of $95.4M.
The conference call transcript can be found here.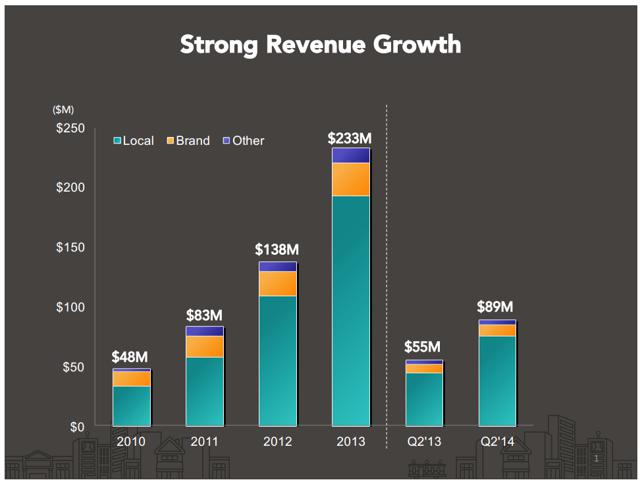 Source: Yelp 2Q 2014 Investor Deck
For all of the earnings statements and company reports, please access them here.
Looking Ahead: At first glance the metrics look quite good, however I'm concerned with its high valuation here, and it seems the market would agree seeing as how despite the beats, the share price has traded down in recent sessions. During the quarter, Yelp added 5,900 active local businesses, which is down from Q1 2014, and even includes added businesses from the SeatMe acquisition. This is a concern for me, as local business growth is the crux of Yelp's business model (~85% of its revenue) and is an extremely important revenue driver which is decelerating already. There has been strong levels on insider selling and looming costs from acquisitions that will overhang in future quarters. This SA author does an excellent job in his assessment of why Yelp Investors Will Soon Be Calling For Help.
Most analysts have rated it as a Strong Buy or Buy over the past month, and many have actually revised their price target upwards.

Source: Yahoo! Finance

Source: Yahoo! Finance
I'm all for high-growth, speculative stocks, however I seriously question Yelp at these levels as a short-term investment considering it has such a lofty valuation. I don't find Yelp ubiquitous enough to have its future earnings support its extremely high P/E ratio.
I'll be going short on YELP, but it won't be a huge bet. Relative to Angie's List, not that that's saying much, YELP is in a much better position to turn around its business. More on ANGI later.
Pandora Media Inc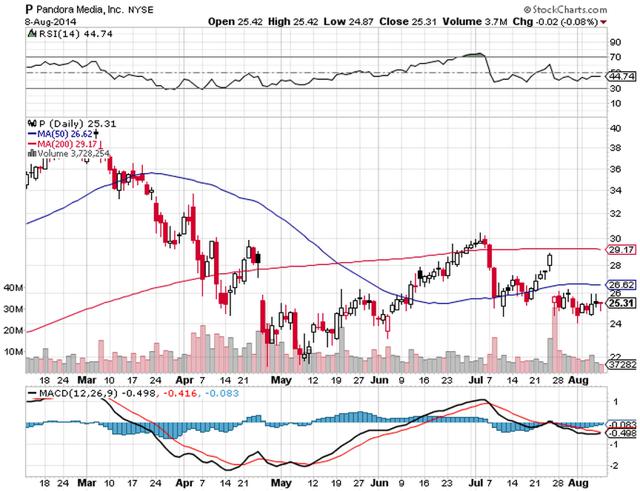 Source: StockCharts.com
Description: Pandora Media Inc. was founded in 2000 and provides music streaming and automated music recommendation radio services on smartphones, tablets, desktop computers and car audio systems, as well as a range of other internet-connected devices. The service has two subscription plans: a free subscription supported by advertisements, and a fee-based subscription without ads. The service is currently only available in the United States, Australia, and New Zealand.
Recent Results: 2Q 2014 earnings highlights -
2Q 2014 total revenue was $218.9M, representing Y/Y growth of 43% and 38% on a GAAP and non‐GAAP basis; beats consensus expectations by $0.36M
2Q 2014 total mobile revenue of $167.5M, growing 59% and 51% Y/Y on a GAAP and non‐GAAP basis
2Q 2014 local advertising revenue of $35.3M, growing 144% Y/Y
2Q 2014 non‐GAAP diluted EPS of $0.04; a beat on analyst expectations of $0.03
Share of total U.S. radio listening for Pandora in June 2014 was 8.90%, an increase from 7.04% at the same time last year
Pandora has made significant progress since its IPO, however, all of these great results haven't led to one profitable quarter.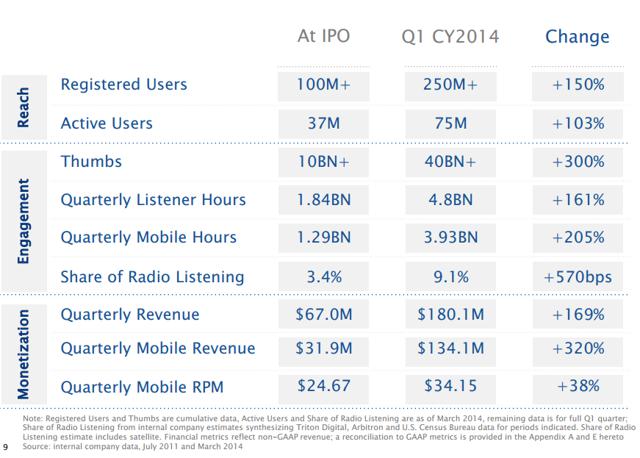 Source: Pandora Q1 Investor Presentation
And while Pandora's quarterly numbers moved up, its total users slipped to 76.4M in June, down from 77M in May. Listener hours also fell slightly to 1.61B in June, from 1.73B in May.
Financials and company reports can be found here.
Looking Ahead: Active listener growth was weak, down -1% M/M in June, and up only 7.5% Y/Y. While listener engagement remained strong, listeners' hours were up 29% Y/Y in 2Q, they were expectantly down successively. WedBush analyst Michael Pachter recently commented on the 2Q metrics stating "We didn't expect that. … Users were growing and stopped. Hours are what matters, and they ticked down. Investors expect growth in every metric to justify high valuations, and Pandora didn't deliver sufficient listener or listening hour growth."
Concerns have mounted that competition from Spotify, Apple (NASDAQ:AAPL) after its $3B acquisition of Beats, Google (NASDAQ:GOOG) after its $15M acquisition of Songza, Amazon's (NASDAQ:AMZN) after its launch of Prime Music, and others has, hurt user growth. Share have rallied recently, after trading down to as low as $23 in May, the Apple/Beats acquisition was announced reinvigorating investor sentiment, causing shares to rally up to $30 by July. When considering comps of recent acquisitions though, Pandora's $5.23B market cap seems ridiculously overvalued to me. There are only so many companies that can afford to make an acquisition this size, and most of those interested have already got into the space, and it wasn't with Pandora.
I also don't believe that entering talk radio is the answer to expand its user base. That seems like a step in the direction of moving towards satellite radio and away from streaming music, and will not be an inexpensive foray if that is indeed the direction the company is heading. Talent doesn't come cheap. This company is built around its patented and ubiquitous Music Genome Project, which if it cannot continue to achieve user growth based around its flagship product, doesn't have much of a product or company for that matter. Not to mention that Apple just recently acquired Swell, a streaming talk radio and podcast startup, and wants to make iTunes Radio not only the largest music library but has now entered the non-music digital content space and is intent on providing the "full package." The direction that Apple has decided to take with its recent acquisitions is clear - it is aggressively targeting digital streaming and is intent on taking away market share from Pandora.
I think the rally here is over and will be looking to go short on Pandora.
Analyst consensus is still, for the most part, quite upbeat.

Source: Yahoo! Finance
Source: Yahoo! Finance
YY Inc ADR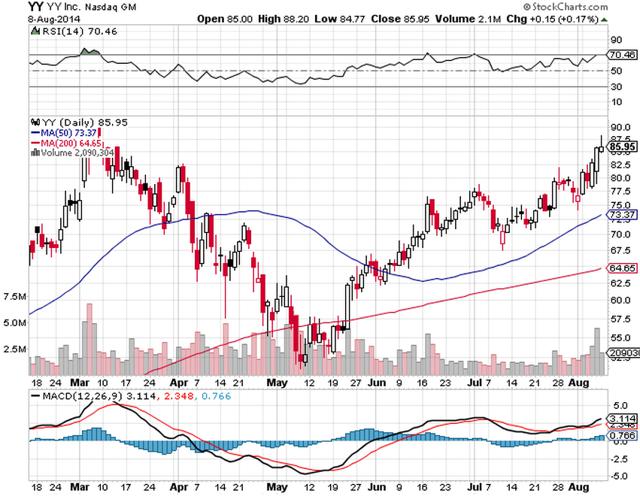 Source: StockCharts.com
Description: YY Inc. is a revolutionary rich communication and social platform that engages users in real-time online group activities through voice, text and video. Its platform consists of YY Client, the YY.com, 100.com, and Duowan.com web portals, and Mobile YY. YY Inc's success has been built in online music, entertainment, and online gaming, including live game broadcasting and online dating, and the more recently the company invested in online education, an important new vertical to strengthen growth outlook.

Source: Company Overview
Recent Results: 2Q Earnings Highlights -
Net revenues increased by 105.6% to RMB841.0M (US$135.6M) from RMB409.0M, primarily driven by an 118.3% increase in revenues from internet value-added services, or "IVAS" revenues.
Net income attributable to YY Inc. increased by 139.0% to RMB221.9M (US$35.8M) from RMB92.8M in 2Q 2013.
Non-GAAP net income increased by 106.6% to RMB258.4M (US$41.6M) from RMB125.1M in 2Q 2013
The online music and entertainment business once again exceeded expectations, as revenues grew by 202.7% Y/Y and paying users grew by 77.6% Y/Y
Its online dating business, saw revenues surge by 299.2% Q/Q.
Online game broadcasting continues to grow at a tremendous pace, with revenues increasing by 243.2% year-over-year
Online games revenue increased 9.5% to $26.9M and online advertising revenue decreased 4.6% Y/Y to $6.5M
Over 100 million average monthly active users (MAUs) through the 2Q 2014
Net income grew 139.0% Y/Y due to the expanding scale and leverage of its business operations
The 2Q unaudited financial results can be found here.
Looking Ahead: YY Inc. has impressive growth metrics and operates in an expansive and unique market space. Its service offerings are unlike that of any other one company out there, and management continues to perform and roll-out new offerings to aggressively grow the company while still focusing on profits.
A fellow SA Contributor just published an article, Update: YY Inc. 2Q Earnings. The author takes a sensible and conservative approach valuing the company, and lays out a compelling story in his long thesis on its growth prospects. I highly recommend reading the entire series of articles written by Oneil Trader on YY Inc. as they're an excellent source of information with an in-depth understanding of the company.
Analyst consensus is that YY Inc. is for the most part, either a buy or a strong buy.
I echo the all-around positive sentiment on YY Inc. and will be going long in the near future.

Source: Yahoo! Finance
Source: Yahoo! Finance
Underperformers
Groupon Inc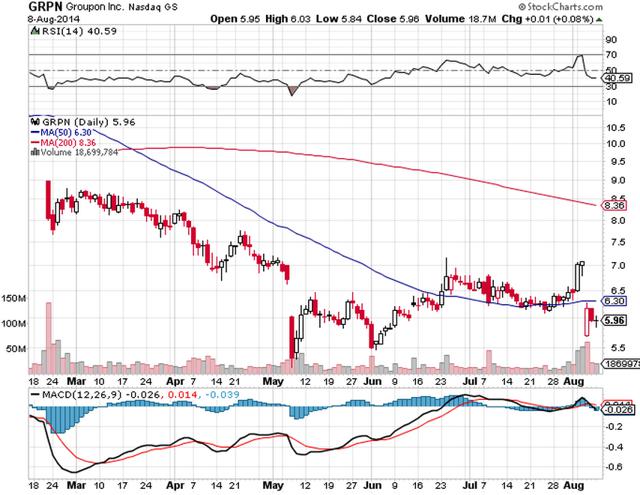 Source: StockCharts.com
Description: Groupon operates local e-commerce marketplaces that connect merchants to consumers by offering goods and services at a discount worldwide. It also offers deals on products for which it acts as the merchant of record. The company offers deals in various categories, and tools, such as payments and credit card payment processing service, as well as point-of-sale solutions to merchants. It distributes its deals to customers through desktop, mobile, and tablet applications that enable consumers to browse, purchase, manage, and redeem deals.
Recent Results: Let's start with the positive, Groupon's operating metrics are impressive. Its active customers and usage, especially mobile, are up significantly.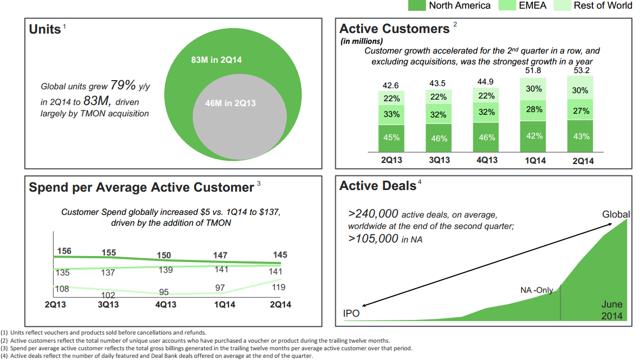 Source: 2Q14 Earnings Presentation
Highlights from the operating metrics include, a 79% Y/Y increase in global units (defined as vouchers and products sold before cancellations and refunds) to 83M in 2Q 2014. Active customers grew 25% Y/Y, to 53.2M, comprising 22.6M in North America, 14.5M in EMEA, and 16.1M ROW. Its marketplace (Pull) continued to gain traction. In June 2014, approximately 10% of total traffic in North America searched on the site. Active deals are now up to over 240,000 globally, compared to 200,000 1Q 2014. Lastly, mobile remains over half the business and reached another all-time high in June 2014, with nearly 92 million people having now downloaded the mobile app.
Now the not so peachy, 2Q earnings highlights -
Gross billings of $1.82B
Revenue of $751.6M
Adjusted EBITDA of $59.1M
GAAP loss per share of $0.03; non-GAAP earnings per share of $0.01
Groupon reported disappointing results and weak guidance numbers which has driven the recent selloff. While Groupon's revenue increased 23%, to $751.6M in 2Q 2014 compared with $608.7M in 2Q 2013, it decreased over last quarter, and came in under consensus estimates of $761.8M. Management came through with EPS that was in line with estimates at $0.01, however guided for a Q3 2014 EPS of $0.00 - $0.02 and revenue between $720M and $770M, which is lower than previously forecast revenues of $760M with an EPS of $0.03. The company also revised their EBITDA projections for the year downwards from $300 million to $270 million.
All company filings can be found here.
Looking Ahead: Last year, the company announced a strategy shift from a push to a pull business model. Its original approach was to send daily e-mails to its subscribers offering significant discounts on local services. It now has a large online database of longer-running deals that can be searched on its site, transitioning to an online marketplace. This strategy shift was made for the longevity of the company but results have yet to translate.
Groupon still has a lot of work to do before I become a buyer of its shares. First, Groupon needs to seriously ramp up its efforts to encourage subscribers to search for deals and explore its marketplace ('pull' strategy) instead of relying on emails ('push' strategy). In March 2014, around 9% of Groupon's traffic in North America comprised searches on its online marketplace. The company managed to increase this figure by just 1% in 2Q. This figures into email sourced traffic accounting for about a whopping 90% of the company's traffic. Progress under this new strategy over the last few quarters has been disappointing to say the least.
Metrics suggest that customers who consciously search for deals tend to spend more and have shorter redemption cycles, which implies that if the company can successfully transition its users to the pull model, its bottom line can get a significant bump. However, Groupon needs to undergo a rebranding process. The company currently sends 250 million e-mails every day to its subscribers, which admittedly has helped push sales of Groupon, but has hurt the company's image and diluted its value proposition. Far too many irrelevant e-mails are sent out. It would make a lot more sense to send fewer e-mails with a targeted list of deals that a customer is more likely to react to, buy, and redeem. Groupon needs to set itself apart from its purportedly lesser competition by getting away from tacky things like this.
To see a very interesting interactive forecast model on Groupon, please click here.
I won't be a buyer of Groupon here. In fact, I'll be adding it to my portfolio short until something quantifiably positive develops.
Most analysts have maintained their ratings on the company, while a handful cut their price targets and issued downgrades.

Source: Yahoo! Finance

Source: Yahoo! Finance
Zynga Inc Class A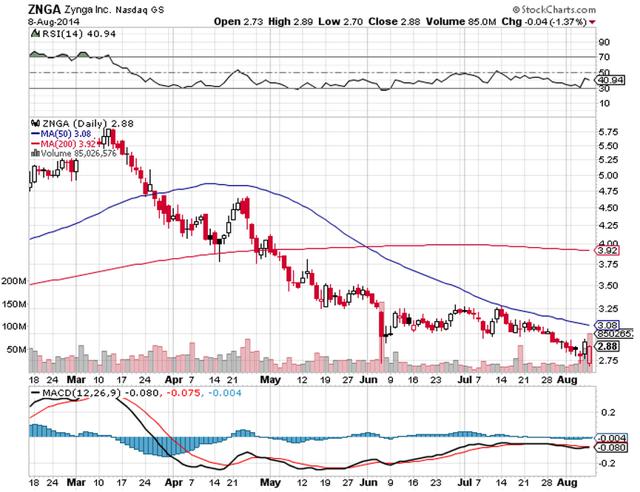 Source: StockCharts.com
Description: Zynga Inc. develops, markets, and operates social games as live services played on the Internet (Facebook and Zynga.com), and mobile in the United States and internationally. Its most well-known social games include FarmVille and the entire -Ville series, Words With Friends, and Zynga Poker franchises. It generates revenue from ads, in-game sales of virtual goods and mobile download fees.
Recent Results:
Citing "the delayed launch of new games and new features," Zynga now expects 2014 bookings of $695M-$725M, below prior guidance of $770M-$810M and an $800.9M consensus. EPS guidance of -$0.01 to $0.00 is slightly below a $0.02 consensus.
Q3 guidance is for bookings of $165M-$175M and EPS of -$0.01 to $0.00, below consensus of $212.4M and $0.01.
Q2 bookings of $175.1M missed a $191.2M consensus, and were down 7% Y/Y. Monthly active users totaled 130M, up from 123M in Q1 (aided by NaturalMotion) but down from 187M a year ago. Daily active users were 29M vs. 28M in Q1 and 39M a year ago.
Along with its results, Zynga has announced a deal with Warner Bros. to offer Looney Tunes-themed infinite runner games, and deals with the NFL and Tiger Woods to offer sports games.
Cost cuts are keeping Zynga from posting huge losses on account of its top-line weakness: GAAP costs/expenses fell 16% Y/Y in Q2 to $219.5M, with R&D spend dropping 25% to $93.7M.
Zynga ended Q2 with $1.15B in cash/investments, up slightly Q/Q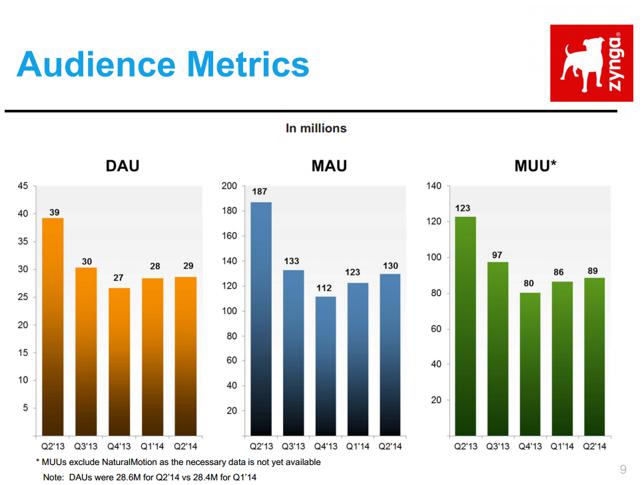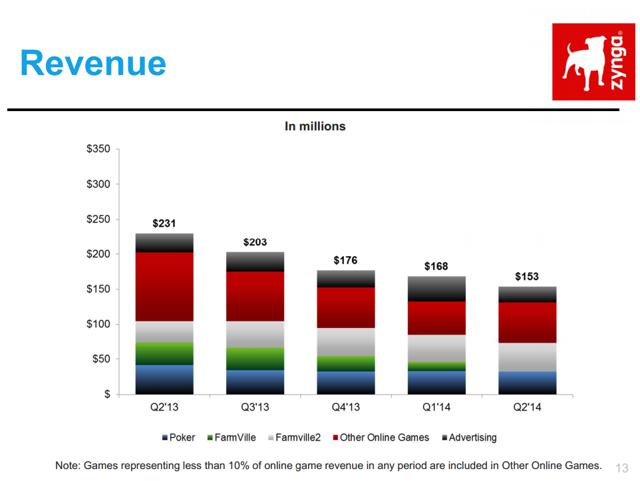 Source: SA Earnings, Company Earnings Slides
All company filings can be accessed from here.
Looking Ahead: I like the long-term outlook on Zynga, but I'm not convinced of its short-term success.
This SA author provides the following valuation, "Zynga's estimated intrinsic value is $1.6 billion or $1.80/share. Based on its closing share price on July 31, 2014 of $2.92/share, the stock is overvalued by 61.8%." She provides a comprehensive analysis of the company and brings up a number of compelling facts to support her thesis.
On the other hand, this SA author contends that Zynga is a buy, "Zynga represents a compelling risk/reward opportunity. At the current trading level, it has high upside and low downside. The stock is trading at less than 2x its actual cash and has zero debt… With the opportunity for the poker, football and golf games to generate substantial revenue and if one of the other 30+ games in development generates popularity, investors will be kicking themselves for not taking a risk on ZNGA at this level."
Both make compelling points, but I'm more inclined to go short in the near term. I'll keep a close eye on games in its development pipeline, watching to see if any are nearing the top of the charts, but until Zynga actually has another hit on its hands, I don't see the upside.
In all fairness to CEO Don Mattrick, I like the direction he has steered the company. He recently shuffled up the management team, and has been consolidating operations, however, that's yet to translate. The personnel changes and opex reductions should improve Zynga's margins once all of the restructuring costs are absorbed, and hopefully moving forward Zynga can start to develop new hit games in-house instead of always being reliant on acquisitions - that will have the biggest impact on margins, and with the relatively huge amount of money dedicated to R&D, is the direction Zynga seems to be taking. When there is an M&A opportunity, it needs to be accretive. Zynga needs to concentrate on mobile, and more importantly be successful as it will be a crucial marketplace and is by no means trivial as I explained in my initial article on social media metrics.
I'm not impressed with the current line-up of games I'm seeing from Zynga. Zynga recently announced it would be developing sports games - namely football and golf - and have struck two major deals. A multi-year licensing agreement with the NFL and NFLPA, and a multi-year, multi-platform agreement with Tiger Woods (fresh off his long-time EA contract). Additionally, many have cited Zynga Poker as having major potential to generate substantial revenues for Zynga, however, monetizing their platform will be very difficult in my opinion. I'll be doing an article in the near future on Amaya Gaming (OTCPK:AMYGF), which just acquired Rationale Group, owner/operator of Pokerstars and Full Tilt Poker.
Most analysts have maintained their ratings while cutting their price targets.

Source: Yahoo! Finance

Source: Yahoo! Finance
Angie's List Inc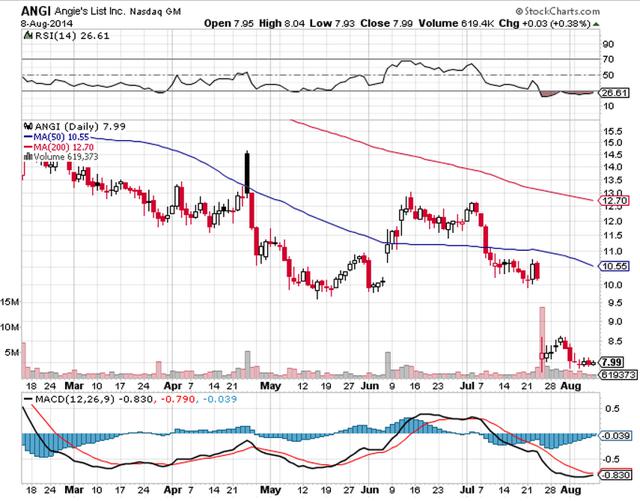 Source: StockCharts.com
Description: Angie's List Inc operates a consumer-driven solution for its more than 2.8 million members to research, hire, rate and review local professionals. It offers providers in over 720 categories, such as home, health care and automotive services.
Recent Results: Highlights from the 2Q14 earnings report include -
Angie's List expects Q3 revenue of $80.5M-$82.5M, below an $86.6M consensus.
The company notes Q2 e-commerce growth (+57% Y/Y to $7.8M) was "lower than expected," and that it ramped marketing spend (+28% Y/Y to $35.9M) for a seasonally huge quarter.
Marketing cost per paid membership acquisition rose 13% Y/Y to $90. Marketing spend is expected to fall to $20M-$23M in Q3.
Total paid memberships +8% Q/Q and +31% Y/Y to 2.84M. Gross member adds +15% Y/Y to 399K. Average member renewal rate was 77% vs. 78% a year ago, and total service provider contract value rose 35% to $224.2M.
Ad revenue rose 37% Y/Y to $52.6M, and membership revenue 16% to $18.5M. Those figures compare with Q1 growth rates of 46% and 25%.
Shares have plunged to new 52-week lows. As it is, concerns about the impact of Yelp and other free alternatives on growth had been running high.
Source: SA Earnings
For the full 2Q earnings report, please click here.
Looking Ahead: There are literally dozens of Seeking Alpha articles discussing why it's a good short, primarily citing a broken business model, growing negative equity, continued annual losses, client growth in decline, and ongoing insider selling. Service provider revenue continues to grow faster than membership, and increased competition is slowing revenue growth.
I don't see any chance at near-term profitability, and am quite concerned with competition as I don't feel there is anything ubiquitous about the platform. I already mentioned that I was concerned with Yelp and its valuation, however, its business model is much more solid than Angie's List. Both provide consumption advice to consumers, however, their target markets are different. When they essentially operate the same business model in theory, why then have they performed so vastly different from one another. Angie's List has created many barriers to its own success by first requiring consumers to pay a membership fee before accessing its services. In my opinion, that's backwards, because if its services were so good, consumers would aggregate to its platform anyways because they want to and recognize value in it. In turn, service providers would also be getting more business and it would be a win for everyone all around.
Until something changes at the core of Angie's List's business model, I will be short the stock. This SA author also questions the recent accounting of Angie's List in a recent article, highlighting the questionable addition of, "software" to the former line item of "Property and equipment."
A lot of analysts downgraded their rating while also cutting their price target.

Source: Yahoo! Finance

Source: Yahoo! Finance
Honorable Mention
Twitter, Inc.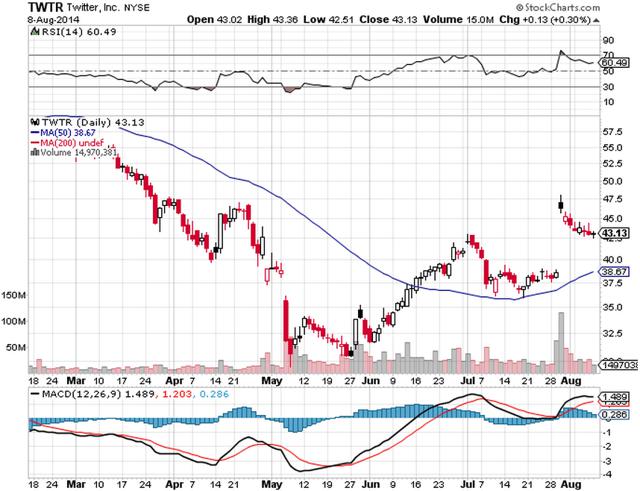 Source: StockCharts.com
Description: Twitter (NYSE:TWTR) is a global Internet platform that individuals and companies use to post short messages (a maximum of 140 characters) that are publicly visible. Users can express themselves and create, distribute, and discover a wide offering of content; Vine, a mobile application available on the iOS, Android, and Windows operating systems that enables users to create and distribute short looping videos, and #Music, a mobile application that helps users discover new music and artists based on Tweets. The company also provides a set of developer tools that enables users to contribute their content to its platform and distribute Twitter content across theirs. In addition, Twitter offers promoted products, including promoted tweets, promoted accounts, and promoted trends that enable its advertisers to promote their brands, products, and services; and provides subscription access to its data feed for data partners. The company counts more than 271 million monthly active users. Advertising generates nearly 90% of revenue. The service is mostly known for its real-time content.
Recent Results: Highlights from the 2Q14 earnings report include -
Expects Q3 revenue of $330M-$340M, above a $323.7M consensus. Full-year revenue guidance is at $1.31B-$1.33B, above a $1.27B consensus. Full-year adjusted EBITDA guidance has been hiked to $210M-$230M from $180M-$205M.
MAUs +6% Q/Q and +24% Y/Y in Q2 to 271M, and generally better than expected; Q1's Q/Q growth was also 6%. Mobile MAUs +7% Q/Q and +29% Y/Y to 211M. Timeline views +10% Q/Q and +15% Y/Y to 173B; Q/Q growth picked up from Q1's 6%.
Ad revenue (89% of total revenue) +129% Y/Y, up from Q1's 125% clip. Data licensing/other revenue +90% vs. +76% in Q1. Mobile was 81% of ad revenue vs. 80% in Q1 and 75% in Q4. Ad revenue per 1K Timeline views rose to $1.60 from $1.44 in Q1.
Though still far below U.S. monetization, international monetization (possibly boosted by the World Cup) improved in Q2: International revenue +168% Y/Y and now 33% of revenue, up from 28% in Q1 and 27% in Q4.
GAAP R&D spend totaled $177.1M, sales/marketing $140.3M, and G&A $44.7M. Total costs/expenses rose to $462.1M from $178.2M a year ago; Y/Y comps are skewed by $158.4M in stock compensation expenses (up from $22.6M a year ago).
Source: SA Earnings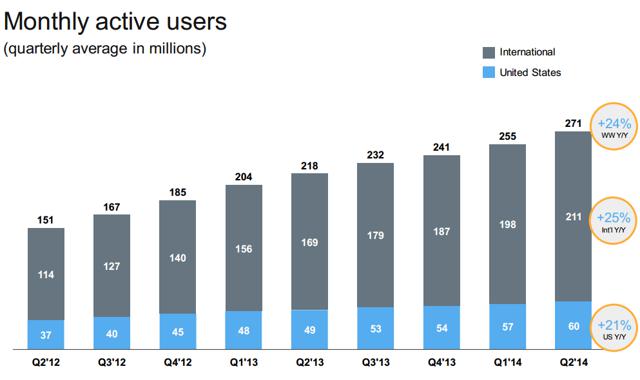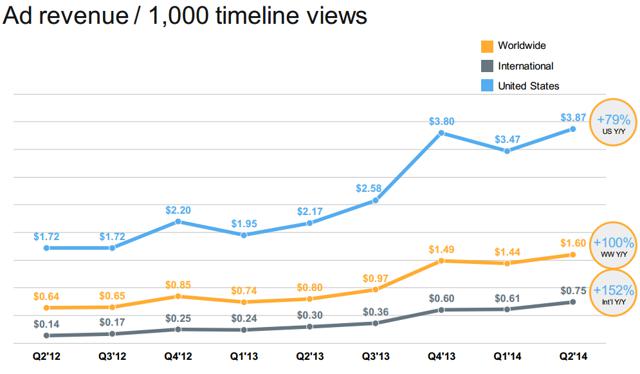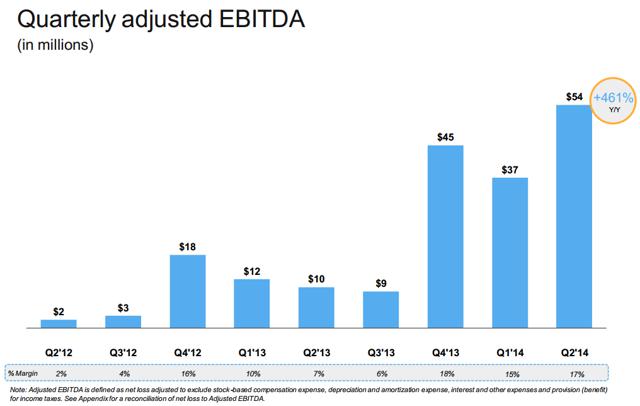 Source: 2Q14 Earnings Slides Presentation
For all of the company's recent company documents, please click here.
Looking Ahead: I presented quite a few metrics above, but undoubtedly, the only metric the market seems to care about is MAUs. The World Cup and elections in India drastically accelerated that last quarter. Now the company needs to not only retain those users, but actually continue to accelerate growth in underpenetrated markets while also focusing on increasing per user monetization.
Personally, I'm very pleased with Twitter's 2Q revenue, users, and revenue per user. The impressive user growth numbers combined with continued strength in ad revenue make me optimistic that Twitter hasn't reached its maturity and still has a lot of upside.
I find Twitter with its 140-character real-time messaging absolutely unique and ubiquitous and bought Twitter ahead of its recent earnings. While I would be concerned given Twitter's current valuation if MAU's growth continues to slow, as long as Twitter continues increasing its revenue per user, I'll continue holding my shares. In a world that's becoming ever more connected, and growing more intertwined on social connectivity and interaction, I don't want to be betting against such profound technologies. Sure there are plenty of gaffes that occur on Twitter, but it's also been a medium of communication that has fueled real geopolitical changes in the world. And if Mark Zuckerberg can justify paying $19B for WhatsApp, a market capitalization of $25B for Twitter seems like a deal to me given my outlook on the sector.
Most analysts recently upgraded their recommendation on Twitter and also raised its price target.

Source: Yahoo! Finance

Source: Yahoo! Finance
Conclusion
I personally am not interested in getting long in SOCL. I'm more interested in the individual names included in its holdings. For those that are interested in trading SOCL, I wanted to make note that there are options available to trade.
With the relative lack of an abundance of ETF product options available to play the social media trade, would-be investors should consider creating their own weighted basket of equities based on their own research, expectations for growth, and risk tolerance. That's something that I'll be working on myself over the next few weeks/months and sharing.
In short, these are the positions that I will be looking to take as a part of my long-short strategy in the social media sector:
Tencent Holdings - Long
Facebook - Long
LinkedIn - Long
Mixi - Long
Yelp - Short
Pandora Media - Short
YY Inc. - Long
Groupon - Short
Zynga - Short
Angie's List - Short
Twitter - Long
I'll be sure to provide updates as to what specific allocations and investment vehicles I'll be using as I build out my portfolio. I plan on adding others not mentioned in this list, specifically some small and micro cap companies also in the sector.
Right now I'm looking at about 70 percent net-long exposure. My expectation is that exposure to stocks should achieve attractive total returns over the long run while reducing my volatility in the current marketplace. I believe that I've identified companies that are high-quality, which I'm going long on, while also shorting companies that I think are overvalued and might drop in price. Even in the face of an overall market correction, my portfolio should be protected from significant losses, because I expect the lower-quality stocks to fall much more rapidly than higher-quality ones.
Like I mentioned at the beginning, this was an introductory article to this ETF and its holdings. I'd like to write in-depth articles covering in much more specificity why I like particular companies, and why I don't like others. I thought that this article was longer enough as it was, however I would like to look at more comps within various sectors and formulate trades on those as well.
Some additional ideas that I currently have planned for future articles in this series on Social Media include
1. Social Media Buyouts/Rejections/Targets … Failures and success stories. Private or public?
2. An article on 2014 tech IPOs … What's happened? What has yet to come?
3. An article on under-covered, deep-value Canadian tech/social media companies
*If you like what you've read here please click the "+Follow" button and subscribe to my real-time alerts. I just started using the StockTalk function which I find is an excellent resource to communicate real-time trades that I'm making, due diligence that I'm conducting and article alerts. If you are interested in reading further articles in my series on social media, definitely subscribe.
Disclosure: The author is long FB, TWTR. The author wrote this article themselves, and it expresses their own opinions. The author is not receiving compensation for it (other than from Seeking Alpha). The author has no business relationship with any company whose stock is mentioned in this article.
Editor's Note: This article discusses one or more securities that do not trade on a major U.S. exchange. Please be aware of the risks associated with these stocks.