With trading days left in 2010 dwindling, many investors are looking through their portfolio and trying to decide what should stay, what should go, and where to increase exposure.
True, the major stock indicies are up for the year: The Dow Jones industrial average has rebounded 10% in 2010, and the Standard & Poor's 500 has regained about 11%.
Small-cap stocks also are up, but more than double the Dow and S&P 500. The S&P's small-cap 600 and the Russell 2000 are both up around 25% year-to-date. Click here to learn why the biggest gains always come from small cap stocks.
Digging into the S&P 600 it's apparent that the energy sector is the top-performing sector, up around 40% year-to-date. Surprisingly, close behind is the consumer discretionary sector which is up 36%.
One top performing S&P 600 consumer stock is Brown Shoe Co. (BWS), an old name that most people might better recognize for its Famous Footwear chain and its Naturalizer brand.
This year, Brown Shoe's stock has risen about 45%, even after selling off since peaking in April at $19.96.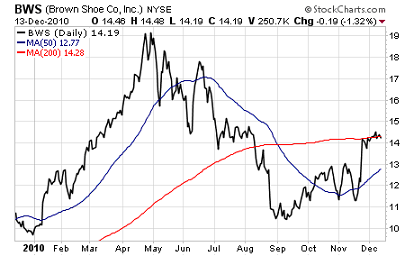 Traders have been a little skittish about Brown Shoe and other retail-related stocks at times this year, given a relatively weak consumer, but lately there's a bullish sentiment surrounding the shoe sector.
After all, everyone needs shoes of some kind, and Famous Footwear, a chain that Brown Shoe operates, markets itself as offering value for the entire family. Brown Shoe estimates that 10% of American families shop Famous Footwear during the back-to-school period.
Brown Shoe's stock has been listed on the New York Stock Exchange since 1913. The Naturalizer brand was created in 1927, and Naturalizer stores rose in popularity after World War II, along with the baby boomer generation. Much of the company's growth has been through acquisitions, such as buying Famous Footwear in 1981 and expanding from a small 36-store chain to more than 1,100.
For the 12 months ended in October, Famous Footwear was the nation's No. 3 stand-alone shoe retailer, behind the Payless chain of Collective Brands (NYSE:PSS) and Designer Shoe Warehouse of Retail Ventures Inc. (NYSE:RVI-OLD), and just ahead of Foot Locker (NYSE:FL).
Beyond its retail presence, Brown Shoe also is a major wholesaler, with some 2,000 accounts that put its products in most department stores and major independents. That business, which accounts for 30% of sales, also lowers the pains of a competitive retail environment still struggling to find its footing in a recession-stressed economy.
Brown Shoe has been around since 1878, but it didn't really take off until 1904, when it became linked to the Buster Brown comic character. At the 1904 World's Fair in St. Louis, a young company executive met the cartoonist who created the comic strip character, which became the company's marketing symbol. Brown Shoe began marketing itself through road shows of actors dressed as Buster Brown, with his little dog Tiger, and sold the Buster Brown shoes for kids.
Lately, Brown Shoe has been developing the long-term license it holds for the Dr. Scholl's brand, and maximizing the website www.shoes.com. It also has been creating celebrity shoe lines, with such stars as Carlos Santana, Reba McEntire and Fergie, along with some higher-margin fashion brands. In 2007, it launched stores in China.
For the October quarter, Brown Shoe reported 14% increases in both earnings and revenue, while same-store sales at Famous Footwear grew 11%.
Restructurings have also improved the balance sheet, and are one reason why the company should post substantially better earnings when its fiscal year ends in January. Analysts surveyed by Thomson Reuters are calling for earnings per diluted share of $0.93, nearly 360% 2009 EPS of $0.26. Revenue growth is expected to be around 12%. Earnings in 2011 are expected to rise another 40%, to around $1.31 per share.
Brown Shoe is a nice value play. With a forward P/E of just 10.9 and a nearly 2% dividend that it has paid for 351 consecutive quarters, you should definitely consider picking up shares. While the holiday shopping season will determine the direction of the stock price in the short term, a solid quarter could return the stock to the $20 range. That's an upside potential of 39%.

Disclosure: None