USD
My Sentiment: Bullish
How to Bet: vs. EUR, JPY, and CHF
USD Overview
Last week (ending 08/07), traders raised their bullish bets on the US dollar for the third consecutive week, with the highest total contracts being generated since March (seen below).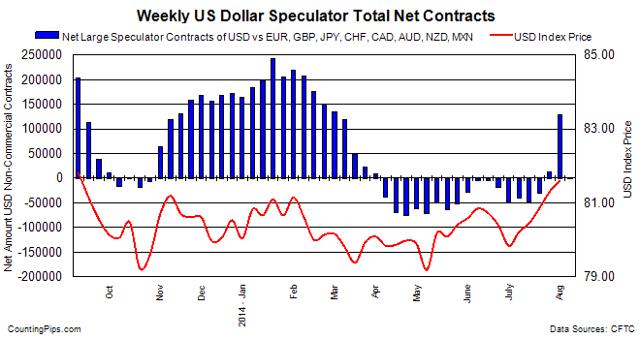 I remain bullish on the USD for a few reasons. Firstly, the US economy has transitioned from strong to even stronger as better-than-expected data continues to pour in. Specifically, GDP came in at 4.0% in 2Q14, compared to the estimated 3.0%, and the -2.1% decline in 1Q14. As well, non-farm payrolls are on a steady uptrend, having increased the past 6 quarters. Thirdly, there were some questions if 1Q14 GDP weakness was really a result of the bad weather. But, with the US ISM Manufacturing Report having increased for the past 12 months, we can put Q1 behind us, and look to a growing recovery.
Much of the focus on the USD has been in terms of relative performance. With strong data in the US across the board, the only real thing left is higher wages. Wages have stayed at a 2% YoY level, which is low considering the Fed's 2% inflation target. As such, inflation data will be in particular focus for the future. When looking at US equity markets, as measured by the S&P 500, many people are concerned with the decline last week, as some view such a decline as signs that the US recovery is not on track as some might have thought. However, this is wrong. The US recovery is real, and this market decline shows us that the market has come to such a realization. With more and more positive data to support the recovery coming in, there is an inherit realization that goes hand-in-hand that tells us that the Fed is going to soon normalize interest rates and these easy money policies will soon come to an end.
Now what can we expect once we move away from the current .25% interest rate?
Well, we can expect strong foreign inflows into fixed income securities, which will help fuel the strength of the USD. To summarize this, I am bullish in both the short and long-term for the USD, especially against high beta pairs (AUD, NZD) and currencies operating in deflationary environments (EUR, CHF, SEK, JPY).
A Few Pairs to Bet on the Strength of the USD
EUR/USD
The EUR is a sell, in my view. Both the USD and GBP are relatively stronger currencies, and with the ECB's long-term dovish outlook, the EUR would be a good currency to sell. As well, recent readings on growth for the euro countries have disappointed, and inflation has fell to a low of 0.4%. We also can see money and credit indicators both below the ECB's target, which is a strong bearish sign for the currency. I advise investors to look at the performance of equity markets and bond inflows to gauge whether support is being regained or lost. However, as of now, the EUR is a sell.
Important Upcoming Data
ZEW Economic Sentiment (08/12)
CPI (08/14)
USD/JPY
The JPY is a short, in my opinion, so I am long this pair. The BOJ has taken measures to bring itself out of decades of deflation, however, inflation still remains very low, and the BOJ will undoubtedly need to act soon. Specifically, Japan will most likely have to import inflation, which will weaken the JPY. As well, as a result of the new Sales Tax in April, the BOJ has seen a slowdown in consumer spending, which has prompted many calling for a recession. Lastly, the BOJ has expressed concerns on the impact of exports, which has the stalled recovery. I advise investors to remain bearish on the JPY until we start to see positive data on the trade balance or a better-than-expected GDP reading (expected to have contracted in 2Q).
Important Upcoming Data
Trade Balance (08/20)
GDP Figures (08/12)
USD/CHF
This pair is a buy, in my opinion (long USD, short CHF). Although inflation is no longer negative, it is still 0%, and I do not see any upcoming actions by the Swiss National Bank to change anything anytime soon. When compared to the USD, the CHF has showed growth in its retail sales, but this won't be enough to strengthen against the USD. This pair has fell recently however due to safe-haven support, but this support will soon ease as geopolitics gradually wind down, and the bearish nature of the CHF will resume. I expect the USD/CHF to move even higher, but I will be watching for the reading on PPI and Unemployment, as they might contribute to strength for the CHF vs. the USD.
Important Upcoming Data
ZEW Survey (08/13)
PPI
Other currencies to bet on the USD against: CAD and SEK
Trading Recommendations
EUR/USD
Position: SHORT
Price Target: 1.3154 (61.80% Fibonacci Line)
Entry: 1.3366 (S1 level)
Stop: I would recommend a stop around the R3 resistance level of 1.3465. This stop should be gradually lowered, next to around 1.3465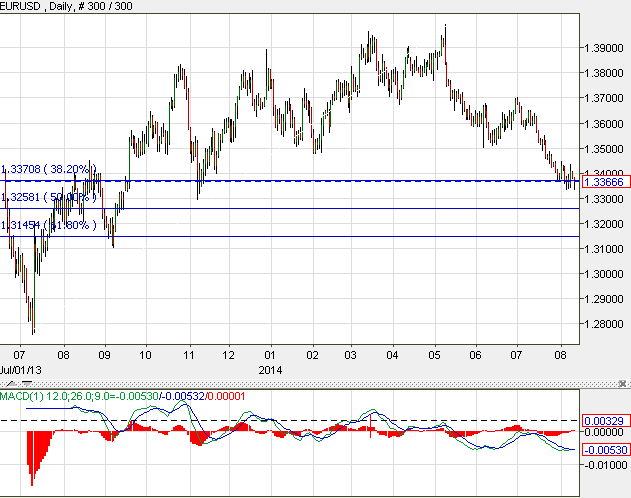 USD/JPY
Position: LONG
Price Target: 104.100 (April 3rd high)
Entry: 102.33 (R1 level)
Stop: I would start out with a stop at the S3 level of 101.59, then slowly move the stop up to each support level (next to 101.85, then 102.10).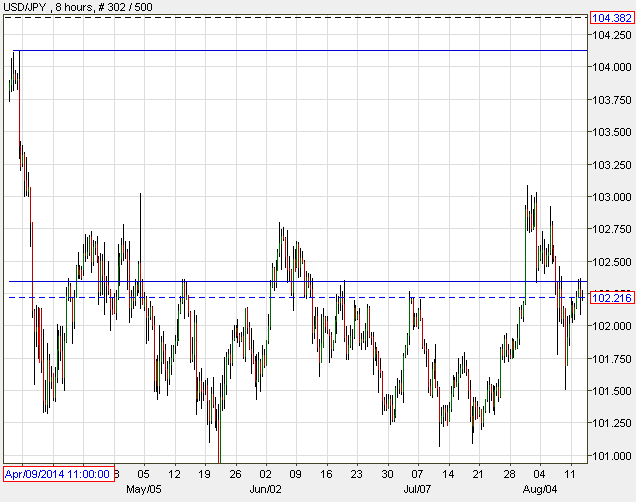 USD/CHF
Position: LONG
Price Target: 0.93696(61.80% Fibonacci Line)
Entry: 0.91344 (38.20% Fibonacci Line)
I want to make sure this move is justified, and can at least get to this level. I am willing to take some potential profits off the table, but if price can reach this entry level, the upside potential is very strong.
Stop: I would recommend a stop slightly below the entry point, around 0.9075 (R1 level) to limit losses. However, if this pair appreciates as I predict, I would recommend moving the stop up to the entry point of 0.91344.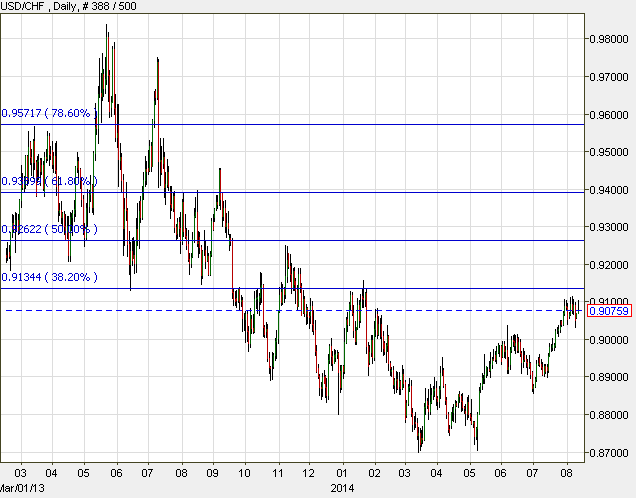 Overall
I see a strong case for the USD in the recent economic data coming out of the US relative to the other G10 constituents. As such, I see an increased yield differential between the US against pairs like the EUR, JPY, and CHF. Although the recent Fed speak is mixed, I do not see any reason to move out of a long position for the USD. By simply being very precise on entry points, and watching closely for economic data, there should be a good bit of profit to be made by betting on the USD, and the recovery in the United States.
Disclosure: The author has no positions in any stocks mentioned, and no plans to initiate any positions within the next 72 hours. The author wrote this article themselves, and it expresses their own opinions. The author is not receiving compensation for it (other than from Seeking Alpha). The author has no business relationship with any company whose stock is mentioned in this article.