As I wrote in my last Instablog, Asian markets have been rallying lately, but at least a portion of the gains can be attributed to playing "catch-up" to the Western markets. The latest numbers out of the East show that economies in the region are improving, although conditions are still very fragile. The numbers out of Europe indicate similar continued slow and delicate recoveries for economies there.
Japan (NYSEARCA:EWJ):
Japan's Q2 GDP (released early Wednesday morning) shrunk by -6.8% YoY, while economists were expecting a contraction of -7.1% YoY. While this number is severely negative and represents large-scale shrinking of the Japanese economy, there are some positives to take from the report.
It's important to first note that in October of last year, Prime Minister Shinzo Abe unveiled a sales tax increase from 5% to 8%, touting the hike as a way to help curb the country's astronomical level of debt from rising further. As the chart below shows, Japan's debt level seems unsustainable.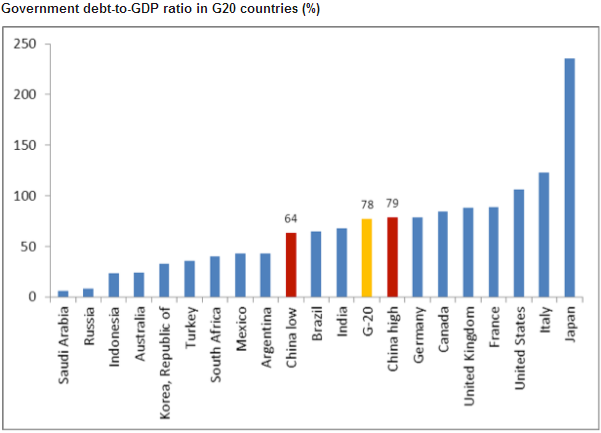 (Source: Institute for New Economic Thinking)
In the United States press, there is much discussion about current debt levels; however, Japan's debt-to-GDP ratio is more than double the U.S.'s and almost double's Italy's. Clearly, the Japanese government needed to do something. The sales tax increase will help reduce the government's debt level for the foreseeable future.
A contraction of -6.8% is a colossal decline (the most since an earthquake severely hurt the country in 2011), but economists were expecting even lower. The paltry forecast (and actual decline) was due in large part to the sales tax increase mentioned above, which severely hurt consumer spending in the second quarter. Additionally, this large decrease comes after the Japanese economy grew 6.7% YoY in the first quarter, the largest increase in nearly three years, which came in way above initial expectations of +4.2%.
Coupled with data from the first quarter, the Japanese economy has basically been stagnant for the first half of the year. While no economy wants to remain stagnant, the government seems to have significantly increased its future collectibles while minimizing the effect on the economy. Economists are forecasting Q3 to show a return to growth, a good sign for the third-largest economy in the world and its government that has been under intense scrutiny the past couple years. Return to growth in the third quarter would also allow Abenomics to continue down the path of increasing the sales tax yet again (to 10%), in order to further reduce debt levels.
China (NYSEARCA:MCHI):
Early Wednesday morning China released its Industrial Production, Retail Sales, and Urban Investment numbers, as well as loan volumes. The numbers out of the world's second-largest economy showed continued growth coupled with some weakness, which will do little to appease those who are still worrying about the property market in the region.
New loan volume registered 385.2B, down very significantly from the previous amount of 1,080B. This is a very bad sign for the Chinese economy, as loans are necessary to spur further growth, and a reduction of about 60% is an ominous sign for the country's economic recovery.
Industrial Production rose +9.0%, in-line with expectations. Continued production of industrial goods (for an economy with a larger share of industry) is very important.
Retail sales of +12.2% was below expectations of +12.4%, but this small miss of 0.2% is minimal in comparison to the broader number of over 12% growth. Retail spending has been "in a funk" for the past several months/years, not only internationally, but domestically as well, so this is a bullish signal.
"Urban investment," or the amount of money spent on construction and fixed assets, grew 17% YoY, which missed targets of 17.4%. Again, while the number technically missed, the 17-handle should provide enough growth for the economy's recovery to continue forging ahead. A larger miss would have been more worrisome.
Germany/France/Spain (EWG, EWQ, EWP):
Several CPIs were released this morning, which is a very important indicator, as the economies in the eurozone staved off continued fears of deflation.
The German CPI for July was in-line at 0.8% YoY. The strongest economy in the eurozone continues to show its strength, and while this target is below ECB President Draghi's target of 2%, this data is a good sign that deflation is not taking hold.
Similarly, France's and Spain's July CPI showed economists' predictions were largely correct. France's 0.6% increase in prices was in-line with expectations, and Spain's -0.3% decrease was also in-line. Economists have known for a long time that Spain's economy is in trouble, so while this data is a little disheartening and shows weakness for the broader economy, coupled with France's and Germany's numbers, the eurozone is proceeding along its course towards recovery.
Pulling It All Together:
Overall, the economic numbers out of the East and the eurozone give a picture of a slow, grinding, continued recovery. While the recovery has had its share of bumps and bruises (almost 6 years of recovery have not produced a return to normal), it seems as if consumers and producers are spending again, and prices are slowly rising, in-line with expectations. Mario Draghi still may have to institute a weaker Euro, and Shinzo Abe is seeing his popularity drop, but both leaders are successfully (slowly) helping their economies recover. In order for the United States to economically recover, it must partner with a healthier world economy. These numbers are a start, but the process will continue to be arduous.
Disclosure: The author has no positions in any stocks mentioned, and no plans to initiate any positions within the next 72 hours. The author wrote this article themselves, and it expresses their own opinions. The author is not receiving compensation for it (other than from Seeking Alpha). The author has no business relationship with any company whose stock is mentioned in this article. I am long some stocks