By Brad Zigler
Silver's often nicknamed "the poor man's gold" for the simple fact that its per-ounce price is so much less than that of the yellow metal's. Poor men, however, have been shelling out more to buy silver recently as the gold/silver ratio -- the price of gold bullion denominated in ounces of silver -- has nose-dived.
Over the past three months, gold's price multiple been slashed from 62.4x to 47.3x, basis the London cash market. Put another way, you would have spent 62.4 ounces of silver to buy an ounce of gold in mid-September, but now you'd spend only 47.3 ounces.
Gold/Silver Ratio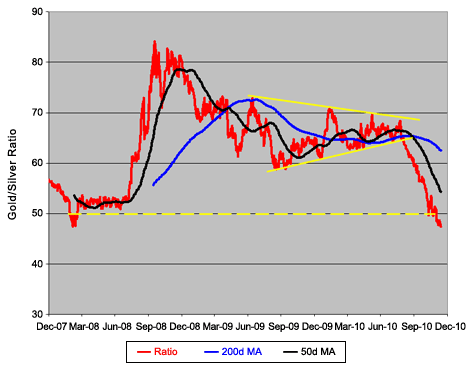 You can think of this development in one of two ways: Either gold's gotten cheaper or silver's become more expensive. Neither metal, of course, is static. But gold -- despite its well-publicized volatility -- has been sluggish recently. Gold, in fact, has been overshadowed by other commodities.
Consider this: Gold's price proportion to that of the TR/J CRB Index, a benchmark tracking a diverse universe of 19 commodities, just nudged to the downside of a months-long consolidation pattern.
Gold's Price Performance vs. TR/J CRB Index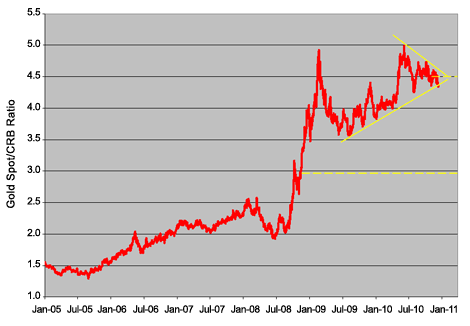 All this seems to point to gold's weakening -- on a relative basis, at least.
Gold bulls haven't lost heart, though. If you take the measure of fear as the price of puts, gold's investors are clearly looking for better prospects compared to silver.
Yesterday, the metals market -- indeed, the whole commodity sector -- breathed a sigh of relief when China held back on a much-anticipated interest rate increase. The price of gold put options -- insurance against price declines -- sunk 21.4 percent from pre-weekend levels. The cost of silver puts, though, actually rose 2.1 percent Monday.
The continuing appetite for silver price insurance tells us that traders aren't seeing risk waning. Not yet, anyway.
Gold Put vs. Silver Put Cost Indexes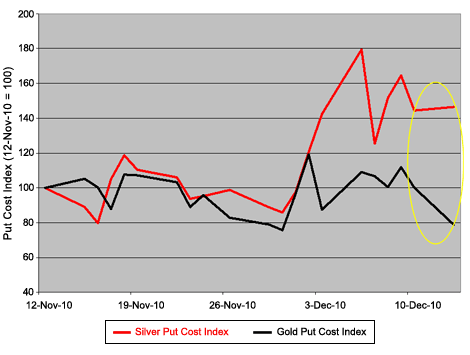 Given the giddy trajectory of silver prices this year -- up 25.8 percent basis the London fix -- such trepidation is easy to understand.
Easy to understand and, hopefully, hard to forget. Be careful out there.
Disclosure: No positions