As is almost always the tendency of retail investors, they can be seen chasing top performing assets. This was clearly the case in November, according to Index Universe, which reviewed the flows in November. Money flowed to (surprise!) emerging markets and small cap stocks in November - quite late to the party since these asset classes are closing out a year strongly outperforming the broad-based stock and bond indices.
As I have mentioned before there is a strong tendency for such flows to continue at year-end and the beginning of the new year. After that it is anyone's guess but the large - and late to the party - flow of funds leaves the market vulnerable to a sharp selloff should these asset classes start to fall.
Looking at the year-to-date relative performance of the funds with the major inflows vs the S&P 500, total U.S. stock market (vti) and aggregate bond index (AGG), it's pretty clear the flows chased performance.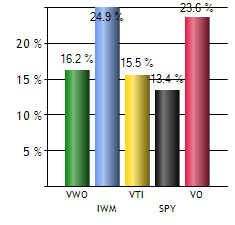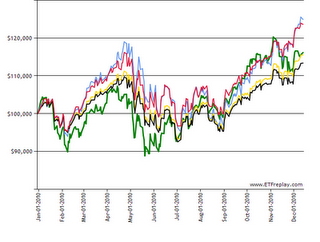 (Click the charts above to expand)
Here is the table with dollar inflows in millions:
VWO
Vanguard Emerging Markets
Vanguard
1,734.80
VO
Vanguard Mid-Cap
Vanguard
1,322.14
IWM
iShares Russell 2000
BlackRock
1,201.37
VB
Vanguard Small-Cap
Vanguard
833.40
IWD
iShares Russell 1000 Value
BlackRock
669.54
SLV
iShares Silver
BlackRock
567.84
VBR
Vanguard Small-Cap Value
Vanguard
494.27
VBK
Vanguard Small-Cap Growth
Vanguard
484.19
FAS
Direxion Daily Financial Bull 3x
Direxion
404.85
MINT
PIMCO Enhanced Short Maturity Strategy
PIMCO
403.29