Shares of energy player Devon Energy (DVN) have had a very good 2014 thus far. Following a month of bouncing around the $60 level for the first month or so of the year, shares proceeded to make almost a straight line advance all the way up to near $80 by the end of June. After retesting the $80 level at the end of July, things haven't been quite as kind for Devon shareholders.
While the broad market has experienced a bit of a pullback, energy companies have been hit particularly hard. Devon shares have pulled back over 7% just since July 24th trailing both the S&P 500 (SPY) and the energy sector (XLE) during that time frame.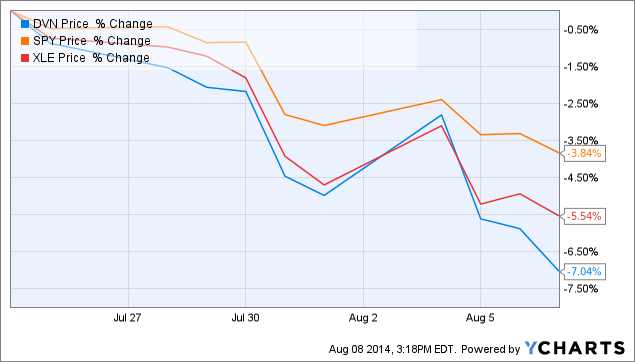 Considering the march from $60 to $80 that took place earlier this year, this feels more like a healthy correction than a reason for great concern. The fundamental strategies that the company continues to focus on have proven successful in recent quarterly earnings releases. With shares "on discount" right now, this could be a particularly attractive entry point for investors.
Here are a few reasons why Devon Energy is still well positioned for future growth.
Solid earnings and revenue growth in 2014 is forecasted to continue in 2015
Devon is expected to deliver 37% earnings growth and 52% revenue growth in 2014 compared to 2013. On top of that, the company is expected to grow earnings another 11% and revenues another 7-8% in 2015.
If Devon's positions in both the Permian Basin and Eagle Ford shale continue to produce according to predictions, these growth figures might even prove to be conservative. That could be especially true considering Devon's history of beating earnings estimates.
Growing oil production from the Permian Basin and the Eagle Ford shale
Devon experienced a production decline in the Eagle Ford due to a short-term downtime but management confirmed that it's still on track to improve production as much as 20% in the region. Permian Basin production jumped 25% and overall oil and gas production not considering divested assets rose a total of 14%.
Devon plans on continuing to expand production in these regions and it's this growth that continues to provide support for the company's revenue and growth forecasts as well as the share price.
Attractive valuation multiples
By many multipliers, Devon Energy shares appear to still be undervalued despite the gains in 2014. Devon maintains a forward P/E of just 11 which compares favorably to both the S&P 500 and the energy sector. A price-to-sales ratio of 2.18, a price-to-book ratio of 1.40 and a PEG ratio of 0.72 all fall below the averages of the oil & gas sector.
The PEG ratio I find particularly appealing. If Devon can continue on its growth trajectory, the PEG ratio suggests that shares may be significantly undervalued. Big energy companies like Chesapeake (CHK) (1.35), Anadarko (APC) (1.51), British Petroleum (BP) (1.21) and ConocoPhillips (COP) (1.83) all sport significantly higher PEG ratios (although the large companies have less potential for fast growth, of course).
Conclusion
Despite the recent pullback, Devon Energy remains an attractive investment option, especially with shares at a lower price. The fundamental revenue and earnings growth strategy combined with plans to continue growth in North American oil production and the possibility of a valuation multiple expansion provides Devon with plenty of fuel for a future return to a higher share price.
Disclosure: The author is long DVN. The author wrote this article themselves, and it expresses their own opinions. The author is not receiving compensation for it (other than from Seeking Alpha). The author has no business relationship with any company whose stock is mentioned in this article.