Athlon (NYSE:ATHL) Reports Solid 2Q14 Results; Boosts Guidance, Adds More Acreage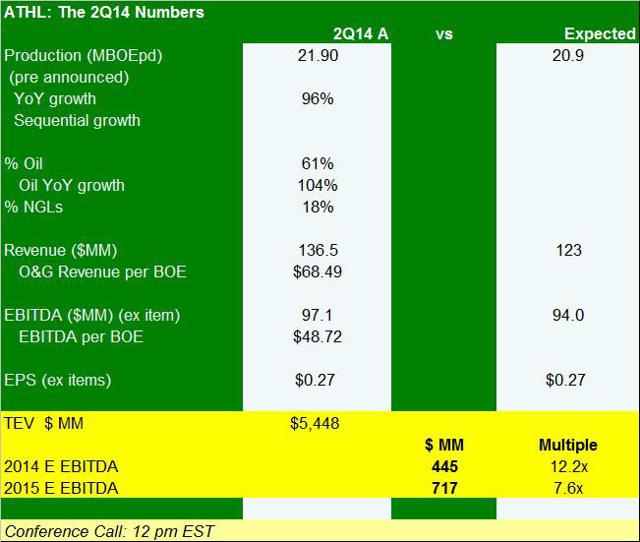 Guidance: Increased
Athlon increased 2014 volume guidance from a range of 23 to 24.25 MBOEpd to a range of 24.5 to 25 MBOEpd (up 103% on the mid). While the expectation of higher guidance was out there, the Street is still currently forecasting 23.9 MBOEpd).
Meanwhile, they didn't lift their 2014 budget holding it unchanged at $725 mm (excluding the big acquisitions they've taken on this year),
Initial guidance for 3Q14 of 26.5 to 27.5 BOEpd straddles the current Street target.
Highlights
Their first 6 horizontal wells are outperforming Athlon's by area type curves by a whopping 70%... we've grown used to a little bit of EUR trumping but this is massive.
Howard County - 3rd Wolfcamp A - "highly encouraged by initial results" … we've heard them say this before and brother, they weren't kidding,
Midland County - New 7,744' lateral on with results as good as or better than the Davidson 27C well (the 2nd highest Wolfcamp 30-day rate per foot of lateral in the basin). NICE.
Martin County - two wells completed in the lower Spraberry - early days, no color, look for color on the call though,
Glasscock County - two long lateral (10,000'+) wells drilled in the Wolfcamp A (look for results on or before the 3Q call)
4th HZ rig arrives in 4Q14 as previously scheduled.
Acquisition:
6,450 net acres in Midland, Martin and Glasscock Counties, all adjacent to current ATHL leases for $324 mm,
The acreage brings with it 3,000 net BOEpd
And they see 179 potential horizontal locations (bring them up to 1,729 in the company) across six zones.
It's $22,300 per production adjusted acre but that's not surprising given pricing in the northern Midland Basin and it's just under the price per acre of their April transaction.
Other Stuff:
Balance Sheet: Pro forma the acquisition, leverage is elevated but acceptable; liquidity is $700 mm.
Nutshell: Solid quarterly results with volumes pre-announced at the end of July (they were a beat then). Impressive operations update in a broad sense but the call will flesh out more detail and they are increasingly falling into our "easier to own" camp of SMID-cap E&P names. Another guidance boost to reflect better than expected well results and the impact of 1H14 acquisitions combined with good cost guidance should have the Street modestly boosting 2014 and 2015 numbers (again). We continue to own ATHL in the ZLT as our second largest Permian position and see the name as easily able to sport an EBITDA number in excess of 9x on 2015 estimates (about to go up) as year end approaches.

Disclosure: The author is long ATHL. The author wrote this article themselves, and it expresses their own opinions. The author is not receiving compensation for it (other than from Seeking Alpha). The author has no business relationship with any company whose stock is mentioned in this article.