There is a situation playing out in Russia with Vladimir Putin sending an aid convoy to eastern Ukraine to provide humanitarian relief to the separatists which have been surrounded by government forces. The convoy is impressive, measuring over 2 miles according to the reports we have read.
The trucks are probably carrying humanitarian aid, but the fear among leaders in Ukraine, Europe and the US is that there may be weapons aboard and this could be a precursor to Russia taking an expanded role in the area. An independent third party has not verified the contents of the vehicles and that is what is at the center of fears among traders. There are many ways in which Ukraine could react, the market is just hoping that everything goes smoothly and no fighting breaks out among the Ukrainians and Russians.
Chart of the Day:
Everyone is expecting record harvests this year in the grain complex, so it is no surprise that many of the grains, including corn, are trading at multi-year lows. Corn is trading at 5-year lows, and so long as the weather holds, this should be good news for livestock and bad news for the grains.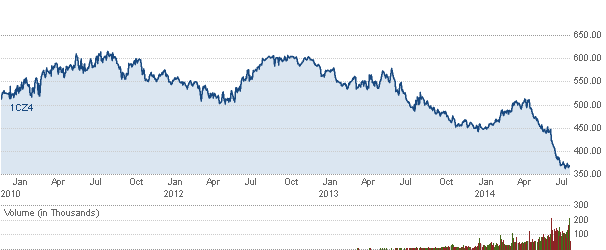 Source: CNBC
Commodity prices are as follows (at time of submission):
Gold: $1,314.90/ounce, up by $4.30/ounce
Silver: $19.91/ounce, up by $0.005/ounce
Oil: $97.01/barrel, down by $0.36/barrel
RBOB Gas: $2.7194/gallon, down by $0.0151/gallon
Natural Gas: $3.874/MMbtu, down by $0.10/MMbtu
Copper: $3.1185/pound, down by $0.036/pound
Platinum: $1,473.70/ounce, up by $1.50/ounce
Ag Problems
We are used to Deere (NYSE:DE) scaling back expectations in order to beat the next quarter, but the commentary coming from the company surrounding its current quarterly results and forward guidance appears to be sincere. The fact that the company is looking to cut back its production in order to balance supply with its customers' demand is quite telling and indicates that there really are issues facing Deere as it moves forward.
Look for the company to test its support around the $84/share level once again; if not today then in the following weeks. Some think that the shares could dip into the $70s with the current outlook.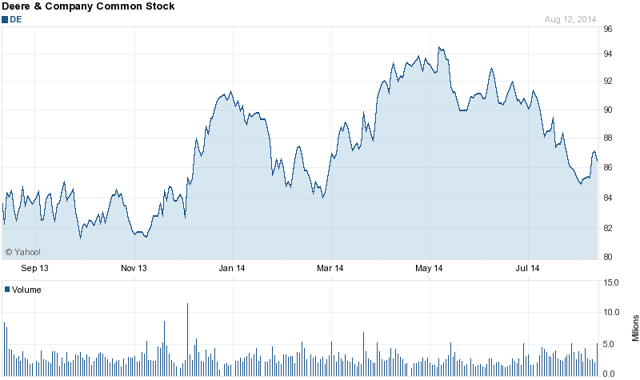 Source: Yahoo Finance
With corn prices near five-year lows, corn supplies near highs and a harvest season expected to be the largest ever, it is no surprise that farmers are looking to cut back on capital expenditures. The fact that many of them have used tax credits and deductions to replace their equipment over the last few years also is a headwind that Deere is facing and will have to overcome.
Russian Oil Joint Ventures
This week's news that Exxon Mobil (NYSE:XOM) will move forward with its plans to explore in Russia's Kara Sea, which is in the Arctic Circle, with its partner Rosneft (OTCPK:RNFTF) was very welcome indeed. We think that it might very well signal a buying opportunity in other names with business activities in Russia, especially BP (NYSE:BP), that have retreated on fears that the US and EU will eventually place sanctions on Russia's energy sector.
Exxon Mobil is one of the most important US companies, with the same holding true in regards to BP's position in the United Kingdom. If sanctions against Russia's energy sector were going to be ramped up soon, neither company would be looking to start expensive exploration/development work, as they most likely would have been asked to refrain by lawmakers at home. Announcements rarely surprise those large companies which they affect, and in this instance lawmakers would want a partner, not someone to embarrass.
This one year chart sure makes the current price of BP shares look like a deal. We were bullish at these levels before and nothing has really altered that outlook in the last few months. We do feel comfortable with support at the $46/share level holding.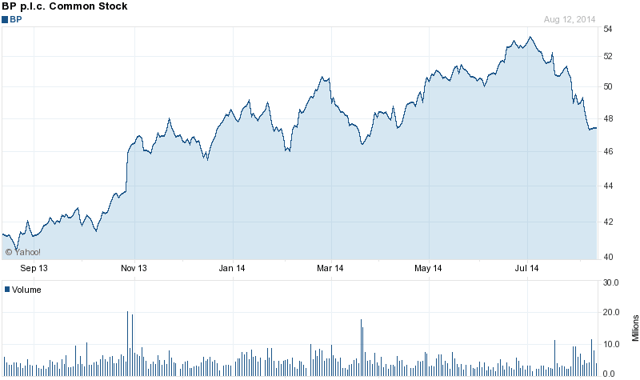 Source: Yahoo Finance
For investors looking to buy on dips, BP looks like the best buy right now; however, Exxon Mobil has less risk across the board and is a better diversified play for those seeking stability within their portfolio. Nearly all of the gains in BP shares have disappeared since we first went bullish, but the business has only improved along with the company's outlook. Looking at our numbers, it appears that investors are getting about a 10% discount on the shares; nothing to stick one's nose up at, especially with a 4%+ dividend yield.
Airport Gas
Far too often investors in the energy sector have to read about unhappy landlords and local governments and how they want to stop drilling and/or fracking operations. Well, we recently ran across an article discussing how CONSOL Energy (NYSE:CNX) is set to begin drilling on the 9,000 acre Pittsburgh International Airport which is owned by Allegheny County.
Over the next 20 years, the revenues to be realized by the airport are expected to total about $500 million, with around $20 million expected each year. These revenues will help lower the percentage of the operating budget which is allocated to servicing the airport's debt, currently around 40%.
The article can be found here, and is an interesting read as it speaks to the consolidation which has occurred in the airline industry; a big customer of energy and an industry always looking to use its heft to lower costs. Although the project is small, it could serve as a key public relations event for CONSOL Energy moving forward.
Antitrust Concerns?
News out this morning indicates that the US Justice Department is taking a closer look at Tyson Foods' (NYSE:TSN) purchase of Hillshire Brands (NYSE:HSH) than many thought they would. Both companies reported that the Justice Department requested further details surrounding the proposed $7.7 billion deal that is awaiting approval. If any action is requested by the government, it will most likely not be material as both companies indicated that the data requests focused on a very small portion of the deal.
Disclosure: The author has no positions in any stocks mentioned, and no plans to initiate any positions within the next 72 hours. The author wrote this article themselves, and it expresses their own opinions. The author is not receiving compensation for it (other than from Seeking Alpha). The author has no business relationship with any company whose stock is mentioned in this article.
Additional disclosure: BP has previously been recommended.