Coeur Mining (NYSE:CDE) stock is still stuck in the doldrums despite the rebound occurring in the gold and silver miners. Has there been more negatives on the company in the past year than positives? Sure, I will admit to that. But there comes a point when the selling gets way overdone, and we are at that point right now with Coeur.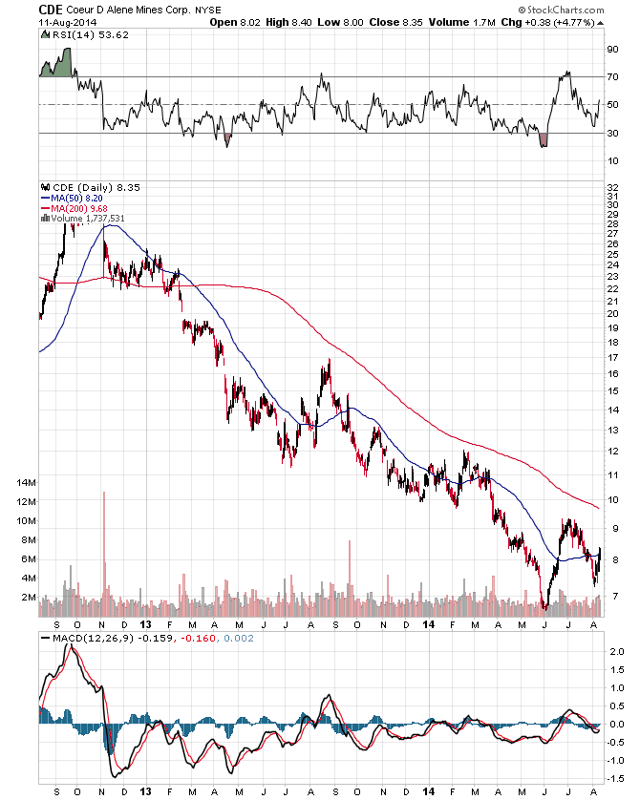 (Chart Source: Stockcharts.com)
Coeur currently has a market cap of $855 million, but its net tangible asset value is $1.7 billion.
| | | | | |
| --- | --- | --- | --- | --- |
| Period Ending | Mar 31, 2014 | Dec 31, 2013 | Sep 30, 2013 | Jun 30, 2013 |
| Total Assets | 2,986,985 | 2,885,978 | 3,636,917 | 3,666,716 |
| Total Liabilities | 1,289,288 | 1,155,411 | 1,344,969 | 1,315,224 |
| Net Tangible Assets | 1,697,697 | 1,730,567 | 2,291,948 | 2,351,492 |
Tangible asset values can sometimes be distorted as asset valuations on the balance sheet might be higher or lower than what they are really worth.
Palmarejo
The original gold stream deal
In late 2008/early 2009, gold and silver stocks were crashing along with the market. Money was extremely tight as the housing bubble was blowing up and banks were going bust. Coeur was trying to complete construction on Palmarejo at the time, and they had just finished construction on San Bartolome. But Coeur was running out of money and they needed more to complete Palmarejo. So in a desperate attempt to gain much needed capital, they signed a royalty deal with Franco-Nevada(NYSE:FNV) under which Franco-Nevada purchased a 50% royalty of the life of mine gold to be produced at Palmarejo at $400 per ounce. Coeur received $80.0 million in return. The royalty agreement had a minimum obligation of 400,000 ounces of gold over an initial eight year period.
Cash flow declining at Palmarejo
Palmarejo had been a steady producing asset and a big cash flow generator for Coeur. In the last two years cash flow has dropped off due to falling gold and silver prices and underperformance at the mine. 2014 production at Palmarejo is expected to be 6.7 million to 7.2 million ounces of silver and 87,000-95,000 ounces of gold, which is the lowest level of gold and silver since the mine started production.

(Source: Coeur)
New royalty agreement with Franco-Nevada and new Palmarejo mine plan
Coeur is in the process of advancing the Guadalupe underground mine at Palmarejo, with initial production to begin during the first quarter of 2015. Guadalupe holds a majority of Palmarejo's underground reserves and resources.
Coeur announced a new development and production plan for Palmarejo that supports the company's strategy to transition the mine to a higher-margin, longer-life, underground-only operation. Palmarejo's open pit life has been extended through mid-2015 based on current metals prices and known reserves, and Guadalupe will become Palmarejo's primary ore source by 2016. There will be higher recovery rates as well as a material increase in overall grades compared to prior years, as Coeur has included only material that it believes are economic at $20/oz silver and $1,300/oz gold.
However, a new mine plan was only half of solution. Even with a more economic mine plan, the company still needed to restructure its original royalty agreement with Franco-Nevada. If it didn't then Coeur would basically make no money on the mine from here on out at current gold prices.
So in June 2014, Coeur and Franco Nevada announced they were going to terminate the existing royalty stream agreement once Coeur completes the 400,000 ounce minimum obligation, which should be met by September 2016. The two companies also entered into a new gold stream agreement that will take effect after September 2016 in which Franco-Nevada will still receive 50% of the gold production from Palmarejo, but it will pay $800 per ounce instead of $408. They will also give Coeur $22 million toward the capital required to develop Guadalupe.
The new gold stream agreement is expected to result in improved mine economics.
2014
2015
2016
2017
2018
2019
2020
2021
Total

Total Production

Silver ounces (in thousands)

6,825

4,491

2,808

3,609

3,629

2,829

2,746

1,274

28,211

Gold ounces (in thousands)

86

72

50

100

104

46

57

39

553

Silver recovery

78%

83%

83%

83%

83%

83%

83%

83%

82%

Gold recovery

83%

87%

87%

87%

87%

87%

87%

87%

87%
Below is a look at revenue, cash cost, and cash flow for the new mine plan at Palmarejo. You can see that from 2014-2016, cash flow will be minimal for Coeur as the original Franco-Nevada gold stream agreement is still in effect. However, after that Coeur realizes a significant increase in cash flow as Franco-Nevada will be paying $800 per ounce for their 50% gold portion. Notice the decline in cash cost from 2016 onwards, which also helps improve the cash flow numbers. Overall, this new mine plan will produce $239 million in net cash flow for Coeur over the next 8 years using a $1,300 gold price and $20 silver price.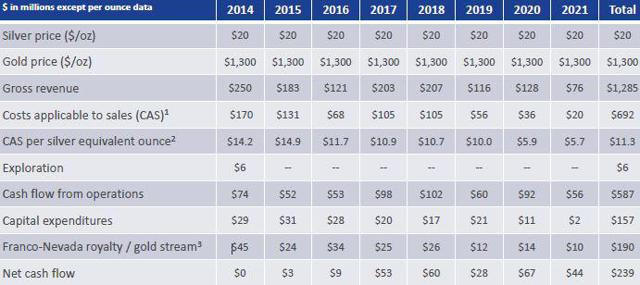 (Source: Coeur)
The new mine plan does not yet contemplate the mining of the Measured and Indicated resources at Guadalupe, which comprise 35% and 19% of Palmarejo's silver and gold M&I resources, respectively. If these are converted to reserves then Palmarejo's will spin off even more cash flow. Coeur also believes there is a high likelihood that Palmarejo's mine life will be extended through ongoing exploration activities, with Coeur specifically focused on adding higher-grade, higher-margin underground material.
According to Coeur's latest 10Q, Palmarejo's mining property is worth $879 million.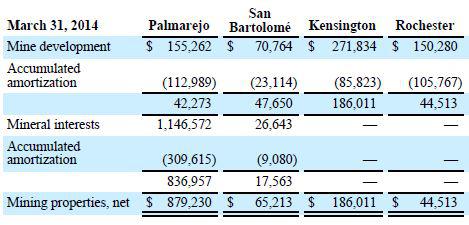 Coeur doesn't break down plant and equipment, but I would say Palmarejo is conservatively worth $150 million of Coeur's $477 million in plant and equipment.
Palmarejo is going to generate over $1.2 billion in revenue and $236 million in net cash flow to Coeur over the next 8 years. And as I mentioned before, Coeur believes there is a high likelihood of the mine-life being extend. Let's be conservative and say the mine life is extended and total net cash flow to Coeur comes out to $300 million. Figure in the remaining asset value(including plant and equipment) at that time, and the fact that the region has a ton of exploration upside given the mines and projects next door, and Palmarejo is currently worth roughly $600 million.
San Bartolome
The San Bartolome mine, located in Bolivia, has been a steady income producer for Coeur since the mine went into production in 2008. The mine is near the surface and is a very easy and straightforward operation due to free-digging surface mining techniques (no drilling or blasting). It's the most stable asset in Coeur's portfolio, as production, cash flow, and cost profile have been very consistent over the years. However, given the uncertainty over operating in Bolivia, Coeur has no plans for further exploration, and they expect their Bolivia exposure to decline over time.
The mine produces about 6 million ounces of silver per year, and has about 100 million of silver in reserves. Last quarter it generated $17.2 million in free cash flow. At $20 silver, the mine should consistently generate $30-$50 million in free cash flow per year for Coeur.
When San Bartolome went into production in 2008, it had a 15 year mine life or to 2023. Given the size of the resource base, the mine should be in production for at least that long.
However, there is one problem. The Bolivian government adopted a new constitution in early 2009 that strengthened state control over key economic sectors such as mining. A new mining law has been introduced, but the effects on Coeur and San Bartolome are still unknown. The law is expected to regulate taxation and royalties and to provide for contracting with the government rather than concession holding.
It seems that investors are worried that San Bartolome could be taxed too much, some probably think it might be nationalized. This has been a concern though for the last 5 years, and nothing has happened yet. That may or may not be the case in another 5 years.
Coeur doesn't own the mining rights to San Bartolome, rather they lease them. The Bolivian national mining company, Corporación Minera de Bolivia ("COMIBOL"), is the underlying owner of all of the mining rights relating to the San Bartolomé mine. That is why the value for the mineral property at San Bartolome is only $67 million on Coeur's balance sheet. Plant and equipment is probably around $50 million or so.
As I said, San Bartolome still has a long mine life and should generate $30-$50 million in free cash flow per year at $20 silver. Figure another 10 years of production and that is $300-$500 million in cash flow. However, given the risk factors in Bolivia, we need to discount that.
I don't think San Bartolome will be nationalized, but higher taxes/royalties could be in its future. Let's say that equates to a 50% reduction in life-of-mine cash flow. That's still $150-$250 million that Coeur will realize over the next 10 years.
Given the risk, I think fair value for San Bartolome right now is $250 million. Put the mine in Mexico and it's worth $750 million given its reserve base and exploration potential.
Kensington
Located in Alaska, Kensington went into production in 2010 and averages about 110,000 ounces of gold per year. It struggled in its first few years of production but now Coeur has it operating at a steady rate. It's not a big cash flow producer at current gold prices, given its $1,000 cash cost, but it has been cash flow positive for the last 1 1/2 years.
It has 900,000 ounces in reserves and another 800,000+ ounces in MI&I resources.
Kensington is worth about $286 million on Coeur's balance sheet, $186 for mineral property and roughly $100 million for plant and equipment. The mine should operate for another 10 years or so at current production and assuming some resources are converted into reserves.
The mine generated almost $5 million in free cash flow for the first half of 2014, but it should have been higher as they sold only 23,000 ounces of gold last quarter yet produced 28,000 ounces. Cash flow was negative $4.6 million as a result. At current gold prices, Kensington should generate $25-$35 million in cash flow per year. That's $250-$350 million in free cash flow over the next 10 years. I believe fair value is around $300-$400 million for Kensington given their cash flow and property, plant, and equipment.
Rochester
Rochester is an open pit gold and silver mine located in Nevada. Coeur started production in 1986 but discontinued operations in 2007 due to low reserves and metal prices. However, Rochester has now been completely revitalized and in 2010 it restarted production. Its reserve base is now substantial with over 100 million ounces of silver and 681,000 of gold. Coeur expects this once forgotten asset to be the highest-return asset in their portfolio. That is saying a lot given how good Palmarejo has been to them.
Rochester has had a few bumps in the road during the last year as it has been trying to ramp up production. Cash flow has been negative during that time, but in Q2 2014, it was free cash flow positive for the first time in 5 quarters. It seems like operations have now turned the corner.
Rochester is worth $45 million on Coeur's balance sheet, figure another $75 million in plant and equipment.
Rochester is expected to produce 4.25 million ounces of silver and 36,000 ounces of gold in 2014. Current reserves imply a 20 year mine-life based on 2014 expected production. Coeur expects to continue to ramp of production further. It's hard to put a solid estimate on Rochester's potential cash flow at this moment, but if Coeur expects it to be their highest return asset, then it's not out of the question for the mine to produce at least $50 million in cash flow per year at about a 50% higher production rate.
Coeur released a technical report for Rochester on November 6, 2013. You can find that report here. The charts below are taken from that report.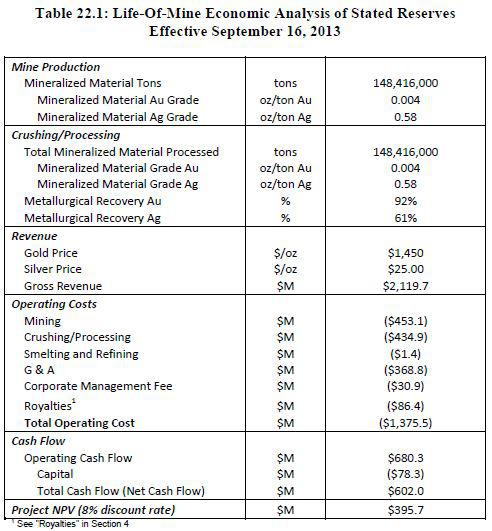 You can see below that a total of 52 million ounces of silver and 557,000 ounces of gold are mined in this report. However, that is using 86 million ounces of silver and 605,000 ounces of gold in reserves. Coeur bumped that up to over 101 million ounce of silver and 681,000 ounces of gold by the end of 2013.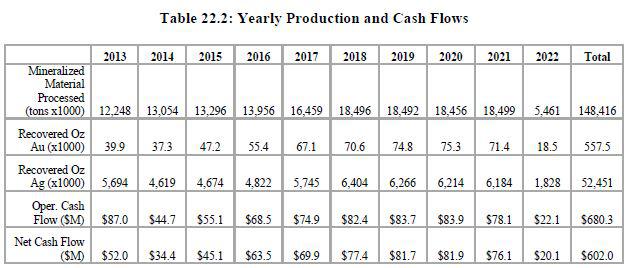 Using a gold price of $1,450 and a silver price of $25, the net cash flow is $602 million, or $60 million per year for 10 years.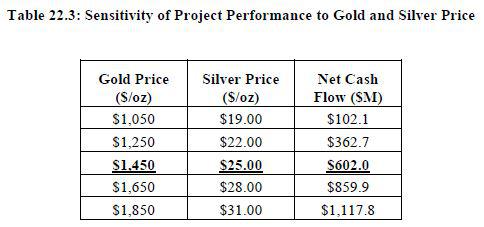 Even at substantially lower $1,050 gold price and modestly lower $19 silver price, Rochester would generate $120 million in cash flow using current reserves, and not factoring in any resource production.
Using a lower price for gold($1,250) and a higher price for silver($22), you can see the net cash flow is $362.7 million over 10 years, or $36.3 million per year.
Again though, this is only using the lower reserve figures at the time. Given current reserves we can bump that net cash flow up 20% to $435.6 million, or $43.6 million per year over 10 years using a $1,250 gold price and $22 silver price.
Given that Rochester has 85 million of additional silver resources and 550,000 of additional gold, it's not to hard to fathom Rochester increasing production 50% and generating over $50 million of cash flow per year. The mine life would be reduced from 20 years to about 14 years in this scenario.
That's about $700 million in cash flow factoring in shorter mine life due to the increase in production. Fair value for Rochester given its assets, reserves, location, current production, and mine-life is about $800 million.
La Preciosa
In February of 2013, Coeur announced it was acquiring Orko Silver for $350 million. Orko owned the La Preciosa project, which was expected to produce between 7Moz and 9Moz annually and be a "significant contributor" to production and cash flow according to Coeur.
There was one big problem with La Preciosa, it just wasn't that great of a project. Pan American Silver(NASDAQ:PAAS) had the right to earn a 55% interest in the La Preciosa in 2012 if they completed a Feasibility study on it, yet they walked away and gave this reason:
Geoff Burns, President and CEO of Pan American, commented, "After completing almost three years of exploration, engineering and project development work, we have come to the unfortunate conclusion that our continued participation in the La Preciosa project is unlikely to generate a rate of return that meets Pan American's internal economic hurdle rate. As a consequence, we have decided to relinquish our right to earn a 55% interest in La Preciosa.
Coeur just released a Feasibility study on the project in July 2014, in which they stated that they are deferring construction activities at this time. Below is the reason why:
Silver
NPV@5%
NPV@10%
IRR%
Payback
Price
($ millions)
(years)
$30
$498
$306
28%
2.4
$28
$398
$230
24%
2.7
$25
$255
$122
18%
3.5
$22
$94
$(1)
10%
6.9
$20
$(9)
$(80)
5%
9.3
That's the economic case sensitivity for La Preciosa. The mine needs $25-$30 per ounce silver prices to become economical.
La Preciosa's current value
Coeur values La Preciosa at $408 million on their balance sheet.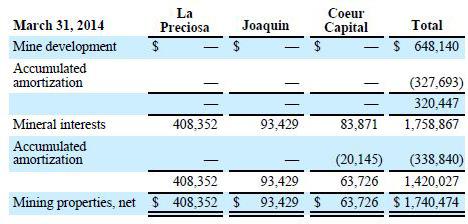 Given current silver prices though, the mine is worth only around $100 million at the moment.
Value of other assets
Coeur also owns the Endeavor Mine in Australia which produces about $1 million in cash flow per quarter. They also own Coeur Capital, which is a royalty and streaming company, along with its portfolio of strategic equity investments.
I would put a value on these plus any addition property, plant and equipment at around $100 million.
Coeur's total asset value
Given the above valuation I put on the assets above, the fair value for all of them combined is $2.15-$2.25 billion.
| | |
| --- | --- |
| Palmarejo | $600 million |
| San Bartolome | $250 million |
| Kensington | $300-$400 million |
| Rochester | $800 million |
| La Preciosa | $100 million |
| Other Assets | $100 million |
| | =$2.15-$2.25 billion |
Coeur also has about $650 million in current assets on their balance sheet which includes $317 million in cash, cash equivalents, and investments, $69 million in receivables, $182 million in ore on leach pads and inventory, etc.
That's $2.8-$2.9 billion in total assets. Total liabilities are 1.3 billion, giving Coeur a current fair value of $1.5-$1.6 billion. Its market cap right now is $855 million.
Even if we fully discount San Bartolome, and are 10%-20% less generous on valuations for Coeur's other assets, Coeur's stock price is still 20%-40% undervalued at current gold and silver prices.
Conclusion
Coeur Mining's stock is way oversold given the value of the assets that it owns. While the company has had more negatives than positives in the last year, it still is worth far more than the market is pricing it.
The new mine plan at Palmarejo, steady production at Kensington and San Bartolome, and the ramp up at Rochester give the company a lot of positive cash flow over the next decade.
Even if we take out San Bartolome, Coeur's assets are still worth considerably more than where it is trading. Fair value is around $1.5-$1.6 billion according to my calculations.
Disclosure: The author is long CDE. The author wrote this article themselves, and it expresses their own opinions. The author is not receiving compensation for it (other than from Seeking Alpha). The author has no business relationship with any company whose stock is mentioned in this article.