Setting the scene
Wal-Mart (NYSE:WMT) investors will have their fingers crossed for some good news ahead of the company's Q2 earnings release on August 14. Its stock price has fallen in the past year against an overall rise in markets, amid structural headwinds from changing consumer preferences in the U.S. Amazon (NASDAQ:AMZN) has not yet crystallized its potential for profitability, but has enjoyed startling revenue growth. It now represents the biggest threat to Wal-Mart's dominance of everyday shopping. Wal-Mart will increasingly have to attract consumers who shop online and via mobile; it has invested large sums to revamp its web-based shopping experience. The success of this strategy may prove crucial to its long-term financial outlook.
Sluggish growth amid increasing competition
Wal-Mart struggled in Q1, posting a 3.5% year-on-year (YoY) decline in earnings per share (NYSEARCA:EPS) to $1.10 as unseasonably cold weather contributed negatively to performance. Forecasters do not anticipate a substantial bounce back in Q2. Indeed, the departure of its U.S. Chief Executive Officer (NYSE:CEO), Bill Simon, points to continued downbeat activity in its home market. Analysts have penciled in EPS of $1.21, which is in the middle of the $1.15 - $1.25 guidance offered by the retailer. Such a figure would represent a 2.4% drop relative to the same quarter last year.
Wal-Mart's stock price has disappointed with sluggish sales due in part to the rise of online retailers such as Amazon. In the past five years, it has underperformed the market as well as its seemingly formidable online competitor. Since its trough in March 2009, the S&P 500 has risen 185%, while Amazon has more than quadrupled in value over that period. Wal-Mart? It is up a comparatively disappointing 77%. All is not well in Arkansas.
Figure 1: Share price performance since S&P 500 2009 trough
(Source: Yahoo Finance)
Structural headwinds
An improving macroeconomic backdrop should support increased trading, but Wal-Mart will still have to adjust to structural headwinds. Its traditional exurban superstore model is no longer the ideal fit for a modern America that is increasingly urban and digital. That will mean opening smaller shops, as well as improving its online offering. On the latter, Amazon represents its major threat. Some believe it will overtake the Arkansas-based behemoth as the world's largest retailer. That appears unlikely to happen anytime soon, but the gap is closing. Four years ago, Amazon sales were only 8.0% of Wal-Mart's. By last year, this figure had essentially doubled to 15.9%. Without reform, Wal-Mart risks losing further ground.
Figure 2: Amazon revenue as a share of Wal-Mart revenue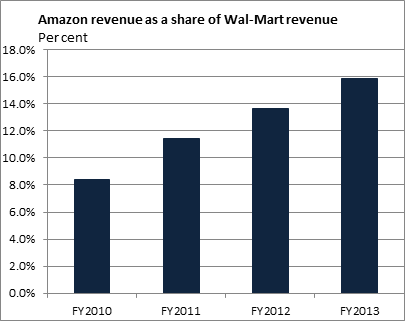 (Source: marketwatch.com / author's calculations)
Wal-Mart invests online
There are encouraging data to suggest Wal-Mart can confront its challenges and emerge successfully. Online shipments were up 27% during Q1, helping to offset weakness with in-store revenue. During the 13-week period to May 2 2014, U.S. traffic decreased 1.4% YoY, but was boosted by a 0.3% positive contribution from E-commerce. Wal-Mart's digital offering will increasingly be relied upon to drive earnings growth. During 2013, online sales rose 30% to $10 billion, outpacing Amazon's 20% rise. In absolute terms, however, Amazon remained king of the online jungle, recording approximately $70 billion in revenue.
Figure 3: Wal-Mart and Amazon key financials
| | | |
| --- | --- | --- |
|   | Wal-Mart | Amazon |
| P/E | 15.07 | 520.44 |
| Enterprise value to sales | 0.60 | 1.67 |
| Net Margin | 3.33 | 0.37 |
| 2013 online revenue | ~$10 billion | ~$70 billion |
| 2013 total revenue | ~$470 billion | ~$70 billion |
(Source: marketwatch.com)
Wal-Mart's senior management appreciate the importance of online shopping. The company has invested approximately half a billion dollars in an attempt to improve its E-commerce offering. Web-based shoppers now enjoy a more personalized experience. Visitors to its website receive customized search results based on their location and browsing history. Soon, customers will be able to confirm purchases after just one page. Previously they had to labor through six before clicking 'buy'. These innovations have already been credited with boosting sales. A new website, which is due in early 2015, should help further. If that is the case, rumors of Wal-Mart's demise may prove to have been greatly exaggerated.
Conclusion
Wal-Mart has offered lackluster returns in recent years amid changing shopping preferences in its home market. Meanwhile, Amazon has gained ground and may be its biggest threat. Wal-Mart has invested considerable sums to confront this challenge and revolutionize its E-commerce offering. A much improved digital shopping experience promises to deliver increased sales. Should its online strategy really take off, it could eventually compete as successfully on the web as it does on the ground.
Disclosure: The author has no positions in any stocks mentioned, and no plans to initiate any positions within the next 72 hours. The author wrote this article themselves, and it expresses their own opinions. The author is not receiving compensation for it. The author has no business relationship with any company whose stock is mentioned in this article.