When investing in a company it is important to layout a clear repeatable game plan. Our game plan focuses on quality at each step in the process and is as follows...
Management: Management teams drive business activity, and restrain or release shareholder value by the decisions they make.
Thematic View: Understanding the industry dynamics and what will lead to above market growth opportunities.
Economic Moat: Uncovering and quantifying an economic moat which makes it difficult for new entrants.
Stable & Above Market Earnings Growth: Predictability in earnings and cash flow generation is usually handed a premium valuation. If one can determine that future earnings will be more or less predictable, one can put more faith in valuation analysis.
Dividends: A company that has the ability to pay a dividend and increase dividends over time creates shareholder value.
Valuation: Given that we are valuation sensitive we harvest intrinsic values under various market conditions.
Patience: One of the hardest things to do in investing is staying patient. Investors as we do, need to trust the process and stay within the game plan. Once an entry point is determined, one must stick to this entry point.
Let's take a look at Whole Foods WFM
Company Mission
"Company mission is to promote the vitality and well-being of all individuals by supplying the highest quality, most wholesome foods available. Since the purity of our food and the health of our bodies are directly related to the purity and health of our environment, our core mission is devoted to the promotion of organically grown foods, healthy eating, and the sustainability of our entire ecosystem. Through our growth, we have had a significant and positive impact on the natural and organic foods movement throughout the United States, helping lead the industry to nationwide acceptance over the last 35 years."
Overview
High quality natural & organic supermarket, shown by their product selection process
388 locations and looking to get to 1,200. 97% US, 3% Canada and UK.
Average 38,000 square feet in size
25% of produce sold is from local farms.
They have a local producer loan program, supporting the local farm with $25m budget.
Product selection includes, but is not limited to: produce and floral, grocery, meat, seafood, bakery, prepared foods and catering, coffee, tea, beer, wine, cheese, nutritional supplements, vitamins, body care, and lifestyle products including books, pet products, and household products.

Source: Whole Foods 10-k
Management
John Mackey- Co-CEO
He is the Co-CEO of Whole Foods and has grown from a single store in Austin, Texas, founded in 1978, to an $11 billion Fortune 300 company, and a top U.S. supermarket with more than 340 stores and 70,000 Team Members worldwide. For 15 consecutive years, FORTUNE magazine has included Whole Foods Market on its "100 Best Companies to Work For" list. He has been recognized for his work over the years by being named Ernst & Young's "United States Entrepreneur of the Year," Institutional Investor's "Best CEO in America," Barron's "World's Best CEO," MarketWatch's "CEO of the Year," FORTUNE's "Businessperson of the Year," and Esquire's "Most Inspiring CEO," among many others.
Walter Robb- Co-CEO
Walter Robb, Co-CEO, joined Whole Foods Market in 1991. He operated the Mill Valley, CA store until he became president of the Northern Pacific Region in 1993, where he grew the region from two to 17 stores. He became Executive Vice-President of Operations in 2000, Chief Operating Officer in 2001 and Co-President in 2004. Now as Co-CEO, Robb oversees six regions and is on the Whole Planet Foundation Board of Directors. An avid organic advocate, Robb is on the Advisory Board for the Organic Center for Education and Promotion. He is also on the Board of Regents for the University of the Pacific.
Locations
Whole Foods has a more diverse presence, covering many of the coastal areas in the US. These regions are typically viewed as the healthier areas.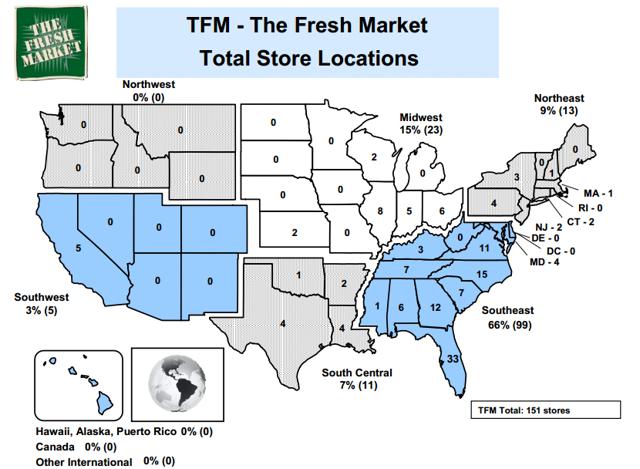 Charts Source: Morgan Stanley Retailer Locations Database
Is Management Instilling Their Message
The company has various initiatives in place to ensure that they are producing a high quality product for consumers. Below are 5 of the most important in my view. These range from the produce, to the meats, to ensuring that their employees work with a purpose.
America's first national "Certified Organic" grocer.
Whole Trade Guarantee seal: International products carry their Whole Trade Guarantee seal. These labels are sourced from developing countries and meet our high quality standards.
Global Animal Partnership's 5-Step™: Animal Welfare Rating system standards have been developed for cattle, pigs, chickens and turkeys. The 5-Step program launched in 2011 and is currently reflected in meat departments in all of their stores in the U.S. and Canada.
MSC-certified seafood: Wild-caught seafood, they label their products with color-coded seafood sustainability ratings developed by partnering organizations, Blue Ocean Institute and Monterey Bay Aquarium. Ratings are based on key criteria for sustainable fisheries using science-based, transparent ranking methods. Since April 2012, they have not sold any wild-caught seafood from "red-rated" fisheries.
USDA's National Organic Program & NSF International's: All health and beauty products sold in stores that make organic claims are certified to one of two standards: the USDA's National Organic Program or NSF International's 305 Standard for Personal Care Products Containing Organic Ingredients.
FORTUNE magazine's "100 Best Companies to Work for in America :One of 13 companies to make FORTUNE magazine 100 best company to work for in America since inception.
Employee Gainsharing Program: Gainsharing is a cost control and productivity measure done annually. Each team receives a labor budget expressed as a percent of their team's sales. When teams come in under budget due either to higher sales or lower labor costs, a portion of the surplus is divided among the team members and paid out every four weeks, and a portion is set aside in a savings pool. When teams are over budget (or in a labor deficit position), no Gainsharing money is paid out. Instead, the overage is taken out of the team's savings pool or, in the absence of savings, paid back using future surpluses. The savings pool is paid out annually after the end of the fiscal year to all teams with a positive balance. Rewarding those members for increases in labor productivity.
Distribution Overview
Purchasing: This occurs at the regional and national level. This helps the company in pricing based on volume.
Supplier: United Natural Foods, Inc. ("UNFI") is their single largest third-party supplier, accounting for approximately 32% of their total purchases in fiscal year 2013. Their long-term relationship with UNFI as their primary supplier of dry grocery and frozen food products extends through 2020.
Whole Foods is 36% of UNFI revenue.

Unfi is 30% of WFM costs.

Source: Bloomberg Datasource
Target Market
Current natural/organic food retail segment is $54bn OR 7% of the $700 billion food retail industry.
Analyst expect the industry to grow by 9% CAGR to 2018.
They expect natural/organic sales to double to $100bn by 2020.
Morgan Stanley issued a survey of 2,000 people to measure what they look for in food retailers.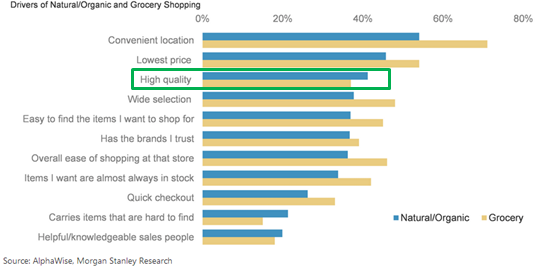 Above is a survey done by MS. Two of the top three questions signify Whole Foods message. Whole Foods offers high quality food that is relatively accessible and will continue to become more accessible as they grow their presence. The price issue is not a concern as high quality food should require a premium. Whole Foods is however creating initiatives to offer discounts where quality on their premium items will not be deteriorated.
Consumption trends and the age of those entering the market are very encouraging and a natural tailwind for investors.
Buyers Just Began Buying!: Continuing with the survey issued by MS. "Approximately 60% of natural product buyers began purchasing natural products two years ago or more recent." This highlights just how new this trend is.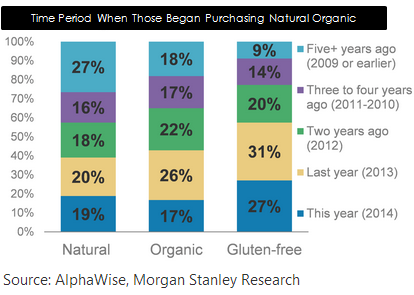 The Buyers are Young: Of all survey respondents, 69% who purchased natural or organic items within the past 3 months were between the ages of 18-54, with the heaviest concentration among 18-34 year-olds, at 29%. This can create longevity for the retailers.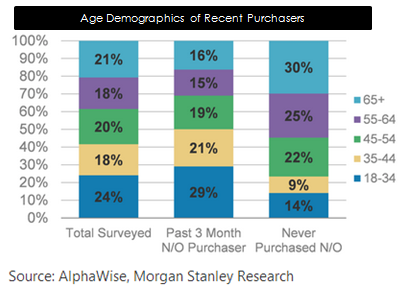 Competition
Competition is on the rise this is known and can be shown by moves in margins at the higher margin companies such as Whole Foods. However, the pure natural organic market is smaller than most think. The main competition for Whole Foods that have decent scale and located in target market are Fresh Market, Sprouts, and Roundy's. Other retailers such as Publix, Kroger, and Safeway simply do not have the same quality product as these others, making it difficult for a direct comparison.
With that said I think it is important to get a sense of the leadership initiatives that has driven Whole Foods to where it is today in the Natural Organic space.
Whole Foods has taken a leadership role in many things they do.
Solar Systems: They have 14 stores and one distribution center using or hosting rooftop solar systems, four stores with fuel cells, one store with a rooftop farm, and a commissary kitchen that is using biofuel from internally generated waste cooking oil.
Car Charging Stations: They also have installed electric vehicle charging stations at over 35 stores around the country. They have made a commitment to reduce energy consumption at all of our stores by 25% per square foot by 2015.
Recognition: They have received Leadership in Energy and Environmental Design ("LEED") certification by the U.S. Green Building Council; 20 stores have earned Green Globes certification from the Green Building Initiative; and 30 stores have received GreenChill Certification Awards from the EPA.
Removed Plastic Bags: They discontinued the use of disposable plastic grocery bags at the checkouts in all stores in 2008.
GMO Transparency: They announced in March 2013 that all products in our stores in the U.S. and Canada must be labeled by 2018 to indicate whether they contain genetically modified organisms ("GMOs"). They are the first national grocery chain to set a deadline for full GMO transparency.
With these types of initiatives they have also been awarded regularly by outside authorities
Awards:
"Retailer of the Year" by The World Retail Congress in 2013

FORTUNE's "World's Most Admired Companies,"
FORTUNE's "100 Best Companies to Work for in America,"
Ethisphere Institute's "World's Most Ethical Companies
Forbes' "America's 25 Most Inspiring Companies,"
USA Today's "America's Top 10 Fastest-Growing Retailers
Store Count
Store count is a focus for Whole Foods which has added roughly 35 stores on an annual basis, now at 388. Below is a chart showing Whole Foods versus some of its direct peers, plus Publix.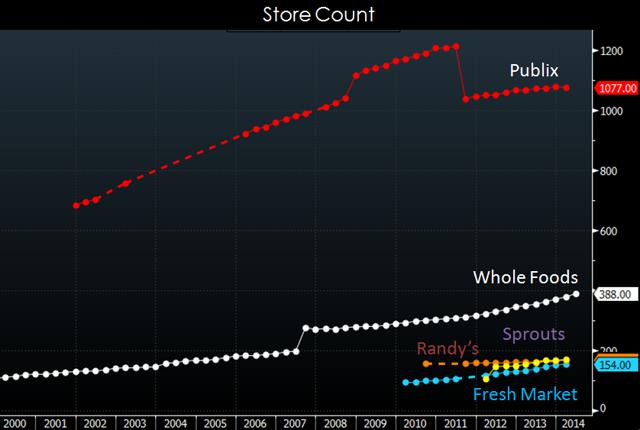 Source: Bloomberg Datasource
Gross Margins:
Gross margins for the natural organic segment are much higher than that of your traditional grocery retailers; this is what makes the industry attractive to competition. With this increased competition, come price cuts. Many food retailers who have pursued price cuts may have a slowdown in same-store sales, however this should increase the volumes of items sold which would then offset the lower price. Growth in basket size, or the number of items sold per trip and the cost of those transactions can give an early read on the success of the investment in lowering prices. Below is a chart showing the leading position in which Whole Foods has, which also highlights the moat they have created.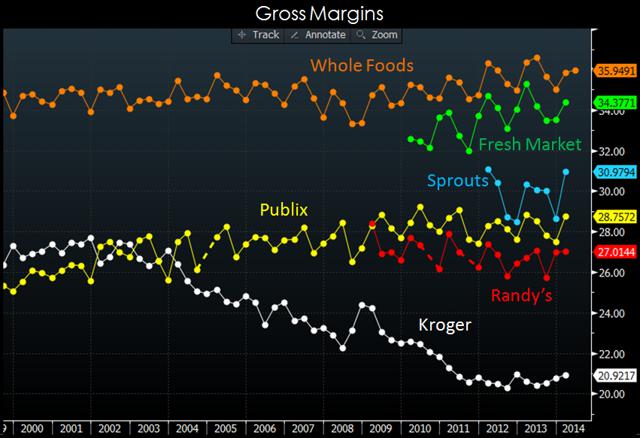 Source: Bloomberg Datasource
Growth:
With margin pressure on the horizon it is then important to understand what will create the needed growth to either increase volume or maintain margins. We think it will be a combination of the two. The most recent quarter signaled key initiatives to maintain healthy margin power, while increasing volume. Below is a chart we created to keep up with these initiatives.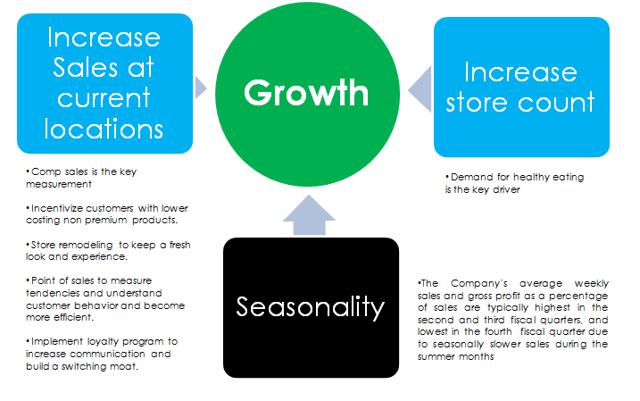 Source: Opinion & Initiatives From Whole Foods CC
Economic Moats:
Does the company have an economic moat? Generally speaking retailers do not have strong economic moats, however there are some cases in which they do. Bestbuy, Target, Walmart, are just to name a couple that competition just cannot seem to completely kill their business.
Intangible Assets: The Company has a brand in the natural organic space which holds plenty of value. This can be shown in their ability to maintain best in class industry gross margins. In addition to brand they have the first mover advantage in terms of real estate. Whole Foods is known for having prime real estate and is doing this in coastal locations in the US.
Switching Costs: The retail sector is not known for high switching costs. This trend continues in a name such as Whole Foods as the consumer could go to a competing store without much loss. However, in the ultra premium grocery space, Whole Foods has an edge. The initiatives to incorporate loyalty programs will help in terms of switching costs, however keep this rating low.
Network Economics: The Company has the largest scale within the natural organic space. However network economics is about an improving product based on a growing user base. Whole Foods does not benefit from a growing user base from a product standpoint. Once the loyalty program is in place we can gauge whether this may create a positive network effect.
Low Cost Production: This is where the scale pays dividends for the company. Whole Foods is already 30%+ of United Natural Foods revenue. With Whole Foods plan of growing to 1,200 stores, we think this will allow Whole Foods to leverage itself against global food producers. We give this a fairly high rating.
Financial Quality
Whole Foods meets many of our quality checks. While this does not touch up on every quality characteristic in which we focus on, it does give a clear indication. The company pays a dividend, high ROE without using debt, positive and long term growth in FCF, margins are stable, low debt, decent operating and improving operating leverage.

Source: Bloomberg Datasource
Absolute Valuation
One thing I like to do is back out cash to discover what I am really purchasing. In this case, Whole Foods is trading at 22.56 times. Below I take a look at the absolute valuations. It is quite clear that Whole Foods is not trading in the same level it has traded in the past. While this makes it cheap to itself, it does not mean it is cheap. The stock is below its 10 year median in P/E, P/FCF, P/S, EV/EBITDA, P/B.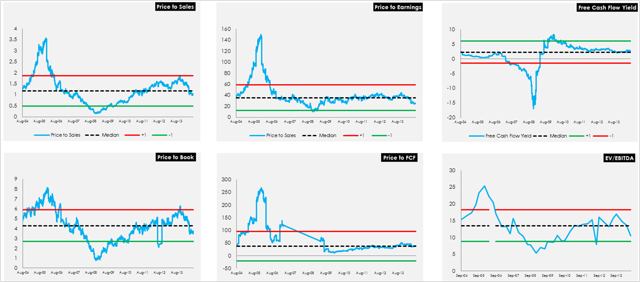 Source: Bloomberg Datasource
Relative Valuation
Now lets take a look at Whole Foods compared to its direct peer group. The company use to trade at a premium to its group, however it is now in-line or at a discount. Within this group is Sprouts (NASDAQ:SFM) and The Fresh Market (NASDAQ:TFM). These are direct peers solely in the natural and organic segment. Whole Foods overall valuation is below the two others, however has higher margins, and no debt.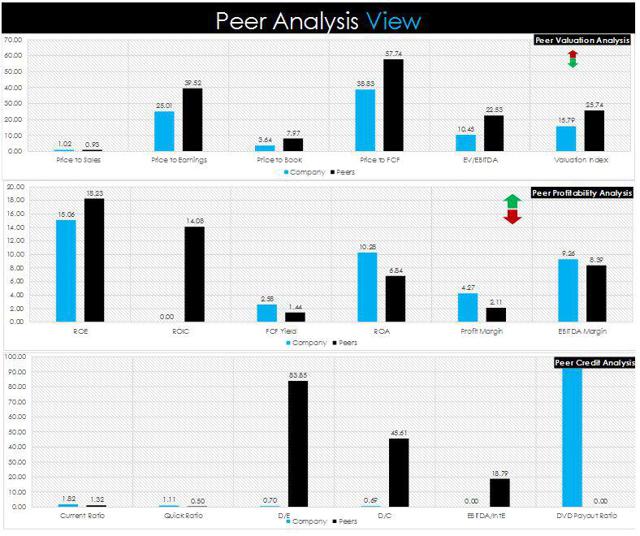 Source: Bloomberg Datasource
SWOT Analysis
Finally lets look at a SWOT analysis for the company. In my opinion after doing this analysis it is clear where the opportunities are and where the threats are.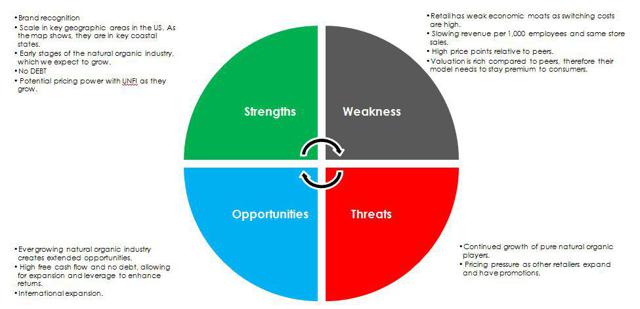 Conclusion & Fair Value Graph
We are very sensitive to valuation as we look to purchase companies at a reasonable discount. The company has de-rated on the back of several quarters of slowing earnings growth, and decreasing margins. This drop is likely due to competition and not a slowdown in the industry top line. On an absolute basis the valuation has come down below the 10 year median on an earnings, sales, FCF, EBITDA, and book basis. Today the company should be priced at a premium relative to the market (NYSEARCA:SPY) and to its peers based on the locations, brand value, and focus on purely high quality products. We model in a conservative and non-linear 8% compounded annual growth rate (CAGR) until 2014, with a 25 times exit multiple. Using this with our various other proprietary models, we get a fair price of $38.40, and purchase price of $34.55 Given this is a growthy stock, I would purchase this name in phases down to the purchase price. Our required rate of return is 10%, therefore $34.55 gets us there.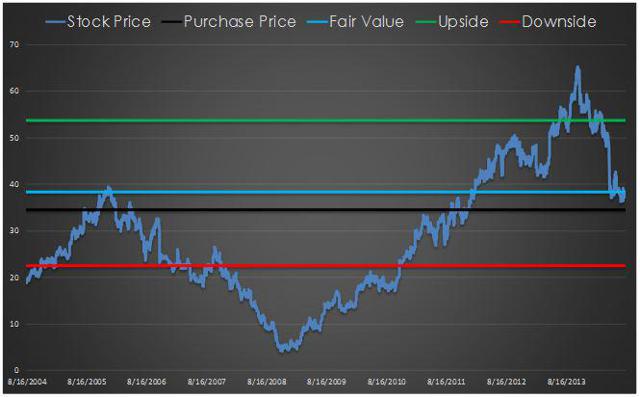 Disclaimer: This is the pure opinion of Sean Emory and TheMarketMeter.com. Please read the disclosure on the TheMarketMeter.com for further information. The information within is derived from Bloomberg data, Coach Investor Presentation, Coach 10-K, and data derived by TheMarketMeter.com
Disclosure: The author is long WFM. The author wrote this article themselves, and it expresses their own opinions. The author is not receiving compensation for it (other than from Seeking Alpha). The author has no business relationship with any company whose stock is mentioned in this article.
Additional disclosure: Phase 1 of WFM has been implemented, however a full position has not.