By Jeff Bailey
When a company undertakes a radical redeployment of its capital away from its traditional business, its competitors, suppliers, customers and investors ought to take serious notice. Such a move is underway at United Stationers (USTR), the biggest wholesaler of office products on this continent. The company is busy building up a separate business in janitorial supplies and industrial items because of the declining market for its traditional product line.
Holders of shares in Staples (NASDAQ:SPLS), or those perhaps tempted by the retailer's fat dividend yield and its relatively low valuation, as measured by forward PE ratio, should first mull over what's going on at United Stationers.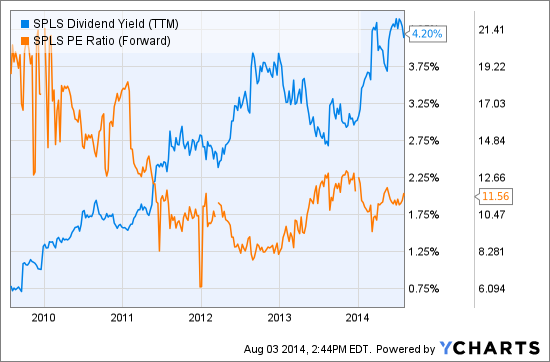 SPLS Dividend Yield (TTM) data by YCharts
United Stationers has already managed to diversify its revenue significantly, with office products now accounting for just 60% of sales and a goal to push that down to 50% by pumping up sales of janitorial supplies and industrial products. The transformation, and an admiring take on United Stationers stock, is smartly covered in Barron's this week. The margins are better in the add-on businesses than in stationery. And office product sales have been declining.
Radical redeployment of capital at major U.S. companies is rare because it's so difficult to pull off. If your business is declining, you're less likely to have a vast pile of capital to enter other industries. And starting from scratch via acquisition in a new industry is tough; often what's for sale is also-ran material.
Still, better to act than sit and watch your company shrink. International Business Machines (NYSE:IBM) has accomplished a huge redeployment by buying up software companies and thus de-emphasizing computer hardware, a declining business for the technology giant. IBM's continuing problem generating growth is a result of the legacy hardware business.
Most famously, former fund manager Gerald Tsai Jr. joined American Can in the early 1980s and persuaded its CEO and board to over time jettison the container business and redirect capital into insurance and other financial services. The company became Primerica, which was rolled into other financial services operations and, in part at least, ended up combined with Citigroup (NYSE:C).
Sears (NASDAQ:SHLD) and General Motors (NYSE:GM) began their own redeployments of capital – into financial services at Sears and defense contracting and technology at GM – but ended up selling off the acquired businesses and hunkering down with their original operations. No pain, no gain. Sears is a basket case now and GM does well only after a government-backed swing through bankruptcy.
So, the steadfastness of United Stationers is to be commended, and Staples and its main competitor, Office Depot (NYSE:ODP), should be very, very worried.
The bull argument on Staples suggests that office supplies consolidation – Office Depot bought OfficeMax and closed lots of stores; Staples closed lots of stores – will rebalance supply and demand and support pricing. But as Bill Bulkeley explained on YCharts more than a year ago, that's likely a temporary salve. Best Buy's (NYSE:BBY) boost from Circuit City's demise was short-lived at best. Barnes & Noble (NYSE:BKS) had at best a moment's respite from Borders going kaput before Amazon (NASDAQ:AMZN) was again breathing down its neck.
It isn't just Amazon and Wal-Mart (NYSE:WMT) selling office supplies that threatens Staples and Office Depot. As we wrote last year, young people don't buy this stuff, and that clouds the long-term outlook.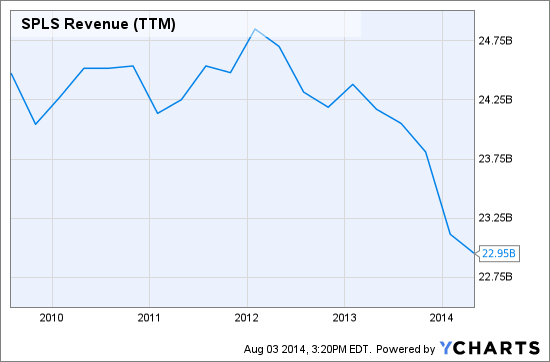 SPLS Revenue (TTM) data by YCharts
No matter the business, cutting costs fast enough to keep up with a sales decline is grim business and rarely a successful strategy. Staples reports earnings August 20. The market's already rewarding United Stationers for its move away from its traditional business, and punishing Staples.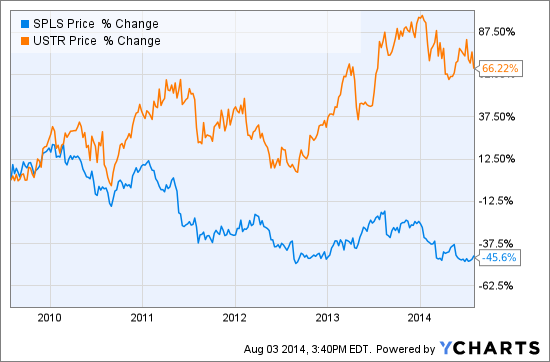 SPLS data by YCharts
Disclosure: None