Famous Dave's of America (NASDAQ:DAVE) has faced declining same store sales, as well as declining revenue, despite posting earnings growth. The Q2 earnings growth versus prior quarter was mainly derived from decreasing G&A expenses, 9.7% vs. 12.9% of total sales. The Q1 earnings growth versus prior quarter was derived from improved restaurant level margins, 10.6% vs. 9.7% and decreased G&A spending, 11.9% vs. 15.1%.
DAVE held its 2Q earnings call after market close on August 5, 2014. The stock traded above $27 before the earnings call but ended the day down, and on August 6 the stock traded down almost 6%, closing at $25.15. The call was the second for the newly instated CEO, Ed Rensi, who took over after John Gilbert III, who abruptly resigned earlier this year, and the first for the CFO, Richard Pawlowski, who took over for Ms. Purcel in June. The call provided some insight into the direction the new leadership is directing DAVE, but left many questions unanswered.
Question 1 - Is this a full service restaurant, fast casual restaurant or something else?
According to DAVE's most recent 10-K:
"We seek to differentiate ourselves by providing high-quality food in distinctive and comfortable environments with signature décor and signage."

"Our original décor theme was a nostalgic roadhouse shack ("Original Shack")"
DAVE had a warehouse dedicated to the décor in its restaurants, which management decided to close and will save approximately $300k on an annualized basis. This was the correct decision since the restaurant atmosphere does not seem to be keeping the guests coming back. In fact, most of the actual physical assets (the restaurant itself) are showing declining returns in absolute sales, year over year.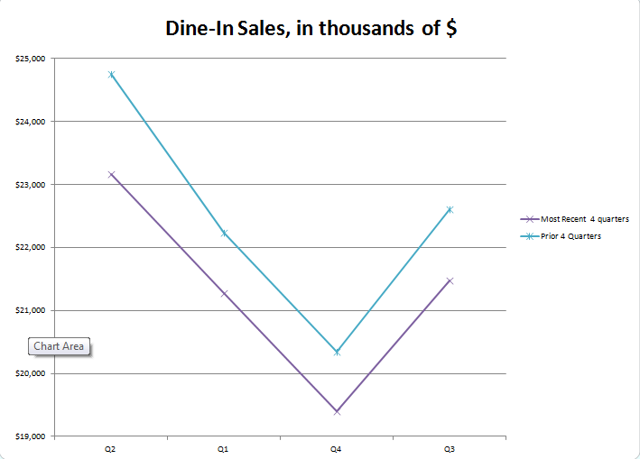 Data calculated from 10-K and 10-Q
Moreover, the off-premise sales are becoming an increasing important part of DAVE's business, approaching 40% of restaurant sales. The slaughter of negative comparables hasn't been as bad in the to-go business, with 6 out of the last 8 quarters showing positive comparable sales, and the catering business showing 4 out of the last 8 quarters at flat or positive. On the other hand, Dine-In sales have declined 7 out of the last 8 quarters.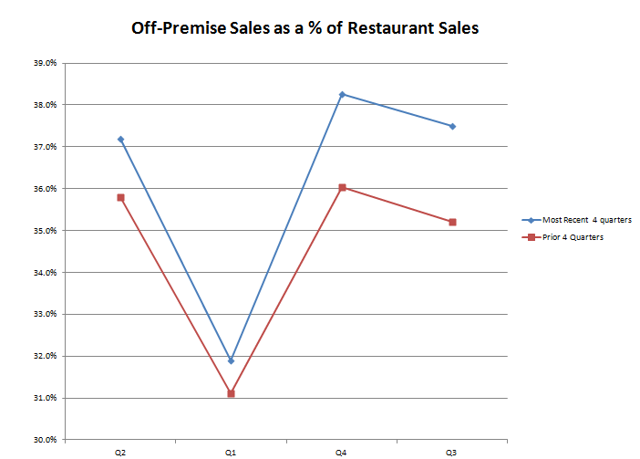 Data from 10-K and 10-Q
While people may still like DAVE's food, they just don't like to eat it at the restaurant itself. One solution presented by management on the call to drive traffic to the restaurant, instead of just sales improvements such as new menu items, which can assumingly be offered off-premise as well, was to offer flex service at lunch. The change in service, while potentially driving dine-in lunch traffic and labor saving, may be confusing to customers, especially if it isn't implemented well or brand-wide. Other ideas presented to drive eat-in traffic were a change in music, introduction of craft beer and a modern look.
Question 2 - Why wasn't there a more noticeable improvement in food and beverage cost in Q1 and Q2? Is a goal of 15% margin realistic in light of the probable labor line increase and COGS sold line?
DAVE ended its discounting of sales programs. It used to drive sales by giving discounts most recently through email and previously through direct mail. In Q1 '14, management has decided to end this method in of attempting to drive sales by other means. An interesting exchange on the severity of the discounts took place on the Q2 call:
Edward H. Rensi
Well, the unfortunate thing is when we get all this very deep discounting, we were running somewhere around 30% discounts, $10 off on a $30 purchase. And we educated our best customers to wait for this discount. And once we get through this cycle, I think we'll see a true picture of what's going on. Richard may have very specific numbers. I don't have them at my fingertips. So Richard, if you want to add in.

Richard A. Pawlowski
Yes. I mean, the biggest decline we saw, Mark, was really in the dinner day part. Traffic, on a guest count basis, was down about 10%. To-go was down 1.9%, lunch was down 9.2%, catering was up 3.1%.

Following the challenge of that Ed articulated, we don't really know whether that was discount traffic that has gone away or if that was any sort of decay in our core underlying customer base just because the level of discounting was so high.
Along these lines, DAVE did not take a menu price increase in May 2014 since the lack of discounts effectively increases the menu price for some customers.
In the 2013 10-K, FY 2014 was predicted to have a 5.5% deflation on contracted food, which is about 85-90% of the cost of sales. The 5.5% was reiterated in the Q4 call (2/13/14) by the CFO.
The two components, an end to extreme discounting and food cost improvement, should have seemingly yielded better margins.

10-Q data
DAVE has a large presence (~24% of stores) in Minnesota, a state where a minimum wage increase began in August. In 2015, more states that DAVE has a presence in are slated to increase the minimum wage. A switch to the flex service model may help bring the labor line down eventually but is not expected to help in Q3.
Given these headwinds, increase in labor line and an inability to yet capitalize on favorable cost environment, the stated goal of 15% margin at the restaurant level may be difficult to achieve. 15% has not been achieved in the previous 8 quarters.
Question 3 - Is a 10% G&A goal realistic?
DAVE would like to cut some of the fat and achieve a G&A line of 10%. However, this may be difficult in light of declining sales. Cutting ties with the décor warehouse and decreasing headcount has helped. Continued experimentation will have costs.
On the Q1 call, an analyst asked if DAVE was on track to hit the 10% G&A goal:
"Well, we're reevaluating that. I mean, obviously we're heavily focused on G&A, and I was expecting the -- to get the question, whether our first quarter G&A results were an appropriate run rate. So I'll come out there right now and say, no… to grow our revenue line because we will not achieve that 10% unless we also have a healthy complement of growing our top line revenue"
So it appears as if a 10% G&A goal is unrealistic unless sales turn fast.
Question that was answered - How and when will growth be accomplished and what will it look like?
DAVE has a lot of white space with only 194 stores. It has 58 agreements signed to open stores over the next five years. The new CEO envisions an eventual 15%/85% corporate to franchise ratio. Franchise fees are currently at 5% (4% had been previously used in a down market but 5% has become the norm again). The new CEO on the Q1 call commenting on the 15/85 goal:
"Along these lines, we're working on a series of prototype options ranging from 3,000 and larger square feet. Ultimately, our goal is to have a company restaurant -- our ultimate goal is to have our company restaurants be about 15% of the total stores, which will require us to grow with existing franchisee partners and introduce new franchisees into the system and possibly sell off some company restaurants."
If DAVE sells none of its current locations and does not develop new corporate stores (none are in the pipeline, note the most recent quarter pre-opening costs of $0), then that would yield about 350 franchised stores with about 210 yet to open.
When will it happen?
It's hard to sell franchises with declining same store sales, and DAVE realizes this fact. It has put its search of new franchisees on hold until it can figure out how to solve its problems. Only 1 franchise is scheduled to open in the second half of 2014. A timeframe of approximately 18 months was given on the Q1 call for franchisee search and real estate development.
DAVE will not grow until it can solve its problems.
During this time of same store sales decline, DAVE's P/E ratio has increased.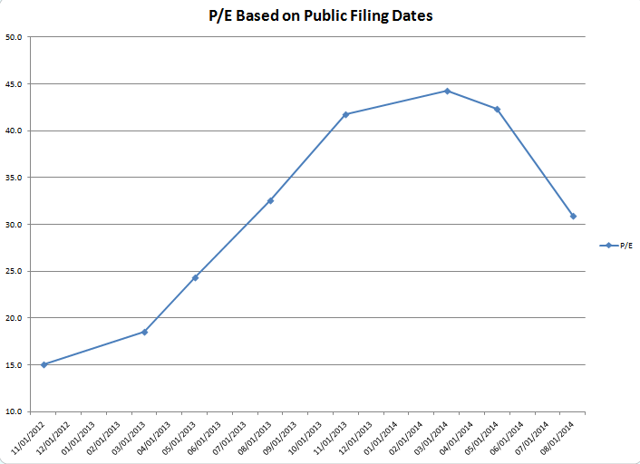 ~Trailing P/E and closing stock price on public filing of 10-Q or 10-K
However, it still remains high. For a company with declining sales and a changing business model that may not have the optimal long-term assets in place to adapt to the change, coupled with unit growth that may or may not materialize over a year from now, the P/E is still too rich for me until it can prove that it can turn the comparable sales decline around. Bolingbrook, Illinois is ground zero for testing. The new team is trying to rapidly experiment to solve the current woes. A visit is definitely warranted for those who are invested in DAVE.
Disclosure: The author has no positions in any stocks mentioned, and no plans to initiate any positions within the next 72 hours. The author wrote this article themselves, and it expresses their own opinions. The author is not receiving compensation for it (other than from Seeking Alpha). The author has no business relationship with any company whose stock is mentioned in this article.