A few weeks ago, I published a reality check that consisted of connecting the dots around the fast-moving solar industry.
Once again, I offer you my take on the recent news and happenings on the solar industry, which should allow us to connect the dots anew and have a solid view into the rest of 2014. To read my past Reality Check, click here.
Fact #1: Japan Is Booming
Over the past few months, the notion that the Japanese solar market is slowing down has circulated in the industry. That was the result of some government decisions to take away permits from project developers that were stuck. By stuck, I mean developers who rushed to apply for a permit without having the required financing for actually developing the project.
I viewed this as a positive event, as non-serious developers would be pushed aside and hand their permits back to the government, which could hand them out again to capable developers. This week, Bloomberg New Energy Finance (BNEF) reported that the Japanese market is a lot bigger than everybody thought. In the month of May alone, Japan installed more than 1 GW of solar modules.
I previously estimated a 9 GW market for 2014, which would set it as the second largest single-country market in the world. I almost fell out of my chair when I read that BNEF is expecting installations of 10-12 GW in Japan this year.
This is just slightly below the biggest market in the world, China. Even though this Japanese market is smaller than the Chinese one, revenue-wise it could represent a bigger opportunity. That is because Japan has a significantly higher average selling price than China.
With 65 GW approved by the government, I see a sustainable solar market developing in Japan, at least over the next several years. This demand could support upward ASP pressure toward the end of this year.
Fact #2: Post-Tariff U.S. Market
Chinese Manufacturers Post Tariff
About two months after the first Department of Commerce announcement in June and the latest one in July, we can observe the price reaction so far. GTM Research provided a report showing a 9%-11% increase in the prices of Tier 1 Chinese solar modules.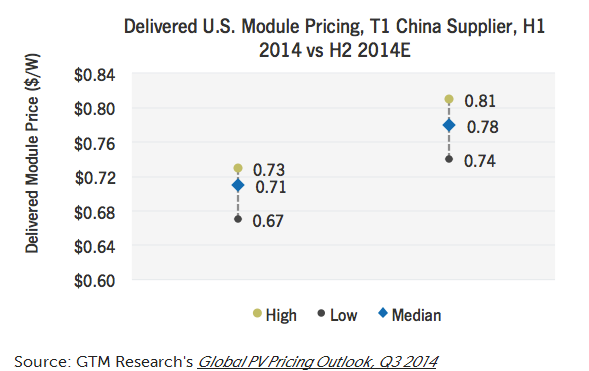 Other sources point out that prices have already climbed about 15%.
On a recent conference call, one of the lowest-cost Chinese producers mentioned that it can make gross margins of about 15%-20% in the U.S. post-tariff, which indicates the sharing of the tariff by both the buyer and the seller.
I assume Chinese manufacturers with the more established U.S. operations will have more benefit than the smaller ones, as the price point is just one of the many factors affecting a purchase decision. The impact to Chinese manufacturers seems to be a lot less damaging than what was previously pointed out by different media outlets.
U.S. Utility-Scale Project Shows Strength
Even though panel prices have been on the rise, the overall trend in the U.S. utility-scale project continues its downtrend (given that the module is just ~35% of overall costs). According to another GTM Research report, the current U.S. contracted pipeline (reflecting already signed power sale agreements) shows an interesting trend.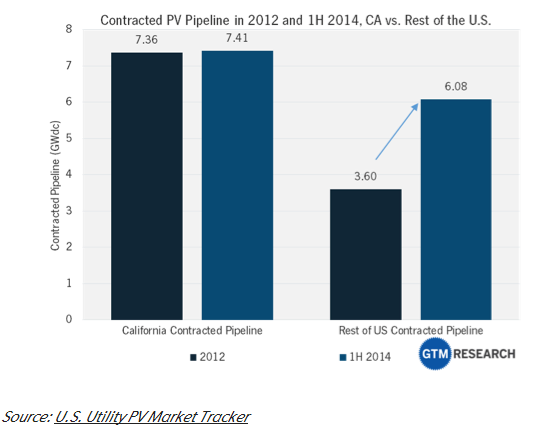 Although the California-based pipeline rose 1% from the 2012 level to the 1H-2014 level, outside of California the pipeline rose about 69%. This trend is led by the fact the overall cost of constructing a solar project came down 56% from 2010 to 2014 and now stands at $1.85/watt on average.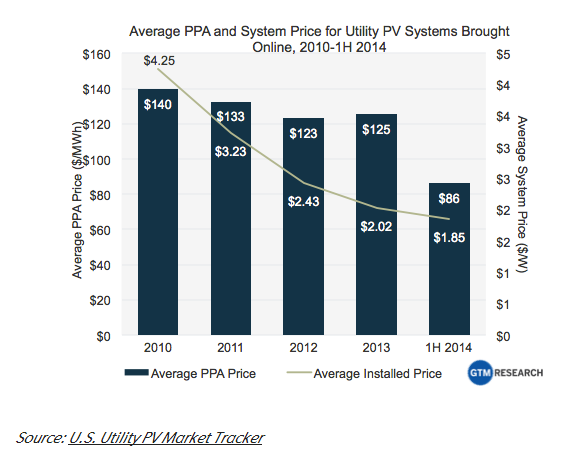 A look at the average power purchase agreement (PPA) price shows an average electricity price of $0.086/KWh, down almost 40% since 2010. This shows that the U.S. market is more mature, and I don't think the tariff decision is going to slow down the American market.
Fact #3: Is the Chinese Government Stepping Up To End the Trade Dispute?
On Aug 8, a letter was sent from the Chinese government to the U.S. Department of Commerce, which asked for a one-week extension to submit a suspension agreement (until Aug. 15). A suspension agreement means that all duties will be put on hold until an alternative agreement is agreed.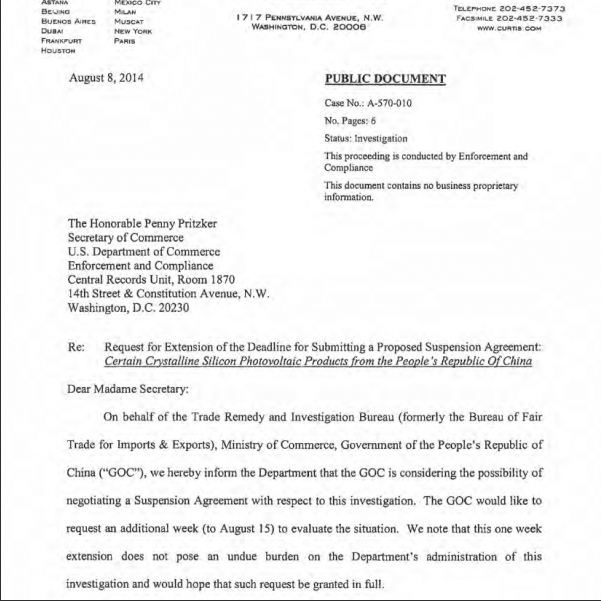 Source: PV-Tech.com
Although I don't know if a suspension agreement will be accepted by the U.S., I view this as a sign of an on-going attempt to end the trade disputes between China and the U.S. over the long term.
Another fact that supports the ongoing efforts to reach an agreement is that according to PV-Tech, the American solar industry association, the SEIA, sent a delegation to China last week to meet with manufacturers and possibly advance a deal.
I still hold my opinion that a favorable agreement will be reached, and will possibly look like the minimum price agreement China achieved with the EU.
Fact #4: China to Ban the Use of Coal
Last week China announced it is going to ban all coal use in pollution-hit Beijing by 2020. Although this is not likely to cause any reduction in China's overall coal use, it might signal an important point.
Over the past ~70 years, the Chinese government has been working with the idea 'borrowed' from the USSR of setting 5-year-plans. As the 12th five-year plan is about to end and the 13th plan is about to start, there is more and more chatter that the 13th plan will be around cleaning up its pollution-plagued cities.
To me, this suggests that solar development (along with other renewables) will still be a key in China over the next several years, and thereafter. It is important to remember that China has already set a 70 GW target of solar capacity by 2017, and recently officials mentioned that 2014 will likely see 13 GW in installations.
Conclusion
I believe that global demand for solar modules is growing and will continue to grow over the next several years. Japan is becoming a huge market and is about to reach the size of the Chinese market.
Demand growth will support shipment growth as well as pricing stability in the near term. Manufacturing cost reduction will continue to provide comfortable gross margins, which will drive sustainable and growing profits.
Although that there are signs of resolution in the U.S.-China solar trade disputes, even without that happening, Chinese manufacturers' overall business is not likely to be significantly impacted.
Therefore, I continue to believe the remainder of this year will offer a favorable environment to Chinese solar manufacturers.
To learn more on solar investing visit SolarStockIdeas.com
Disclosure: The author has no positions in any stocks mentioned, and no plans to initiate any positions within the next 72 hours. The author wrote this article themselves, and it expresses their own opinions. The author is not receiving compensation for it. The author has no business relationship with any company whose stock is mentioned in this article.