Company Profile
Taxi medallions in most urban areas are prohibitively expensive. This is due to politically powerful livery unions, which lobby governments to maintain a low supply in order to maintain surplus demand of cabs. This gives drivers pricing leverage and constant workflow. For this reason, taxi medallions are good value-storing assets.
Most cab drivers are immigrants (94% of NYC cab drivers), and statistics show that the drivers are hard-working individuals. In fact, in 2013 the average New York yellow cab driver worked 9.6 hours per shift. Most medallion owners try to keep their vehicles in operation for close to 20 hours per day as well, and the average cab in NYC travels 70,000 miles per year.
In the early 1930s, the founders of Medallion Financial (TAXI) came to the realization that cab drivers want to purchase their own medallions. Since the medallions can be looked at as income generating assets (medallions can either be used by the owner or leased out), the company began issuing loans backed by medallions. As Medallion Financial grew, the company began issuing general business loans to small companies as well. Throughout the company's history, it has generated exceptional returns for investors, and has typically traded at a premium.
And then came Uber...
Earlier this year Medallion shares began a 20% slide as a company called Uber began to attract attention. The company uses an app along with a GPS enabled smartphone to summon a livery vehicle. Convention said that this posed a threat to taxi usage. Well, Uber has been in New York City for over three years and here are the ride statistics for yellow cabs (Source: NYC Taxicab Factbook):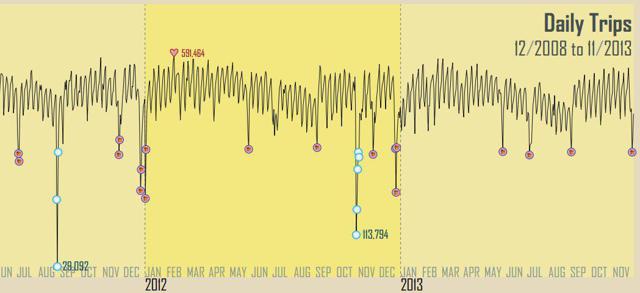 As is evident (aside from the markers indicating holidays and weather events) cab ridership has remained robust, and has shown an increase since the introduction of Uber. In fact, medallion prices have held up equally well, and have continued their dramatic increase in price.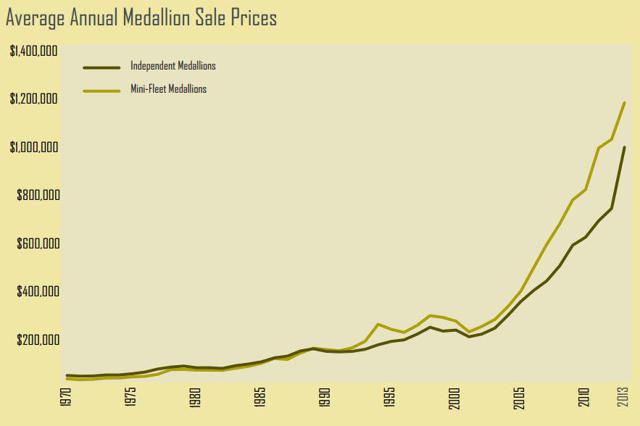 Why is Uber not a threat to the viability of the yellow cab business? As CEO Andrew Murstein said, "Uber is nothing more than a terrific black-car company." Uber is competing with a separate segment of the market. A short trip to any Manhattan street immediately reveals how old habits die hard. Aside from the fact the cabs are typically cheaper than Uber, it is still more convenient to raise your hand than to summon a car via smartphone and wait for it. The street hail is what differentiates yellow cabs from black cabs, and is the reason why until Uber can take street hails, it will not be competition for taxis.
Additionally, according to the NYC Taxi & Limousine Commission, 33% of cab passengers do not own smart phones. The majority of passengers make under $100,000, yet the majority of passengers own their own cars. What does this tell you? Many of the people riding in cabs either can't use Uber for lack of a smartphone, are on a constrained budget, or are tourists, three demographics that will continue to use cabs in the face of Uber. The data doesn't lie.
The Business
Now that we have parsed the behavioral nature of cab riders and the demographics of the drivers, let's take a peek at Medallion's financials. The company manages 1,318 medallion loans. Of these loans, 74% are backed by NYC medallions and 15% are backed by Chicago medallions. Medallion numbers are capped in both cities, and medallion prices have been sustained by fair hikes historically.
While only $298 million of the company's medallion make it to the balance sheet, the company holds another $645 million of medallion loans through its wholly-owned and consolidated subsidiary, Medallion Bank. Historically, the loss rate on medallion loans has been negligible since the asset typically appreciates, and is easy to repossess and sell for a premium to the amount due.
The company has also issued $112 million of commercial loans, approximately half of these being asset-based, 38% secured mezzanine. These loans are issued at an average spread of 4.82% over prime and are for the most part personally guaranteed. The five-year average loss rate on these loans has been 2%, indicating excellent underwriting by the company and a loss rate well below what would be warranted by the interest margin on the loans. The commercial loans are issued at a 60% to 75% loan-to-value ration which does provide some buffer for an economic downturn.
Medallion has another $349 million of secured consumer loans on its balance sheet. These loans are considered high-risk, but also have a juicy yield which mitigates losses.
Valuation: 23% Below Fair Value
Although Medallion has typically traded at a premium, and yielded a cumulative return averaging 22.5% over the five years prior to 2014, the stock is down a cool 20% this, with no fundamental shift to the story or growth rate. The company trades at just 1.03 times book and at a P/E of 9.65. At the current valuation the market considers Medallion's risk profile to be similar to that of a typical BDC. This is an inherently unfair valuation as half of Medallion's loans are prime loans. Using a blended P/B ratio between that of the BDC sector (1.0) and that of the regional bank sector (1.5) , weighting the two divisions, the blended P/B would imply a share price of $14.33, or a 23% premium to today's closing price.
Medallion has returned around 10% on net asset value over the past five years, and based on consensus numbers for similar companies I project similar sustainable growth going forwards. The addressable market for medallion loans is quite large, leaving plenty of room for organic growth, and Medallion is well-positioned to take advantage of this should the commercial and consumer loan sectors taper off with rising rates.
Conclusion
Medallion sweetens the deal with an 8.3% dividend which has grown over the past few years. Management is shareholder friendly and has a 13% stake in the company. The Uber shock really only threatens the livery cab business as is clear from medallion transactions and ridership rates over the past few years.
Disclosure: The author has no positions in any stocks mentioned, but may initiate a long position in TAXI over the next 72 hours. The author wrote this article themselves, and it expresses their own opinions. The author is not receiving compensation for it (other than from Seeking Alpha). The author has no business relationship with any company whose stock is mentioned in this article.