The Dogs of the Dow is a very simple investment strategy that has proven to outperform the overall Dow over the long term. Two benefits of this strategy are that it is very simple to implement and will save money on trading/transaction costs as it is a long-term strategy with zero turnover during the year.
Here are the two simple rules to employ this strategy:
• Buy the top 10 stocks in the Dow Jones industrial average with the highest dividend yield.
• Repeat this process at the beginning of each year, selling the companies that no longer remain in the top ten of highest yielding DOW companies.
After taking the kinds of losses that occurred over the last 2 years, investors experiencing the "snake bit" (risk aversion) effect are less likely to gamble or exhibit risky behavior, and it is no surprise that dividend-paying stocks have been gaining increased popularity amongst the investment community and have performed quite well over the last year. Investors looking for a steady profit stream and a way to offset losses caused by fluctuations of stock prices have begun to seek refuge in consistent dividend paying companies. This strategy works well to gain exposure to some solid dividend paying companies and can be put into action with low transaction costs and low maintenance.
According to www.dogsofthedow.com the "Dogs of the Dow" Strategy has delivered an annual return of around 17% compared to the 11% delivered by the DOW since 1973. Let's take a look at how this strategy has worked so far in 2010 and see which companies are the new "Dogs of the Dow" for 2011.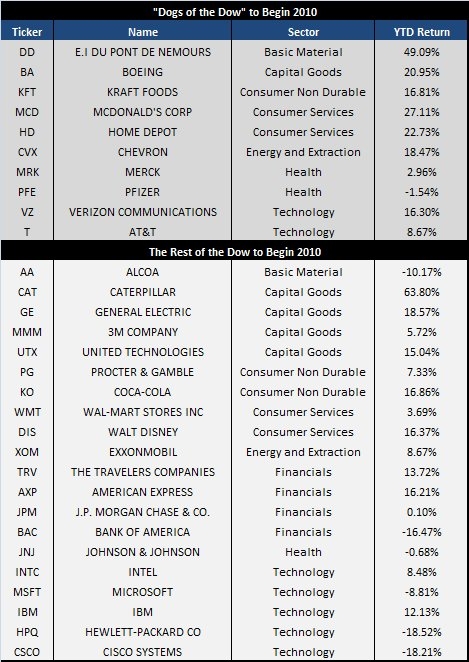 The chart below illustrates the returns of the "Dogs of the Dow" vs. Non-Dogs and the overall Dow. The "Dogs" led the pack in 2010.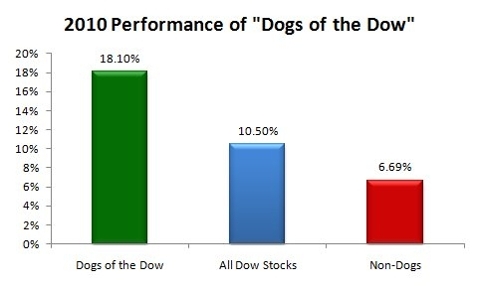 Not much has changed in the top 10 highest yielding companies in the Dow, Boeing and Home Depot were replaced in the top ten by Johnson & Johnson and Procter & Gamble. Below we highlight the top 10 dividend yielding companies in the Dow along with our take on the companies within the top 10. To gain access to our ratings of the investment opportunities of the rest of the companies in the Dow, click here.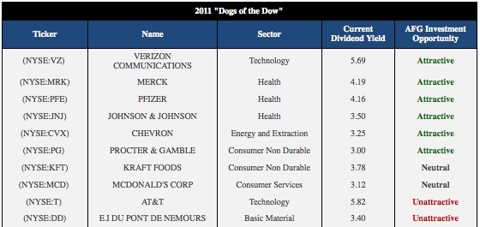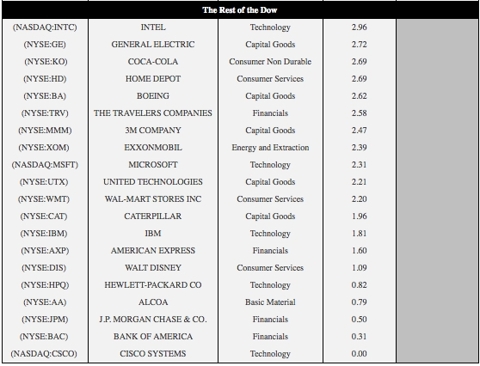 This strategy has tended to work better during bull markets, so if you think the market will continue to rise in 2011 then you may want to consider unleashing the "Dogs" on your portfolios for the new year.
Disclosure: None