Argan Inc. (NYSE: AGX) is the holding company of Gemma Power Systems and Southern Maryland Cable, through which Argan conducts operations to serve the power generation and renewable energy markets (through GPS) and telecommunication infrastructure market (through SMC).
Over the past year, shares of the company's stock have climbed an impressive 117.67%, yet, even with prices at all-time highs, I believe there is still substantial upside in Argan shares based on three key points that, together, make up my bullish thesis on the stock.
1. Argan continues to strengthen fundamentally, as the company finally matures to a point at which it can consistently deliver on key financial metrics. Argan's financial posture is likely to continue to strengthen as Argan deals with the largest backlog of contract work in the company's history.
2. The single analyst that follows the stock is projecting depressed EPS figures for upcoming years as a result of a deterioration of Argan's profit margin. Such a trend not only defies Argan's consistent ability to expand margins over past years, but also does not take into consideration the positive effects Argan's massive backlog could have on the company's margins.
3. As Wall Street has bought into this one analyst's projections whole-heartedly, Argan has been punished with a P/E ratio well below the industry average. If and when Argan proves that it can maintain, and even grow, its EPS at current levels, a massive re-pricing will take place and send shares higher by 50% or more over the next 2 years.
Multi-Year Financial Strength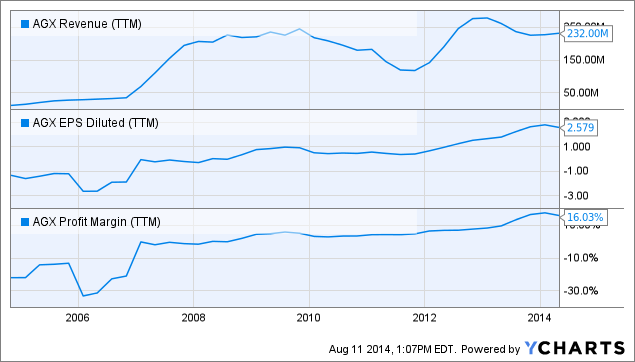 AGX Revenue ((NYSE:TTM)) data by YCharts
Argan has only been a public company for little over a decade, and is just starting to hit its stride financially. In December 2006, Argan acquired Gemma Power Systems for $33.1 million. In Argan's fiscal 2013 alone, Gemma generated $260 million of revenue and $41 million of EBITDA. Gemma has grown to now make up the lion's share of the overall company, with 96% of total revenue generated by Gemma.
As Argan has been able to successfully grow Gemma, the overall company has benefited. From under $70 million in revenue in 2007, over the trailing twelve months Argan has produced $232 million in revenue and, more importantly, $2.58 in diluted earnings per share.
Argan's profit margin had been on the wrong side of 0 up until 2009, but ever since the company has strengthened in this key metric as Gemma has established itself and now starts to mature as a key player in the power generation market. Today, Argan's TTM profit margin sits at 16.03%.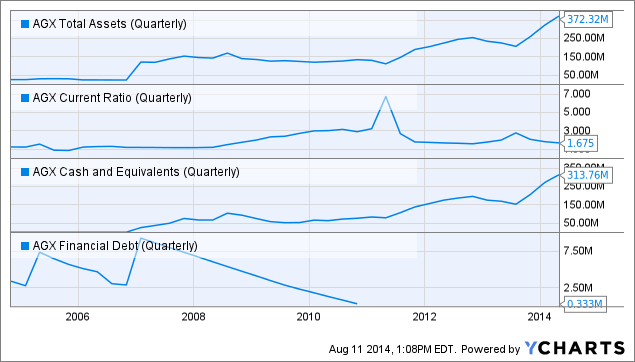 AGX Total Assets (Quarterly) data by YCharts
Over this same stretch Argan has also been able to strengthen its balance sheet. Even with rapidly growing total assets, Argan has been able to maintain its current ratio above 1.5, translating into a company that is well positioned to meet any short-term obligations, which can be a very real concern for such a small company (Argan only has a book value of $161 million and a market cap of $503 million).
Even more promising has been Argan's steady build-up of cash and equivalents, which now sits at $314 million, in correlation with Argan's debt-free status since 2011.
Historic Backlog Promises Further Strengthening
While it's great that Argan has been able to strengthen its financial posture to such a great extent over the past decade or so, at the end of the day it's what Argan is capable of doing going forward that is paramount.
For construction companies like Argan, the best indicator of how the future is looking is the company's contract backlog. As of January 31, Argan had a contract backlog of $790 million, which is, by far, the largest backlog the company has ever had.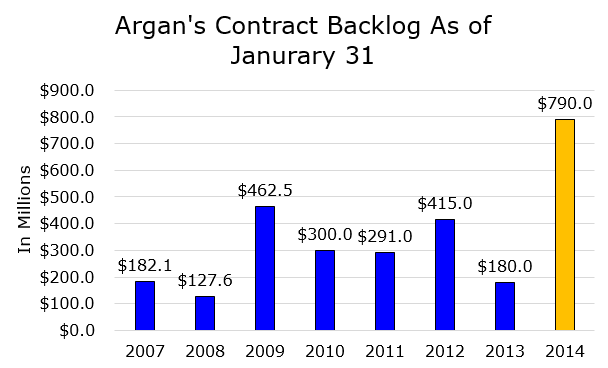 Data Source: SEC Filings
Behind this major build-up was the signing of some major contracts for the construction of 3 new energy facilities in recent years. In Pennsylvania, Argan signed two $385 million contracts to design and construct 2 natural gas-fired power plants in Bradford County and Lycoming Country. (Gemma holds a 75% share in each of these contracts). Both of these projects are expected to be completed in early-to-mid 2016. Further South, Argan is wrapping up a $167 million contract project to design and build a biomass-fired power plant in Woodville, Texas. This project is scheduled to be completed in December of this year.
While "cancellations or reductions may occur," Argan's backlog is, as the company says in its latest 10-K filing, "an indicator of future revenues and earnings potential." With the indicator of future revenues and earnings potential at an all-time high, the single analyst that follows Argan has appropriately bumped his revenue projections up to $369.7 million for 2015 and to $450 million for 2016. Yet, incredibly, this analyst only places his EPS estimates at $1.88 for 2015 and $2.14 for 2016, both of which are substantially lower than the $2.78 Argan earned on an annual basis in FY 2014.
This is because in FY 2014, Argan's profit margin was artificially inflated because of major reductions in the estimated cost of a project in Southern California. In the first quarter of FY 2015, Argan's profitability metrics fell back to Earth, with the company's profit margin falling from 13.74% a year ago to 6.79%.
Through his EPS projection, this analyst implies a profit margin of 7.31% for 2015 and 6.84% for 2016. A look at Argan's historic profit margin performance, however, shows that these projections are not consistent with the prevailing trend.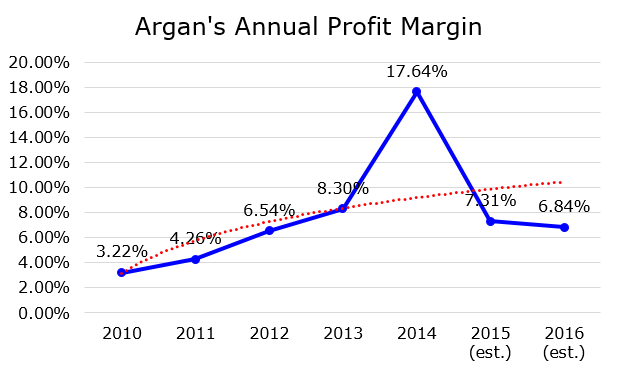 Data Source: SEC Filings
Ever since turning profitable Argan has consistently expanded its profit margin. In every year since 2010, in fact, Argan has increased its profit margin, yet this single analyst is calling for margins to suddenly contract. As this analyst is the only one that follows Argan all forward-looking metrics are based off his projections, which I believe to be off the mark.
While it is almost certain that in 2015 Argan's profit margin will fall from 17.64%, the profit margin should only fall back to the margin's logarithmic trend line, which puts 2015 around 10% and 2016 around 10.25%. After Gemma matured into a profitable company, the focus for Argan shifted to expanding its profit margins, something which it has consistently achieved year-after-year, as the chart above shows.
Now, with a historic backlog, the focus for management can turn even more towards streamlining operations opposed to acquiring new customers (which, still, is undeniably important). Frankly, I wouldn't be surprised to see Argan's profit margin to follow an exponential trend line as opposed to a logarithmic one, but conservatively these profit margins come in at least a few percentage points higher than the analyst's expectations.
That would translate into $2.55 in EPS in 2015 and $3.20 in 2016 (using the analyst's revenue projections). If such figures were delivered, the market would have to drastically re-price Argan.
Argan Currently Priced For Worst-Case Scenario
At current levels, Argan trades with a price to earnings ratio of 13.65, substantially lower than the industrial goods sector's P/E ratio of 19.07 (according to Finviz). If you just looked at those figures, there would be no doubt in your mind that Argan is currently under-valued. If you furthered your research, however, and took a look at Argan's forward P/E ratio of 18.69 as opposed to the overall sector's forward P/E of 15.36, the story gets a little less appealing.
What we have to remember, and the market will soon realize, is that Argan's forward P/E ratio is using the estimates of a single analyst, who I believe to be off the mark on Argan's profitability story. If Argan, instead, delivers EPS of $2.55 for 2015, as I and the logarithmic trend line expect, all of a sudden Argan's forward P/E is only 13.78, again proving Argan to be significantly undervalued in respect to the overall sector.
In two other key metrics (price to sales and price to book value) Argan trades at a slight premium to the overall industry (P/S AGX: 2.17 - Industry: 1.36, P/B AGX: 3.10 - Industry: 2.67), but at the end of the day what investors pay the most attention to is the P/E ratio (not to mention the premium Argan is currently receiving in these metrics is not excessive).
If and when Wall Street wakes up to the fact that Argan could actually sustain, and possibly grow, its EPS at these elevated levels there could be a major re-pricing in the stock. Remember, in 2014 Argan reported EPS of $2.78 compared with $1.68 the year before. Wall Street should be skeptical that Argan can maintain such a jump, with even my projections placing 2015 EPS at $2.55. Due to the company's recent ramp up in backlog, however, revenue is set to quickly climb in the years ahead, while profit margins should decrease, but still remain consistent with the long-term trend of the company.
By the time Wall Street fully adjusts to this gap, Argan will again be trading with P/E at, or even a little above, the industry average. Say in 2 years, the industry average has fallen to 16. With $3.20 in EPS for 2016 and a P/E of 16, Argan is a $51 stock, representing nearly 50% upside from current prices.
That scenario doesn't even consider the possibility that a development like the one that transpired last year could come about. With a major project scheduled to be completed later this year and 2 more scheduled to end in 2016, the possibility is there that Argan could, again, report a "reduction in estimated costs." If something like this occurred in 2016, and the company's profit margin climbed to 15%, EPS would come in around $4.70, and, even with a P/E ratio of 13.65 (the current P/E) Argan's stock price would increase to $64.15, representing a more than 80% increase from current prices.
Of course, the possibility is there that Argan could just meet this analyst's EPS projections. If such was to occur, and Argan only reports $2.14 in EPS for 2016, the stock's P/E would only have to rise to 16.41 to justify today's current share price, which would be right in line with the industry average.
Conclusion
For me, Argan is a classic example of how underfollowed companies can be misjudged. Right now, all of Wall Street is considering Argan through the eyes of a single analyst. Everything is based off of this one person's expectations, which can sometimes be dangerous, but in this case presents opportunity.
Argan has, and continues to, strengthen its underlying fundamentals as its core business, Gemma, matures. This financial strengthening is poised to continue as Argan deals with the largest backlog in its history, and while revenue is forecasted to increase, EPS is projected to fall because of a weakening profit margin.
In reality, I believe management's long-term focus on improving efficiency will ultimately drive margins higher, especially as the company has the luxury of having years of revenue lined up. By the time Wall Street realizes this and re-adjusts Argan's valuation to more closely correlate with the overall industry, I believe it will be too late, as the stock will have already risen by as much as 50%. Meanwhile, the downside risk is limited as Argan is already priced for the worst-case scenario of margins falling through the historical trend line.
Such is why over the next few weeks I will begin to amass a stake in the company, and hope you consider doing the same. Happy investing!
Disclosure: The author has no positions in any stocks mentioned, but may initiate a long position in AGX over the next 72 hours. The author wrote this article themselves, and it expresses their own opinions. The author is not receiving compensation for it (other than from Seeking Alpha). The author has no business relationship with any company whose stock is mentioned in this article.