Monster's (NASDAQ:MNST) Q2 earnings beat analyst estimates, but their gross sales came in low. So what happened? Unfortunately, "Occam's Razor" is right on the money. The simplest explanation of "Occam's Razor" is: The simplest explanation is the best. In the case of Monster, the simplest explanation is cutting expenses. The problem is how expenses were cut. I think the company is setting itself up for underperformance.
The beverage industry is an unattractive industry at present. Beverage Digest issued a report on US beverage sales stating they were down 3% in 2013 compared to 2012. In a great piece covering the issue, Bidnessetc.com brought out this graph: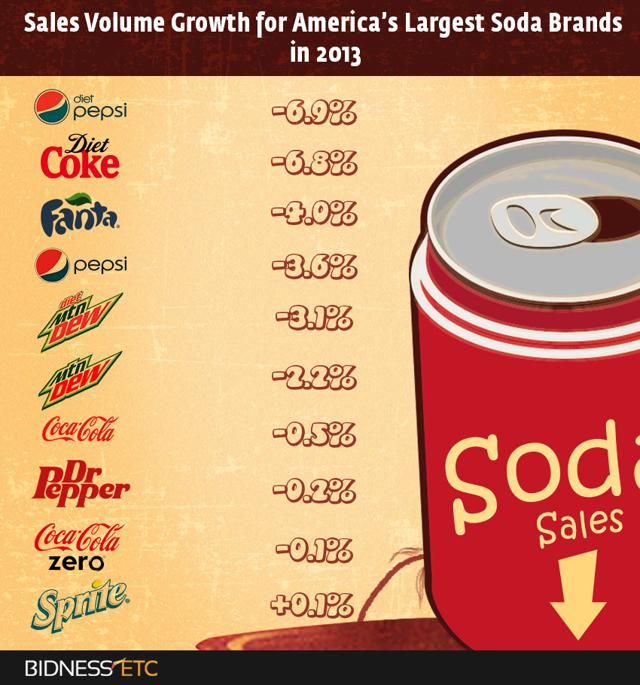 While you won't find Monster on that chart, it does speak to the industry that they are operating in. The industry has suffered some major setbacks over the last few years, but Monster has shown strong growth during that time. Net sales have been climbing the last three years. The following chart, Table 1, shows the growth in Net Sales: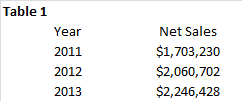 That trend upwards could be slowing down significantly though. The company beat analyst forecasts for earnings by posting a better than expected operating margin. The problem is that the operating margins include the costs of advertising as a current period expense.
Kevin Grundy, another analyst covering the stock, is paraphrased saying: "Wider margins were responsible for the recent earnings beat and stemmed from lower marketing expense and cost of ingredients as well as a shift to local production for international markets."
Breaking out the numbers from 2013 Q2 and 2014 Q2 in the DuPont framework, we see that clearly operating margins have improved in Table 2:

Yes, the interest burden figures are right. Monster carries virtually no debt on their balance sheet and occasionally interest income exceeds interest expense, though both are meaningless in the perspective of company earnings.
It becomes clear that the operating margin for quarter 2 of this year was better, but I'm bothered by the combination of factors. Fortunately the cost of ingredients and changes in the location of production should be caught up in cost of goods sold; meanwhile marketing will fall in with other expenses. Unfortunately, MNST does not break out the marketing expenses for the company in a meaningful way. Using Table 3 and Table 4 I broke out the margins relating to cost of goods sold and to other expenses.


These charts support the idea that all 3 metrics improved for Monster. They still don't tell us exactly how much marketing decreased. Using their 10-Q statements, I was able to gather some meaningful information about marketing. The company does state clearly, in the 10-Q but not the 10-K, how much they have contracted to spend on future advertising. I recorded their contracted values from the end of each period for which they were available. Those values are displayed in Table 5: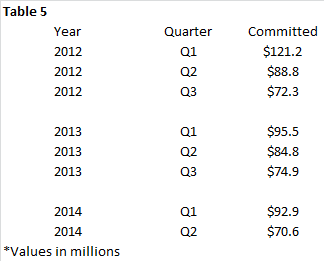 It appears from the chart that advertising is going down. But if the brand has established itself, eventually we would expect advertising expenses to decrease, right? I'll concede that advertising expenses may go down relative to sales, but not this fast. Remember that sales were growing during this period despite a downturn for the industry. Table 6 expands the analysis to include the Net Sales and the ratio of advertising commitments to sales.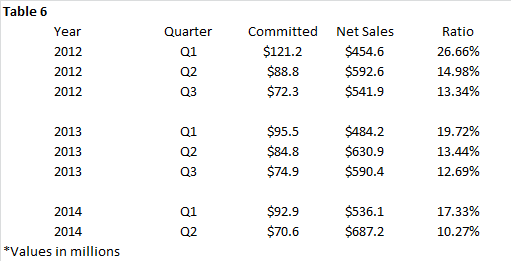 Conclusion
Any of the bulls think growth isn't going to slow down with the decreased advertising expense? I like the product. I have a case of it in my pantry. However, I don't feel comfortable with the company beating earnings through higher margins driven by reduced commitments to advertising. On the basis of the dramatic dip in advertising commitments relative to net sales, I'm going bearish on the stock and predicting that gross sales miss analyst projections for Q3. I'm not concerned with predicting if they will beat earnings through better margins, because I don't consider a rapid reduction in advertising expenses to be a winning strategy. At this point, I'll remain a customer rather than an investor.
Disclosure: The author has no positions in any stocks mentioned, and no plans to initiate any positions within the next 72 hours. The author wrote this article themselves, and it expresses their own opinions. The author is not receiving compensation for it (other than from Seeking Alpha). The author has no business relationship with any company whose stock is mentioned in this article.
Additional disclosure: Information in this article represents the opinion of the analyst. All statements are represented as opinions, rather than facts, and should not be construed as advice to buy or sell a security. Ratings of "outperform" and "underperform" reflect the analyst's estimation of a divergence between the market value for a security and the price that would be appropriate given the potential for risks and returns relative to other securities. The analyst does not know your particular objectives for returns or constraints upon investing. All investors are encouraged to do their own research before making any investment decision. Information is regularly obtained from either Yahoo Finance or the SEC database. If either of these sources contained faulty information, it could be incorporated in our analysis. The analyst holds a diversified portfolio including mutual funds or index funds which may include a small long exposure to the stock.