In the last six weeks, crude oil futures have traded lower by nearly $10/barrel. September futures have retraced just better than 50%, trading currently under $98. While I cannot rule out a 61.8% Fibonacci retracement dragging this contract near $95.85, prices appear to be finding buying interest at current levels, consolidating the last 9 sessions around $97/barrel. Stochastics are oversold, but to confirm an interim low, I would like to see a settlement above the 8-day MA (orange line). What I am looking for is a return to the 50-day MA (green line) in the next 30 days. This represents an appreciation of 4.4%. I like the idea of long futures with some sort of options protection for risk mitigation whether that be buying a put or selling a call. (For precise strike prices or months to trade, contact me.) Also, I will be employing other strategies buying WTI and selling Brent 1:1, and also have started to price out bullish trade in heating oil.
Crude oil daily chart: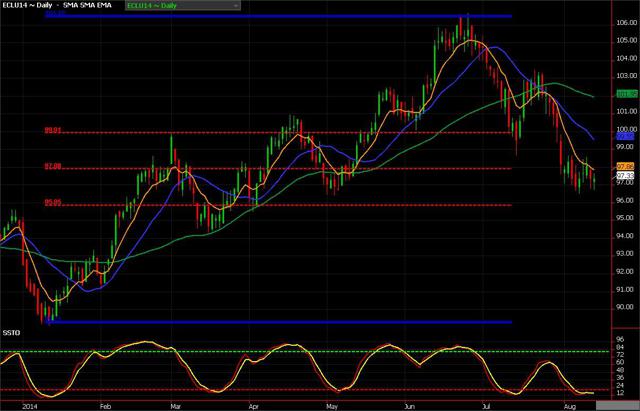 Source: www.computervoice.com
Let's touch on the fundamentals and why I believe we could see 4%-5% appreciation in WTI around the bend.
Over the course of the last two months globally we have seen softer economic data, which big-picture has contributed to the depreciation in a number of commodities including oil; containing figures from Asia, Europe and domestically. The fact that we experienced an unexpected draw in inventories today likely kept a cap on the price action with futures treading water after the numbers. This is a change as we had previously seen six consecutive weeks of inventory draws. The build in inventory was likely in part due to supplies in Cushing, Oklahoma growing because of the refinery at Coffeyville being offline. There is also a headwind with OPEC reducing production with the climbing output. The IEA also continues to downwardly revise global oil demand figures. All details just mentioned are in my eyes already factored into current trade, and the reason why futures are nearly $10 off their highs made on 6/25. Throw into the mix geopolitical tensions looking a bit brighter also contributing to a negative bias. We call this "futures" for a reason, and being I am contrarian, if tensions heat back up causing supply disruptions, demand returns, or there's hurricane activity, I think bulls could get back in the driver's seat even just temporarily. That being said, I think the market is vulnerable to a $4-$6 bounce in the next 30 days.

See today's inventory report showing a build in crude for the first time in seven weeks.
Risk Disclaimer: This information is not to be construed as an offer to sell or a solicitation or an offer to buy the financial products herein named. Trading futures, options and Forex involves substantial risk of loss and is not suitable for all investors. Past performance is not necessarily indicative of future results. This report contains research as defined in applicable CFTC regulations. Both RCM Asset Management and the research analyst may have positions in the financial products discussed.
Disclosure: The author has no positions in any stocks mentioned, and no plans to initiate any positions within the next 72 hours. The author wrote this article themselves, and it expresses their own opinions. The author is not receiving compensation for it. The author has no business relationship with any company whose stock is mentioned in this article.