This is another in my series of identifying situations in the equity market that are showing solid and improving fundamentals, while the market watches and obsesses over the headlines.
The first in this series focused on three E & P oil names that have been sold off recently, offering investors a chance to capitalize on market weakness.
Visa (NYSE:V), headquartered in San Francisco, California, is the leading global payment card organization with 2.2 billion branded cards in circulation and is accepted at 30 million locations worldwide. The company processed 87 billion transactions worth $6.8 trillion in FY13. On a combined credit and debit card transaction volume and dollar value basis, Visa commands 40-45% of the domestic general purpose payment card market. Visa branded cards are issued globally by 16,400 of the largest retail and financial institutions. Approximately 60% of revenues are domestic and 40% are international.
Traders and investors watch and obsess over the geopolitical headlines that are casting a negative shadow over the equity markets. However, amidst this market noise, a company like Visa, portrays a positive picture, as they continue to grow their revenues and earnings as shown in their latest earnings report.
Visa recently reported EPS of $2.17/share on July 24th, above the street consensus of $2.09. It should also be noted that earnings would have been $.05 higher adjusting for a higher than modeled tax rate. Revenue of $3.16 billion was up 5% y/y. Earnings are growing at a robust rate of 15%.
The latest company conference call revealed that Visa won or renewed a number of large co-brand deals during FQ3'14, including American Eagle Outfitters (NYSE:AEO) and Hyatt Hotels & Resorts (NYSE:H) in the U.S., Tim Hortons (THI) in Canada, and Woolworths (OTCPK:WOLZY) in Australia. The company is opening up its platform to new partners such as retailers, technology companies, mobile carriers, original equipment manufacturers, other payment companies, social networks, and software developers to enable easier-to-use digital payments online and on mobile devices, which could accelerate payment volume growth over time, particularly in the CyberSource business.
Often misperceived as a credit card company or a financial institution, Visa, is in reality, a digital payments network.
As such, the company takes pride in the fact that they are "people - light and technology - heavy" as they boast that revenues per employee are among the highest of any large-cap company in the world. Enabling commerce across the globe by digitizing the exchange of value, which is supported primarily with technology that can authorize, clear, and settle transactions in more than 175 currencies.
This superb technology that the company offers, is scalable, reliable and it now appears that they will be improving on that with the adoption of their payment tokenization platform later this year.
These new standards will create a secure environment for digital payments by removing sensitive information from the payments data flow. Just as important, they will create a framework to ensure that the security and integrity of the payments system are maintained as new payments participants emerge.
Cybercrime is global and well-funded, and the criminals are getting bolder and smarter, while attacks are becoming more frequent. The recent credit card breaches we have all read about are still fresh in the minds of merchants. Tokenization will be a significant growth driver, as those merchants, along with banks will be anxious to find and embrace solutions that will reduce the credit card fraud problem facing the industry. In essence, paving the way for Visa to add "payment security" services to their digital payment network, thus adding to their position as a beneficiary from the global secular shift to electronic payments from cash. That migration in payment form has the potential to yield a multi-year, $10 billion incremental revenue increase for the payment networks.
The future of global payment growth looks positive across the world as forecasted in the chart below.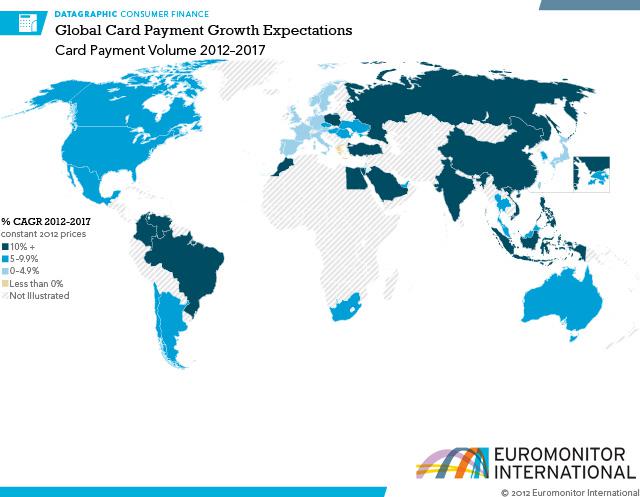 Another opportunity for the company exists with it's presence in the growing mobile universe and their "Visa Ready" program. Today, most merchants and consumers have mobile devices. Visa has the ability to connect these devices to their network to digitize commerce in a very short time. This opens markets for growth that did not exist five years ago.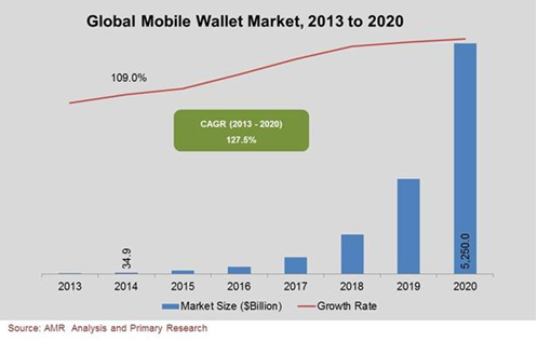 In addition to these extraordinary growth prospects, another reason to consider Visa as a good addition to any portfolio, is their continuing efforts to be shareholder friendly. Comments from CEO, Charles Scharf in their latest annual report:
After supporting our growth, we believe in continuing to grow our dividend, targeting a 20 percent payout ratio of trailing 12-month net income. We believe in returning the majority of excess cash to shareholders. We have repurchased the equivalent of 151 million shares since our IPO (about 20 percent of our shares outstanding) and returned more than $17 billion of capital to our shareholders in the form of dividend payments and share repurchase programs.
Shares have now retreated some 9-10% from the high of $232 to an intraday low of $208 last week, as investors jitters over the geopolitical scene have trumped the strong fundamentals that are in place.
While Visa can surely see more weakness in the days, weeks ahead, I view the recent market fears as an opportunity to get involved in an attractive growth investment. A situation with positive operating leverage, 60% operating margins, and capacity to return a substantial portion of its ample FCF (over $6 billion expected in FY14) to shareholders through it's dividend and share repurchase program of $1.9 billion.
In my view, Visa is another name to add to your watch list, taking a long term view of the market to slowly start building a position in this compelling long term growth story.
Disclosure: The author is long V. The author wrote this article themselves, and it expresses their own opinions. The author is not receiving compensation for it (other than from Seeking Alpha). The author has no business relationship with any company whose stock is mentioned in this article.
Additional disclosure: I am long numerous equity positions - all of which can be seen here on my SA Instablog. It is my intention to present an introduction to this security and state my intent and position. It should be used as a 'Starting Point' to conduct your own Due Diligence before making any investment decision.