On January 22 Clinical Data (NASDAQ:CLDA) faces an FDA decision for its New Drug Application for vilazodone. Vilazodone is a novel selective reuptake inhibitor (SSRI) and partial 5-HT1A agonist currently being investigated for the treatment of major depressive disorder (MDD). Clinical Data and vilazodone already have lot of people excited. Analysts almost unanimously rate the stock a "buy" and numerous articles have been floating around the Internet stating CLDA is an attractive acquisition target. Volume has been heating up as of late and it's only likely to get hotter as we close in on Clinical Data's very important date with the FDA.
Here is the "need to know" information to start you off on your due diligence path.
A Brief History of Vilazodone
Vilazodone was originally discovered by Merck KGaA (OTCPK:MKGAY) as a candidate for the treatment of depression. After early clinical development, the drug was licensed to GlaxoSmithKline (NYSE:GSK). Following disappointing Phase II data, the licensing agreement was abandoned in 2003 and all rights to vilazodone were returned to Merck KGaA.
The cause of the disparaging Phase II data appears to be problems with efficacy. In two of the five total studies, vilazodone failed to show statistically significant improvement of depression symptoms over placebo. In the three other studies, vilazodone was compared to other known antidepressants but unfortunately neither vilazodone nor its comparators showed statistical superiority to placebo. GSK chalked the studies up to poor study execution along with likely poor efficacy and decided to drop the drug.

It was later discovered that patients exhibiting a specific genetic biomarker, known as PGx, responded better to treatment with vilazodone. The drug was then licensed to Genaissance Pharmaceuticals, a company specializing in pharmacogenomic therapies, or "personalized medicine." Genaissance then began additional Phase II trials in only those patients exhibiting the desired biomarker.
In June of 2005, Clinical Data - formerly a strictly diagnostics company - acquired Genaissance, seeking to expand its product portfolio into the pharmacogenomic realm. While the new company originally planned to submit the drug for approval for only those with the PGx marker, it was found during testing that Vilazodone did, in fact, show a statistically significant improvement of depression symptoms versus placebo in broader patient populations. In February of 2010, Clinical Data announced it would be submitting the vilazodone NDA for the treatment of major depressive disorder without the companion biomarker test. The NDA was accepted by the FDA and a PDUFA date of January 22, 2011 was established.
Summary of Clinical Trial Data
Vilazodone has successfully shown statistically significant improvement of depression symptoms over placebo in two phase III trials. In addition, 52-week safety and tolerability studies and a thorough QT study have been performed.
In both Phase III trials, Vilazodone showed statistically significant reduction of depression scores on the Montgomery-Asberg Depression Rating Scale (MADRS) – the study's primary endpoint. In one of the two trials, Vilazodone showed meaningful reduction of depression as early as week one. Vilazodone also showed statistically significant improvement of scores in the Hamilton Depression Rating Scale (HAM-D), Hamilton Rating Scale for Anxiety (HAM-A), and Clinical Global Impressions - Severity (CGI-S) and Improvement (CGI-I).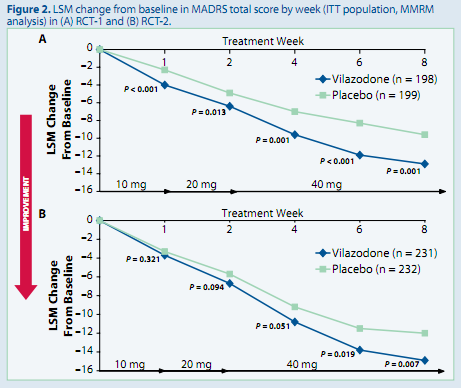 (Click to enlarge)
The drug was generally well tolerated with most common side effects of diarrhea (28.0% in treatment group versus 9.2% in placebo), nausea (23.4% versus 5.1%), dizziness (8.5% versus 4.6%), insomnia (6.0% versus 2.1%), abnormal dreams (4.1% versus 1.2%), and vomiting (4.6% versus 1.2%). Serious adverse events (SAEs) were rare (2.1% in the vilazodone group versus 1.6% in placebo) and generally did not appear to be treatment related. Additionally, and quite importantly, vilazodone showed no regression in quantitative scores relating to sexual function; a problem common to and often the cause of discontinuation of many other antidepressant drugs.
Thorough QT studies showed no clinically relevant impact on QT intervals and a long-term 52-week safety and tolerability study gave results largely in-line with the shorter 8-week studies.
Analyst Coverage
Clinical Data is currently rated positively by all analysts covering the stock according to Bloomberg. Here's a run-down of current analyst opinions:
12/13 McNicoll, Lewis & Vlak, buy, price target $37.00
11/30 Roth Capital, buy, price target $28.00
11/30 Piper Jaffray, overweight, price target $23.00
11/29 BMO Capital Markets, outperform, price target $29.00
11/10 Wedbush, outperform, price target $28.00
10/1 Griffin Securities, buy, price target $33.00
Risks
While we believe Clinical Data to be a solid investment, all investments carry some risk. Clinical Data is no exception and we wanted to highlight those risks we think could adversely impact the success of vilazodone and the underlying company's stock price.
Clinical Data has a somewhat troubling capital structure. As of the most recent quarter, Clinical Data had approximately $50 million of cash and cash equivalents. This was bolstered somewhat by the $15.4 million sale of its pharmacogenomics and biomarker development business in November. This is unfortunately balanced by $50 million in convertible debt at a 9.72% annual interest rate. We find the convertible debt especially troubling as it is possible that the lender or its affiliates may hedge risk through short selling – a process known as convertible arbitrage. This could artificially keep prices low and may be the cause for the relatively high short interest inherent in the stock – by some reports as high at 17.9% of float.
In addition, the company has a less than favorable agreement with Merck KGaA in which Clinical Data must make milestone payments to vilazodone's original discovered. Acceptance of the NDA will trigger a payment of $13.0 million in stock to Merck KGaA. Merck will also be entitled to certain royalty payments if Clinical Data is successful in commercializing vilazodone.
There also is some risk to the approvability of the drug. Vilazodone demonstrates particularly high nausea and diarrhea adverse events and must be titrated up to the 40 mg dose level over a several weeks. In addition, some sources have suggested that the efficacy over placebo is marginal, especially when looking at the HAM-D depression score improvement. We are not especially concerned with either of these issues as 1) discontinuation of the study due to diarrhea and nausea were low (1.3% and 1.2% respectively in the one-year safety and tolerability study) and 2) marginal efficacy of antidepressants over placebo is a well documented problem among most marketed antidepressants, and not exclusive to vilazodone. Furthermore, the FDA requires at least two placebo-controlled trials with positive results to authorize a drug indication, regardless of how many trials fail to demonstrate the drug's superiority to placebo - a stipulation satisfied by Clinical Data's two phase III trials.
Finally, there is a risk that vilazodone will fail to gain market share that will justify its share price. While the antidepressant market is large, it is also highly genericized. Will vilazodone achieve a reasonable penetration rate? We believe that Clinical Data's current share price implies sales of approximately $150-200 MM (risk adjusted 60% chance of approval, 20% net profit margin, 20 PE multiple), depending on how you value the rest of Clinical Data's pipeline. We believe vilazodone should be able to achieve this level of sales and more in the $10+ billion antidepressant market.
Summary
Clinical Data appears to be a highly promising stock with a potential blockbuster in vilazodone. However, the stock so far has had difficulty sustaining upward momentum going into its January 22 PDUFA date. We believe Clinical Data offers an exceptional opportunity for a run up play going into the catalyst date if technicals turn around and show sustained positive momentum. We also believe the odds of a first-pass approval of vilazodone are above average - having effectively shown statistically significant superiority to placebo in two Phase III studies with minimal adverse events leading to discontinuation.

Disclosure: I am long CLDA