Many people subscribe to the theory of "buying what's working." That involves jumping on board with stocks that have been the strongest performers and shedding those that have been underperforming. Everything works sometimes, and nothing works all the time. Here are the facts for the 30 component stocks that make up the DJIA for all of 2009 and YTD through Dec. 13 of 2010.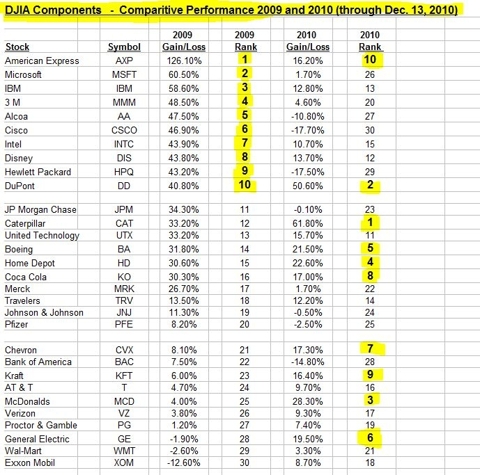 The 10 best performing issues from 2009 have only two repeaters so far in 2010, well under what would be expected had the current year's performance distribution been simply random. Four of 2009's top 10 dropped into the bottom third YTD in 2010. Three of 2009's best DJIA winners now show double-digit losses for 2010.
Conversely, the middle third and the bottom third from the 2009 rankings are now over-represented with eight of this year's top 10.
The conclusion? You're probably much better off buying value than momentum. The only thing certain about getting in after a big move is that you'll be paying much more than previously for those same shares.
Disclosure: I am long AXP, CSCO, INTC, HPQ, CAT, KO, MRK.