Life Time Fitness (NYSE:LTM-OLD) is a strong value buy for a 12-month period, with 30-40% upside potential and limited downside risk. My 12-month target price of $53 presents an upside potential of 33.50%, over LTM's closing price on August 11th, and I see downside risk of approximately 6%.
Although I believe that LTM is a strong value play for the next 12 months, there are concerns that affect both entry and a long-term hold position that I will address in this article.
First, a quick company description. Life Time Fitness Inc. "is engaged in designing, building and operating distinctive and large, multi-use sports and athletic, professional fitness, family recreation and spa centers in a resort-like environment." The company currently has 112 centers in operation throughout North America (almost all in the U.S.), and the company is planning on expanding its footprint.
LTM is undervalued and is poised for upside
Recent pressure on LTM's share price leaves the company's shares trading at valuation multiples well below historical levels. Negative price pressure culminated when LTM announced its Q2 2014 financial results before the market opened on July 24, 2014. LTM missed analysts' consensus estimates for both EPS ($0.76 vs. $0.81) and revenue ($326.6M vs. $332.2M). The company also revised its full year (FY) 2014 estimates for EPS and revenue slightly lower, to $3.00-$3.10 from $3.05-$3.15 and to $1.290-$1.310 billion from $1.300-$1.320 billion, respectively. Investors punished LTM, with the stock closing 12.70% lower for the day. This, and the 3.78% decline in the 12 trading days that followed, caused LTM to move into the extremely oversold/undervalued territory in which in now resides.
The following three charts demonstrate this point. The first two charts use fundamental analysis to value LTM, and the third chart uses technical analysis. Together, the three charts give a well-rounded and up-to-date look at LTM. I address my concerns regarding LTM's long-term growth potential in subsection four.
LTM's Ev/EBITDA ((NYSE:TTM)) trading multiple near historical low (Chart 1)
As shown below, LTM's share price currently has an EV/EBITDA multiple of approximately 7.59x. This multiple is 10% under LTM's average Ev/EBITDA multiple for the past 18 quarters of 8.35x. Indeed, on August 07, 2014, LTM traded at an EV/EBITDA multiple of 7.44x, the lowest multiple since Q1 2013. After registering an EV/EBITDA multiple of 7.37x on April 01, 2013, LTM rose 33.90% in only 16 trading weeks, significantly outperforming the S&P 500's 7.83% gain over the same period. LTM is setting up to do this again.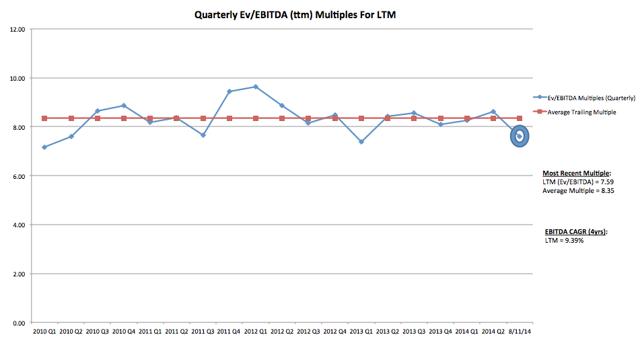 Data Source: Data from LTM's 10-Q and 10-K filings
Notes: Enterprise Value (

(

EV)) was calculated as: Enterprise Value = (Market Cap + Total Debt) - Cash and cash equivalents. The Average Trailing Multiple (in red) is the average EV/EBITDA multiple for LTM for the entire period in the chart (Q1 2010 through Q2 2014). The most recent EV/EBITDA multiple (circled) is an approximation, calculated using information (EBITDA, Total cash and cash equivalents, and Total debt) found in LTM's 10-Q filing for Q2 2014, the company's share price as of 8/11/14, and the total outstanding shares as of 7/18/14 (most recent data).
LTM's other valuation multiples also near historical lows (Chart 2)
As shown below, LTM's current P/E multiple of 13.5x is its lowest valuation multiple since late 2009. Morningstar data indicates that the average P/E multiple in LTM's industry is 26.7x, and the S&P 500 currently has a P/E multiple of 18.2x. LTM is currently trading at a Forward P/E multiple of only 11.8x and has a PEG Ratio of 0.8. In addition, LTM's P/S, P/B, and P/CF multiples are also extremely low, and LTM's share price will appreciate significantly if LTM reaches its long-term (3 or 5 year) averages. For example, if LTM's P/E multiple was to expand until it reached the stock's 5 year average multiple of 17.9, the stock's share price would reach $52.64 per share (a 32.60% increase). Likewise, if the stock's P/S, P/B, and P/CF multiples were to expand to reach their 5-year averages (or 3-year average for P/CF) the stock would rise approximately 30.78%, 28.56%, and 33.32% respectively. These multiples support a conclusion that LTM is currently approximately 30% undervalued.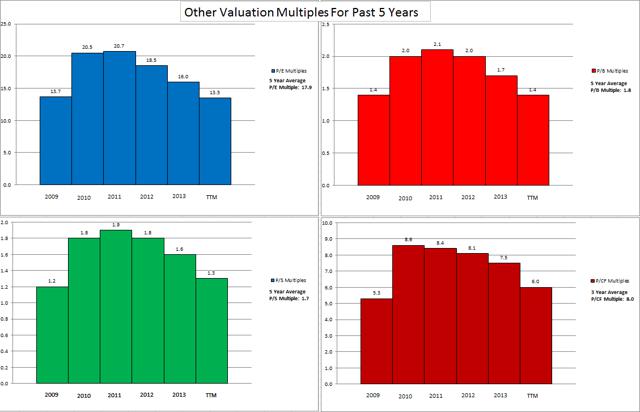 Data Source: Morningstar.com
Note: These multiples were calculated using year-end prices (i.e. LTM's share price on December 31st) and data goes up to August 11, 2014.
Technical analysis supports current buy timing (Chart 3)
While the two charts above show LTM is currently undervalued from a fundamental analysis standpoint, a technical analysis supports a similar conclusion. Charting LTM's price over the last three years in weekly time intervals, the recent price drop reflects breaking support in the $40 region and a decline until finding long-support at $38 (near LTM's low of $37.55 on November 25, 2011). Chart 3 (below) shows that LTM currently is oversold when looking at both the RSI (7 week) and Full Stochastics indicators. RSI values below 30 and Full Stochastic values below 20 are considered "oversold" and, as of August 8th, LTM had an RSI (7 week) value of 25.17 and a Full Stochastic value of 4.23. In terms of "buy triggers", most short-term technical traders will wait to see RSI pass above 30 (from oversold territory), and the black line in the Full Stochastics indicator cross above the red ("trigger") line.
Long-term traders should note that LTM is currently moving higher after reaching a long-term support zone, formed by a combination of the long-term trend line (in green) and a long-term support line (in black). Further, the Money Flow Index ((MFI)) indicator barely moved lower over two week period (from July 21 to August 01) where LTM declined by 19.13%, a very good intermediate-term (1 year+) signal as it means that there were fewer investors willing to sell their shares during the recent decline than there were during previous declines. [The MFI is calculated based on changes to "money flow" (typical price x volume); where MFI moves in the opposite direction as the share price, the divergence can be a leading indicator of a trend change.] This can also be seen by the fact that trading volume was lower during the most recent decline, in July, than it was during the decline that took place in May (red arrows). Indeed, the fact that the MFI indicator actually moved higher during the trading week that began on July 28th is actually a small bullish divergence.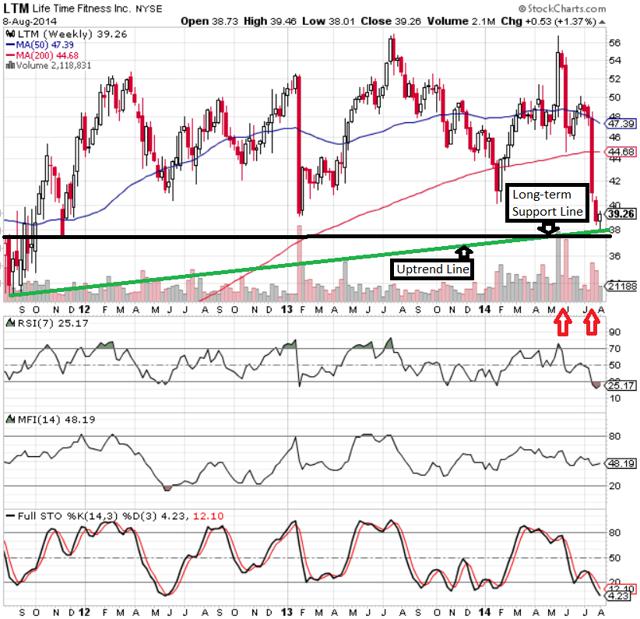 Data Source: Stock price data and indicators from Stockcharts.com
Note: Data for chart through August 8, 2014. LTM closed at $39.70 on August 11, 2014, which marked a "swing low."
In summary, LTM is nearing a major bottom, and is currently 30% undervalued. These factors support a target price of $53, approximately 35% higher than the stock's closing price on August 8th. LTM's historical price velocity supports a 12-month window for this target. For those looking for an entry point, look for LTM to set a "swing low" (a price bar with a higher high than the previous price bar) at a major support level with all momentum indicators moving higher. LTM closed at $39.70 on August 11, 2014, and this marked a "swing low," however, it is still a tentative swing low because the trading week has not ended yet. Therefore, a good entry point may be seen as soon as this week.
I see major long-term support for LTM at around $37.50 (approximately 6% lower than its current price), if that support level breaks then the next support zone that I see is in the $33-$34 region.
LTM's recent price drop suggests a risk that any increase in price will be short term. Therefore, a conservative timing approach suggests delaying entry until LTM forms a major long-term base, possibly through a "double bottom" chart pattern. This supports a conclusion that 12 months may be necessary for LTM to reach its price target.
LTM business model creates barriers to entry in an industry in which few barriers exist
LTM's upfront capital investment of $30-50 million in a club is exceptional in an industry where low-end gyms can be opened for $200K. These huge capital investments definitely help a Life Time Fitness center standout from its competitors' establishments, and the beauty of a Life Time Fitness center needs to be seen to be believed: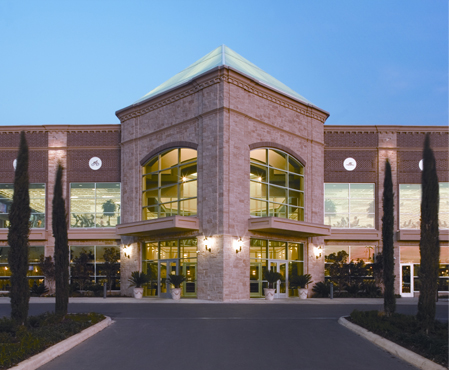 Source: Life Time Fitness website (New Club Openings)
As of August 6, 2014, there are 112 Life Time Fitness and Life Time Athletic Centers in operation, all operating on a "healthy way of life" mentality. Most centers include an expansive selection of premium amenities and services in a resort-like setting. Amenities include indoor and outdoor swimming pools, basketball and racquet courts, personal training and group fitness programming, child care centers, cafes and spas. In short, a Life Time Fitness center offers the beauty and amenities of a country club at a reasonable membership price.
All of the Life Time Fitness centers' features help differentiate the company from its competitors, which it is extremely important for LTM to be able to do considering the fact that it is a member of the health club industry. New gyms seem to be popping up all over the place recently, which is a sure sign that the health club industry is becoming increasingly fragmented.
The luxurious nature of LTM's centers makes competing against them extremely difficult. Their programs typically surpass anything a competitor offers. LTM creates a first-mover advantage upon opening a Life Time gym in a particular market, which dissuades new entrants and potential copycats. The business model, which depends on opening new centers, creates a second barrier to entry given the high risk associated with opening large centers for entrepreneurs and private companies.
LTM has experienced solid growth over the past five years
LTM performed very well financially over the last five years, suggesting that the company will quickly recover from its current rough patch. The two charts below show that LTM has been growing its top and bottom line extremely quickly over this period: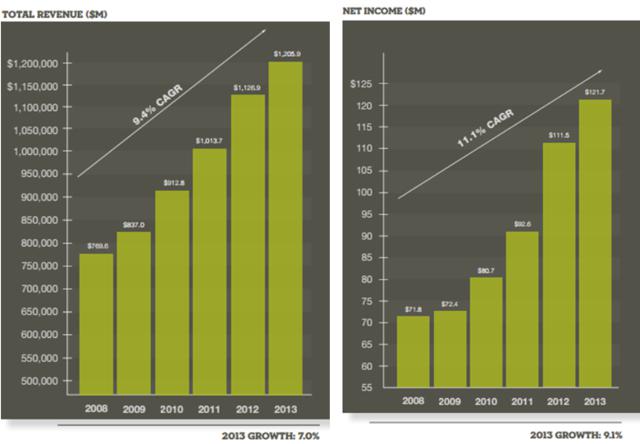 Source: April 2014 Life Time Investor Presentation (Investor Relations); data through 2013.
The growth in LTM's top and bottom line has largely been the result of the successful opening of many new Life Time Fitness centers, the steady increase in "Access and Non Access Membership Dues," and the growth of "In-Center Revenue." The increases in membership dues and the growth of in-center revenue can be seen in the following two charts: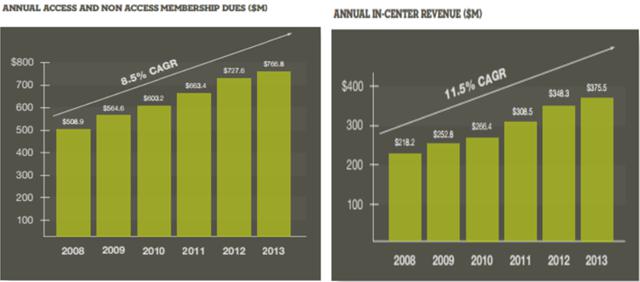 Source: April 2014 Life Time Investor Presentation (Investor Relations)
All of this growth has translated into LTM having a 9.3% CAGR in EBITDA over the past five years. This is exactly the type of organic growth that investors want to see from a company, especially in an industry where most of the growth comes from capital the building (and operation) of new centers.
Strong financials relative to competitors
The U.S. health club industry had revenue of $21.8 billion in 2013, while LTM had revenue of $1.2 billion in that year (5.53% market share). The industry had a CAGR for revenue of 3.4% over 5 years; LTM's 9.4% CAGR is 2.8x that of the industry as a whole.
Further comparisons get tricky. Ordinarily, one would want to compare a company's fundamentals against the average of others in its industry. In LTM's case, however, the "industry" contains only two publicly traded companies. Yahoo Finance and Morningstar include LTM in industries that the company doesn't deserve to be in. For example, Morningstar includes LTM in the "Leisure" industry, which includes companies like Priceline Group Inc., and Yahoo includes LTM in the "Sporting Activities" industry, which includes companies like Speedway Motorsports Inc. Yahoo Finance lists some of LTM's privately traded major competitors as 24 Hour Fitness Worldwide Inc., Bally Total Fitness Holding Corporation, and Gold's Gym International Inc. In the absence of publicly available financial information for these companies, comparing LTM to its real competitors is impossible.
These qualifications limit the utility of comparisons with LTM's only publicly traded competitor, Town Sports International Holdings, Inc. (NASDAQ:CLUB). Such comparisons are as follows:
LTM Compared To Only Other Publicly Traded Competitor
Life Time Fitness, Inc.

Town Sports International Holdings, Inc.

Share Price (On 8/8/14)

$39.26

$4.09

Market Cap (On 8/8/14)

$1.5B

$98.7M

Price/Earnings

13.3x

-

Forward Price/Earnings

11.5x

-

Price/Book

1.4x

-1.9x

Price/Sales

1.3x

0.2x

Price/Cash Flow

5.8x

2.3x

Revenue Growth

(3 year average)

9.7%

0.6%

Net Income Growth

(3 year average)

14.7%

-

Gross Margin

41.7%

21.0%

Operating Margin

17.9%

3.0%

Net Margin

9.5%

-0.6%

ROA

5.0%

-0.6%

ROE

10.8%

-

Debt/Equity

1.0

-
All data provided by Morningstar.com. Data as of Q2 2014.
The chart above shows LTM's strength relative to CLUB, making LTM the best option for investors looking to get into the health club industry.
Further, since going public on July 26, 2004, LTM has outperformed the S&P 500. As of August 11, 2014, LTM is up 114.59% over its IPO price of $18.50, which is significantly better than the S&P 500's gain of approximately gain of 75% over the same time period. LTM's outperformance has been even more significant since the S&P 500 bottomed after 2008-2009. Since March 09, 2009, when the S&P 500 marked its lowest closing price following the recession, LTM has significantly outperformed the market and CLUB. This can be seen in the chart below: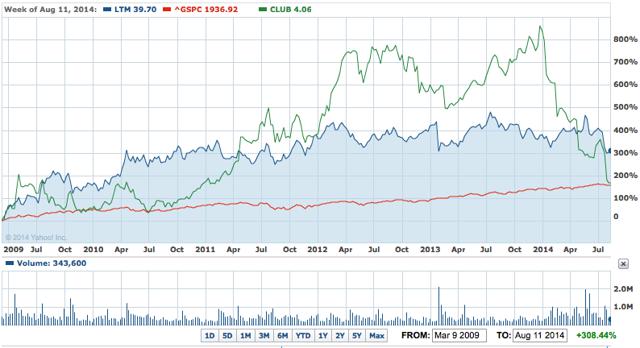 Source: Yahoo Finance (interactive charts)
Notably, in contrast to its strong historical performance, LTM has significantly underperformed the S&P 500 in the last six months, in marked contrast to its usual seasonal performance.
Seasonal performance further supports buy timing
LTM previously has outperformed the S&P 500 during the first half of each year. This can be seen in the following "Relative Seasonality" chart, which compares LTM's average monthly performance over the past five years against the S&P 500's average monthly performance over the same time period: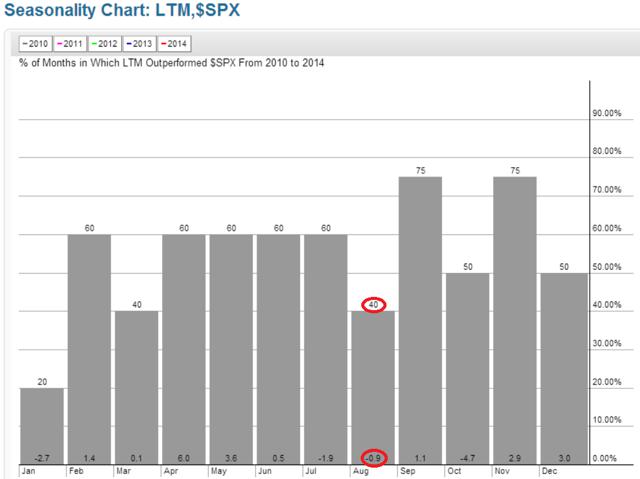 Source: Stockcharts.com (Seasonality Charts)
Note: As defined by Stockcharts, the seasonality tool calculates two numbers: the percentage of time the month is positive and the average gain/loss for the month. The number at the top shows the percentage of time the security closed higher for that month. The number at the bottom shows the average gain/loss for the selected time period.
To create the "Relative Seasonality" chart above, I compared LTM to the S&P 500 ($SPX) over the past five years. It should be noted that the figures for August (circled in red) are only as of August 8, 2014. Regardless, the chart clearly shows that LTM is working itself through one of its worst historical performing months, and it is about to enter a long period where it will probably begin to outperform the S&P 500. Stockcharts data currently indicates that LTM is negatively correlated to the S&P 500. Being negatively correlated to the S&P 500 should help LTM outperform the rest of the market, particularly if the market experiences a decline in the months ahead. Given that I believe the S&P 500 is about to experience a 10-15% correction, I believe that this is a very positive factor for LTM in the short term.
Note: Although data indicating that negative correlation is not shown, it can be easily found using the "Correlation" indicator in a chart of LTM (found by pulling up a chart for LTM from Stockcharts.com's "Free Charts" tab).
LTM is well-positioned to leverage positive economic tailwinds, with long-term growth potential
While LTM's growth over the past five years has been excellent, as noted above, that growth slowed in 2014. Data from the company's 10-Q filings for Q2 2014 indicate that LTM's Total Revenue has only grown 6.62% (y/y) in the first half of 2014. Meanwhile, LTM's net income declined by 5.17% over the same time period. This slowdown in top and bottom line growth caused investors to become concerned about the company's prospects, dragging down its share price so far this year (-16.47% YTD). To what extent do LTM's value prospects offer long-term potential?
Four issues impact a long-term hold decision over the coming year: the increased social focus on healthy lifestyles; member attrition rate; the share repurchase program; and earnings growth rate. I address each in turn below.
Healthy Lifestyles
LTM continues to benefit from increased focus on healthy living, driven by an aging U.S. population and increasing health care costs. Pioneers such as Whole Foods Market (WFM) in the "healthy life" space have seen a huge influx of customers over the past two decades, and more recently the space has become much more crowded as new companies attempt to enter. Consumers have proven that they are willing to pay a little more to live healthier, a willingness limited by consumer confidence. "Healthy life" companies were disproportionately impacted by the recession, yet stand to disproportionately benefit as the economy recovers. Further, health insurance plans increasingly incentivize their members to join health clubs in order to keep future medical costs down, a trend that will only increase in the current healthcare environment.
Attrition Rate
Like others in its industry, LTM focuses on its attrition rate (loss of gym members). Approximately a third of all members do not renew their memberships each year, as seen in the chart below:

Source: April 2014 Life Time Investor Presentation (Investor Relations)
Note #1: Definitions from company: "Quarterly Attrition"- total membership terminations from Life Time Fitness for the quarter divided into average beginning month total membership balance for the quarter. "Annual Attrition" - total membership terminations from Life Time Fitness for the trailing 12 months divided into average beginning month total membership balance for the trailing 12 months
Note #2: LTM's Q2 2014 Attrition Rate % (not shown) was 8.3%.
LTM's revenue model relies on attracting gym members through top-quality facilities and services. If, however, new members are not retained year over year, member opportunities for each location will fade over successive years.
***At this point, I would like to state that I look mainly at yearly attrition rates and not quarterly attrition rates, because I believe that quarterly attrition rates are much more volatile and less predictive of future trends.***
Therefore, I do not expect quarterly changes in LTM's attrition rate to significantly impact company's financial performance (and thus stock performance) over the next twelve months. However, if LTM's FY 2014 and FY 2015 results do not reflect an improvement in membership retention (i.e. a lower attrition rate), long-term risk for this stock will increase and the company's stock price will suffer.
The company is addressing the problem. In LTM s Q2 2014 Earnings Call, CFO Eric Buss indicated that the company's "trailing 12-month attrition [was] 35.8%," which is in line with the rate for FY 2013.
Further, although LTM's attrition rate is high compared to some of the company's competitors, it has remained relatively stable over the past three years, going from 31.3% for FY 2011 to 35.8% in FY 2013. While this may seem like a large increase, one needs to take into account the fact that total Annual Access and Non Access Membership Dues have increased by $103.4M (+15.59%) over the same time period. Few competitors can claim that they were able to grow their membership base and barely increase their attrition rate, while increasing the amount that "consumers" need to pay by 15.59% in only three years. Moreover, LTM's 8.5% CAGR for Annual Access and Non Access Membership Dues over the past five years is impressive.
Finally, while an increasing attrition rate is definitely a long-term concern for LTM, it is only a concern if the company is unable to grow its total membership and membership dues. Basically, LTM's attrition rate creates a barrier only if the company is unable to add more members than it loses, and is unable to charge its total membership base more for each membership subscription. Data from the company's Life Time Investor Presentation indicates that "Access Membership Dues represent 64% of total revenue and 98% of total Membership Dues," so looking at changes in Access Membership Dues will be very important when continuing to re-evaluate the company's long-term prospects.
So far in 2014, LTM has delivered $401M in Membership Dues, for the six months ended June 30th (1H 2014), which represents a 5.45% increase from the same period last year (1H 2013). Additionally, in Q2 2014, total Membership Dues grew 5.31% (y/y). These growth rates are definitely lower than the 8.5% CAGR in total Membership Dues that LTM saw over the past five years, and these slower growth rates indicate that LTM may be having a more difficult time raising dues now than it had in the past few years. Eric Buss attributed the slower growth in membership dues to "…a slight decrease in Access Membership," which can be seen by the fact that the total number of Access memberships numbered 712,296 as of June 30, 2014, when it numbered 713,138 at the same point of the year in 2013.
However, one should note that the number of Total Memberships increased by 10,155 (+1.25%) in 1H 2014 vs. 1H 2013, which was completely driven by a significant increase (+11.03%) in the number of Non-Access memberships over that time period. This acts to counter the point that LTM has run into significant headwinds when trying to grow its total membership base, because the 1.25% growth in Total Memberships for 1H 2014 is actually better than the 0.3% growth rate in Total Memberships that LTM saw for FY 2013. This also underscores LTM's goal to significantly increase its number of Non-Access memberships, which currently make up an extremely small portion of LTM's total Membership Dues (only 2% for FY 2013). Termination of Non-Access memberships has also driven LTM's attrition rate higher recently but, as I previously mentioned, LTM has been growing its number of Non-Access memberships extremely quickly. This leads me to believe that the higher attrition rate that LTM has seen recently is not a completely accurate indication of whether or not LTM's members are happy with their service, and LTM's rising attrition rate is less of a concern than most investors believe.
Note: Life Time Fitness defines Non-Access membership as an option "for members who do not access the center, but still want to maintain certain member benefits." Access membership is just the typical monthly membership pass that individuals or families are able to buy. The company also reports, "our typical monthly Access membership dues range from $45 to $160 per month for an individual membership and from $75 to $340 per month for a couple or family membership. Our typical Non-Access dues are $10 to $20 per month for an individual, couple or family membership" (From Company's 2013 10-K filing).
Share repurchase program
The company's share repurchase program provides a hedge against long-term risk. Although LTM does not have a dividend, in its Q2 2014 press release the company announced a repurchase program of up to $200 million of its outstanding common stock. Under its 2013 program, LTM repurchased approximately 3.6 million shares at a total cost of approximately $171 million. The new program renews the previous repurchase program, and allows the purchase of up to an additional $200 million in shares, or until June 30, 2016. Because LTM's market cap is only $1.5 billion, this program (at approximately 13% of outstanding shares) is significant. Continuation of this program offers long-term support.
Earnings Growth Rate
Finally, there are indications that LTM's earnings growth rate will begin to increase after this year, suggesting an ability to grow earnings at 5-10% for the next few years. LTM currently expects EPS of $3.00-$3.10 for FY 2014 (a 2.39-5.8% increase over FY 2013) and analysts' average estimate for EPS for FY 2015 is $3.34 (a 7.7-11.3% increase over the company's EPS expectations for FY 2014). The company has already proven its ability to raise prices above inflation of its fixed costs, and it has demonstrated its ability to generate organic earnings growth through membership due increases.
LTM's earnings growth rate should accelerate as new clubs begin to ramp, and this should fuel a re-rating of the company and a valuation of $60+. LTM is on the right track in this regard, and (in the company's Q2 2014 earnings call) Mr. Akradi reported, "…the centers we have opened in the last 18 months are performing beyond our expectation." LTM has plenty of room to grow throughout the U.S., and there are still numerous states that currently have only one (or zero) Life Time fitness centers.
Conclusion:
I see LTM as a great buy and hold opportunity for at least the next year, and I have a 12-month price target at $53. LTM must continue to address headwinds, in particular membership attrition, to be a solid long-term investment. Therefore, I am bullish on LTM for at least the next 12 months, with a long-term hold position possible if the company continues to demonstrate that it is capable of surpassing long-term obstacles. If the company's attrition rate begins to improve in the next two quarters and financials remain strong, a revised price target in the $60+ range is possible. LTM is a great value stock, and the current price provides an excellent entry point.
Disclosure: The author is long LTM. The author wrote this article themselves, and it expresses their own opinions. The author is not receiving compensation for it (other than from Seeking Alpha). The author has no business relationship with any company whose stock is mentioned in this article.
Editor's Note: This article covers one or more stocks trading at less than $1 per share and/or with less than a $100 million market cap. Please be aware of the risks associated with these stocks.