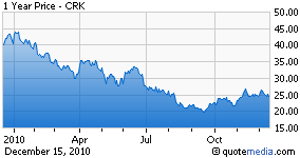 We are maintaining our "Neutral" recommendation on energy firm Comstock Resources Inc. (NYSE:CRK) with a target price of $28.
Frisco, Texas-based Comstock Resources is an independent oil and gas exploration and production company engaged in the acquisition, exploration, and development of oil and gas properties. The company's operations are concentrated primarily in two regions in the U.S., East Texas/North Louisiana and South Texas.
As of year-end 2009, Comstock had 725.7 billion cubic feet equivalent in proved reserves, of which approximately 94% was natural gas and 55% was developed. Approximately 70% of the company's 2009 proved reserves were located in the East Texas/North Louisiana region, 22% in South Texas, and 8% in other regions (mainly in Mississippi, New Mexico, Kentucky and the Mid-Continent). Production averaged 179.4 million cubic feet equivalent per day during 2009, comprising 93% gas and 7% crude oil/ liquid hydrocarbons.
Comstock has clearly emerged as a pure-play onshore operator following the divestiture of its offshore Gulf of Mexico assets in 2008, with a resource-play focused production base. Comstock's major position in the prolific Haynesville Shale play and existing Cotton Valley-centric East Texas producing assets provides it with a multi-year inventory of low-risk development drilling opportunities.
Supplemented with a robust balance sheet, Comstock remains well positioned to maintain a strong growth trajectory in the near-to-medium term.
However, the company's highly gas-weighted reserves/production profile and exposure to the inherently cyclical and volatile exploration and production sector offset these strengths and remain key areas of concern, in our view. In particular, Comstock's high natural gas exposure raises its sensitivity to gas price fluctuations, compared to its more-diversified independent peers with a balanced oil/gas production profile.
Also, being a relatively small player, Comstock faces strong competition from major oil companies and independent operators in acquiring properties and leases for the exploration, development and production of natural gas and crude oil. Competition is particularly intense with respect to the acquisition of desirable undeveloped oil and gas property leases. The principal competitive factors in the acquisition of undeveloped gas and oil leases include the availability and quality of staff and data necessary to identify, investigate and purchase such leases, and the financial means necessary to acquire and develop resources. We do not think that Comstock has the financial flexibility at this stage to make a major move on the acquisition front.
Considering these factors, we expect Comstock's growth potential to be restrained and see the shares performing in line with the market. Our long-term "Neutral" recommendation is supported by Zacks #3 Rank (short-term Hold rating), in line with its natural gas-focused exploration and production peer Cabot Oil and Gas (NYSE:COG).
Disclosure: No position