On top of the fact that financial reports are made from estimates, earnings forecasts, or estimates of the estimates, are built on even less solid ground. And, if you assume this ground is the ground built by a company, it's hard not to come to the conclusion that each company and forecast speaks its own language, because the interpretation of each is everything but consistent. Even little definitions, like net income and revenue are up for debate.
Add to this language barrier a hidden unknown like 'heightened regulatory scrutiny', and a bank like First Republic Bank (NYSE:FRC) has little to grab for when its shares drop as fast as they have over the past month (down 17.5% from 52-week high). But, is the move justified?
To-may-to, To-mah-to
First let's recalibrate a few definitions. Typically, earnings can be broken apart into three different headings: GAAP, Adjusted, and Core. Core is something you could also find titled adjusted, but it is used to help investors see what operations would have earned without several non-recurring items both good and bad. Adjusted earnings could also be called core, but investors would actually need to read the announcement to get to the bottom of what is really being moved around. It may end up being core, or it could be GAAP earnings adjusted for another item that isn't apart of regular operations (like when BAC reports legal charges). GAAP is what you find on financial reports, not necessarily earnings reports, and it is a little harder for a company to work with because it doesn't always convey what management feels is really going on. But, it is a somewhat uniform base that can then be molded into either adjusted or core.
That took a little longer than I wanted to clear up, but it was a necessary start because then you have estimates or earnings projections to deal with. This is the number that an analyst expects the company to report, and it is based on historic numbers and trends that are likely to materialize over the short-term future. You would think that the estimate was based on core, because it should be easier to calculate and is more regular, but one-time events are generally included, and that is what the bank calls adjusted. Like a shotgun, a company's net income is sprayed out into different results that gives analysts a better chance of being correct.
This, however, is for analysts to decide later, because at the end of the day, the speed of technology is so fast that it just matches up the projection with whatever the company decided to put first on its press release. Misleading or not, the first number that First Republic Bank choose to report was core earnings, which was both lower than GAAP and earnings' estimates. Translation: Earnings MISS (grab your red pen).

Above you see Q2 EPS of $0.69 and revenue of $388.8 million. FRC's GAAP, or reported, EPS and revenue was actually, $0.76 per diluted share and $410.1 million. This was one of the main factors that lead to the shedding of $1 billion from the bank's market cap. We are talking about pennies and $22.43 million that was or wasn't what someone expected.
In addition to this, even though those red letters above project feelings of rage and disappointment, they helped the company build up some very positive bullet points in the highlight section of the press release: (note that the core EPS of $0.69 was actually 7.8% higher than last year, and that book value is up 14.1% YOY).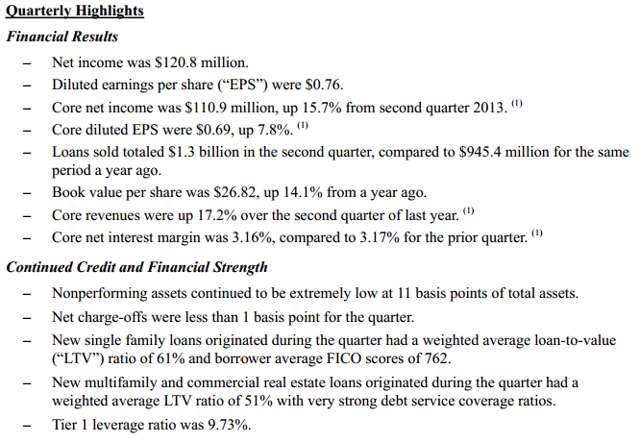 More Bad News
Adding to the pain inflicting red font, the bank's shares fell due to the increased regulatory expenses that will come when assets surpass $50 billion. With $46.2 billion in assets now, this is an event that will probably occur within the next two quarters. But, even then, the changes will not occur until the bank has had average assets of $50 billion or more over four consecutive quarters. In other words, this is a fear that is more than one year away. One year away being materially longer than the amount of time it took the bank's shares to drop overnight. And, most of the real strain that comes by crossing this line is in the ability to grow assets past what the company's leverage limits will allow (and that's not saying that the bank is even close to crossing this line now). Something that usually implies safety and has helped support higher premiums at other banks.
Anticipating for this change, the bank is already starting to build infrastructure to meet the higher standards. This quarter's non-interest expenses, for instance, were up 17.9% YOY, and most of this had to do with an increase in professional fees paid for compliance activities. Going forward, this front-loaded number will help smooth out expenses and alleviate some of the negative effects that will lead to a lower efficiency ratio. I don't expect there to be one mega event. At 54.3%, FRC's efficiency ratio was much better than last quarter's 57%, but higher than the 51.7% shown in the second quarter of 2013.
Is This Happening Anywhere Else?
New York Community Bancorp (NYSE:NYCB) is a good comparable because it will most likely cross the $50 billion asset boarder next quarter, but it is in a better position to absorb additional costs due to its lower efficiency ratio of 43.37% (if efficiency ratio is all you care about - it may be used for comparative purposes, but it doesn't mean that a company with a better number is going to have higher returns).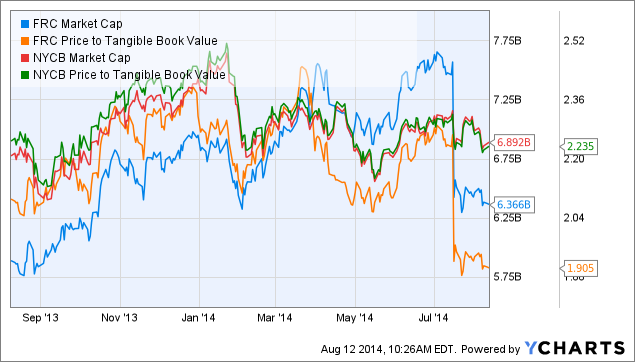 FRC Market Cap data by YCharts
FRC's efficiency ratio may be higher, but shares are now a lot cheaper than New York Community Bancorp's after the company shed over $1 billion from its market cap. Under 2Xs tangible book value, shares trade at a lower valuation than they have for more than a year. And, FRC is still growing faster than NYCB with return on equity of 11.67%, compared to NYCB's recently reported ROE of 8.23% (which are both similar to average returns over the past year).
Both companies have extremely clean loan portfolios (FRC only has nonperforming assets at 0.11% of total assets, NYCB's balance represents only 0.25% of total non-covered loans), but I would actually say that NYCB shares have heavier headwinds to deal with.
Going forward, the new regulations mean that both companies are going to need to start beefing up their equity accounts, but NYCB's dividend policy requires close to a 100% payout, which means that little to nothing is being added to book value. NYCB's Tier 1 ratio is also lower at 11.59%, compared to FRC's 13.74%, and it has been falling as asset growth continues to outpace additions to the equity account; opposite of FRC's strengthening Tier 1.
With these two things in mind, the market is either right about revaluing FRC, and NYCB's time is coming, or it is wrong and this is an very attractive time to buy the oversold shares.
Bottom Line
In between the majors and the hundred other regional banks throughout the U.S., the regulatory scrutiny at the top of the financial sector has finally started to fall onto growing banks with asset balances similar to First Republic Bank's. Some feel this level is 'too small to torture', but the reality is that equity can only fuel asset growth so far under current capital requirements.
The recent sell-off is far from justified because the bank is, and has been, increasing assets at a pace that the growing equity account can handle (evidenced by the growing Tier 1 ratio). And, it's equally hard to point at the 'earnings miss' as the reason for the fall. If the bank was paying out close to 100% of earnings, like NYCB, or growing at a rate of 20+% a year, it wouldn't be hard to forecast that results were going to slow down. But, that just isn't the case here, and this looks like a great time to buy.
Disclosure: The author is long FRC. The author wrote this article themselves, and it expresses their own opinions. The author is not receiving compensation for it (other than from Seeking Alpha). The author has no business relationship with any company whose stock is mentioned in this article.