In the last several months I have written about Orient Paper (NYSEMKT:ONP), Gushan (NYSE:GU), and China Ritar Power (OTC:CRTP), which have performed +50%, +22% and (15%), respectively, since the first piece was published on each. Now I am highlighting another one of my investments that I believe is drastically undervalued. China Wind Systems (NYSEARCA:CWS) is a supplier to players in the wind and solar energy space. It is growing rapidly, adding numerous large contracts in 2010, is consistently profitable, and now very recently is trading below its book value and well below its annual sales. Given its significant growth and proven profitability, I believe a conservative fair value estimate would be 1.5X 2010 sales, or roughly $6.50 per share. At the time of this publication the shares traded around $3.15, or $57MN market capitalization.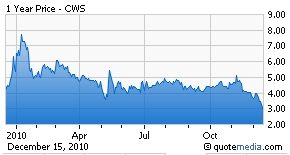 Below, I will highlight certain aspects of the company's financial statements.
Income Statement
From CWS's 2009 10K filed this year:
2008 Sales: $42.3MN
2009 Sales: $53.5MN
2010 Guidance: $80.75MN (mid-point of range provided)
The compounded annual growth rate of sales from 2008 to 2010 is 38.2%, or an absolute growth rate of 91% in two years. Given the sales guidance of $80.75MN and CWS's current market cap of $57MN, this makes for a 2010 price to sales ratio of .71x. In other words, you can buy CWS today for significantly less than its current year sales. And the company is profitable and growing.
CWS reported $7.7MN net income in 2009 and has provided guidance for $12MN net income in 2010. This makes for a 2010 P/E of 4.75X.
Balance Sheet
Let's take a glance at the balance sheet. First, the company has no long term debt. That is good news for me when looking at risky and volatile investments. Second, the company has a history of increasing shareholder's equity. Since the beginning of this year to the first three quarters of 2010, CWS has increased shareholder's equity by 26%. As of the latest quarterly release, shareholder's equity stood at $57MN. Remember that today's market cap is $57MN, which means an investor can buy CWS at its theoretical liquidation value, and the company is profitable and growing.
Cash Flow Statement
An important check for me is to take a look at Cash Flow from Operations to make sure that the income is flowing through as cash. From the latest quarterly filing, we can see that for the first nine months of 2010, CWS has reported $7.9MN in net income and $7.3MN in cash flow from operations. Increases in A/R (which I am fine with due to rapidly growing sales translating into growing A/R), are being offset by depreciation and A/P. The cash flow statement checks out.
Summary and Risks
So, now we are left with a company that trades below its book value, is profitable and growing sales at an annual rate of 38.2%, is operating in a growing China alternative energy space, has no long term debt and whose management is bullish on the company's outlook.
From the latest quarterly release, management's outlook was bright:
"We anticipate continued growth from our wind power business as industry analysts estimate that the Chinese government will spend as much as RMB1.5 trillion, or $224 billion, on wind power over the next decade, representing 30% of the RMB5.0 trillion planned alternative energy spending," said Mr. Wu. "We also see potential expansion and growth opportunities in different industries within the alternative energy sector, such as our recent conditional purchase contract to supply precision components for solar cell manufacturing equipment."
In addition to possessing the risks of the Chinese small cap stock world, the company also has a shelf filing in place. I am not worried about this right now as the stock's valuation is so low that it would make little sense to execute the filing any time soon. If the stock triples from its price today of around $3.15, it could be a different story.
My philosophy has always been to allocate capital to assets whose market value seems largely disconnected from its intrinsic value. Given the growth on which CWS is currently executing, its balance sheet risk profile, its <1x price to sales and its 1x price to book, I have a large allocation to this security and believe fair value to be roughly 1.5x 2010 sales, which would equate to roughly $6.50 per share.
Disclosure: I am long CWS.