Silver Wheaton (SLW) just announced its second quarter earnings figures, and admittedly they were somewhat disappointing. The company reported revenues of $148.6 million, earnings of $63.5 million ($0.18/share) and cash-flow of $102.5 million ($0.29/share). These figures were down from the second quarter last year as the price of silver was weaker and silver equivalent production fell by approximately 4% to 8.4 million ounces. The company also reported a $0.06/share dividend.
Silver Wheaton's figures show a lack of growth, and this reflects the fact that the company hasn't been making new streaming deals. While it bought a small royalty recently on Chesapeake Gold's (OTCPK:CHPGF) Metates Project - a topic I discuss here - this royalty will not generate any cash-flow for many years and even then it will be relatively small compared to the size of the company.
But while the company hasn't been buying streams recently it does have some growth as its gold stream on Vale's (NYSE:VALE) Solobo Project should show growth as that company expands the project. Furthermore Primero Mining (NYSE:PPP) has been expanding production on its San Dimas Project on which Silver Wheaton owns a silver stream. It also has some other projects coming online over the next few years, continuing a history of growth which is illustrated on the following chart.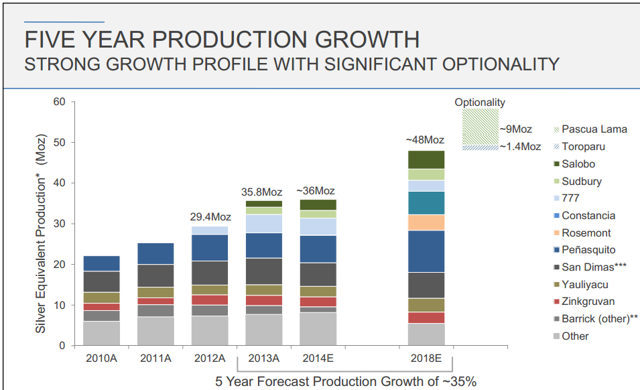 (Source: Silver Wheaton's July Presentation)
With this in mind, and given the recent weakness we have seen in the silver market I would be hesitant to buy Silver Wheaton as it trades above $27/share, especially since I recommended it just 6 1/2 months ago at $21.40/share. As a streaming company it has been performing very well as investors prefer this business model to miners given its relatively fixed, low costs. But this preference means that the shares trade at a high valuation. Hopefully the lack of immediate growth we saw in this most recent quarter will scare off some investors and provide long-term investors with a chance to add to their positions before silver begins its next move higher.
Disclosure: The author is long SLW. The author wrote this article themselves, and it expresses their own opinions. The author is not receiving compensation for it (other than from Seeking Alpha). The author has no business relationship with any company whose stock is mentioned in this article.