In real estate its, location, location, location. In stocks, its growth, growth, growth.
In this slow-growing US economy, recession bound Europe, and wobbly China; growth is precious. But, growth should be evident over time, not just recently.
Growth of revenue is key for the long-term, because growth of earnings without growth of revenue is unsustainable.
For investors who need to or want to generate dividend income as well, dividend growth and growth consistency is important too.
Arguably, high quality stocks are more likely to be able to continue a level of consistent growth of revenue and dividends over the long-term.
Of course, it's not a good idea to overpay for growth, so growth at a reasonable price is an important risk moderator, and contributor to the likelihood of future price gains.
With these general concepts in mind, we asked what stocks among the 4,700+ NYSE and NASDAQ stocks might meet those tests.
Filter Results:
There are 260 stocks traded on the NYSE and NASDAQ that generated at least 3% growth of revenue and of dividends over 5 years, 3 years and 1 year.
There are 550 stocks that paid and increased dividends each year for at least 5 years.
There are 577 NYSE or NASDAQ stocks that are rated investment quality by Wright's
There are only 94 stocks that meet the growth, dividend consistency and quality criteria
Let's reduce that list of 94 to a smaller, more manageable list with some valuation criteria:
Valuation Filter Criteria:
PEG ratio of 2 or less (growth at a reasonable price)
Yield of at least 1.5%
Price change required no worse than -10% to reach each of these composite 5-year average valuations: (5-yr av P/S + 5-yr av P/B)/2; and (5-yr av P/S + 5-yr av P/B + 5-yr av P/Div)/3
Seven (7) stocks of the 94 passed the valuation filter criteria.
[Important Note: This article is provided as an information aid to do-it-yourself investors. This IS NOT a specific recommendation to buy or sell any security, nor a statement of suitability for any particular investor.]
Quality, Dividend Consistency, and PEG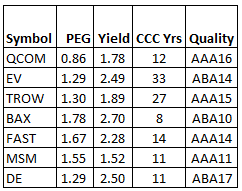 Street 12-Mo Target Price, and % to 5-yr Valuation Multiples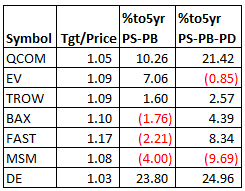 The Street target price gains are not impressive. QCOM and DE have the lowest Street targets, but have the highest price change to revert to 5-year mean valuation multiples.
Some of the specific analyst recommendations below are more encouraging.
Analyst Opinions
Only the first 4 of the 7 are absent a negative recommendation by either Reuters StarMine, Standard and Poor's Capital IQ, or ValueLine.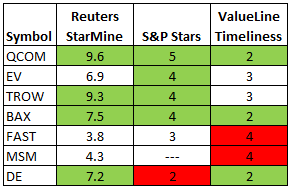 These 7 stocks are not momentum stocks. In fact, they have under-performed the S&P 500, which may partly explain their PEG of 2 or less.
1-year Percentage Performance Charts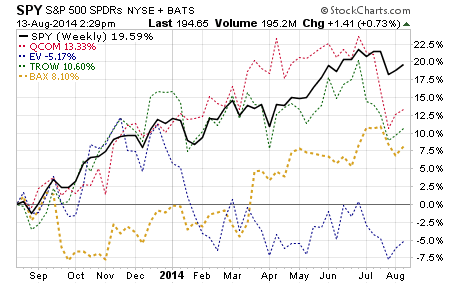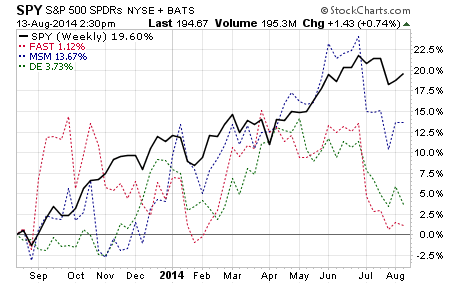 External Data Sources
These links to Yahoo Finance, Morningstar, BarChart and StockCharts provide continuously updated fundamental and technical information about the stocks.
Do your own research to see if any of these stocks are potentially suitable for your portfolio considering your goals, limits and general circumstances.
The stocks that pass these tests change with market pricing and company performance, so don't consider this a static list -- just a starting place to look in this time period.
In our next article, we will conduct the same study, but without the dividend requirement. While dividends are not on everybody's stock shopping list, revenue growth should be on every investor's stock shopping list.
Disclosure: QVM has positions in QCOM, TROW and BAX as of the creation date of this article (August 13, 2013). We certify that except as cited herein, this is our work product. We received no compensation or other inducement from any party to produce this article, but are compensated retroactively by Seeking Alpha based on readership of this specific article.
General Disclaimer: This article provides opinions and information, but does not contain recommendations or personal investment advice to any specific person for any particular purpose. Do your own research or obtain suitable personal advice. You are responsible for your own investment decisions. This article is presented subject to our full disclaimer found on the QVM site available here.