Introduction
The "Buy-The-Dip' High-Yield" (BTDHY) portfolio is designed to be relatively active, buying the dips on high-yield securities such as REITs, mREITs, BDCs, MLPs, high-yield bonds and CEFs in order to enhance total return. The BTDHY portfolio turned in a strong 1H 2014 performance thanks to market optimism and falling interest rates boosting the performance of both equity and income assets. On an absolute basis, the portfolio gained 13.91% (27.83% annualized) net of fees and taxes, competitive with most underlying indexes. After accounting for leverage, the portfolio gained 11.81% (annualized 23.63%). Moreover, the portfolio yielded 8.97% annualized on a 6-month trailing basis, or 7.62% if leverage is accounted for.
This article highlights 3 REIT ideas (1 traditional REIT and 2 hybrid REITs) for the Buy-The-Dip High-Yield portfolio in August 2014. These stocks have all declined significantly in the past few weeks, and present attractive entry points for the high-yield investor. Buying the dips in high-yield stocks or funds is a potential strategy to lock in higher yields and achieve potential capital appreciation. In the past few days, the BTDHY portfolio has made purchases in these names, locking in yields of 6.4 to 9.5%.
1. Lexington Realty Trust (NYSE:LXP) - 6.4% yield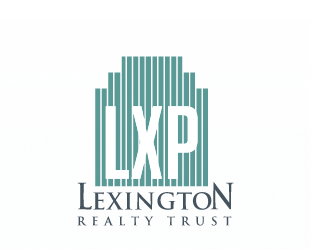 LXP is one of the cheapest triple-net REITs there is right now, with a P/FFO multiple of around 10X compared to over 15X for Realty Income (NYSE:O), W.P. Carey (NYSE:WPC) and National Retail Properties (NYSE:NNN). The company specializes in office and industrial properties. The recent drop in share price of this mid-cap REIT might have been attributed to a slight revenue miss of about 3% (overall +15.9% Y/Y), while its FFO was in-line.
I am confident in the management's ability to continue to diversify away from office properties and into more industrial properties, which should increase the quality of the dividend stream. From Will Eglin, CEO during the latest earnings call:
As we have stated before, one of our strategic objectives with our disposition activity is to achieve a better balance between office and industrial revenue and the part of our portfolio that has lease term shorter than 10 years. Recently the office and industrial mix in this part of our portfolio has been about 3:1 and we continue to be focused on managing this ratio down to about 2:1 over the next several years. This ratio was 2.8:1 for the six months ended June 30, 2014 so we have made some measurable progress this year.
The very low valuation of LXP is extremely attractive to value investors such as myself. Dane Bowler predicted a 30% upside potential for LXP within a year based on this deep undervaluation as detailed in his PRO article here (note that the share price of LXP was 4% higher at the time of the article).
Moreover, LXP's recent dividend growth history has been solid. Although forced to slash its dividend in 2009, it has now increased its quarterly dividend from $0.10 to $0.17, a growth of 70% in 4.5 years (CAGR = ~13%).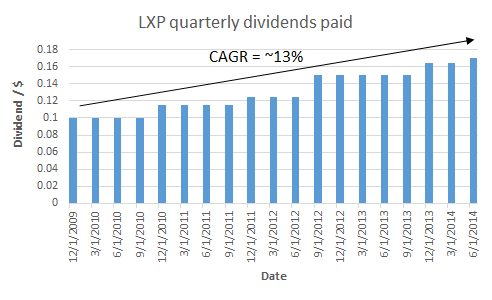 Moreover, as described in Brad Thomas's LXP article here, LXP has a very low payout ratio (around 60%) compared to other net lease REITs (around 80%). This allows it to pay down debt or fund acquisitions to further improve growth.
With the share price of LXP off around 8% from its recent highs, I "bought-the-dip" at $10.67. According to Yahoo Finance, 7 analysts have given rating targets on the stock, with a mean score of 2.1 out of 5 (1 = strong buy, 5 = sell), and a median price target of $12.50, representing potential upside of 17% from my purchase price. Its current yield is about 6.4%.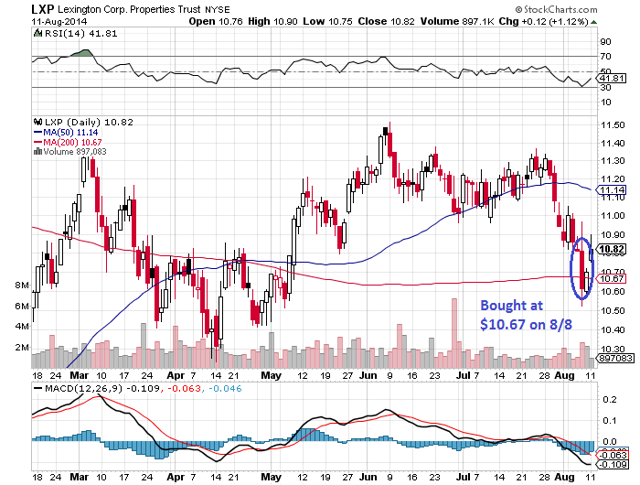 2. RAIT Financial Trust (NYSE:RAS) - 9.5% yield
From Bloomberg: "RAIT Financial Trust is an internally managed real estate investment trust. The Trust originates secured and unsecured credit facilities including bridge and mezzanine loans, preferred equity investments, trust preferred securities and subordinated debt for private and corporate owners of commercial real estate, REITs, and real estate operating companies and their intermediaries. It also offers a set of debt financing options to the commercial real estate industry along with fixed income trading and advisory services. In addition, RAIT Financial Trust owns and manages a portfolio of commercial real estate properties, and manages real estate-related assets for third parties."
(Note that while RAS is classified as a REIT, it also invests extensively in financial products. Therefore, its risk profile may be unsuitable for conservative investors of pure-play REITs. RAS is also a small-cap stock).
As detailed by Dane Bowler in a recent PRO article, RAS manages and owns a significant part of Independence Realty (NYSEMKT:IRT), a fast-growing, small-cap apartment REIT. Mr. Bowler makes a convincing argument that RAS is undervalued based on the fact that its share price performance (about -15% YTD) has been wholly disconnected from that of its subsidiary IRT (+17% YTD).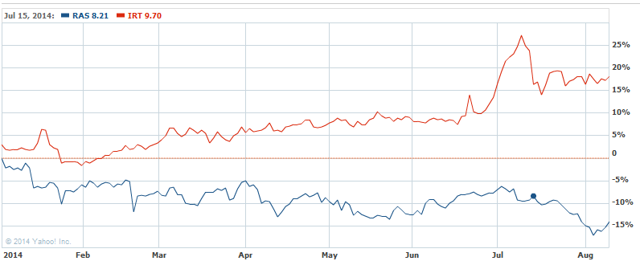 Besides Dane Bowler's article linked above, interested investors could also consult Thomas Sobon's RAS article here.
The financial crisis caused severe losses to RAS, and its dividend was suspended for over two years. However, after reinstating its regular quarterly dividend in 2011, its quarterly dividend has exploded higher from $0.06 to $0.18 in the past three years, representing an overall increase of 200% and a CAGR of 44%. Over the past 12 months, the dividend grew from $0.13 to $0.18, or an increase of 38%. While one should not expect the DGR to necessarily continue at this explosive rate, I believe the stabilizing financial environment in the US should continue to boost the growth of this high-yield, multi-strategy commercial REIT.
With the share price of RAS off around 10% from its recent highs, I "bought-the-dip" at $7.539. According to Yahoo Finance, 5 analysts have given rating targets on the stock, with a mean score of 1.8 out of 5 (1 = strong buy, 5 = sell), and a median price target of $10.00, representing potential upside of 33% from my purchase price. Its current yield is about 9.5%.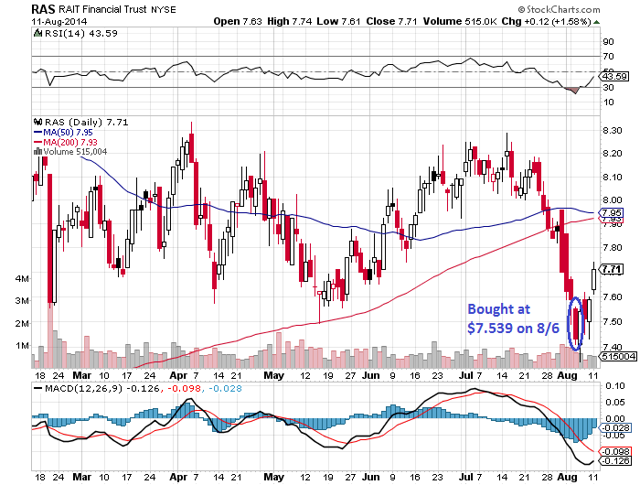 3. Hannon Armstrong Sustainable Infrastructure Capital (NYSE:HASI) - 6.4% yield

HASI is an interesting REIT because it specializes in sustainable infrastructure. From the company website: "Hannon Armstrong makes debt and equity investments in sustainable infrastructure projects. We focus on profitable projects that increase energy efficiency, provide cleaner energy, positively impact the environment, or make more efficient use of natural resources." Hence, this stock could be of extra interest to environmentally conscious investors.
(Note again that while HASI is classified as a REIT, it does not operate as a traditional brick-and-mortar company. The lighting, heating, cooling and other hard equipment or building components that HASI invests in are are considered to be "real property" to satisfy IRS requirements for REITs. HASI is also a small-cap stock).
Although its IPO was only recent (2013), the company has over 30 years of experience in this business. HASI recorded slight beats on both top and bottom lines in the latest quarter. In the latest quarter, management had stated that they were targeting 13-15% EPS growth in the coming quarter, with dividends to be raised in step with earnings growth.
Readers interested in this company could further consult Dividend Sleuth's article here and Tom Konrad's article here.
With the share price of HASI off around 10% from its recent highs, I "bought-the-dip" at $13.53. According to Yahoo Finance, 5 analysts have given rating targets on the stock, with a mean score of 1.8 out of 5 (1 = strong buy, 5 = sell), and a median price target of $16.00, representing potential upside of 20% from my purchase price. Its current yield is about 6.4%.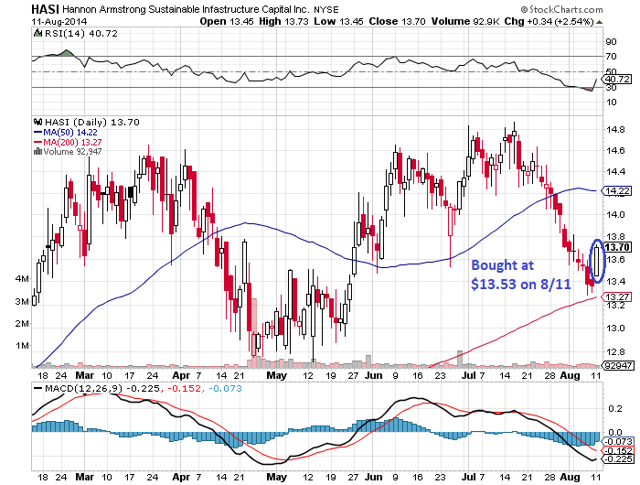 Concluding remarks
Time will tell whether these "buy-the-dip" opportunities turn out to be total return winners, or simply fodder for falling knives. In the meantime, yields of 6.4 to 9.5% (and growing) are enjoyed. Readers are encouraged to perform their own due diligence before investing in these securities.
Disclosure: The author is long LXP, RAS, HASI. The author wrote this article themselves, and it expresses their own opinions. The author is not receiving compensation for it (other than from Seeking Alpha). The author has no business relationship with any company whose stock is mentioned in this article.