A few things have surprised me this year. One of those surprises was how big the sell-off was in May; I was expecting a 5-10% sell-off to shake out weak hands in April, but not a 16% sell-off and certainly not anything like the flash-crash. The other surprise has been how long it has taken commodity prices to break out of their trading ranges in non USD terms.
To me, a pure definition of a bull market in commodities is when they are trading at multi-week highs in multi-currency terms, not just in USD terms. We certainly have a bull market in commodities in USD terms and now it appears as if a bull market in commodities is getting into gear in non USD terms. Note the behavior of the CRB in AUD and JPY terms. The AUD and JPY have been two of the better performing currencies over the course of the last two years, so one should take serious note when the CRB starts to trade at multi week highs in these currencies.
CRB Index in Australian Dollar Terms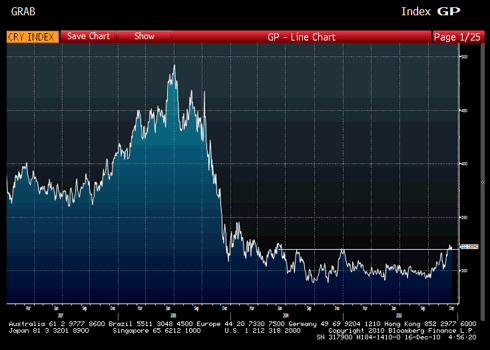 CRB Index in Japanese Yen Terms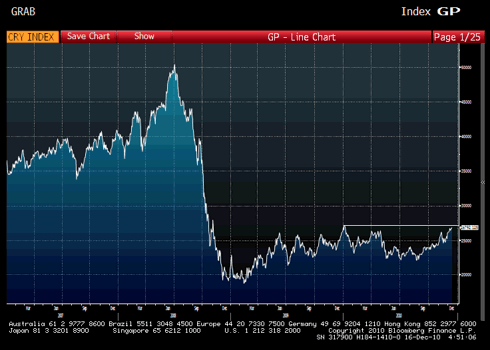 Now here is an interesting observation - have you noticed how the rise in the CRB Index in yen and AUD terms over the last two months has coincided with a rise in bond yields globally? Have you also noticed how the two charts above do not look materially dissimilar to emerging market yen crosses (like the ZARJPY, BRLJPY and the SGDJPY)?
We have detailed in our previous post how it appears that emerging market yen crosses are about to break out. Yes, it does look as if some fundamental theme is kicking into gear. I would guess that markets globally are anticipating a significant pick-up in inflation
Disclosure: I am long DBC and short the AUD and JPY against the long DBC position.