Yesterday (Aug. 13, 2014), the market advanced even after the poor retail sales report. S&P 500 (NYSEARCA:SPY) rose 0.67%, Dow Jones (NYSEARCA:DIA) rose 0.55%, and Nasdaq (NASDAQ:QQQ) rose 1.02%. But yesterday's major news was that retail sales in the U.S. had the weakest growth in six months, with nearly 0% growth, which is much worse than the forecast of 0.2%.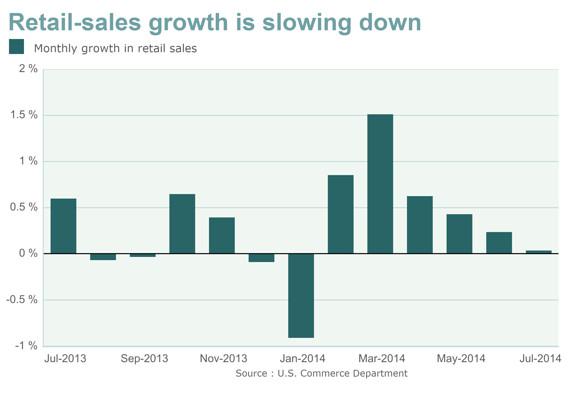 As shown in the above chart, retail sales in the U.S. have been continually declining since March 2014. Retail sales are a significant portion of consumer spending, thus playing a major role in the economy. Therefore, the current trend of retail sales growth and yesterday's July retail sales report are clearly negative signals for economic growth.
Despite the news, the stock market rose significantly yesterday. The rise was based on the speculation that the Federal Reserve will not raise the interest rates too soon due to the slowing of retail sales.
Nevertheless, whether the Federal Reserve is going to raise interest rates this year or next is irrelevant to the market's future. After the termination of Quantitative Easing (QE), the increase in interest rates will eventually follow (not much later). The question is: Can economic performance replace the low interest rates as the market driver?
In the last five years, low interest rates have played a key role in the skyrocketing market price. Low long-term rates due to QE allowed companies to buy back shares and distribute dividends, and low federal rates encouraged investors to buy shares on margin, as the graphs below show.
However, the low interest rates are saying bye-bye soon. Therefore, if the economic performance cannot replace the low interest rates as the market driver, the market will head downhill, and July's retail sales report is somewhat doubting the economic performance for the role.
In conclusion, yesterday's July retail sales report questioning economic performance as the market driver is a much more important factor than whether the Federal Reserve will raise interest rates this year or next.
Disclosure: The author has no positions in any stocks mentioned, and no plans to initiate any positions within the next 72 hours. The author wrote this article themselves, and it expresses their own opinions. The author is not receiving compensation for it (other than from Seeking Alpha). The author has no business relationship with any company whose stock is mentioned in this article.