News Corp. (NASDAQ:NWSA) recently released its Q4 and 2014 fiscal year results. Based on expectations, News Corp. posted lower-than-expected earnings, mostly attributed to its news and information services segment. The stock fell over $1 after the announcement, but is now back near its pre-announcement price of $17.50 a share.
Due to the complex structure of News Corp., I believe that value is best calculated using a sum-of-the-parts methodology, and that News Corp. is worth significantly more than its current market capitalization of ~$10 billion. My goal in this article is not to detail the intricacies of each asset, but a general overview of the company at large.
News Corp. has a diverse array of assets in many different stages of maturity. The main businesses include:
News and Information Services: The core of News Corp. representing 73% of revenues and nearly $700 million in EBITDA. This division includes Barron's, WSJ, The Australian, etc.
Cable & Subscription TV: News Corp. owns 100% of Fox Sports Australia, the leading provider of sports programming in Australia. As well, it has a 50% interest in Foxtel, Australia's largest pay-TV provider.
Digital Real Estate Services: News Corp. owns 62% of publicly traded REA Group (OTC:RPGRY, REA.AX), which runs Australia's largest residential property website.
Education: This is the Amplify business, which is a digital education business focused on creating digital products and services for the K-12 education system.
Publishing: Harper Collins is one of the world's largest publishers, and recently acquired the romance book publisher, Harlequin.
The sum-of-the-parts valuation goes as follows:
Education: The Amplify product is still in its infancy, and has had difficulties initiating the integration into classrooms. It produced $88 million in revenue in FY 2014, but operates at a significant loss. Given its uncertainty as a sustainable business going forward, I have valued it at $0.
Book Publishing: Harper Collins has moved swiftly into the digital age, with e-books now representing 22% of revenues. e-books generate significantly higher margins than hardcover sales, and Harper Collins is profiting from the trend. This division produced approximately $200 million in EBITDA in FY 2014. Based on an 8X EV/EBITDA multiple from an average of other publicly traded publishers (John Wiley & Sons (NYSE:JW.A), Scholastic (NASDAQ:SCHL), Pearson (NYSE:PSO)), the unit is worth $1.6 billion.
Digital Real Estate Services: REA has continued to show impressive growth, and is now expanding its services into Southeast Asia. REA is a publicly traded company on the Australian stock exchange, and a 62% stake is currently worth US$3.4 billion.
Cable and Subscription TV: News Corp. purchased 25% of Foxtel and 50% of Fox Sports Australia for $2.2 billion in 2012. This doubled its interest to 50% in Foxtel and 100% in Fox Sports Australia. This implicitly values the two investments at $4.4 billion. Since Foxtel is accounted for through the equity method, only Fox Sports Australia actually appears in this segment for reporting purposes. However, the 50% Foxtel and 100% Fox Sports interests actually produced approximately $533 million in EBITDA for the FY 2014. I conservatively valued the two pieces at $4 billion, near their implied purchase price, and an implied 7.5 EV/EBITDA multiple.
News and Information Services: While News Corp.'s management remains optimistic about its ability to turn around this business, the results so far showcase that it has been difficult. Revenue decreased 9%, while the EBITDA margin dropped to 11% in 2014. Valuing this business is difficult, but using comparable news firms provides a rough estimate. The New York Times' (NYSE:NYT) current EV/EBITDA is 7.5X. Unlike most newspapers, News Corp. has a strong pay wall and some of the world's most valuable brands (The Wall Street Journal, Barron's). Using a very conservative EV/EBITDA multiple of 4X, this segment should be worth around $2.5 billion. Given the Dow Jones business was purchased for nearly $6 billion only 7 years ago (a likely gross overpayment), the entire news and information services entity would hopefully be worth at least half of that.
Valuation: Based on the pieces, there appears to be a large discount between the current valuations and conservative estimates. The two most easily identifiable assets, the cash on the balance sheet ($3.1 billion) and the 62% ownership of publicly traded REA ($3.4 billion), equal 65% of the current market cap.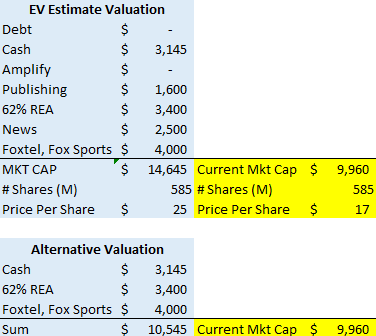 There remain several concerns: the news and information difficulties, ongoing News of the World lawsuits and potentially destructive acquisitions. Furthermore, a catalyst to unlock the assumed value has so far been elusive. However, given the significant discount on the valuation, overall, I believe News Corp. has a high level of uncertainty with a low level of risk.
Disclosure: The author is long NWSA. The author wrote this article themselves, and it expresses their own opinions. The author is not receiving compensation for it (other than from Seeking Alpha). The author has no business relationship with any company whose stock is mentioned in this article.